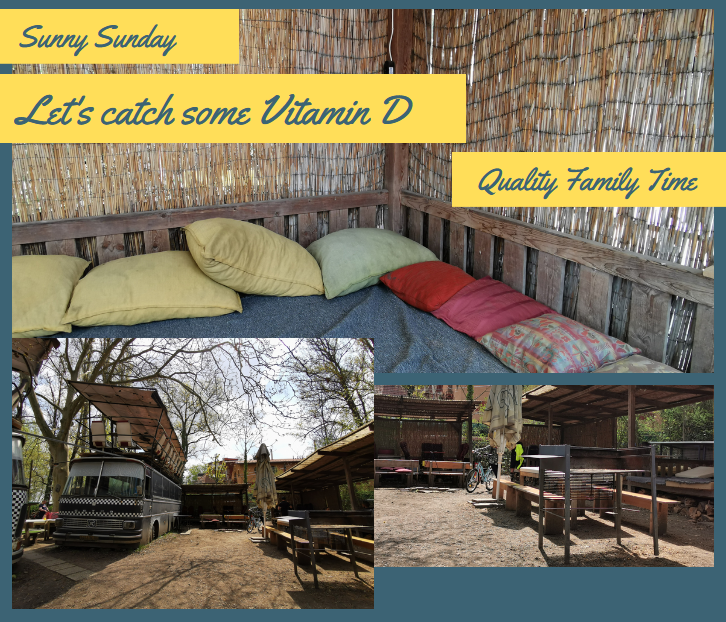 A weekend filled with sun, LOVE IT!
Although it first seemed as if the best day to grab some sun would be yesterday, and today it would be a bit less attractive, things changed (thankfully). We couldn't make it out of the house in time to grab some sun yesterday, it was actually already getting chilly by the time we left the house. Too bad, let's try again tomorrow..
Today I checked the forecast again and to my surprise, it looked better by the hour and even more attractive than yesterday: 18 degrees and full sun for quite some hours. Granted, there was a bit of thunderstorm prediction in there as well, but I don't think it's going to happen any time soon.
Plans
We actually had planned to go to a beer terrace as my boyfriend went there several times already with some colleagues and says their sausages are so good. Apparently it's a nice spot to chill a few hours. The thing is that he wasn't sure where it was exactly, so I looked it up and found it quite easily, although I also discovered that their terrace is covered with a roof. My only demand for today was being able to catch some sun and treat my skin with some natural vitamins.. :)
The following days will be a bit more chilly and I saw more rain in the predictions, so I really needed the sun today.
My boyfriend said let's just jump in the car, and see where we end up. As this city is still filled with undiscovered spots for us, I thought that would be a good idea, so let's do it!
I already enjoy the moment that I can walk out without wearing any coat or vest, especially as we can open the windows a bit in the car, fresh air, sun, good combo!
The river bend
We heard a lot about the area, but for us it was too much hassle because with public transport this spot that everyone is talking about (especially during summer) is more than 1 hour travel time. With the little girl that was just not the best idea, missing her nap and having to travel 2 hours back and forward (at least). We discovered that one of the cute hot spots was familiar for my boyfriend when he went there to have a BBQ with the company he worked for.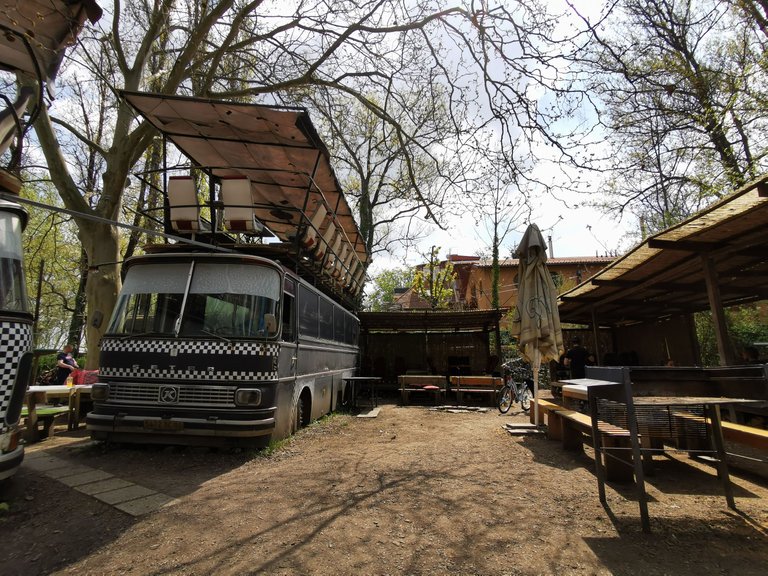 This place is a bit in hippie style, old vans turned into sitting areas and some even have a sundeck on the roof. But also a lot of pick nick tables plus the best thing: BBQ spots. The idea is that you reserve a BBQ spot here, and bring your own food, but you have to buy the drinks there.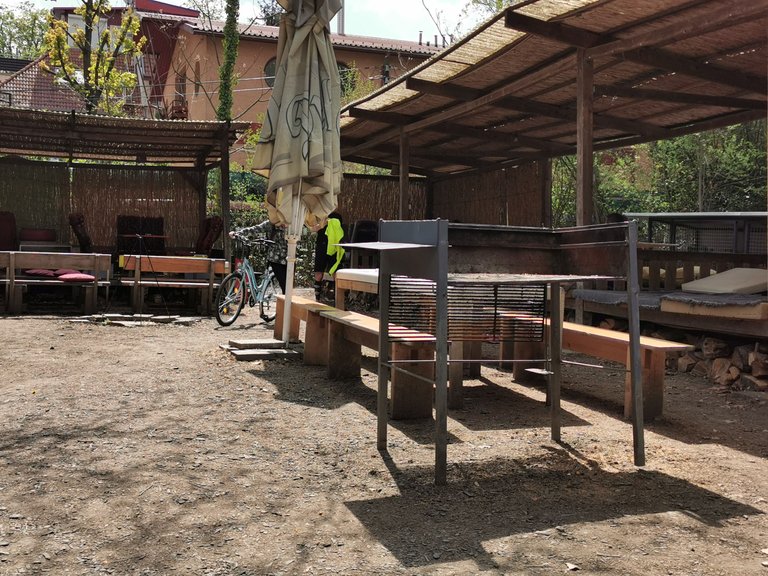 The picture above is taken from the spot we sat because our daughter wanted to jump on the "lounge area" you see below. You can also see a BBQ there, but in another area they have actual fire pits and it smelled so good when we sat there. There were several groups enjoying their BBQ feasts, so I didn't want to take pictures there. Unfortunately, the whole place got crowded soon, so more pictures are for another visit.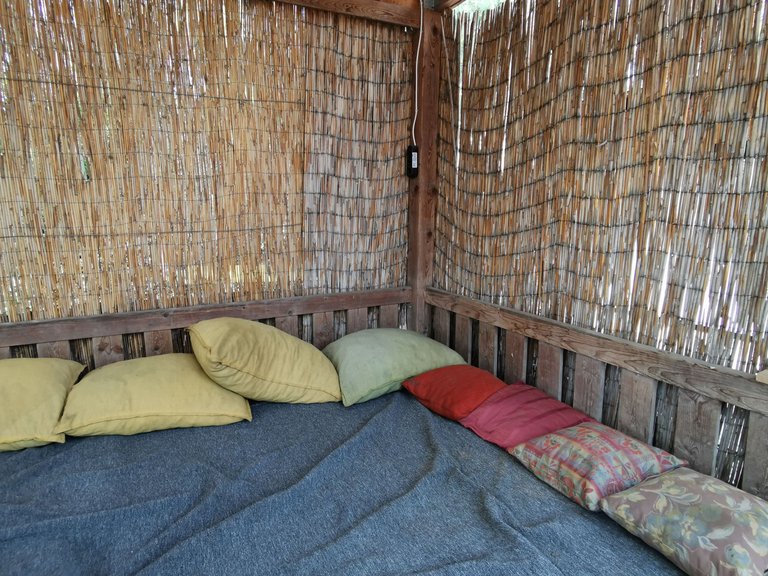 As you can see, there were still clouds today, but the moments they arrived, it was actually welcome for a bit because I'm quite sure that my skin is a bit burned after these first real hours in the sun this year. I didn't use anything for protection, note to self: don't forget this next time.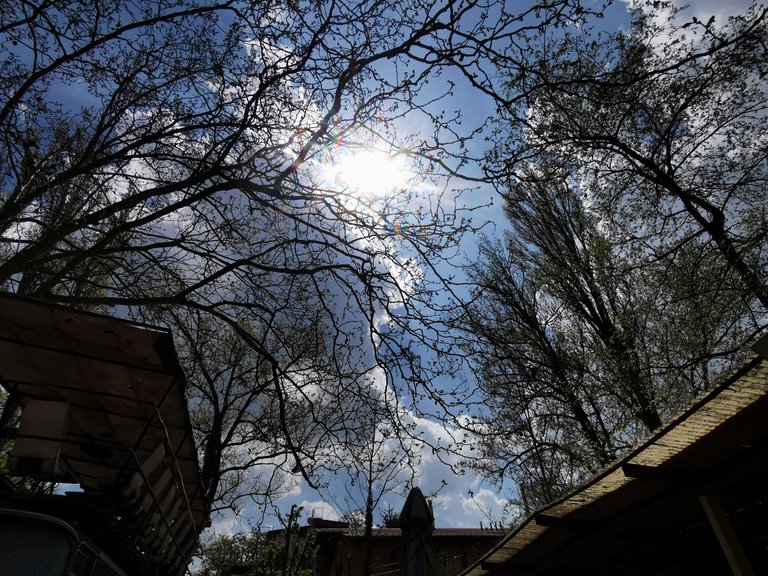 Discovering cool spots is fun
I feel so lucky that we are now able to discover these kind of cool spots filled with a lot of joy because of having a car. I don't regret buying it for a second! It felt like walking on a holiday destination while following the river bend. I heard about this spot many times, but nobody told me how much restaurants you can find there and that you have a ton of options to walk, sit at the water, just chill in a restaurant or more hippy styled place like we picked.
My boyfriend said before they only sold drinks, nothing to eat. We both ate a cheeseburger (very cheap compared to most of the other places) and it was probably one of the best we ate in the city until now. So they even nailed the food. We ordered 2 cheeseburgers, a nutella pancake, 1 local beer and water for 9 euro total I think. Very affordable compared to most hot spots.
Quality time with family, check!
Making memories and looking forward to the next time..
Did you enjoy your Sunday as well? Feel free to share and leave a comment below :)
---
Pictures are all mine, unless stated otherwise.