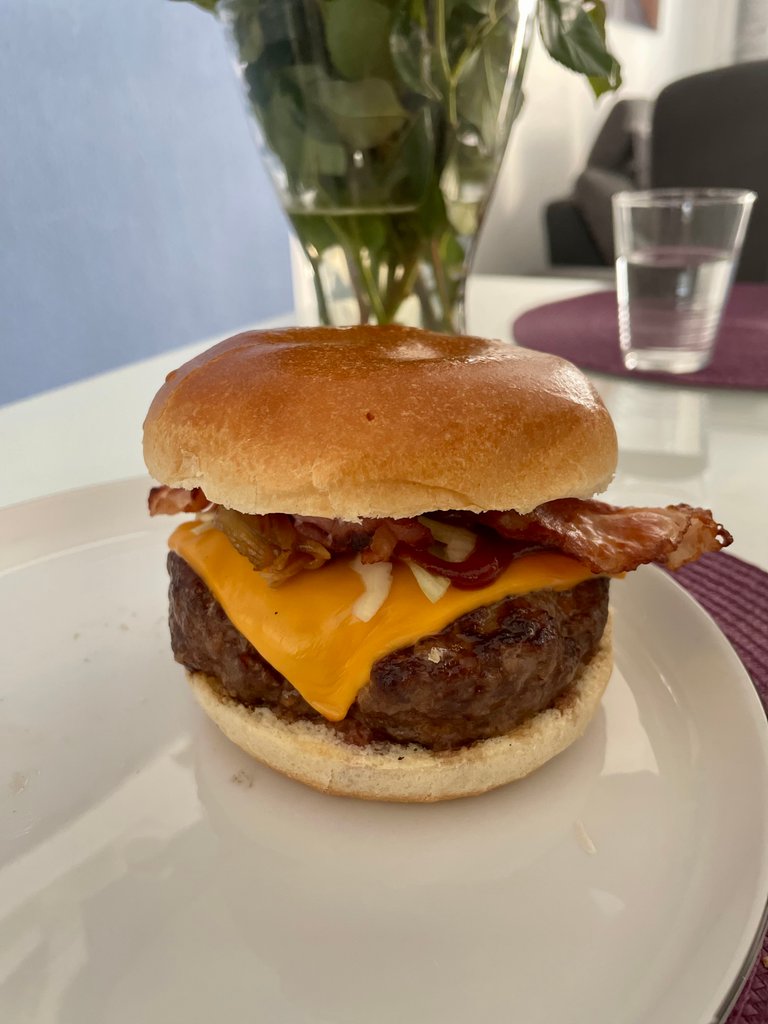 Hallo liebe Hiver,
am Wochenende habe ich vermutlich zum letzten Mal dieses Jahr gegrillt. Da das Wetter jetzt doch wirklich herbstlich wird, habe ich den Grill danach gereinigt und für den Winter fest gemacht.
Es gab nochmal meine selbst gemachten Burger. Man nehme 800 Gramm Rinderhackfleisch und 500 Gramm Schweinhackfleisch vermischen. Dazu je nach Belieben Würzen mit Ketchup, Senf, Pfeffer, Salz, Knoblauch und Paprika. Alles gut vermengen und mit der Burgerpresse in schön dicke Patties pressen (ca. 140 Gramm). Dann leicht anfrieren, so halten sie beim grillen besser zusammen.
Dann Zwiebeln in Butter dünsten, bis sie schön braun sind.
Den Grill erstmal richtig auf 250 grad hoch heizen, damit er Betriebstemperatur bekommt. Dann Die Speckstreifen kroß grillen. Nun kann man auch schon die erste Ladung Burger auf den Grill packen. Sobald diese fast fertig sind, die nächste Ladung, so dass diese beim Essen langsam weiter grillen kann. Sobald die Burger fertig sind, eine Scheibe Chaddar Käse drauflegen und kurz schmelzen lassen.
Als Beilagen gibt es Pommes aus dem Ofen.
Jetzt die Burger in die auf dem Grill erwärmten Burgerbrötchen (Brioche) und nach Herzenslust belegen. Bei mir kommt drauf: BBQ Sauce, etwas Salat, Bacon und die gedünsteten Zwiebeln. Dazu ein herzhaftes kühles Bier.
Lasst es Euch schmecken!
Viele grüße und bis bald Euer
Al
Hello dear Hiver,
on the weekend I have probably grilled for the last time this year. Since the weather is now really autumnal, I cleaned the grill afterwards and made it solid for the winter.
There were again my homemade burgers. Take 800 grams of ground beef and 500 grams of ground pork mix. In addition depending upon desire seasoning with ketchup, mustard, pepper, salt, garlic and paprika. Mix everything well and press with the burger press into nice thick patties (about 140 grams). Then freeze lightly, so they hold together better when grilling.
Saute the onions in butter until they are nice and brown.
Heat the grill to 250 degrees so that it gets to operating temperature. Then grill the bacon strips until crispy. Now you can put the first batch of burgers on the grill. As soon as these are almost ready, the next load, so that this can continue to grill slowly while eating. Once the burgers are done, put a slice of Chaddar cheese on top and let it melt briefly.
Serve with oven fries on the side.
Now the burgers in the burger buns (brioche) warmed on the grill and occupy to your heart's content. With me comes on it: BBQ sauce, some lettuce, bacon and the steamed onions. To go with it, a hearty cold beer.
Enjoy it!
Many greetings and see you soon
Al