-EN
Hello to everyone! I hope you are in good health and mood. Of course, every problem has a solution, but sometimes it can be very difficult to find a solution for health-related problems. So I think the most important point is health. I wish everything was easier when it comes to health. I hate the pandemic. lol.
I'm here today to add a new recipe to my "Recipes for Winter" series. And I think I'm writing my favorite recipe in this series right now. Today I will give you a pickle recipe. I have to admit that this is something I'm also a novice at. I am writing the recipe, but it is a recipe that I prepared with my grandmother. I made some additions on the dimensions she said. Since my parents have stomach ailments, they are very careful when consuming foods such as vinegar and try to stay away from foods with too much vinegar. That's why my grandmother wanted to use as little vinegar as she could while preparing this recipe. But I guess I was the one who stopped it. Because the more vinegar and garlic in the pickle, the better the pickle is. In particular, I think that garlic has a very decisive effect. I think the flavor of the pickle depends on the amount of garlic. Vinegar, on the other hand, ensures that the pickle has the consistency you want. In addition, the amount of vinegar extends the consumption time of the pickle. If you use a low amount of vinegar, the pickle you prepared will start to deteriorate after a while. This is also an undesirable situation. Because we usually want the pickle to stay intact all winter. So please be careful when using grape vinegar and garlic. If you use less than necessary, the pickle you prepare may be tasteless or spoil in a short time.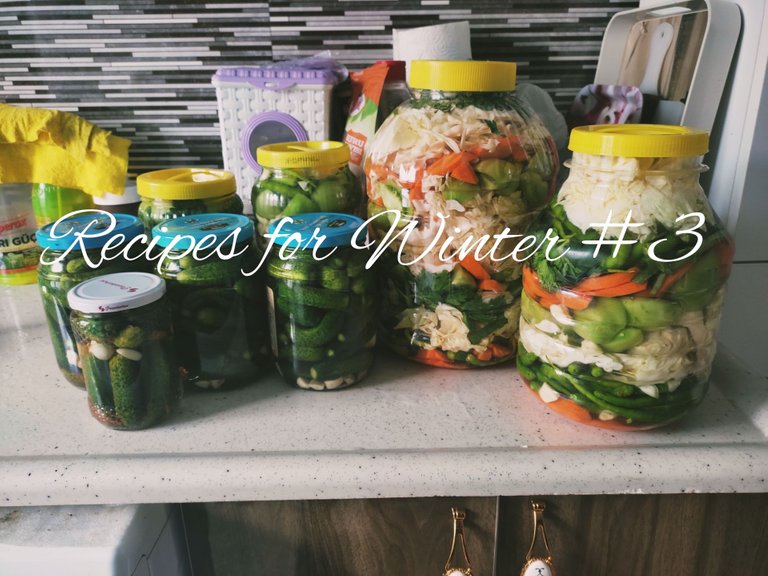 Turkish people usually consume pickles frequently during the winter months. I can say that I have not seen many people who do not like pickles until now. I think pickles go very well with hot dishes in winter. It is a very popular food item, especially alongside legumes such as dry beans and chickpeas. Since it is such a popular food, there are many variations. With white cabbage, carrots, tomatoes, cucumbers, celery leaves, etc. It can be made with many foods. Turks even pickle eggplant. Needless to say I don't like it very much. It's a much better idea than making jam from eggplant, though. Anyway, I don't want to criticize people's eating choices. There may be people who like the things I have negative reviews about. This thought is a little scary :D.
Anyway, let's talk about what kind of recipe I'm going to give. Today, I will share with you a recipe that includes all the pickles I love -except Tomato-. We added tomatoes to this recipe because my mother loves it. Normally, I don't like pickles made with tomatoes. Many people also love it. It's really hard to understand, but I still respect that. lol. Made with carrots, my favorite when I was little. Therefore, it is an indispensable ingredient in my pickles. I have to admit that I still love it. I think it has a different flavor. Again, I talked too much. Let's take a look at the recipe!
Pickles
Ingredients
Carrot
Green Tomatoes
Green peppers
Gherkin
Celery Leaves
White cabbage
Lots of Garlic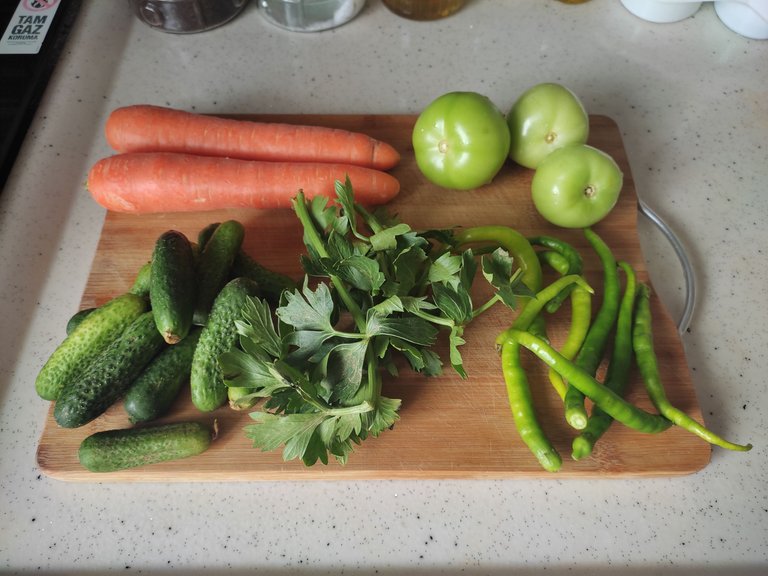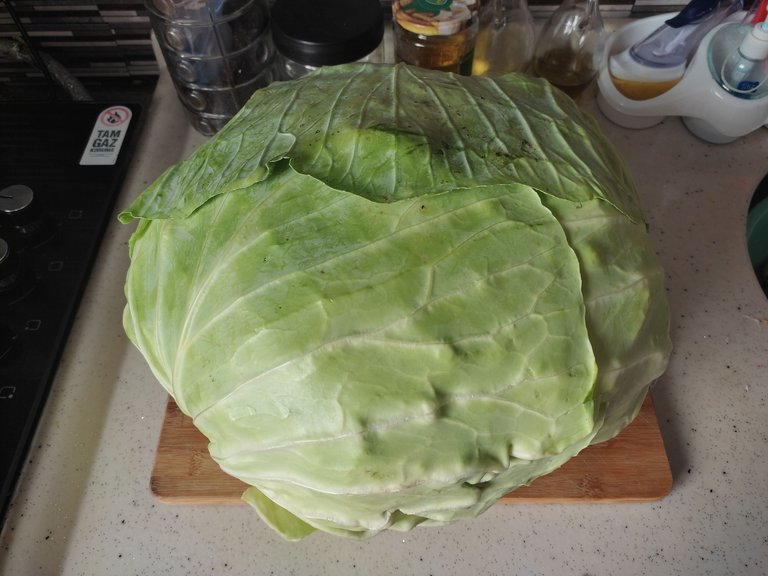 For Pickle Juice:
1.5 Liter Grape Vinegar
5 liters of pre-boiled and cooled water
25 Tablespoons of Pickling Rock Salt
A few sugar cubes per jar
I'm going to make two different pickles, so I'm giving two different pickle juice measures. I will use the water I will prepare first in the marinade that I will make by mixing all the ingredients.
I will not prepare a water in the pickle I will make with gherkin. I will put the required salt, sugar and grape vinegar separately in the jars and finally we will pour boiling water over it.
For Gherkins:
300 mL Grape Vinegar (Approximately 1.5 Cups)
15 Tablespoons of Pickling Rock Salt
A Few Pieces of Cut Sugar
Boiling water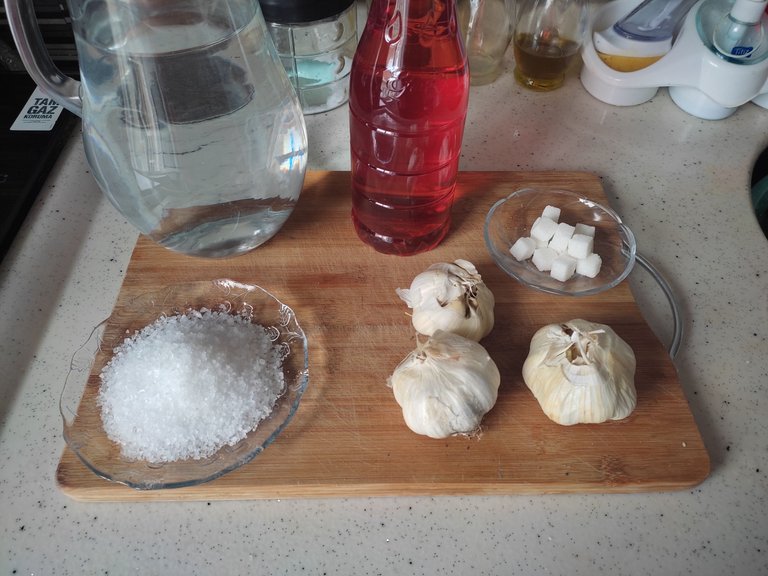 Each jar I used for gherkins had a volume of about 1L.
Steps
Wash green tomatoes and cut into 4 parts.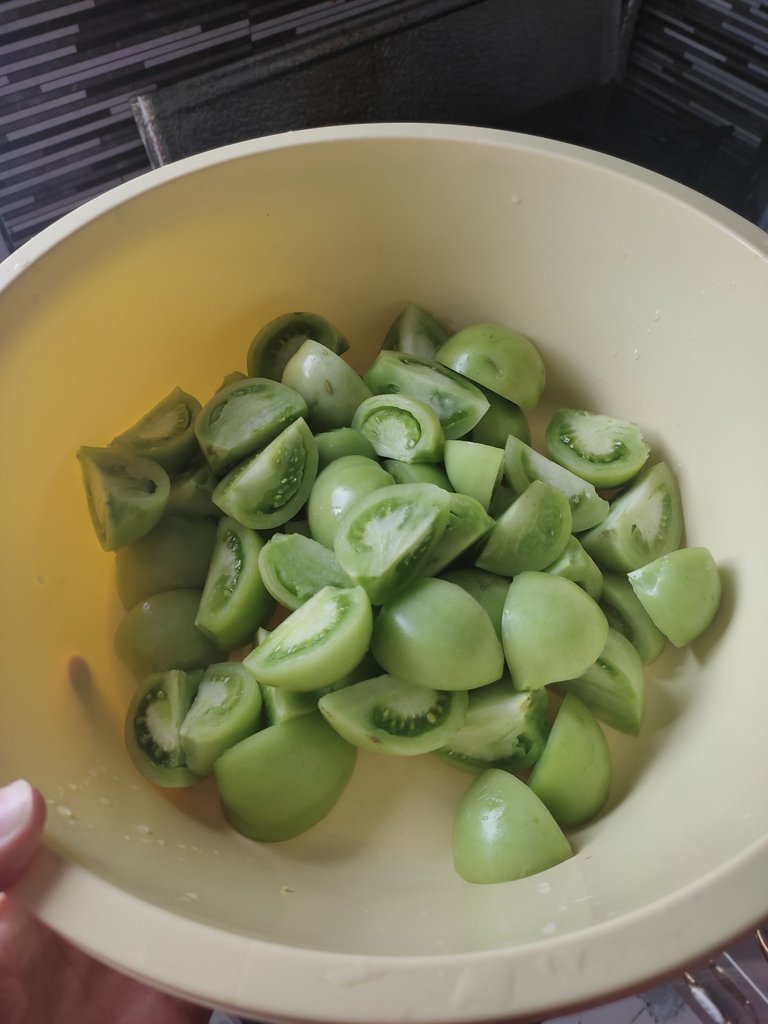 Cut off the stems of the peppers and wash them thoroughly. Then make a few small holes on the peppers with the knife.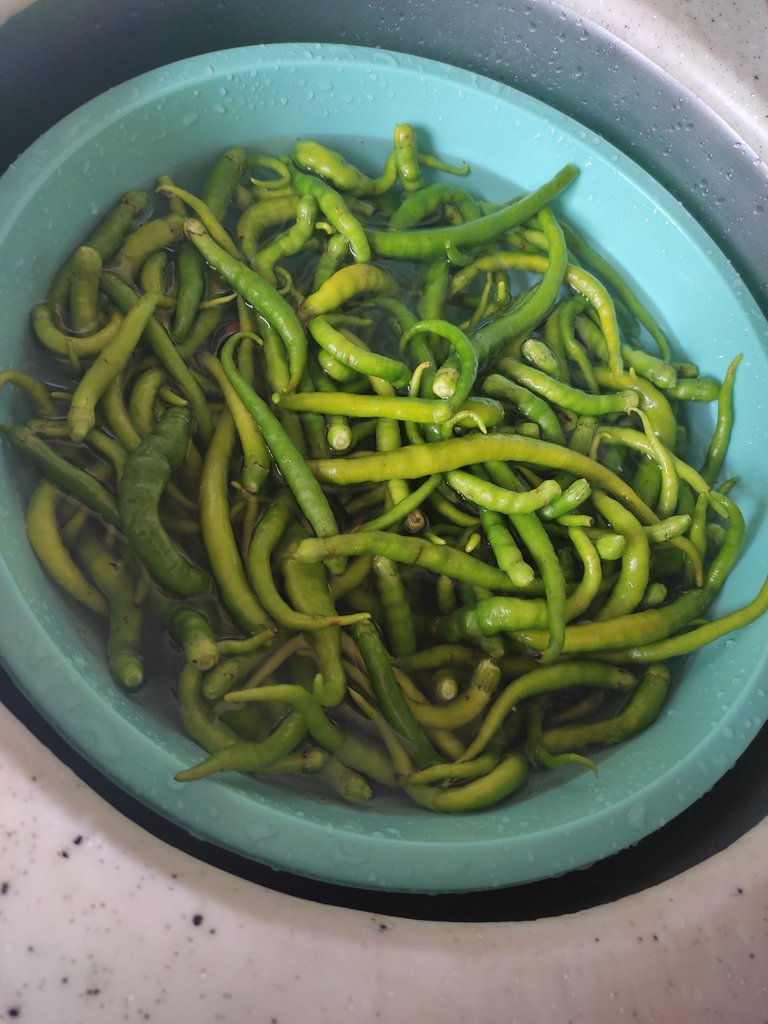 Peel and wash the carrots.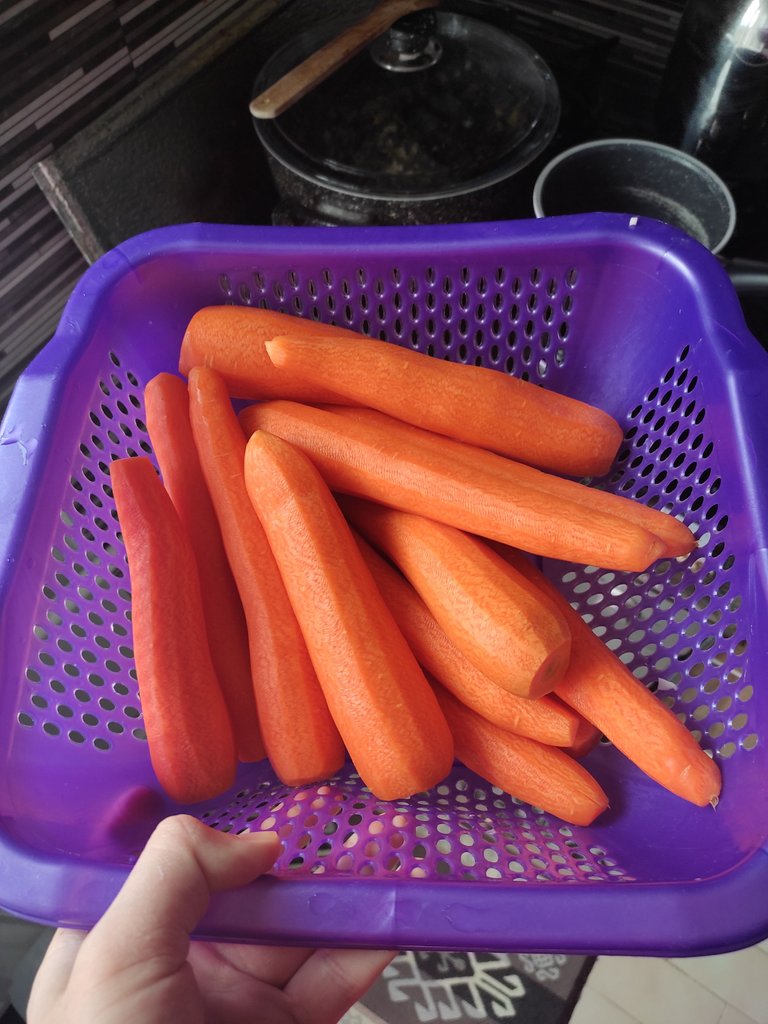 Chop the carrots into thick sticks or as in the picture. Make sure that the carrots you chop are not too thin.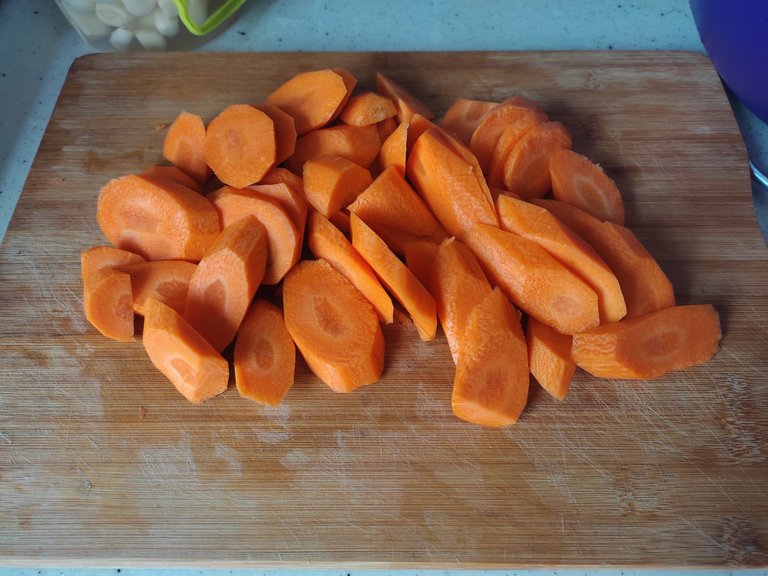 Peel the garlic and leave it in a bowl of water for 5 minutes. Then wash the garlic.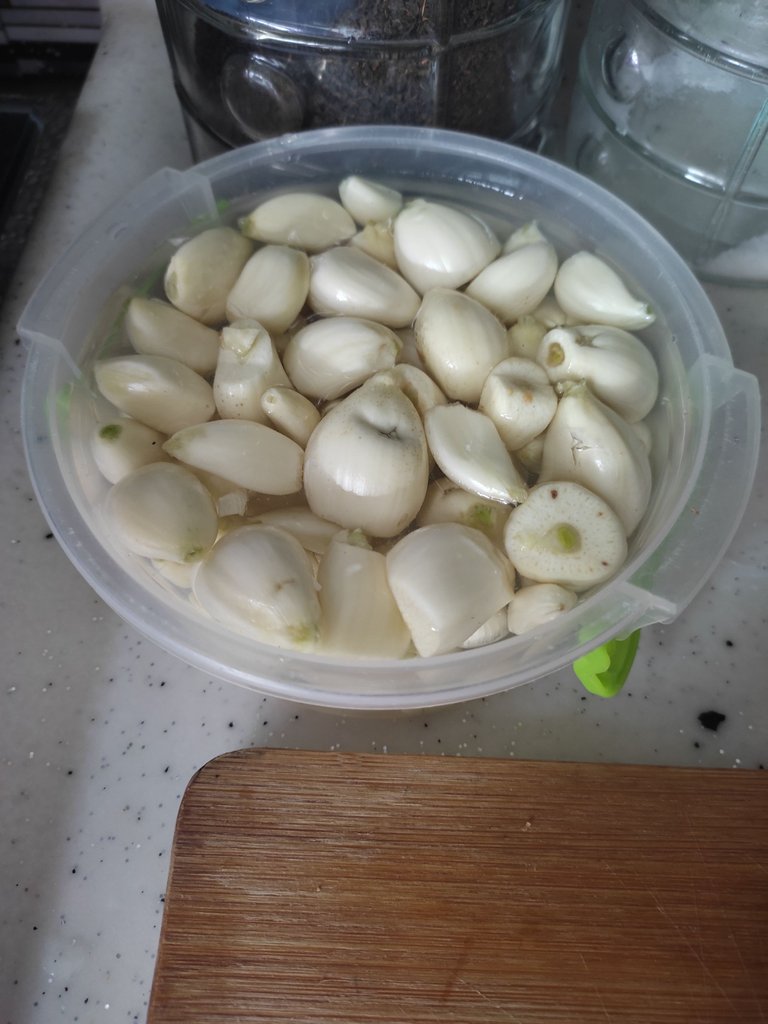 Wash the celery stalks thoroughly.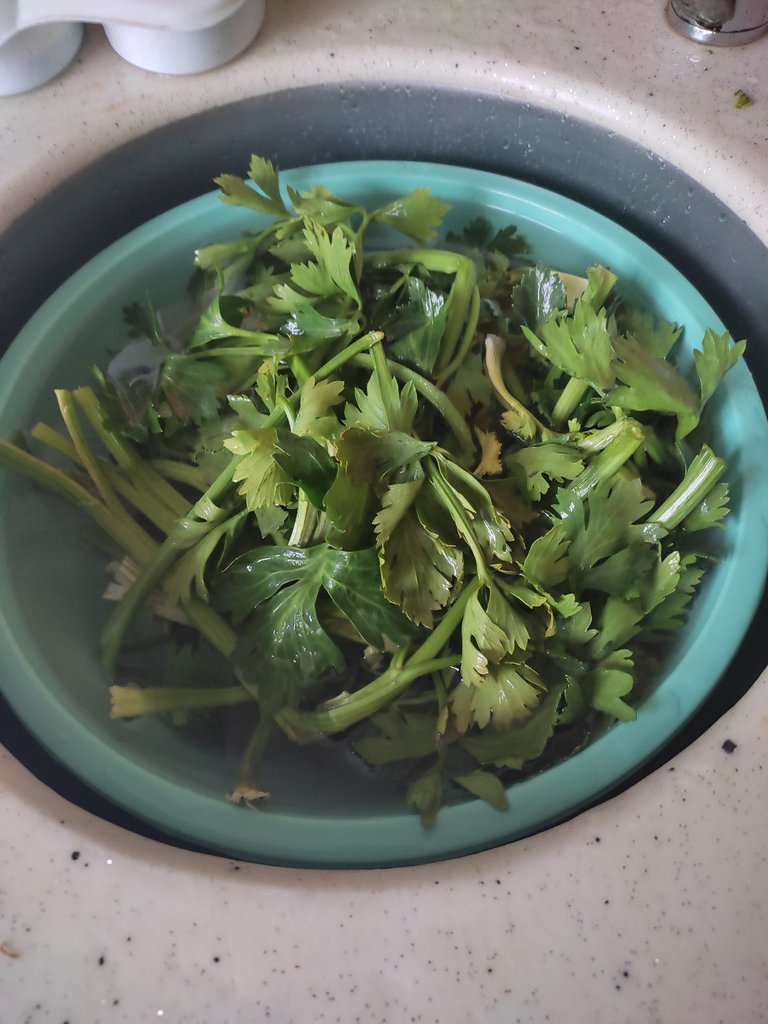 Cut the white cabbage into large pieces.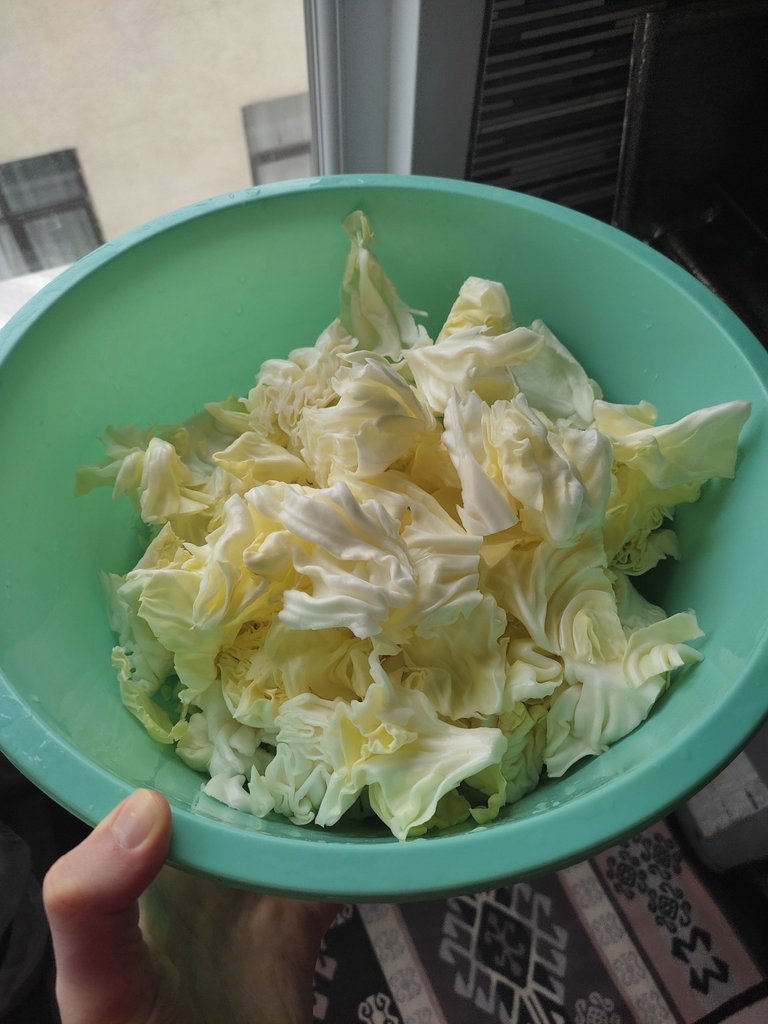 Chop the celery stalks into large pieces.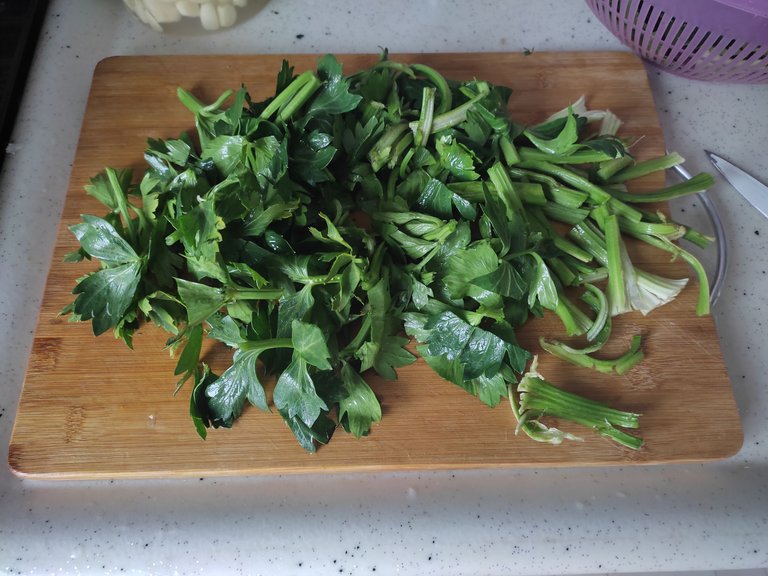 Cut each garlic into two equal parts. This process will allow the garlic to mix better with the pickle you prepared.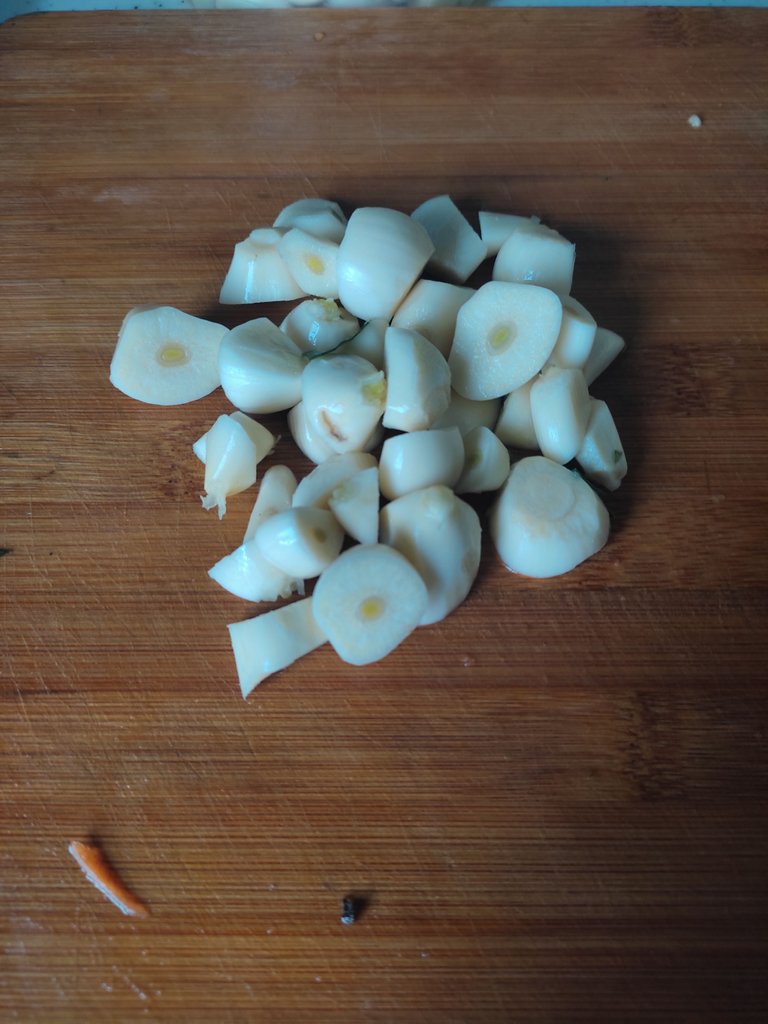 Put carrots in the bottom of the jar.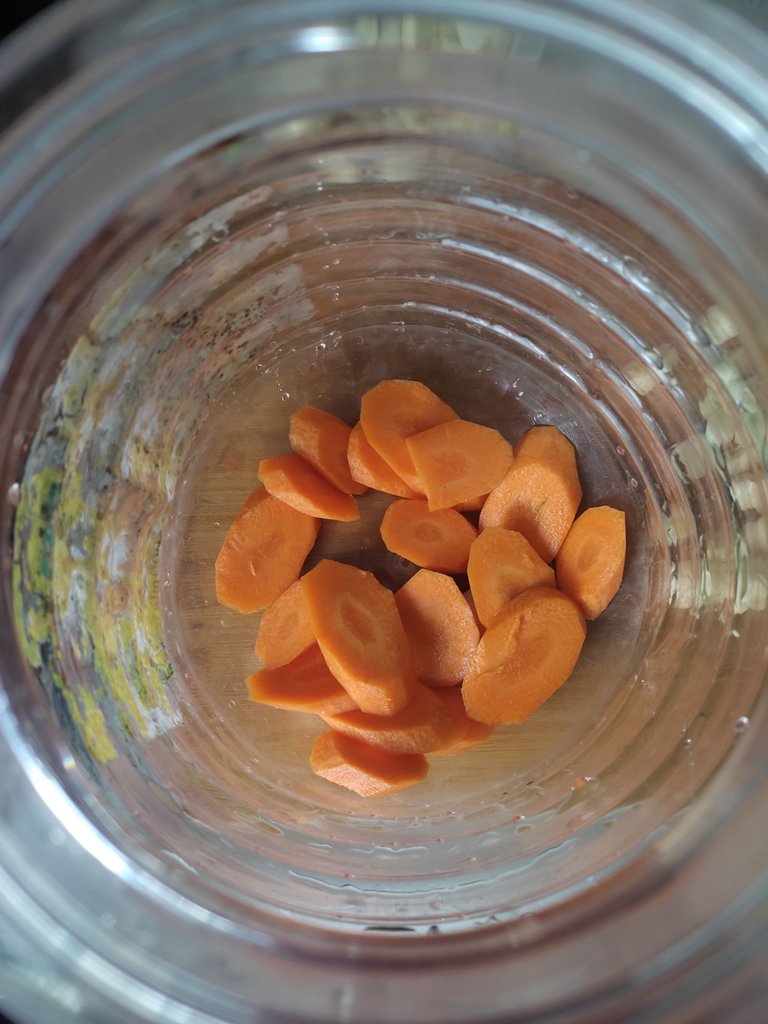 Add some garlic to it.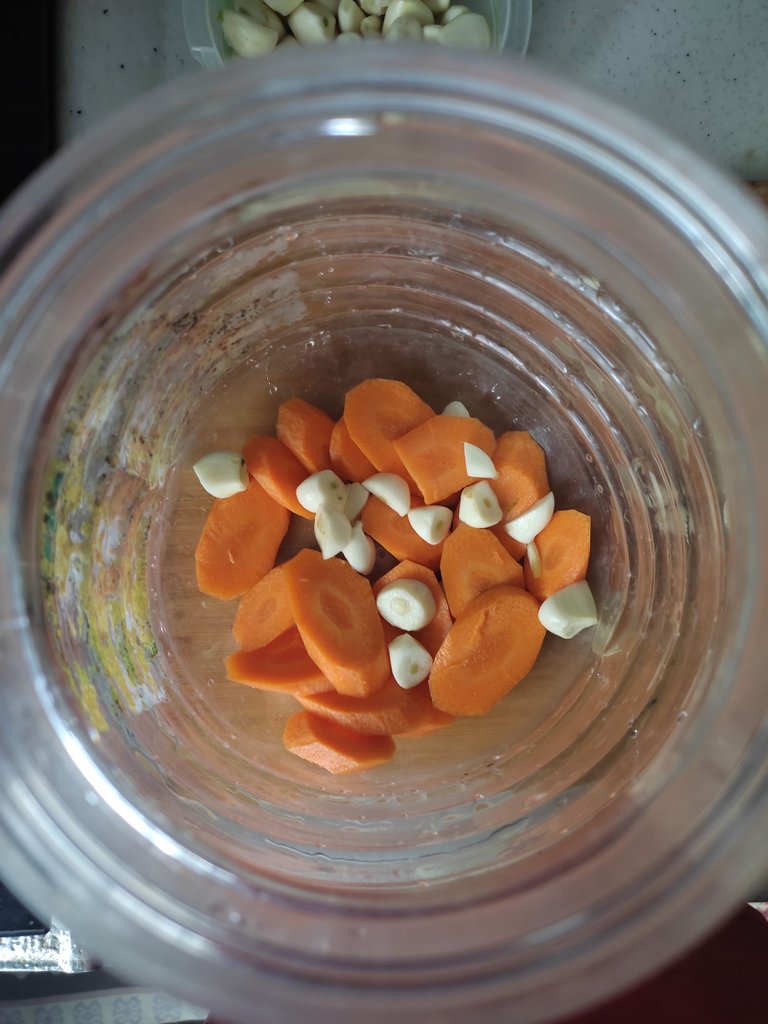 Add the peppers.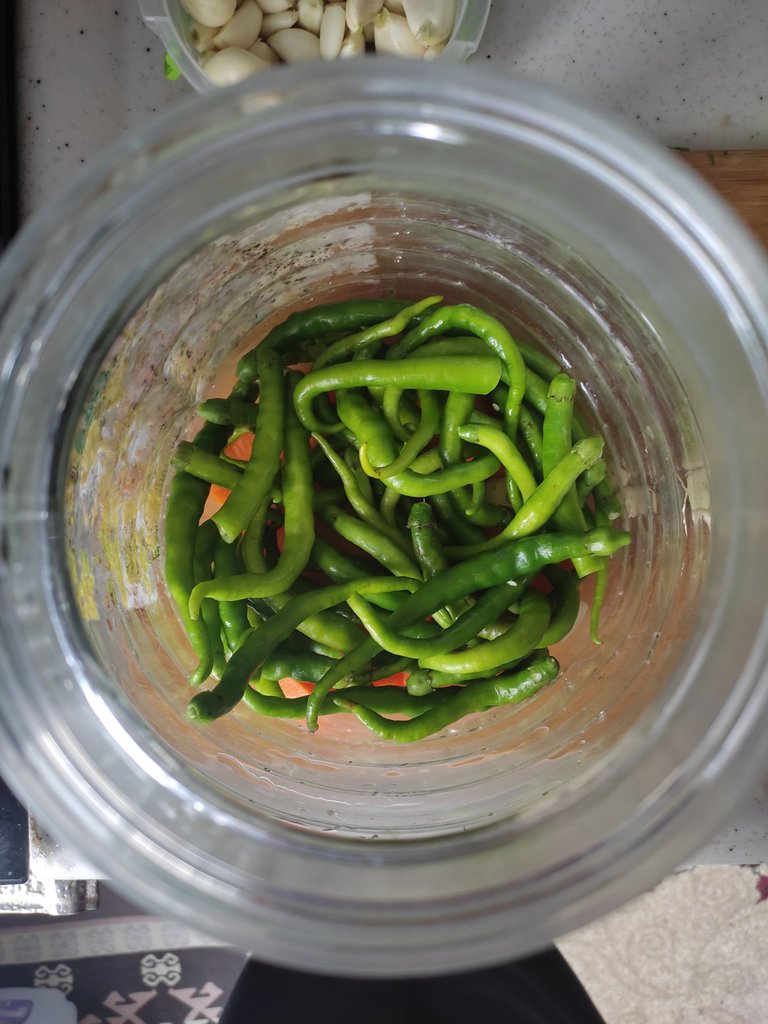 Add the cabbage and press it down. Squeeze the cabbage a little. Otherwise they will take up too much space in the jar.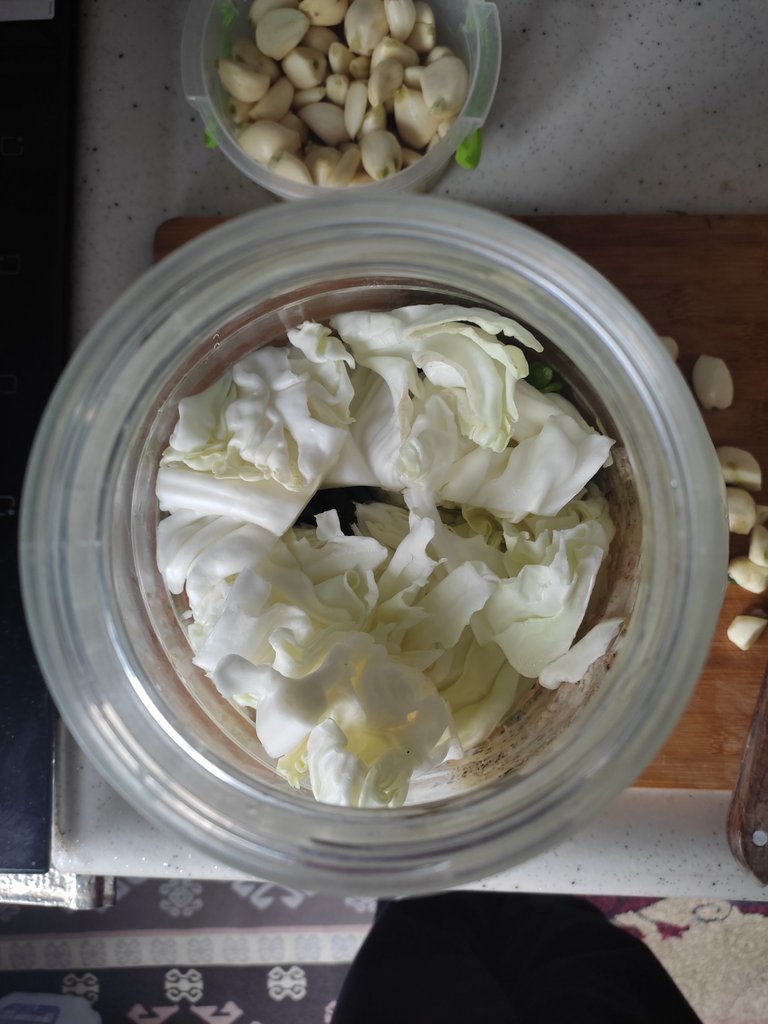 Add the tomatoes and try not to mash too much.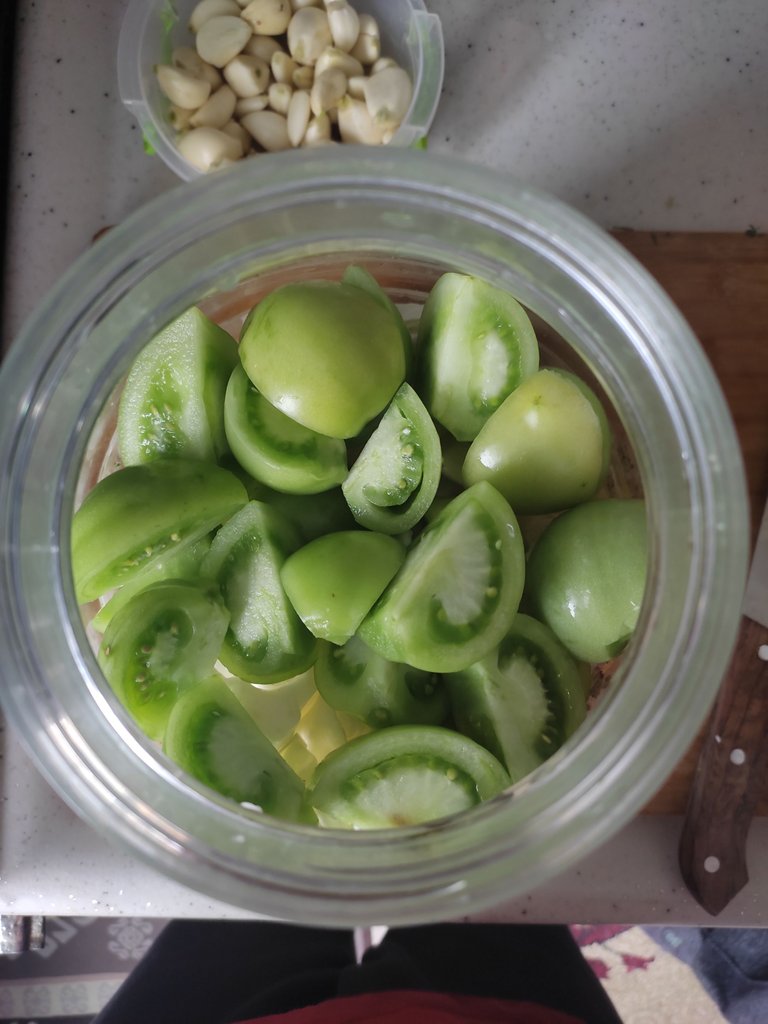 Repeat the process of adding garlic.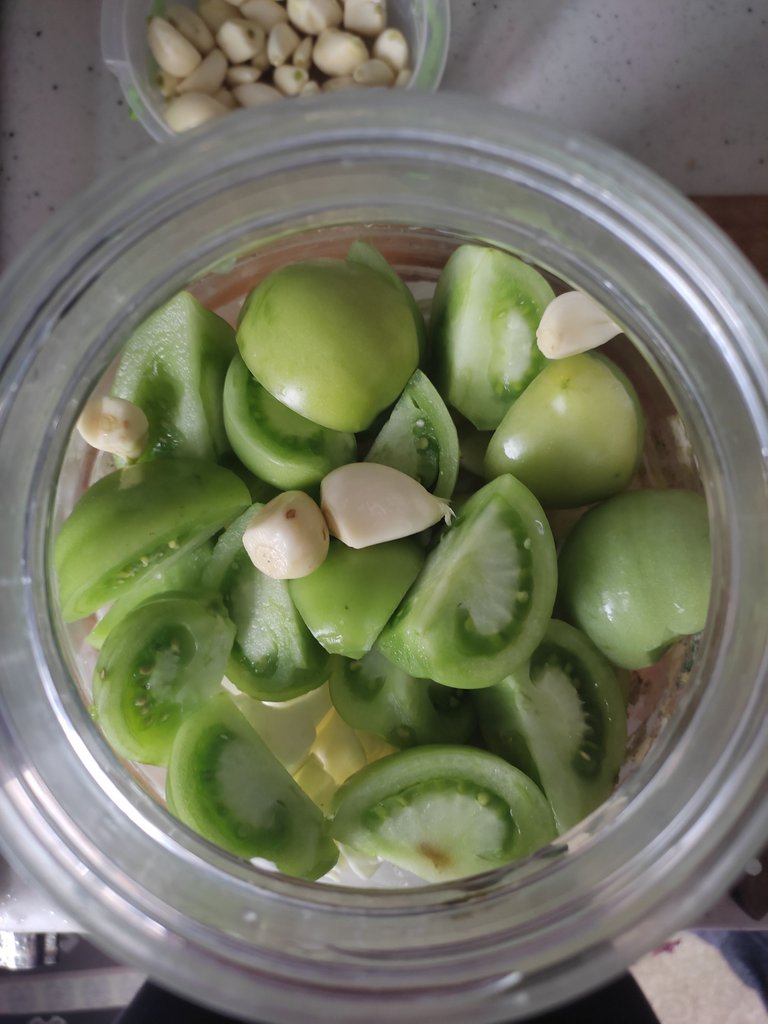 Finally, add the celery leaves and repeat these steps until the jar is full.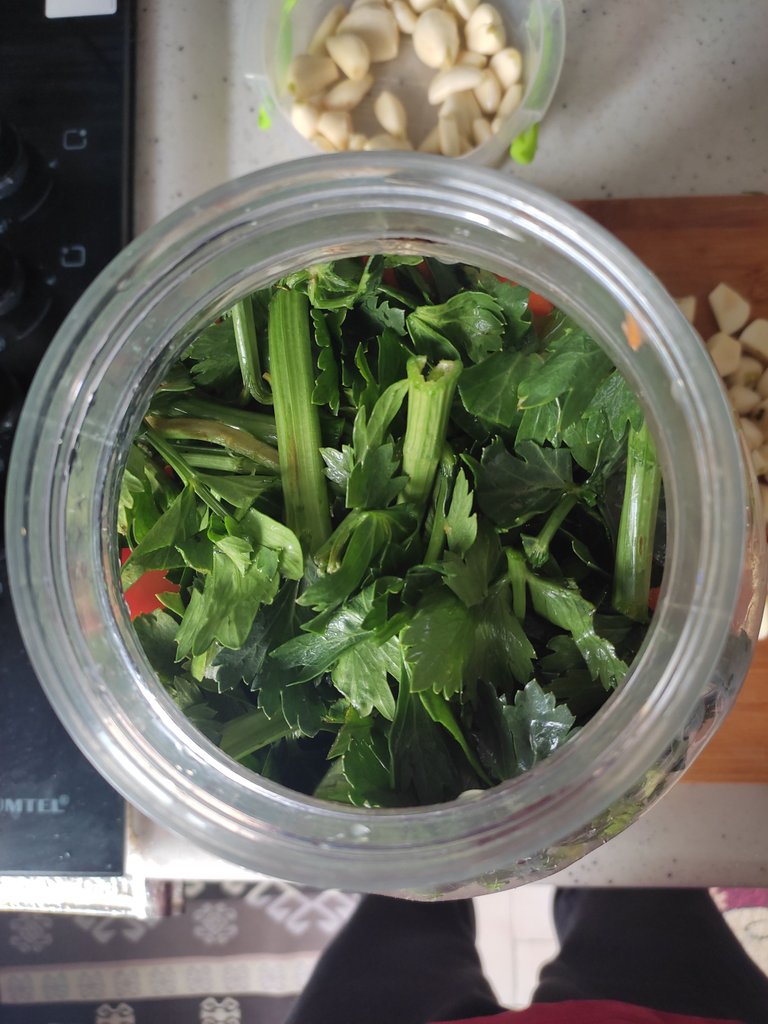 Wash the gherkins thoroughly and remove the stems.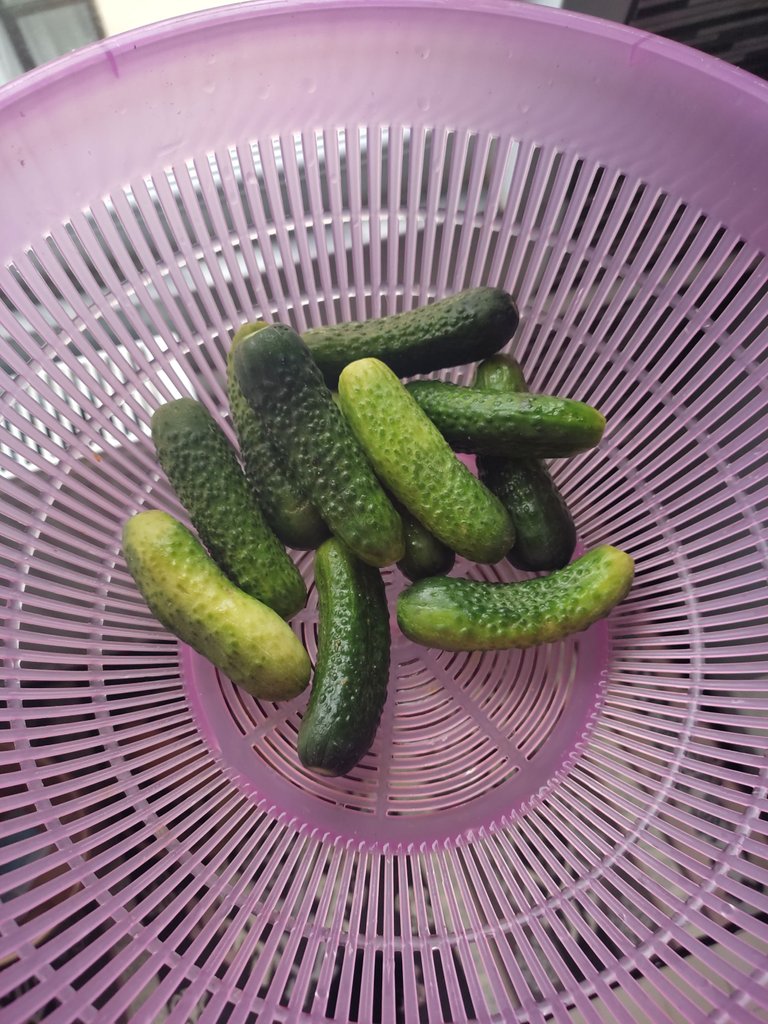 Arrange gherkins vertical in small jars.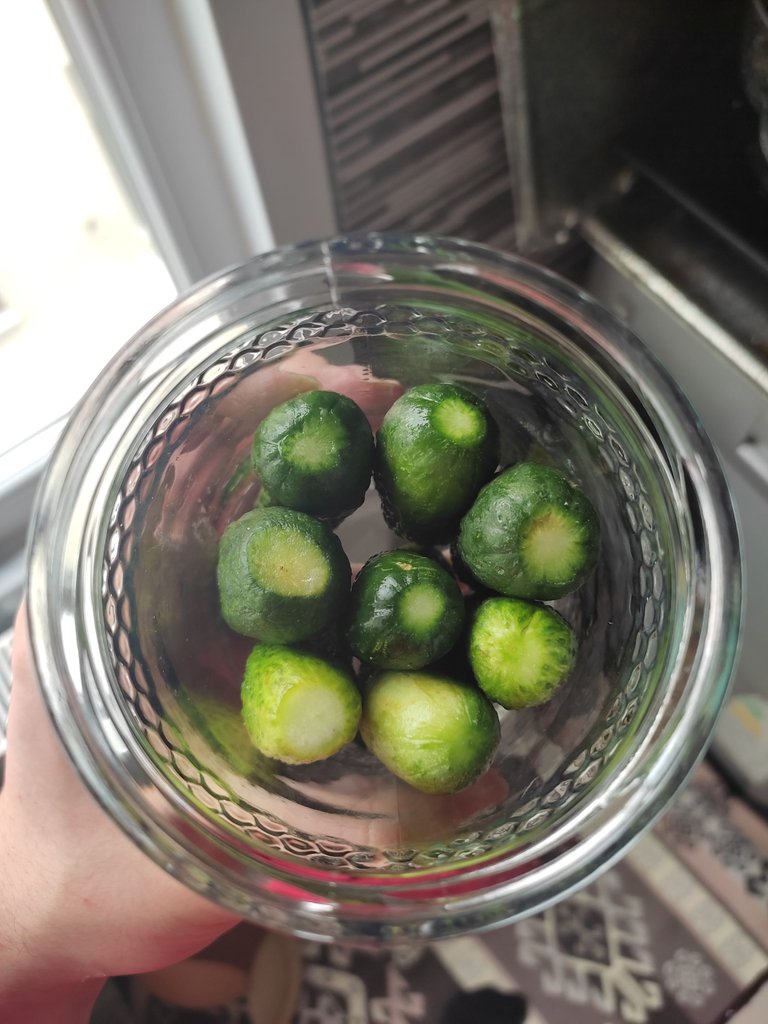 Add some garlic to it. Then place a few more gherkins horizontally.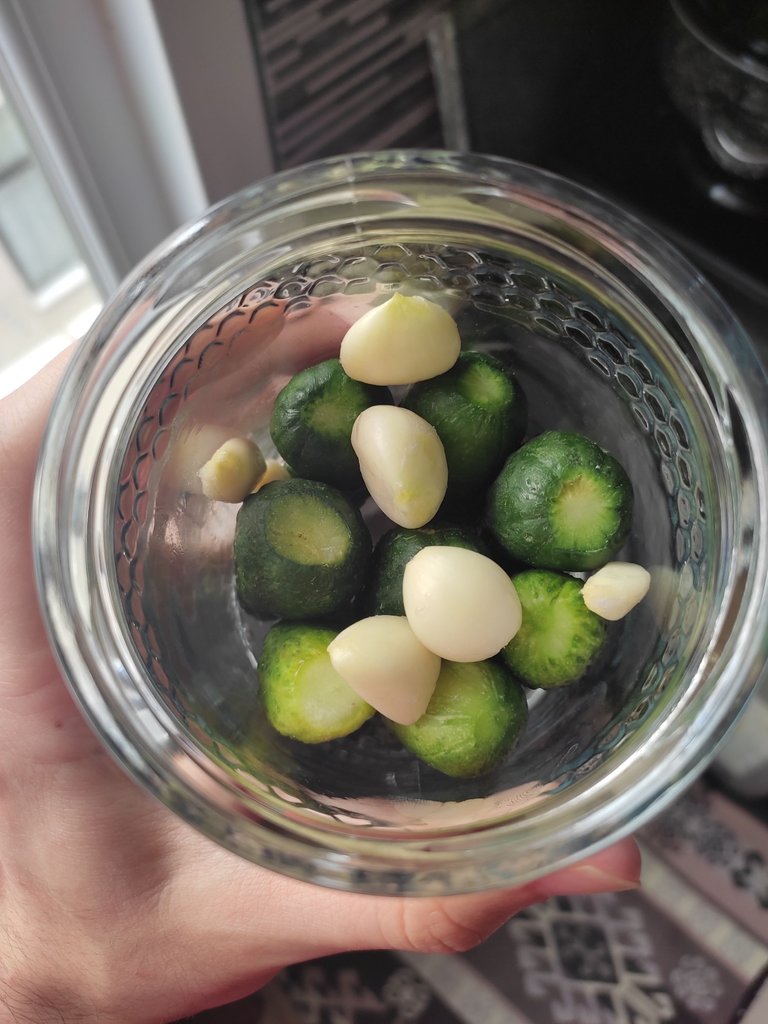 Add 5 spoons of salt, 100 mL of grape vinegar and a few sugar cubes to each cucumber jar you have prepared.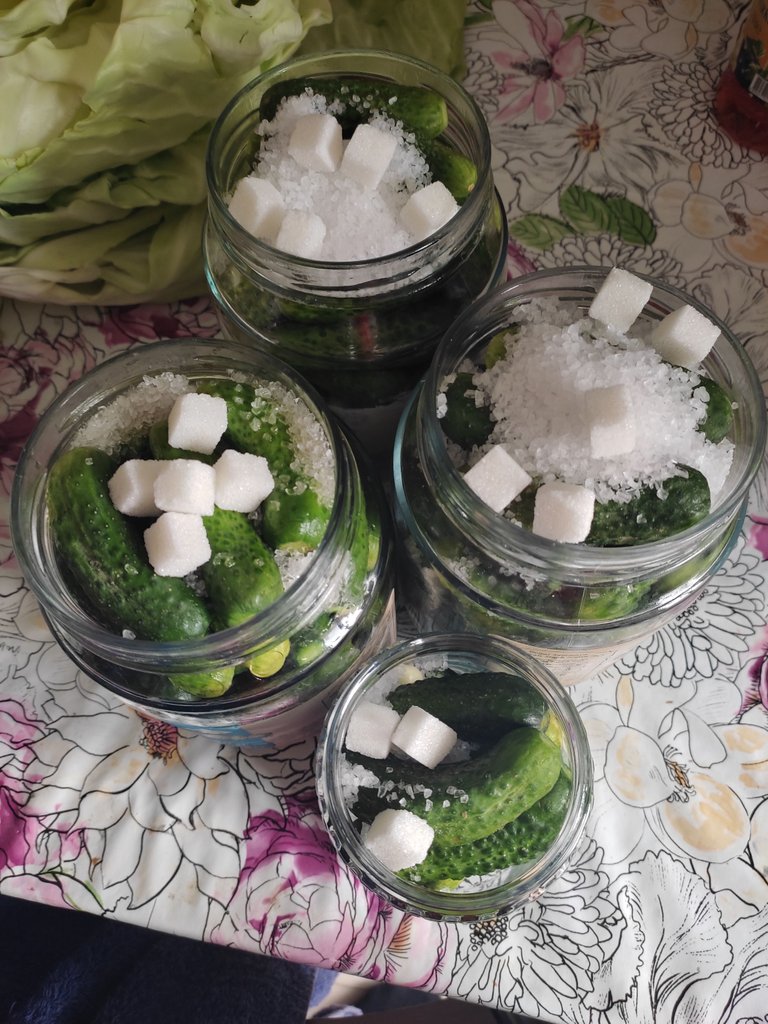 Then add boiling water and cover the jars.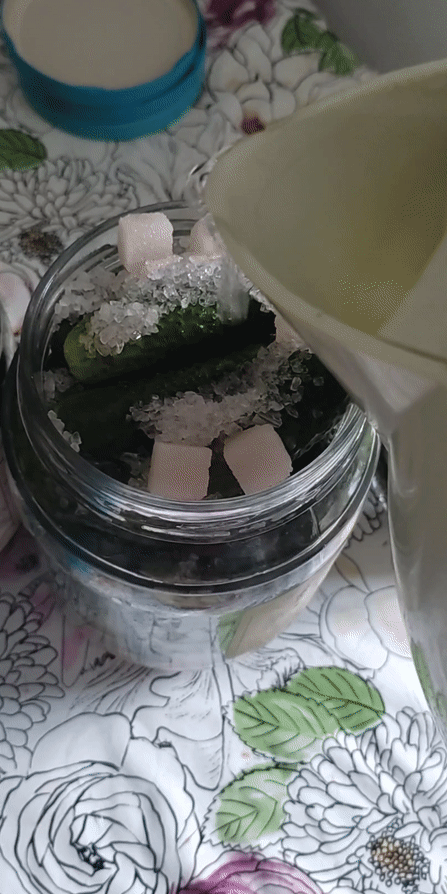 Meanwhile, to prepare the juice of the mixed pickle, add salt to the boiled and cooled water.
Add the grape vinegar.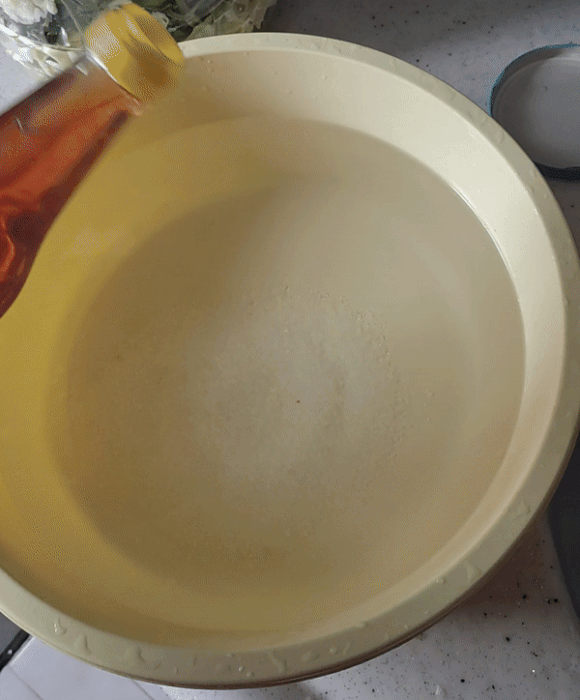 Add sugar cubes and mix. Continue mixing until the sugar and salt dissolve.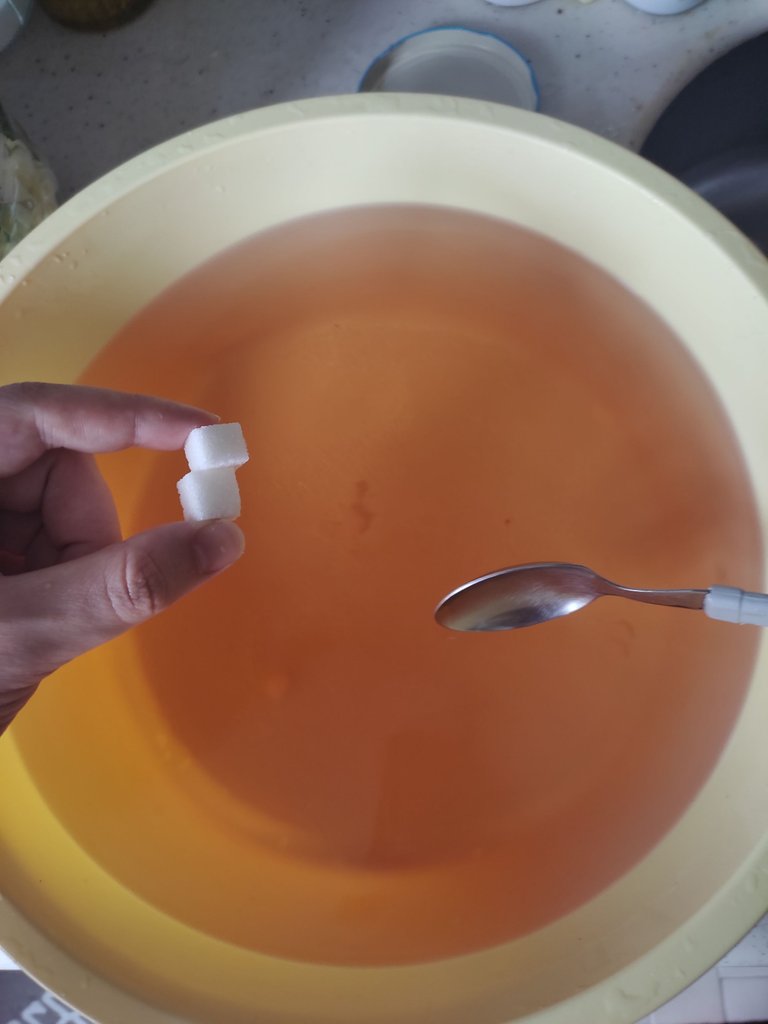 Add the prepared water to the jars.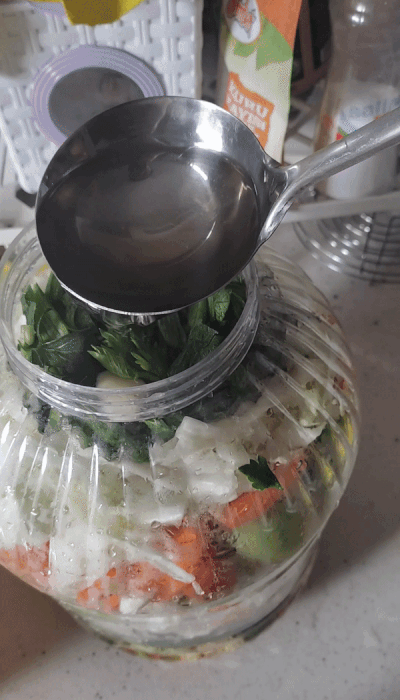 Store the pickles you prepared in a dark place. You can start eating after about 1 month. Bon Appetit!
-All photographs are my own,unless otherwise stated.
-TR
Herkese Merhaba! Umarım sağlığınız ve keyfiniz yerindedir. Her sorunun bir çözümü elbette var ama sağlık ile ilgili sorunlarda bazen çözüm bulmak çok zor olabiliyor. Bu yüzden en önem nokta sağlık sanırım. Sağlık konusunda keşke her şey daha kolay olsaydı. Pandemiden nefret ediyorum. lol.
Bugün "Kış İçin Tarifler " serime yeni bir tarif eklemek için buradayım. Ve sanırım bu serideki en sevdiğim yemek tarifini şu anda yazıyorum. Bugün sizlerle turşu tarifi vereceğim. İtiraf etmeliyim ki bu benim de acemi olduğum bir konu. Yemek tarifini ben yazıyorum ama babaannem ile birlikte hazırladığımız bir tarif. Onun söylediği ölçülerin üzerine biraz eklemeler yaptım. Annem ve babam mide rahatsızlıkları olduğu için sirke gibi gıdaları tüketirken çok dikkatli davranırlar ve fazla sirkeli yiyeceklerden uzak durmaya çalışırlar. Babaannem de bu yüzden bu tarifi hazırlarken elinden geldiğinde az miktarda sirke kullanmak istedi. Ama sanırım buna engel olan kişi bendim. Çünkü turşuda ne kadar çok sirke ve sarımsak olursa turşu o kadar güzel oluyor. Özellikle sarımsağın çok belirleyici bir etki yarattığını düşünüyorum. Turşunun lezzeti bence sarımsak miktarına bağlı. Sirke ise turşunun istediğiniz kıvamda olmasını sağlıyor. Ayrıca sirke miktarı turşunun tüketim süresini de uzatmakta. Eğer miktarda sirke kullanırsanız hazırladığınız turşu bir süre sonra bozulmaya başlayacaktır. Bu da istenmeyen bir durum. Çünkü genellikle turşunun bütün bir kış mevsimi bozulmadan kalmasını isteriz. Bu yüzden üzüm sirkesi ve sarımsak kullanırken lütfen dikkatli olun. Gerekenden az miktarda kullanırsanız hazırladığınız turşu lezzetsiz olabilir veya kısa süre içerisinde bozulabilir.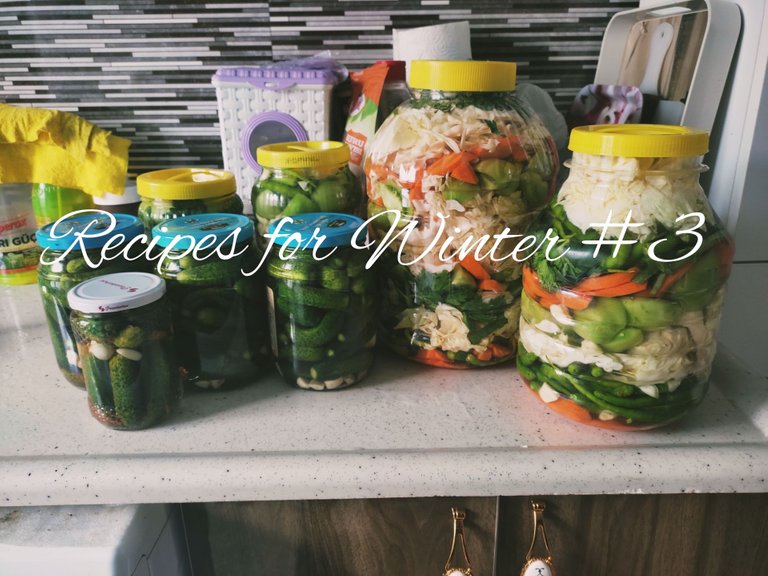 Türk insanları genellikle kış aylarında sıklıkla turşu tüketirler. Şu ana kadar turşu sevmeyen çok fazla insan görmedim diyebilirim. Turşunun kış mevsiminde sıcak yemeklerin yanına çok yakıştığını düşünüyorum. Özellikle kuru fasulye,nohut gibi bakliyatların yanında çok popüler bir besin öğesi. Bu kadar popüler bir yiyecek olduğu için de birçok varyasyonu mevcut. Beyaz lahanayla,havuçla,domatesle,salatalıkla,kereviz yapraklarıyla vb. birçok yiyecekle yapılabiliyor. Türkler patlıcanın bile turşusunu yapıyorlar. Bundan pek hoşlandığım söylenemez. Gerçi patlıcandan reçel yapmalarına göre çok daha iyi bir fikir. Her neyse insanların yemek yeme tercihlerini eleştirmek istemiyorum. Hakkında olumsuz eleştiri yaptığım şeyleri seven insanlar olabilir. Bu düşünce biraz ürkütücü :D.
Her neyse biraz da benim ne tarz bir tarif vereceğimden bahsedelim. Bugün sizlerle içinde sevdiğim tüm turşuluk malzemelerin olduğu -Domates hariç- bir tarif paylaşacağım. Domatesi annem çok sevdiği için bu tarife ekledik. Normalde domates ile yapılan turşudan hiç hoşlanmam. Birçok insan da buna bayılır. Gerçekten anlaması çok güç ama yine de buna saygı duyuyorum. lol. Küçükken en sevdiğim turşu havuç ile yapılandı. Bu yüzden turşularımın vazgeçilmez malzemesidir. Hala da çok sevdiğimi itiraf etmeliyim. Bence farklı bir lezzeti var. Yine çok fazla konuştum. Hadi biraz da tarife göz atalım!
Karışık Turşu
Malzemeler
Havuç
Yeşil Domates
Yeşil Biber
Turşuluk Salatalık
Kereviz Yaprakları
Beyaz Lahana
Bol Miktarda Sarımsak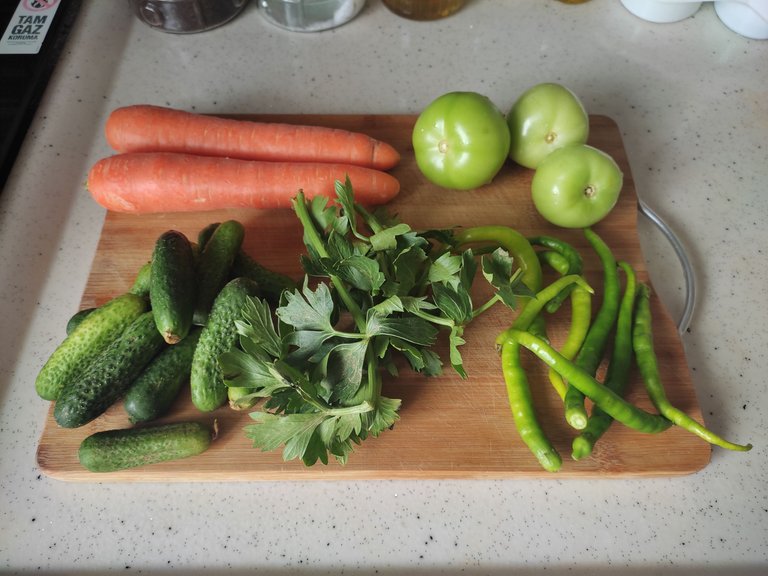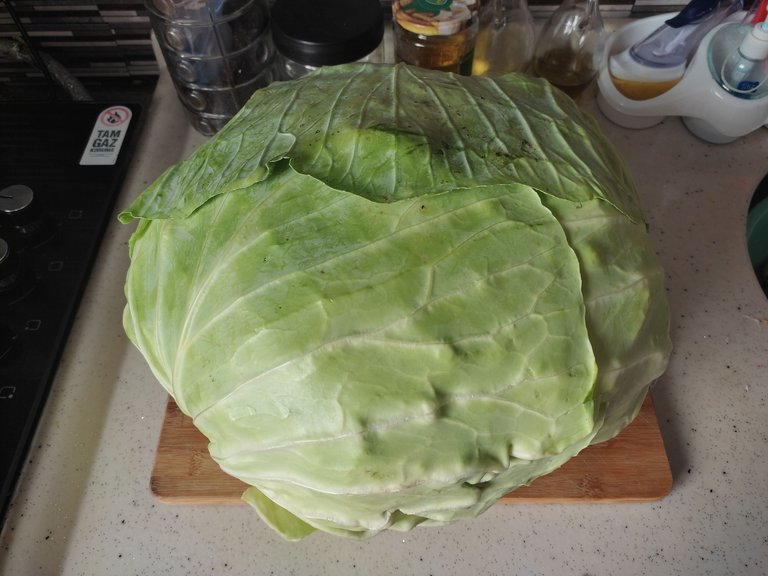 Turşu Suyu İçin :
1.5 Litre Üzüm Sirkesi
Önceden kaynatılıp soğutulmuş 5 litre su
25 Çorba Kaşığı Turşuluk Kaya Tuzu
Her kavanoz için birkaç adet kesme şeker
İki farklı turşu yapacağım bu yüzden iki farklı turşu suyu ölçüsü veriyorum. İlk hazırlayacağım suyu tüm malzemeleri karıştırarak yapacağım turşuda kullanacağım.
Salatalıklar ile yapacağım turşuda bir su hazırlamayacağım. Kavanozlara gereken tuz,şeker ve üzüm sirkesini ayrı ayrı koyacağım ve son olarak da üzerine kaynar su dökeceğiz.
Salatalık Turşusu İçin :
300 mL Üzüm Sirkesi ( Yaklaşık 1.5 Bardak)
15 Çorba Kaşığı Turşuluk Kaya Tuzu
Birkaç Adet Kesme Şeker
Kaynar Su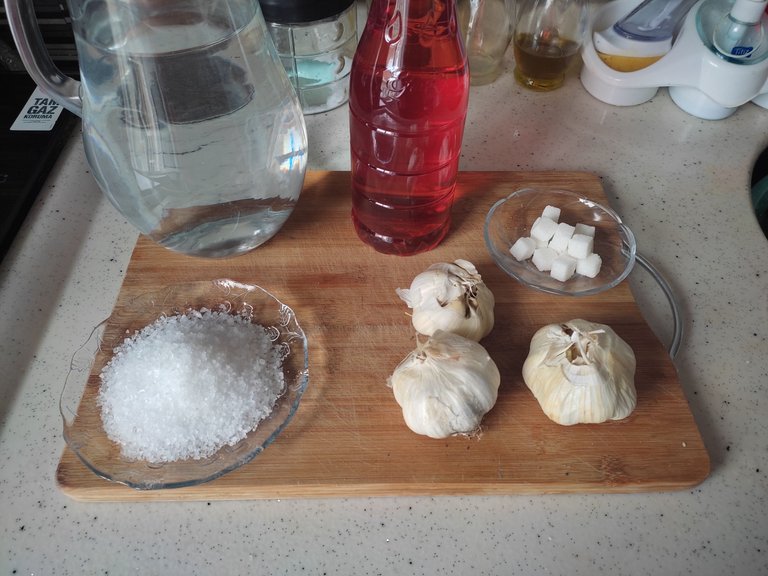 Salatalık turşusu için kullandığım her kavanoz yaklaşık 1L'lik bir hacime sahipti.
Adımlar
Yeşil domatesleri yıkayın ve 4 parçaya bölün.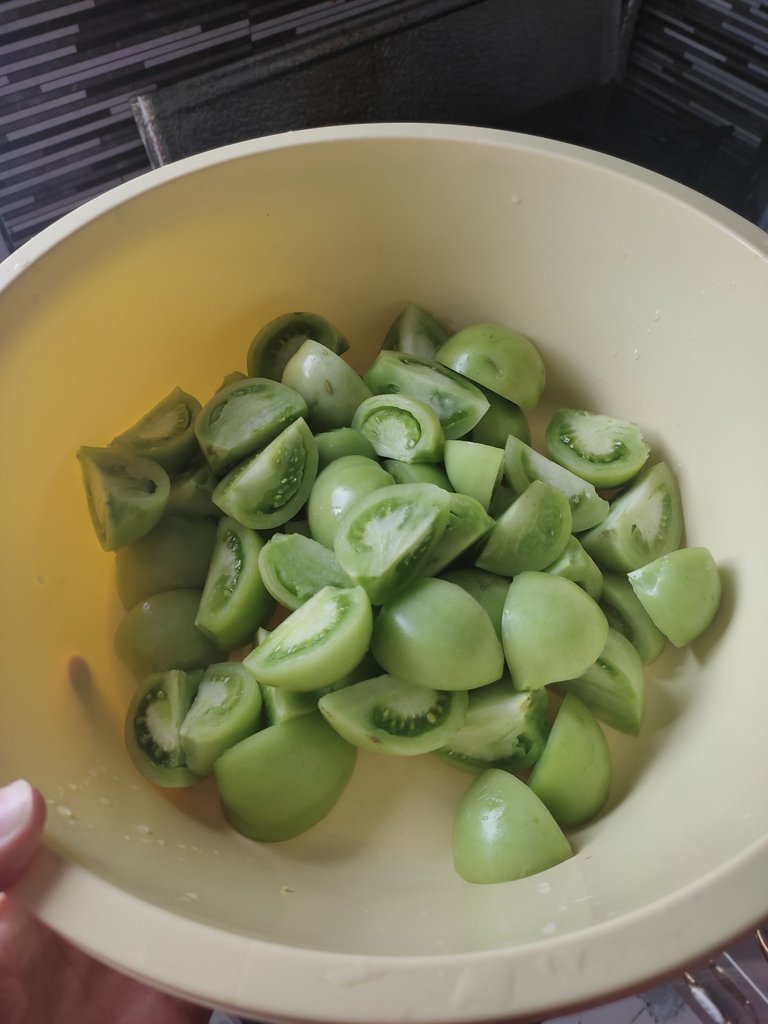 Biberlerin saplarını koparın ve iyice yıkayın. Daha sonra bıçak ile biberlerin üzerinde birkaç küçük delik açın.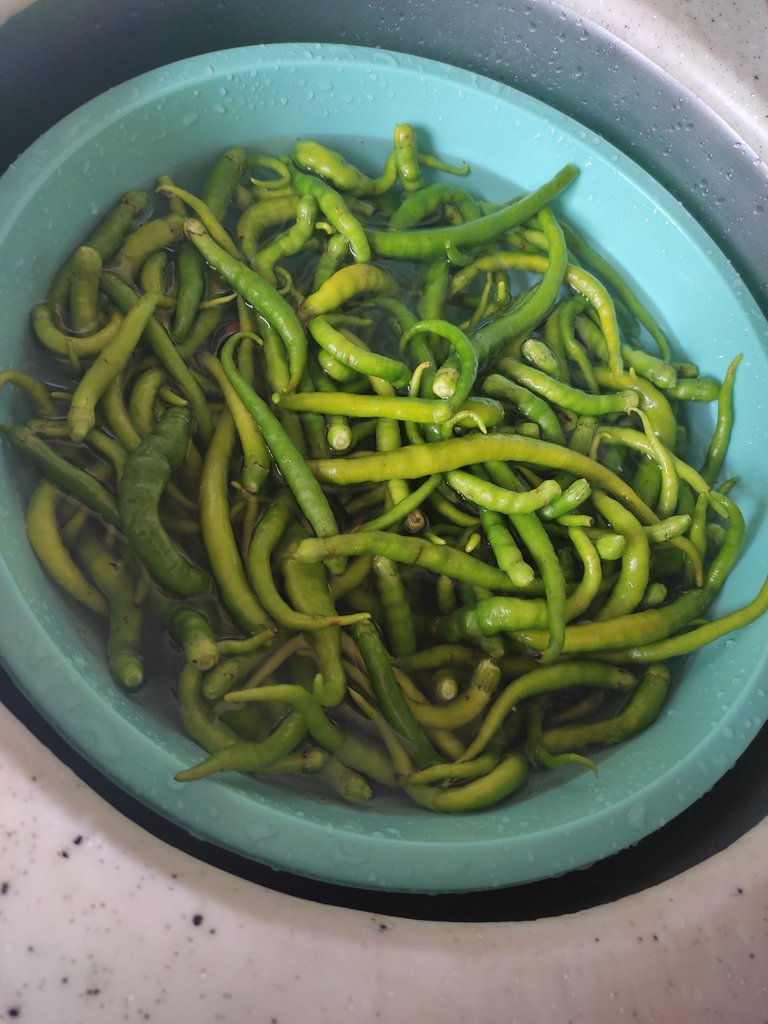 Havuçların kabuklarını soyun ve yıkayın.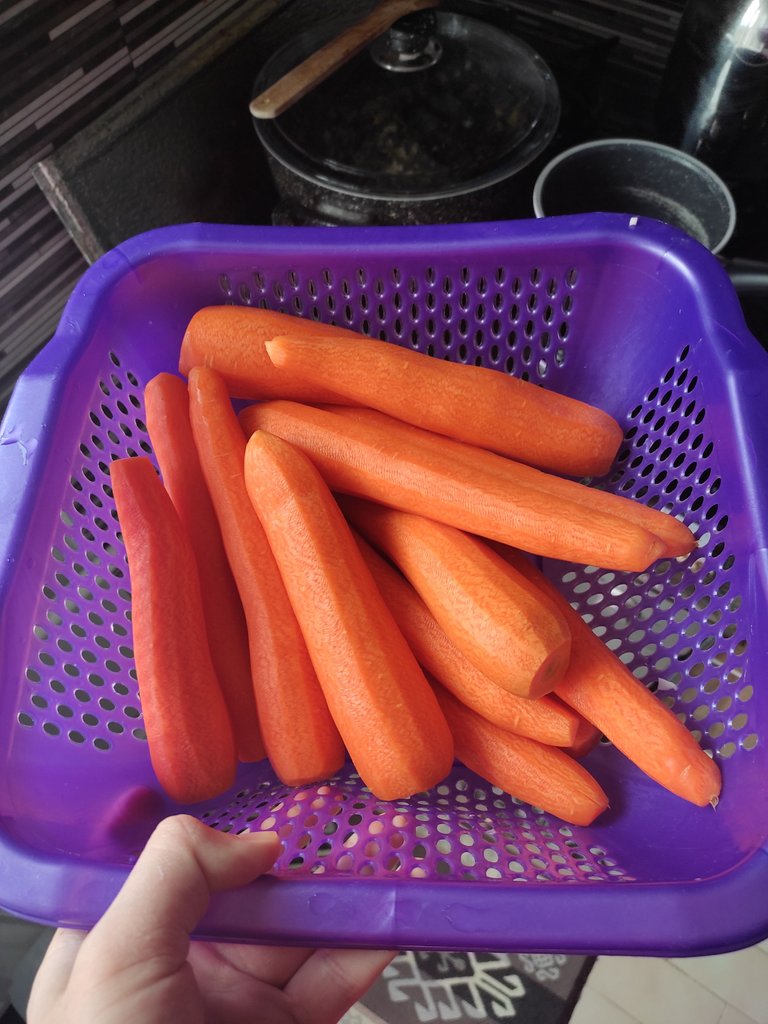 Havuçları kalın çubuklar şeklinde ya da resimdeki gibi doğrayın.
Doğradığınız havuçların çok ince olmamasına dikkat edin.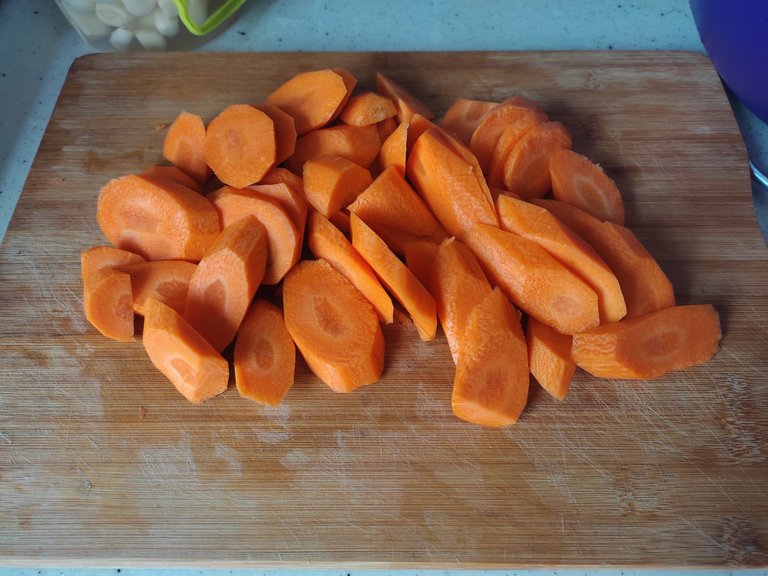 Sarımsağın kabuğunu soyun ve su dolu bir kapta 5 dakika bekletin. Daha sonra sarımsakları yıkayın.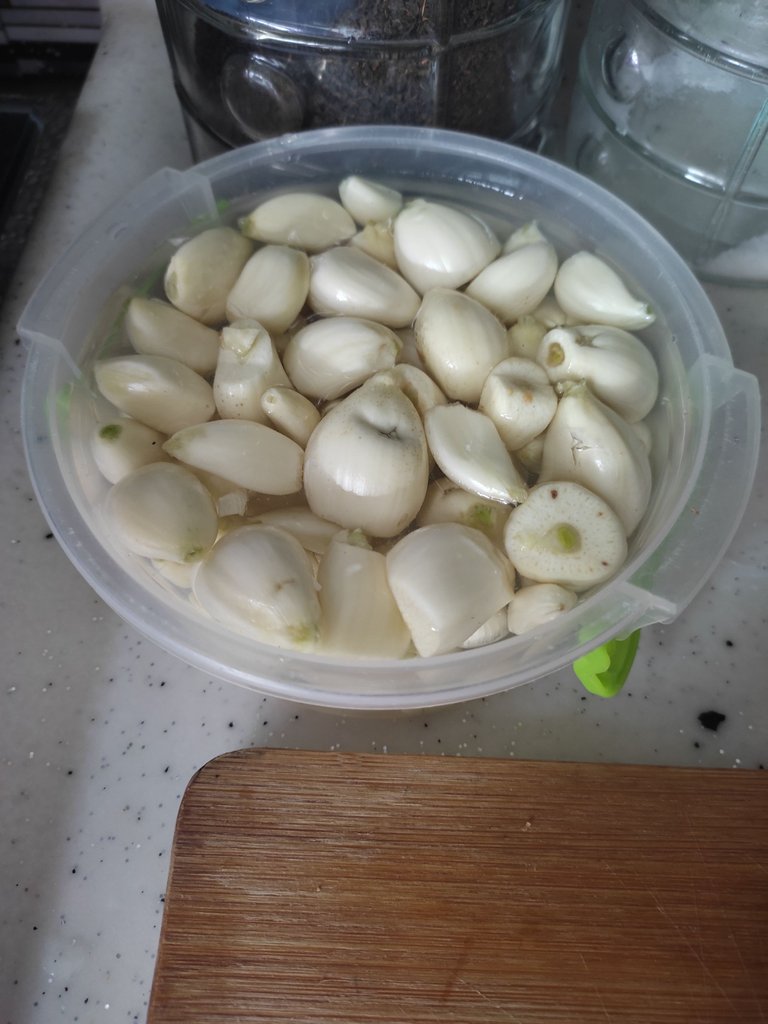 Kereviz saplarını iyice yıkayın.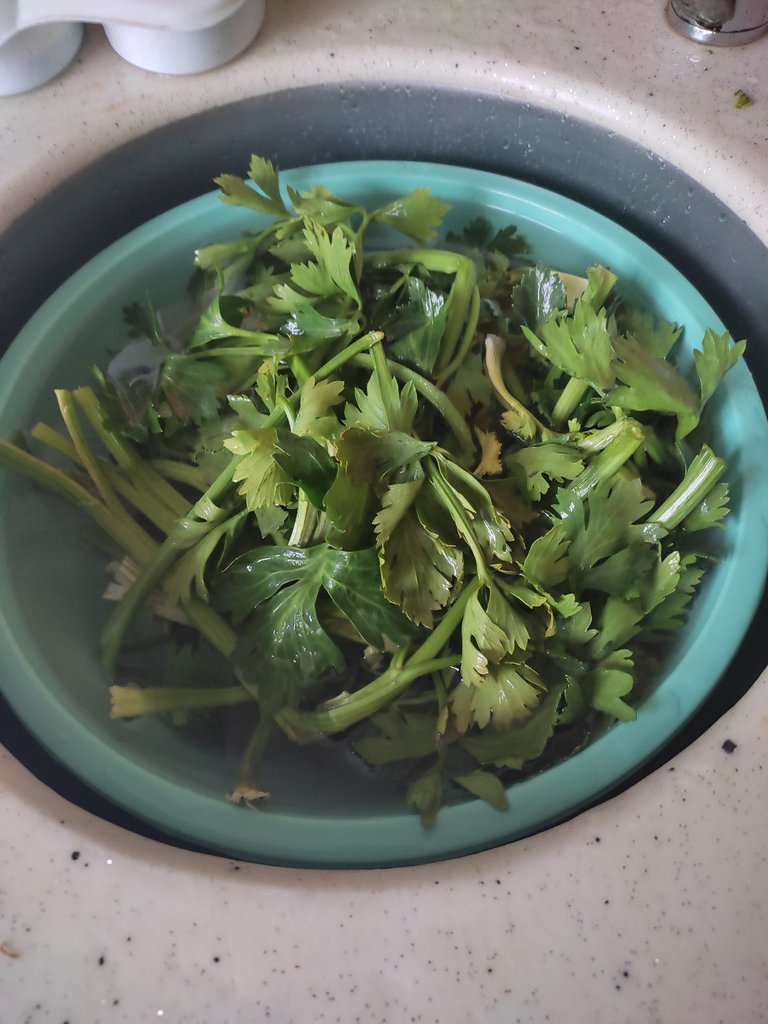 Beyaz lahanayı iri parçalara bölün.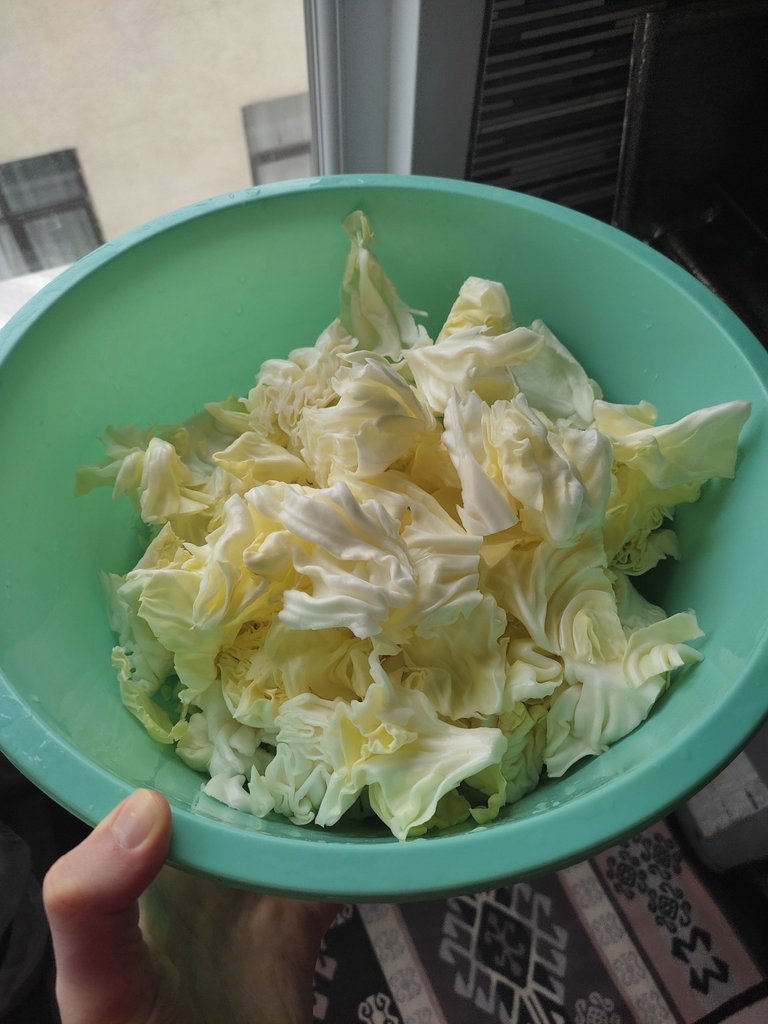 Kereviz saplarını iri parçalar halinde doğrayın.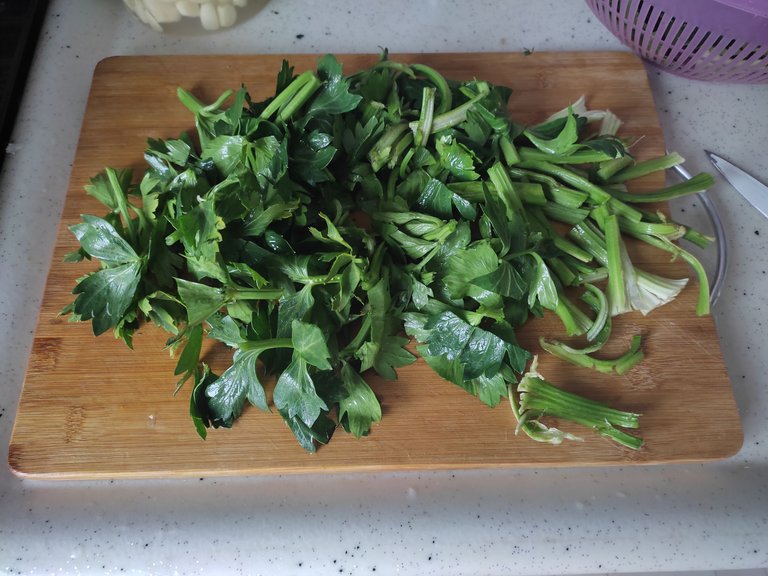 Her bir sarımsağı iki eşit parçaya bölün. Bu işlem sarımsağın hazırladığınız turşuya daha iyi karışmasını sağlayacaktır.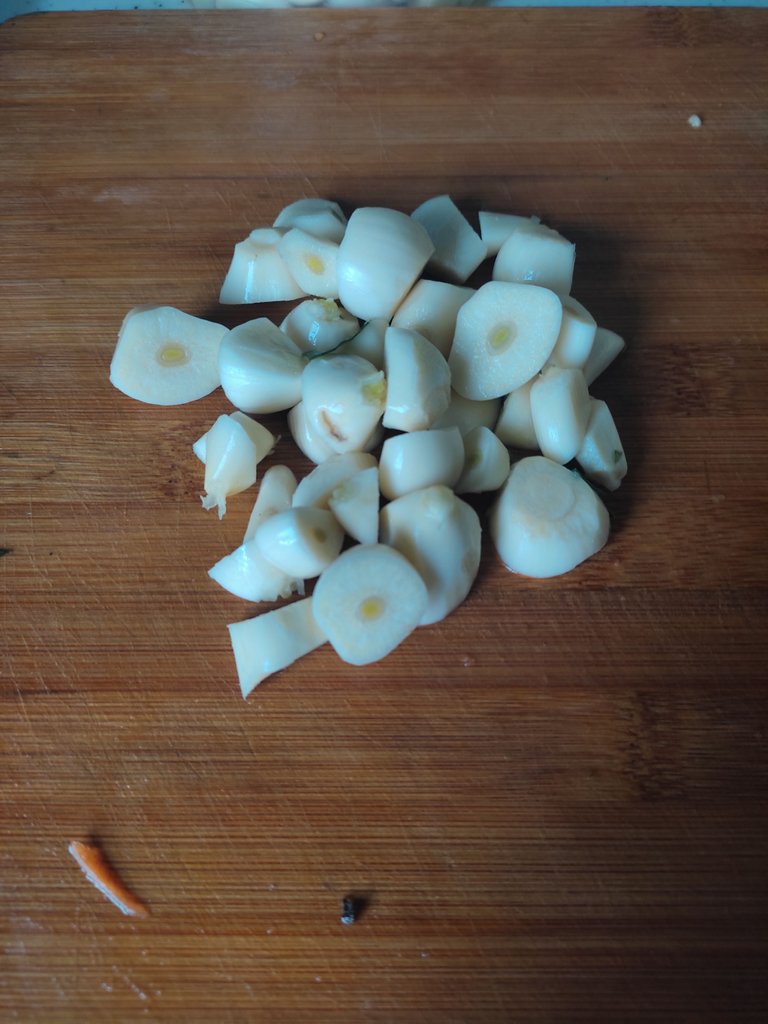 Kavanozun dibine havuç koyun.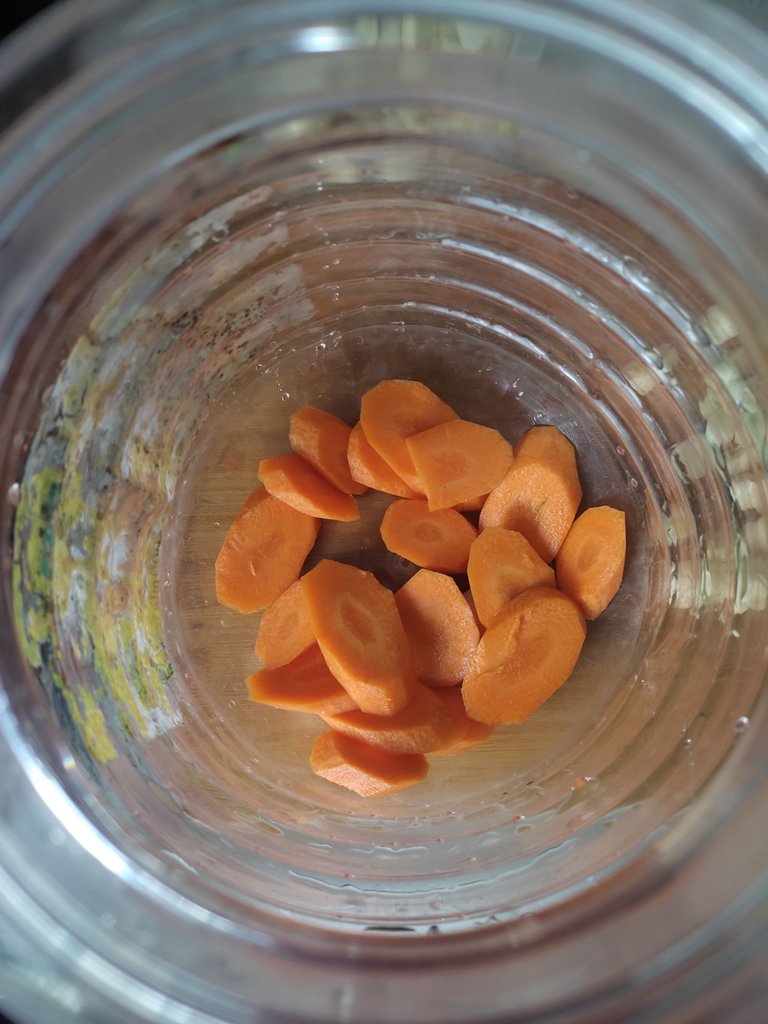 Üzerine biraz sarımsak ekleyin.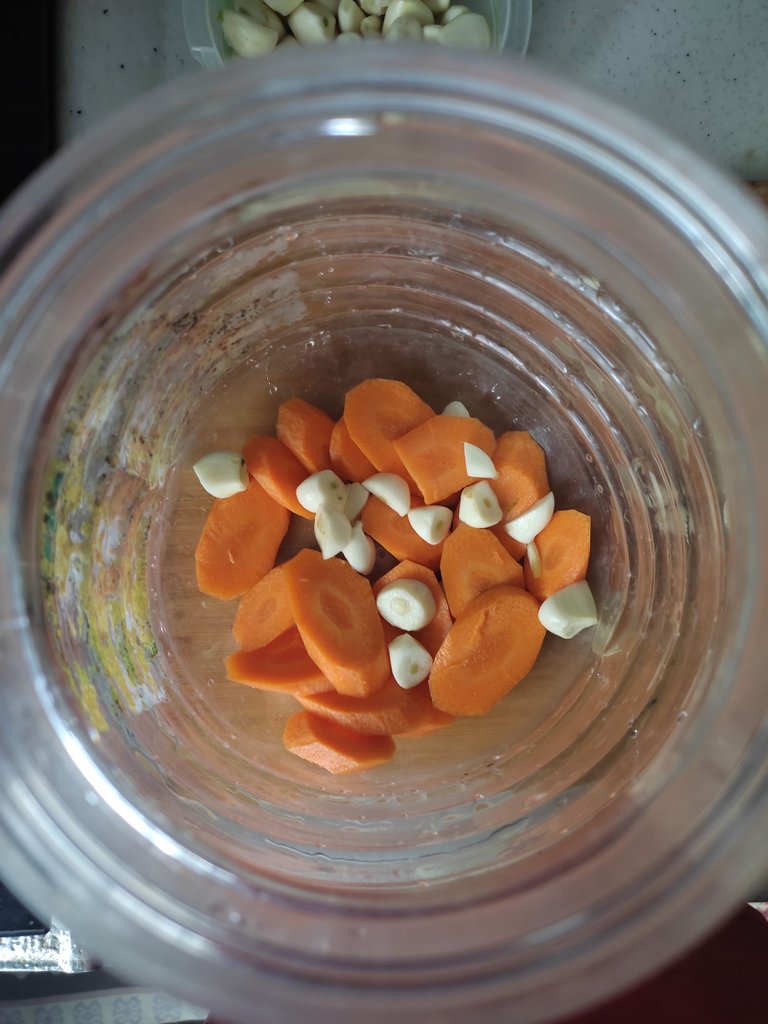 Biberleri ekleyin.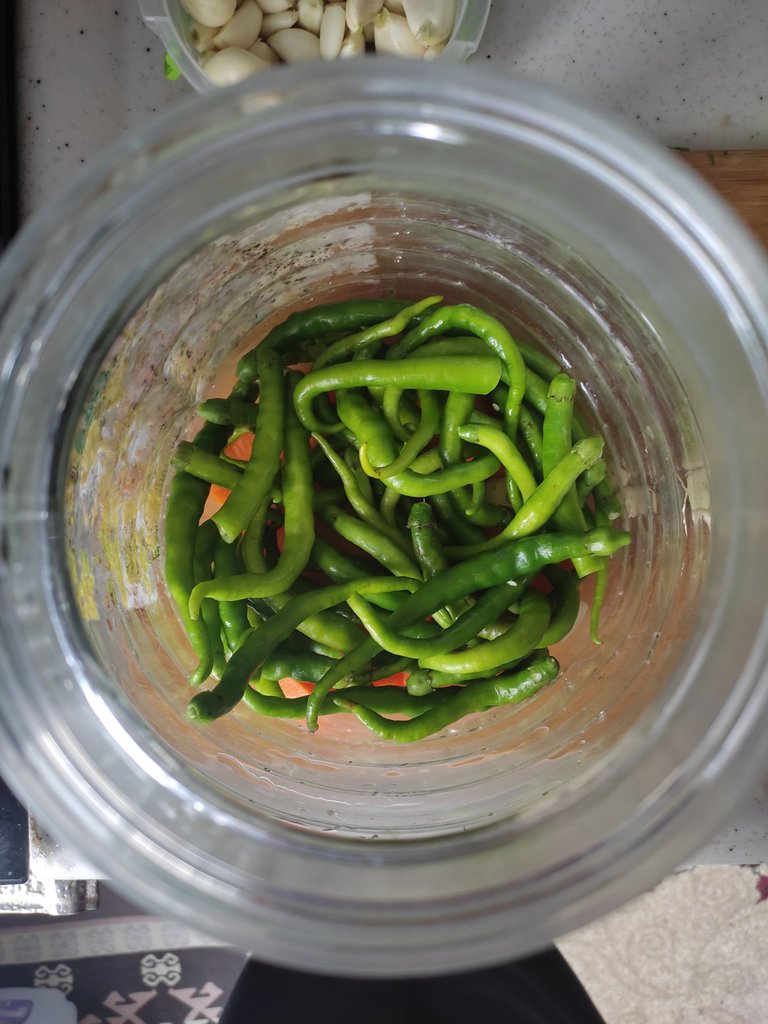 Lahanayı ekleyin ve üzerine bastırın. Lahanaları biraz sıkıştırın. Yoksa kavanozda çok fazla yer kaplayacaklardır.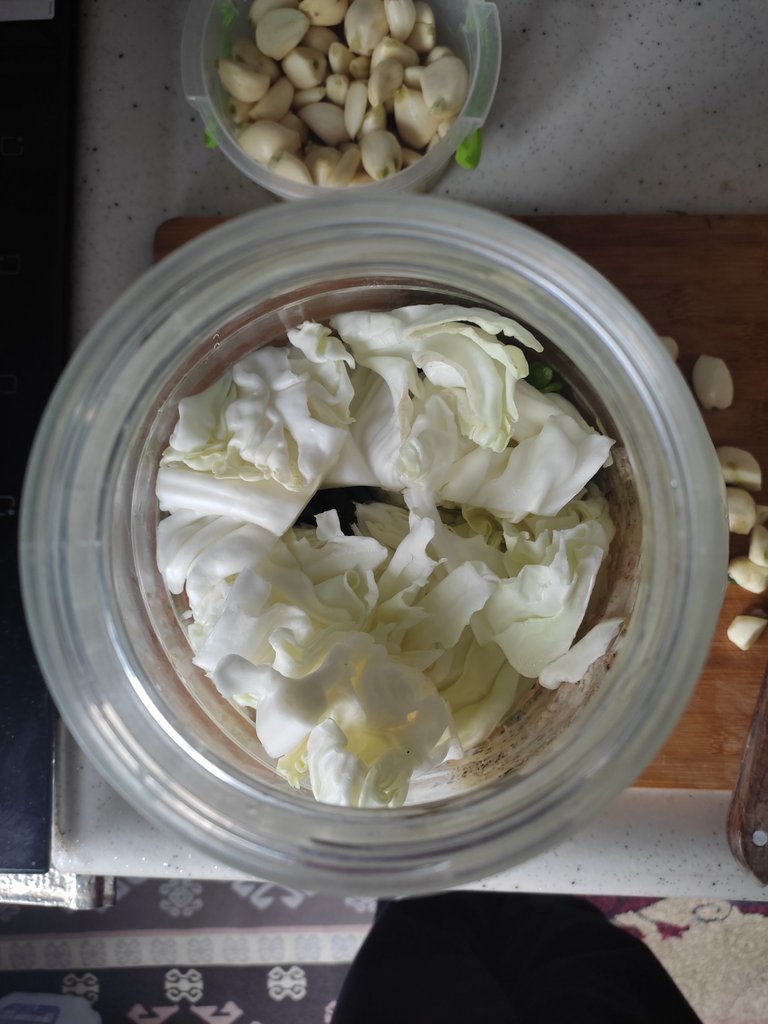 Domatesleri ekleyin ve çok fazla ezmemeye çalışın.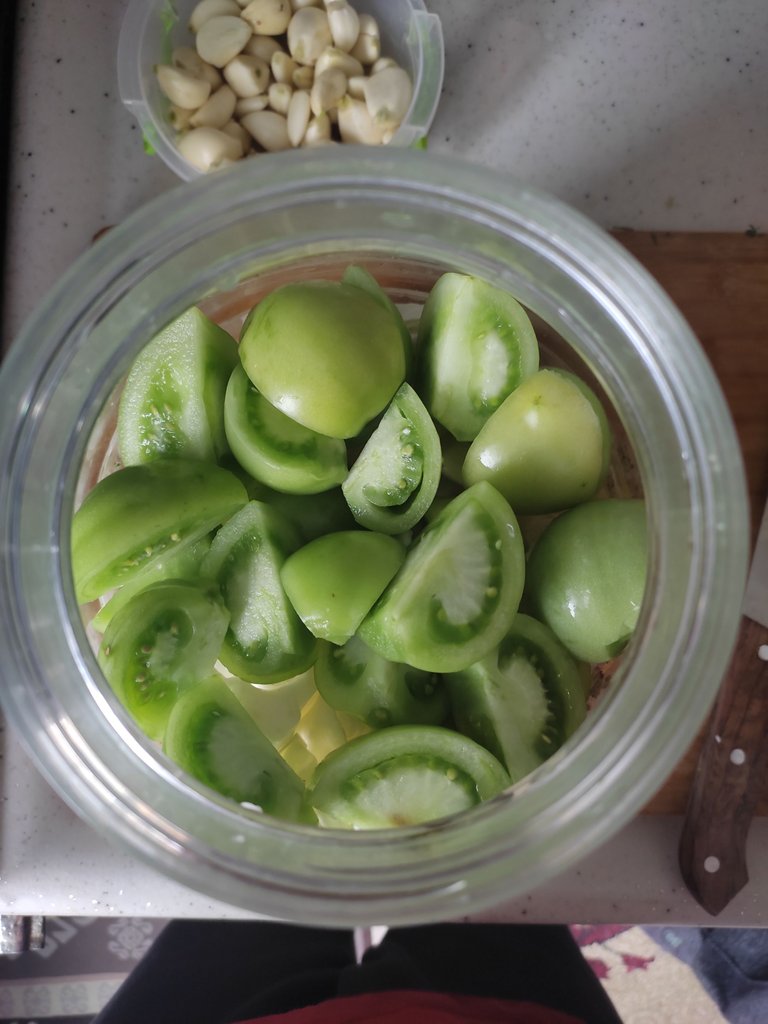 Sarımsak ekleme işlemini tekrarlayın.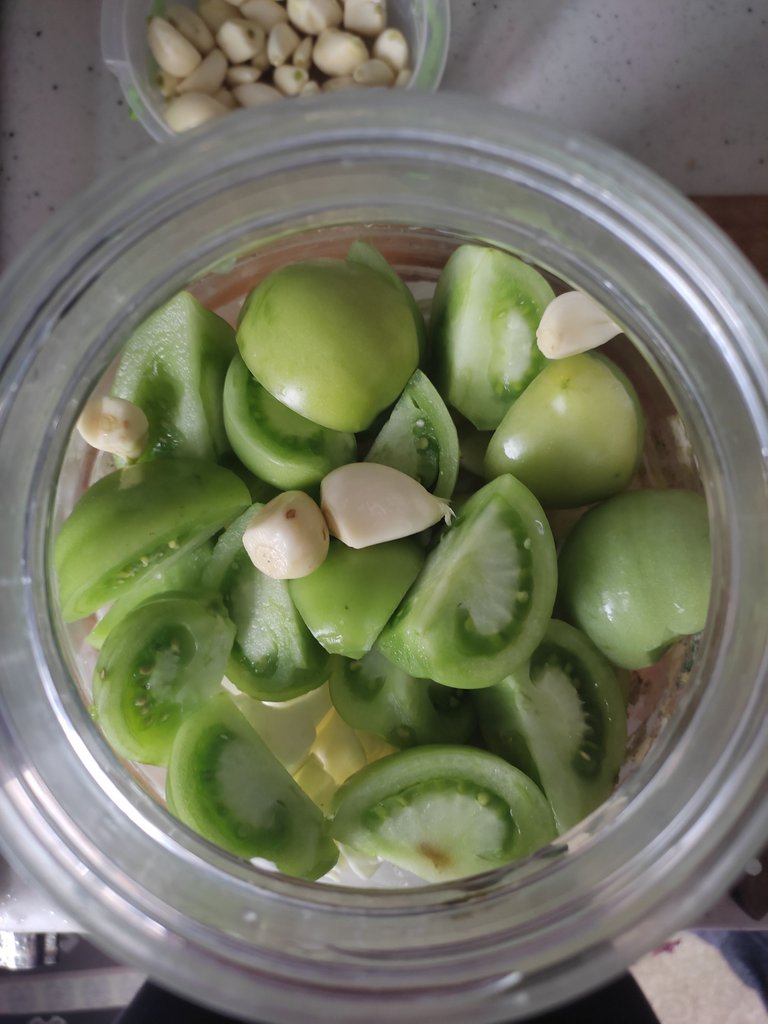 Son olarak da kereviz yapraklarını ekleyin ve bu işlemleri kavanoz tamamen dolana kadar tekrarlayın.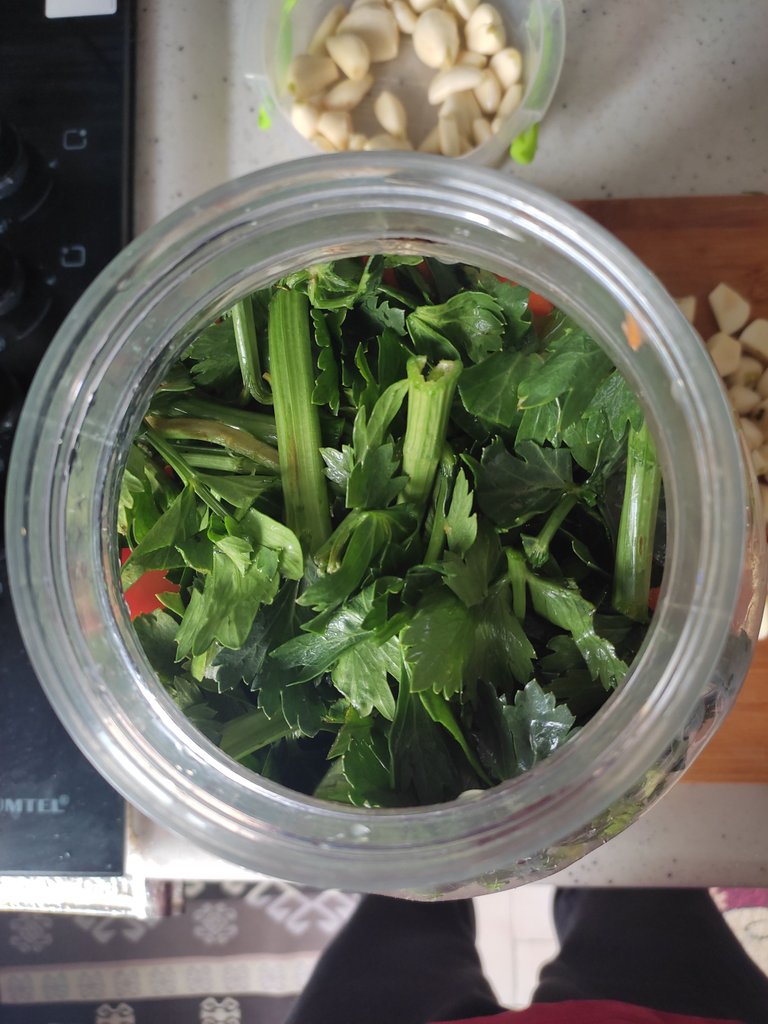 Turşuluk salatalıkları iyice yıkayın ve saplarını koparın.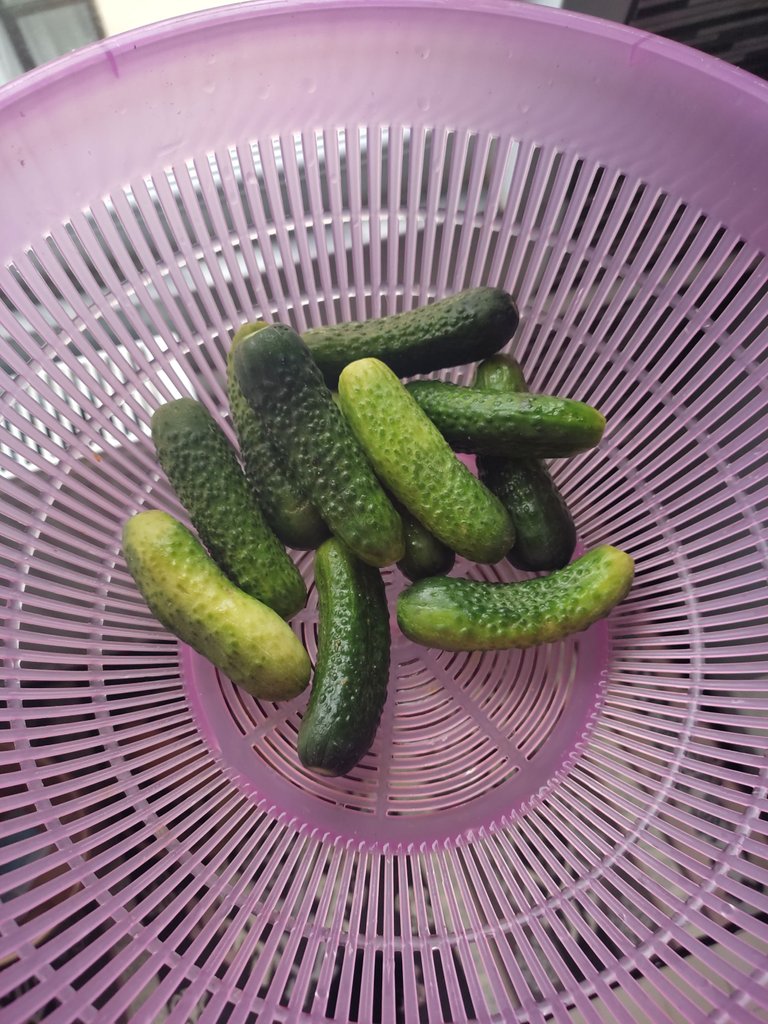 Küçük kavanozlara dik şekilde salatalıkları yerleştirin.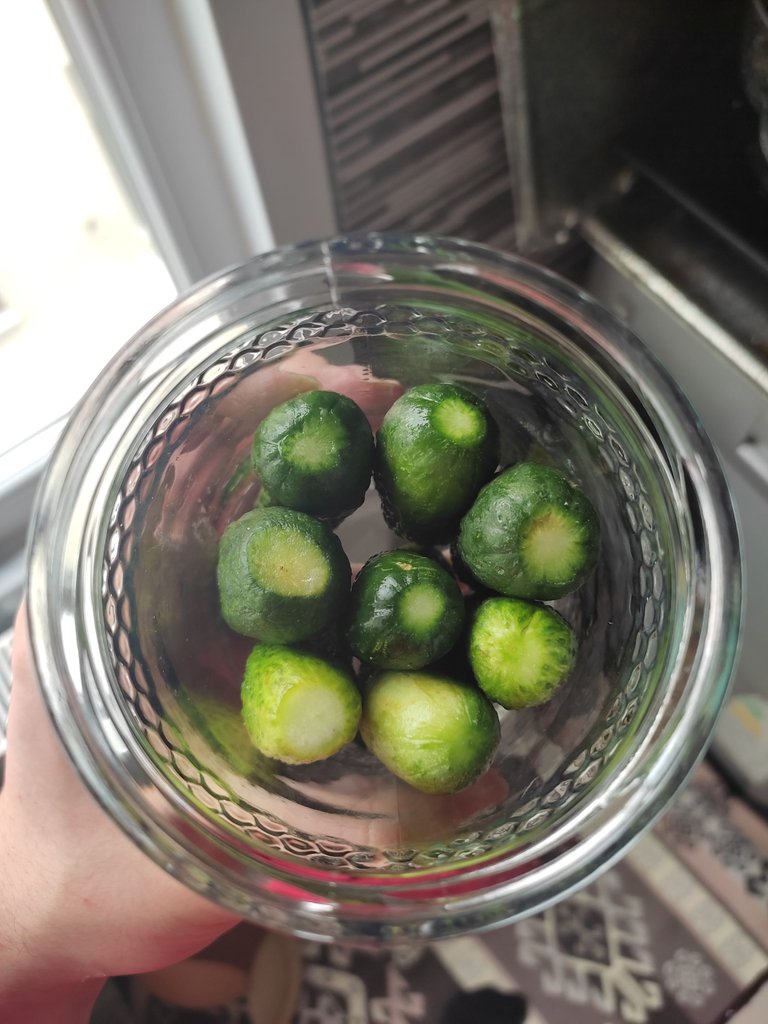 Üzerine biraz sarımsak ekleyin. Daha sonra yatay olarak birkaç adet salatalık daha yerleştirin.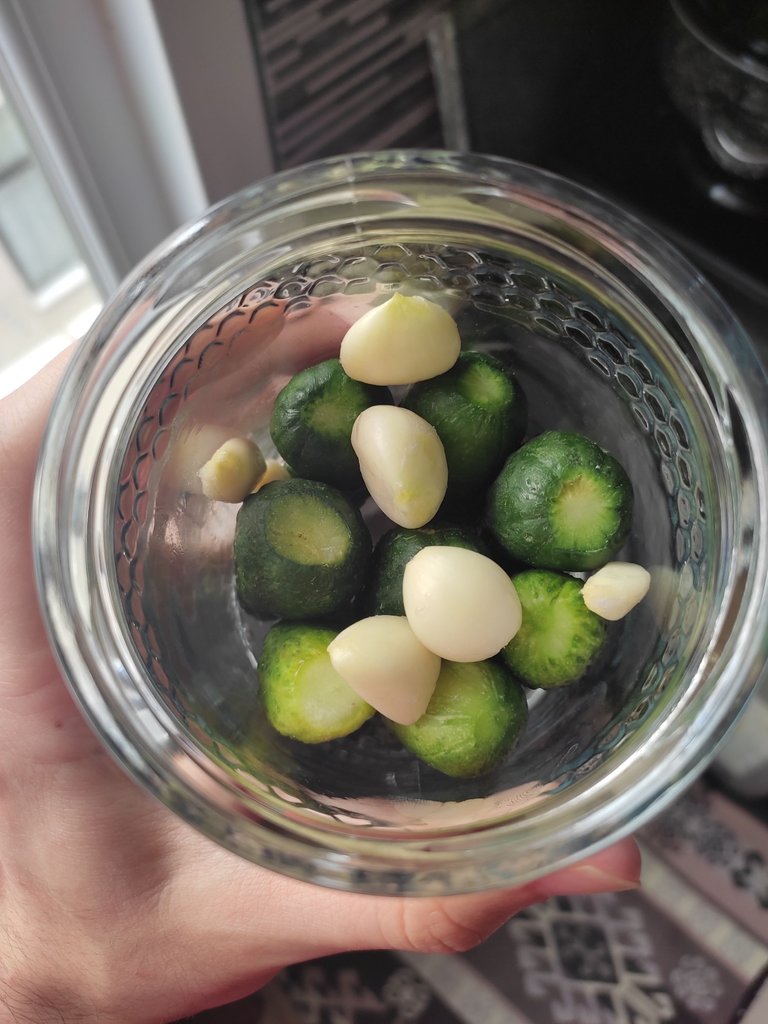 Hazırladığınız her bir salatalık kavanozunun üzerine 5 kaşık tuz,100 mL üzüm sirkesi ve birkaç adet kesme şeker ekleyin.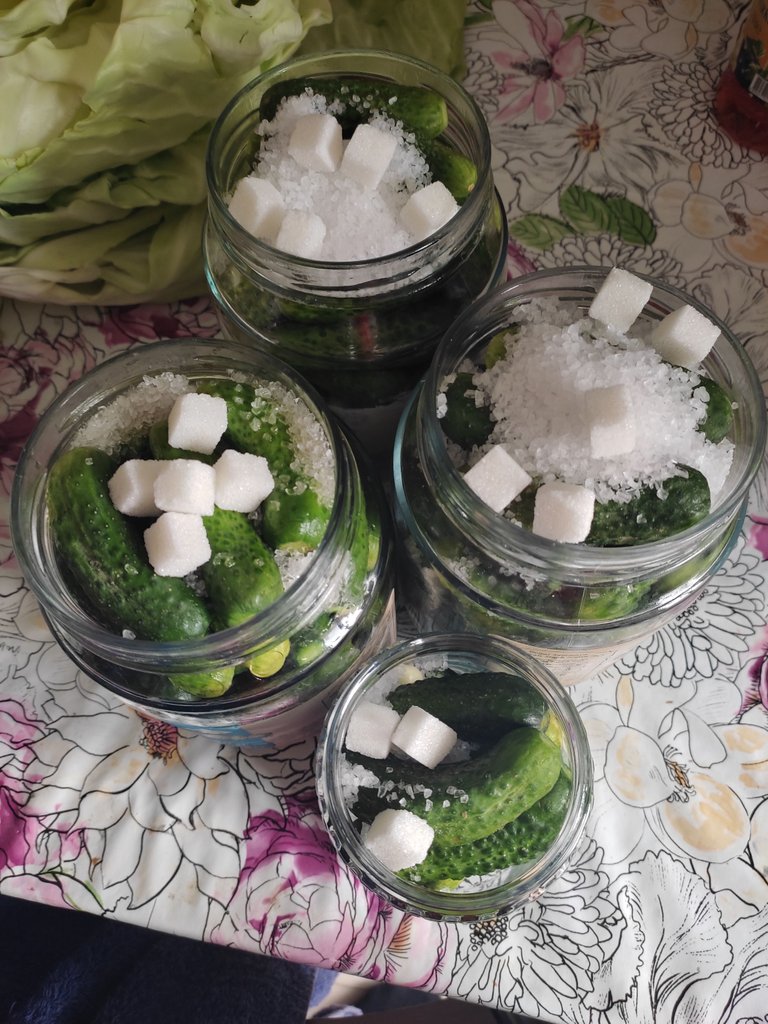 Daha sonra kaynar su ekleyin ve kavanozların kapağını kapatın.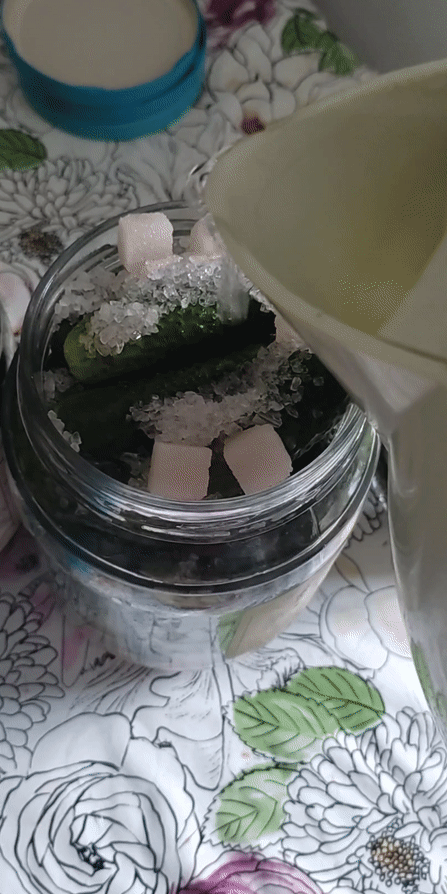 Bu arada karışık turşunun suyunu hazırlamak için kaynatılıp soğutulmuş suya tuzu ekleyin.
Üzüm sirkesini ekleyin.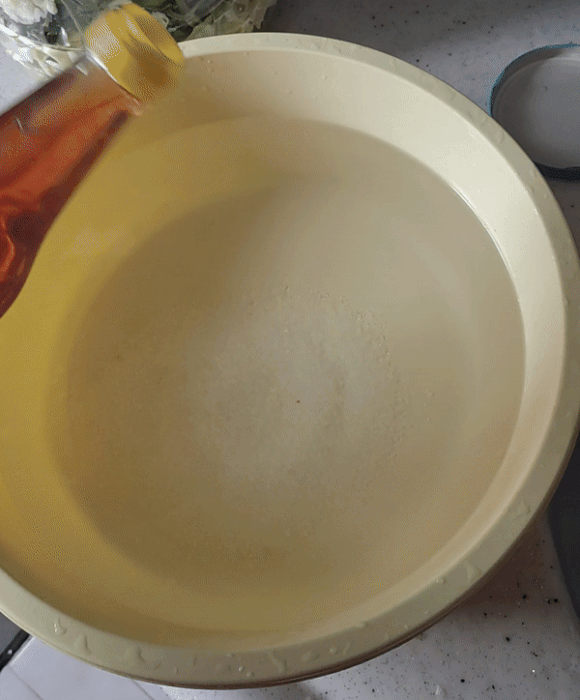 Kesme şekeri ekleyin ve karışıtırın. Şeker ve tuz eriyene kadar karıştırma işlemine devam edin.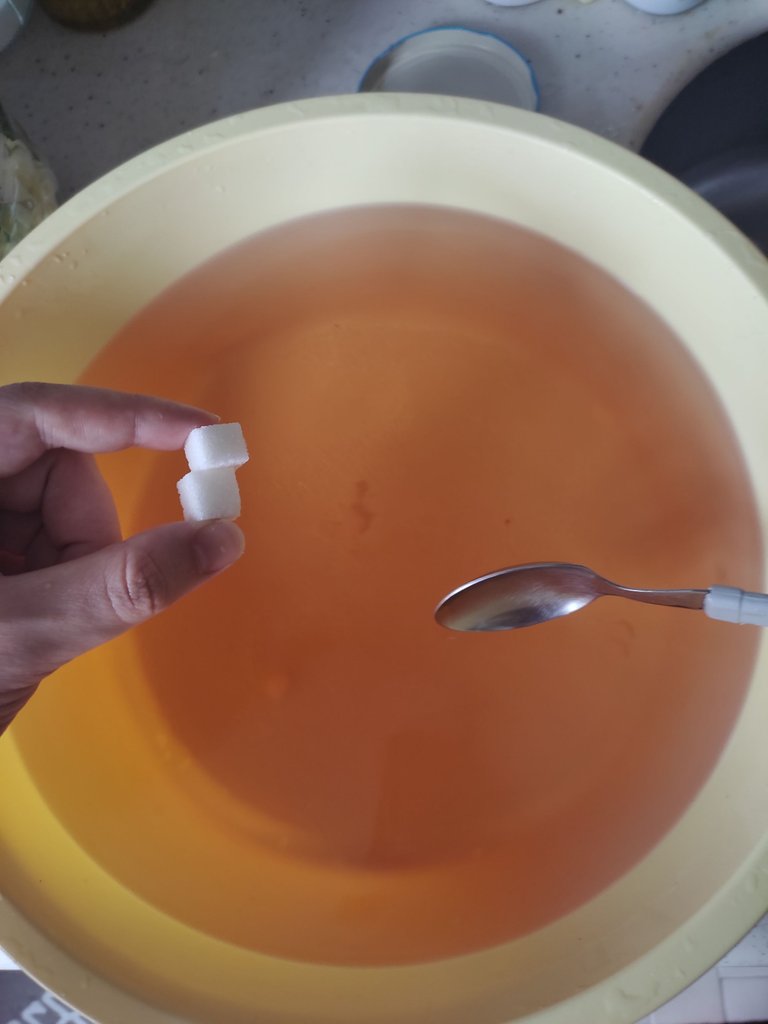 Hazırladığınız suyu kavanozlara ekleyin.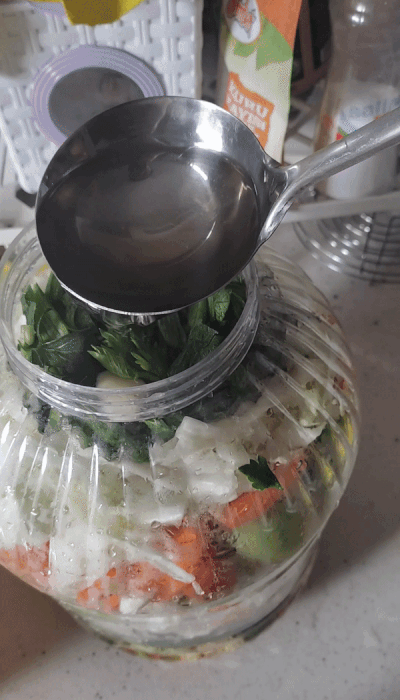 Hazırladığınız turşuları karanlık bir yerde saklayın. Yaklaşık 1 ay sonra yemeye başlayabilirsiniz. Afiyet Olsun!
-Tüm fotoğraflar bana aittir.