-EN
Hello to everyone! I hope you are in good spirits and find some time for your hobbies. I started by wishing for something like this because in the meantime I don't have much time to devote to my hobbies. My biggest hobby is to produce something for this platform. I realized that I really like to write, and I think I'm pretty interested in it. I am a club member at school. This club has a large number of students from many different departments. And while sharing tasks, there were usually deficiencies in the writing team. Because they think it's hard to produce something. I put myself forward and volunteered this year, I hope it will be the club's most trouble-free year in this regard. Because I have no doubt that I will succeed. It was a very smug speech :D.
This week, the first exams of the year begin for me at school. So we planned something with the last few old friends staying in Istanbul. Because many of my friends, especially @mehmetfix , continue their studies in different cities. And in this process, I don't get to meet many of them much. @mehmetfix both working and reading. Here is also an active user. That's why we don't communicate much. When this is the case, the value of my close friends has increased considerably in my eyes :D. Even in the smallest of opportunities, we make plans together and meet. In fact, these meetings have recently become one of the most colorful parts of my life. This meeting was also very nice. We went to a cafe where concept meals were served together. My friends are dear to each other. So going to this place with a couple just kind of blew me away. Because their understanding of relationships is not for me and when asked, "I am a shining star all by myself." I was kidding. But I realized I wasn't shining that much. Sometimes being alone is not a good thing at all :D.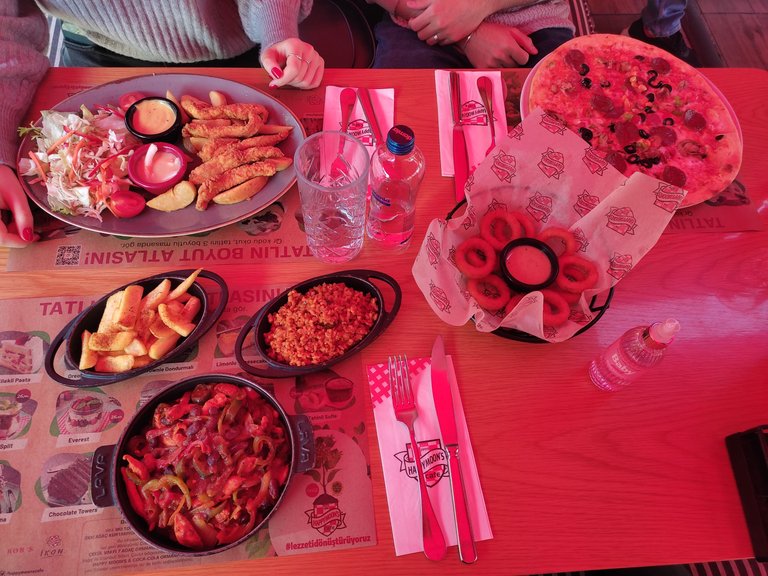 Anyway, I want to talk about the concept cafe we ​​went to. Otherwise I get depressed. This was supposed to be a jolly post. But I am listening to the saddest love song possible and writing this article. I think I have problems with myself. I don't know why I'm doing this to myself. I think I want to cry at the end of the day. lol.
I actually passed by this cafe a few times but didn't know it was this popular. They are especially successful in chicken dishes. When I ate their food, I can say that I understood why it was like this. Actually, my friends told me to place the orders myself. But both of them do not like bitter food very much. I ordered a dish called "Mexico Real". I don't think that's the real name of the dish. It was a bitter dish so they ordered more different dishes. At first I thought I would regret it, but it didn't. It was served with potatoes and a bulgur pilaf prepared with and jalapeno. Honestly, I didn't think I would like it this much. I don't like to eat bulgur and the bulgur pilaf made with jalapeno was great. Also the main course was very good. It was a chicken dish made with colorful California peppers, mushrooms, beans and napolitan sauce. I really liked it.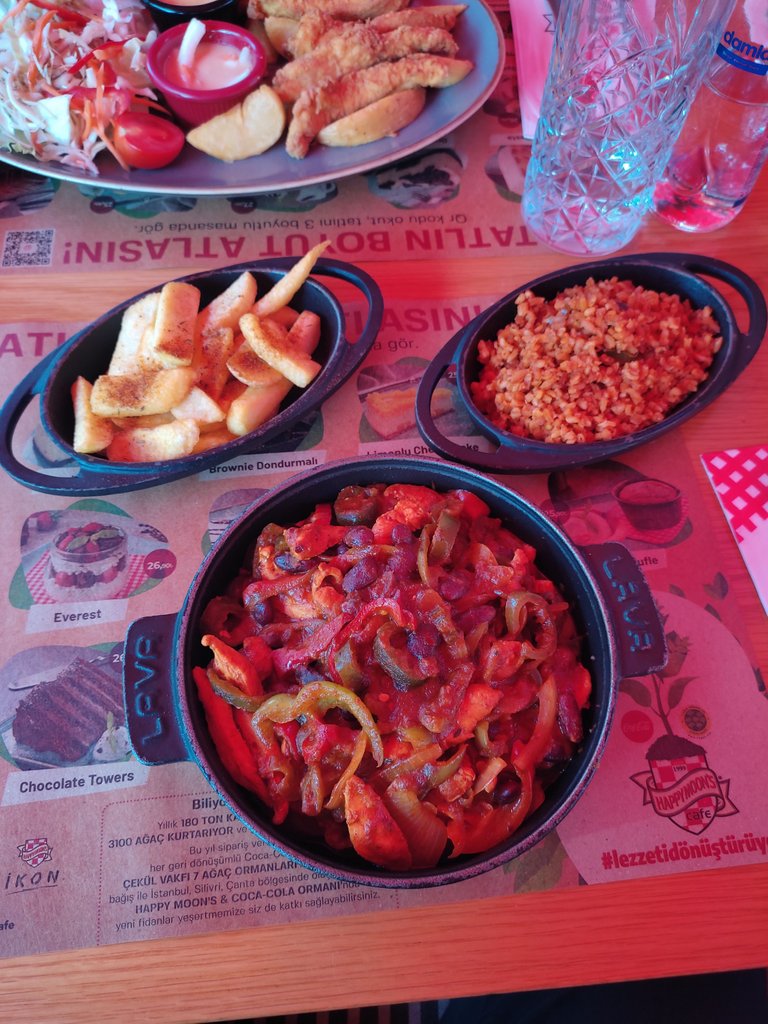 My friends also ordered delicious foods. Especially the plate with chicken sticks was very nice. I think the best honey mustard sauce I've ever eaten in my life was served with this dish. But the coleslaw served with the meal was not that good in my opinion. Coconut use is common in coleslaw. But for some reason I don't like this idea very much.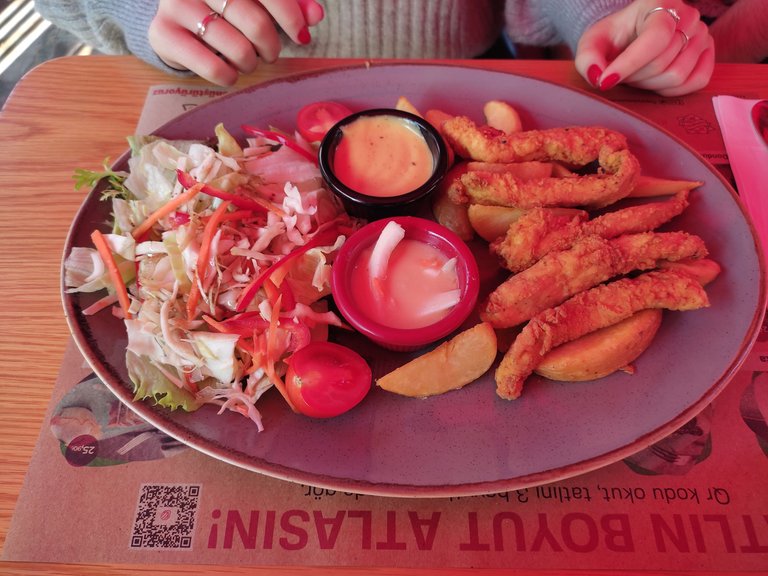 My other friend also ordered pizza. But I won't talk much about it, you know, pizza. The important thing for me was to try something different, and I think I did that today. I tried a Mexican dish I've never had before and I loved it.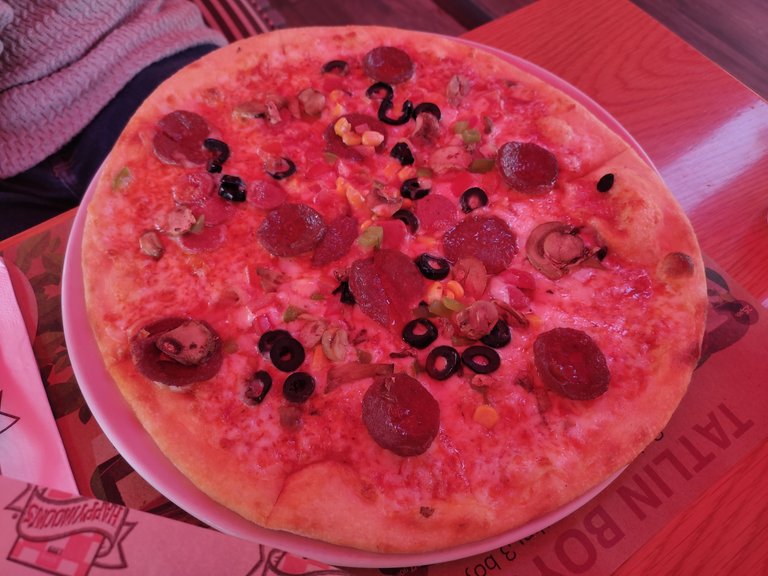 I ordered the onion ring plate in the middle. You know, the classic onion ring. But the sauce in the middle was really perfect. I'm still trying to figure out which sauce it is. If I can figure out what it is I will definitely use it in my recipes. Its appearance resembles many sauces. But all I knew about it was that it contained an intense garlic flavor.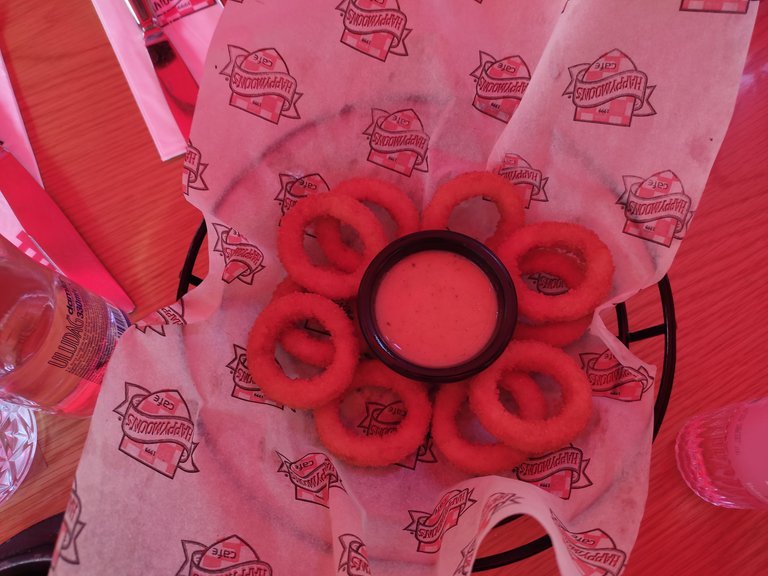 I think it would have been unusual for me if I hadn't had coffee after these fine meals. Because I love coffee. I don't like sweet coffees. But today I made a change and had something sugary I think it wasn't that bad. I ordered this coffee called Banana Cappucino with my friend. She doesn't like sugary coffees like me.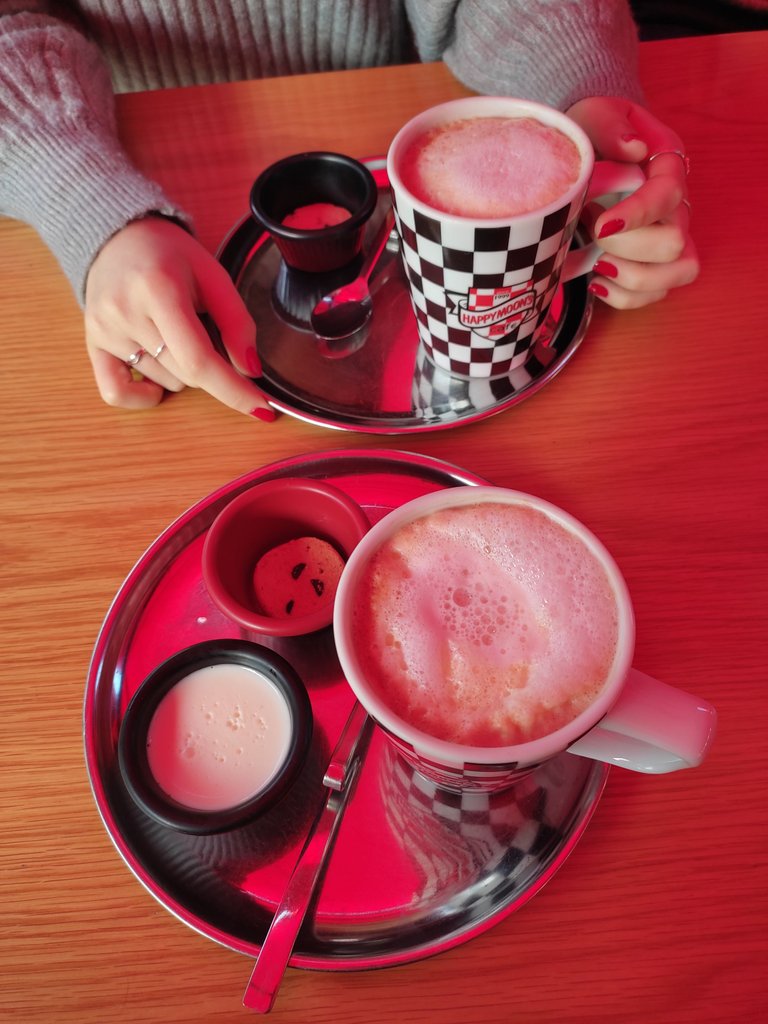 My other friend ordered hot chocolate. I can honestly say that I bullied him about it :D. Of course it was a joke. But it would be nice if he tried something different too, he acted a little like a little kid and was not surprised by what he knew :D.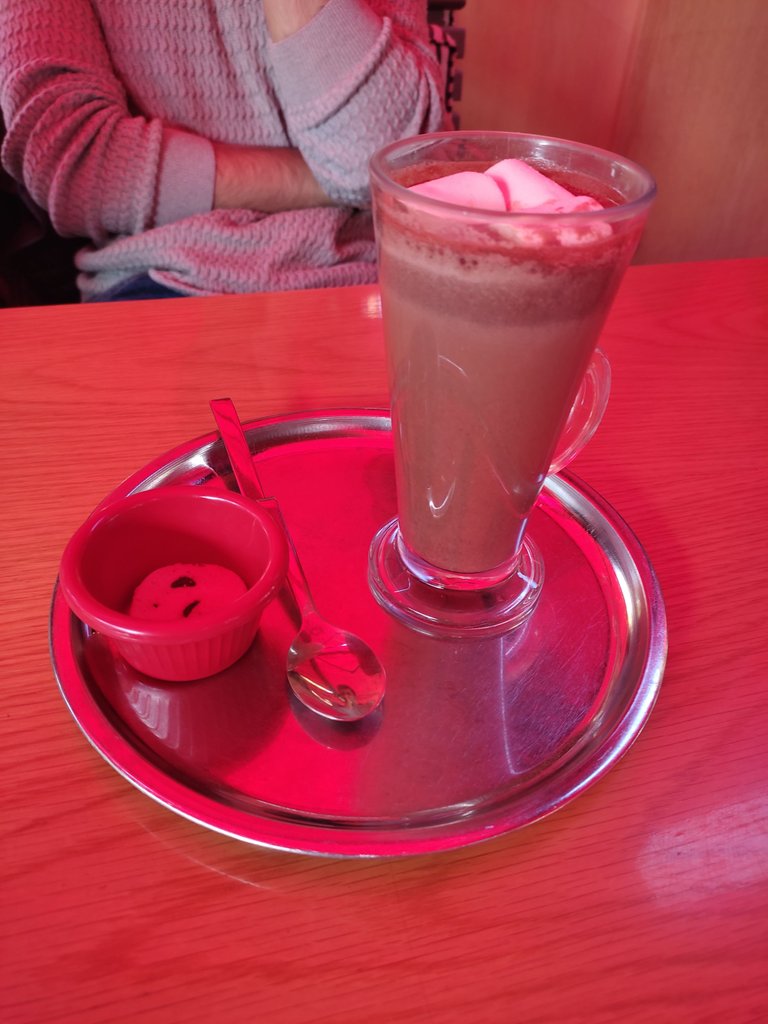 Yes, Foodies Bee Hive readers, I reviewed this place this week and I really liked it. That's why my rating is 8/10. I intend to continue writing reviews like this. See you in the next recipe. Stay with love. Goodbye!
-All photographs are my own,unless otherwise stated.
-TR
Herkese Merhaba! Umarım keyfiniz yerindedir ve hobileriniz için biraz zaman bulabiliyorsunuzdur. Böyle bir şey dileyerek başladım çünkü bu aradalar benim için hobilerime vakit ayırmak için pek zaman bulamıyorum. En büyük hobim bu platform için bir şeyler üretmek. Gerçekten yazmayı sevdiğimi farkettim ve sanırım bu konuda oldukça ilgiliyim. Okulda bir kulüp üyesiyim. Bu kulüpte birçok farklı bölümden çok sayıda öğrenci var. Ve görev paylaşımı yapılırken genellikle yazı yazma ekibinde eksikler oluşuyormuş. Çünkü bir şeyler üretmenin zor olduğunu düşünüyorlar. Bu sene kendimi öne atıp gönüllü oldum umarım kulübün bu konudaki en sorunsuz senesi olur. Çünkü bunu başaracağımdan şüphem yok. Çok kendini beğenmiş bir konuşma oldu :D.
Bu hafta okulda benim için senenin ilk sınavları başlıyor. Bu yüzden İstanbul'da kalan son birkaç eski arkadaşımla bir şeyler planladık. Çünkü @mehmetfix başta olmak üzere arkadaşlarımın birçoğu farklı şehirlerde öğrenciliklerine devam ediyorlar. Ve bu süreçte birçoğu ile fazla görüşemiyorum. @mehmetfix hem çalışıyor hem de okuyor. Burada da aktif bir kullanıcı. Bu yüzden pek fazla iletişim kuramıyoruz. Durum böyle olunca yakınımdaki arkadaşlarımın değeri benim gözümde oldukça arttı :D. En ufak fırsatlarda bile birlikte planlar yapıyoruz ve buluşuyoruz. Aslında bu buluşmalar son dönemlerde hayatımın en renkli parçalarından biri haline geldi. Bu seferki buluşma da oldukça güzeldi. Birlikte konsept yemekler yapılan bir kafeye gittik. Arkadaşlarım birbiriyle sevgili. Yani bir çift ile birlikte bu mekana gitmek beni biraz mahvetti. Çünkü onların ilişki anlayışı bana göre değil ve sorulduğu zaman "Ben tek başına parlayan bir yıldızım." diyip dalga geçiyordum. Ama o kadar da parlamadığımı farkettim. Bazen yalnız olmak hiç de güzel bir şey değil :D.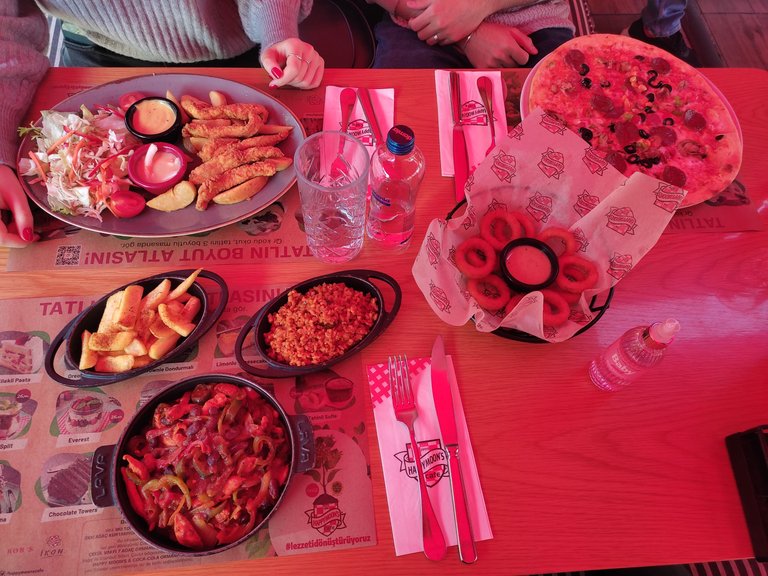 Neyse biraz da gittiğimiz konsept kafeden bahsetmek istiyorum. Yoksa moralim bozuluyor. Bunun neşeli bir yazı olması gerekiyordu. Ama ben olabilecek en hüzünlü aşk şarkısını dinleyip bu yazıyı yazıyorum. Sanırım kendimle ilgili problemlerim var. Kendime bu eziyeti neden yaptığımı ben de bilmiyorum. Galiba günün sonunda ağlamak istiyorum. lol.
Aslında bu kafenin önünden birkaç kez geçtim ama bu kadar popüler olduğunu bilmiyordum. Özellikle tavuk yemeklerinde çok başarılılar. Yemeklerini yiyince neden böyle olduğunu anladım diyebilirim. Aslında arkadaşlarım siparişleri benim vermemi söylediler. Ama ikisi de acı yemeklerden pek hoşlanmazlar. Ben "Mexico Real" denilen bir yemek sipariş ettim. Yemeğin gerçek adının bu olduğunu sanmıyorum. Acı bir yemekti yüzden onlar daha farklı yemekler sipariş ettiler. İlk başta pişman olacağımı düşündüm ama öyle olmadı. Patates ve Jalapeno ile hazırlanmış bir bulgur pilavı ile birlikte servis ediliyordu. Açıkçası bu kadar beğeneceğimi düşünmemiştim. Bulgur yemekten pek hoşlanmam ve jalapeno ile yapılmış bulgur pilavı harikaydı. Ayrıca ana yemek de çok güzeldi. Renkli California biberleri,mantar,meksika fasulyesi ve napolitan sos ile yapılmış bir tavuk yemeğiydi. Gerçekten çok beğendim.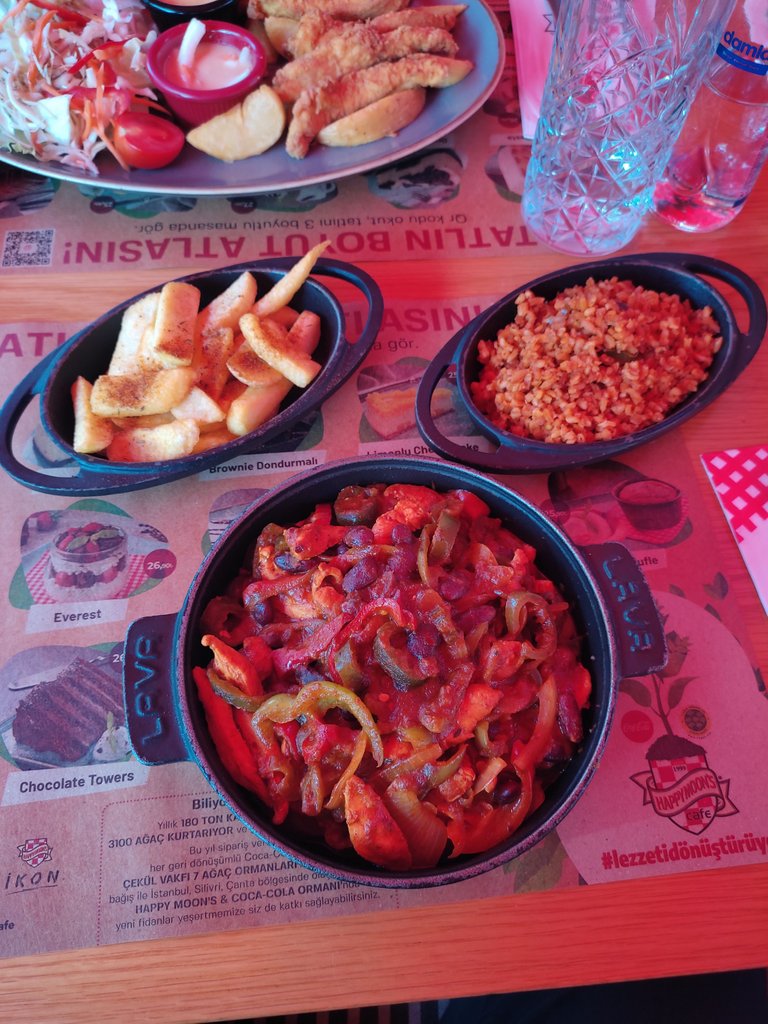 Arkadaşlarım da güzel yemekler sipariş vermişti. Özellikle tavuk çubukları olan tabak çok güzeldi. Sanırım hayatım boyunca yediğim en güzel ballı hardal sos bu yemekle birlikte sunulmuştu. Ama yemeğin yanında servis edilen coleslaw bence o kadar güzel değildi. Coleslawda hindistan cevizi kullanımı yaygındır. Ama nedense bu fikri pek sevmiyorum.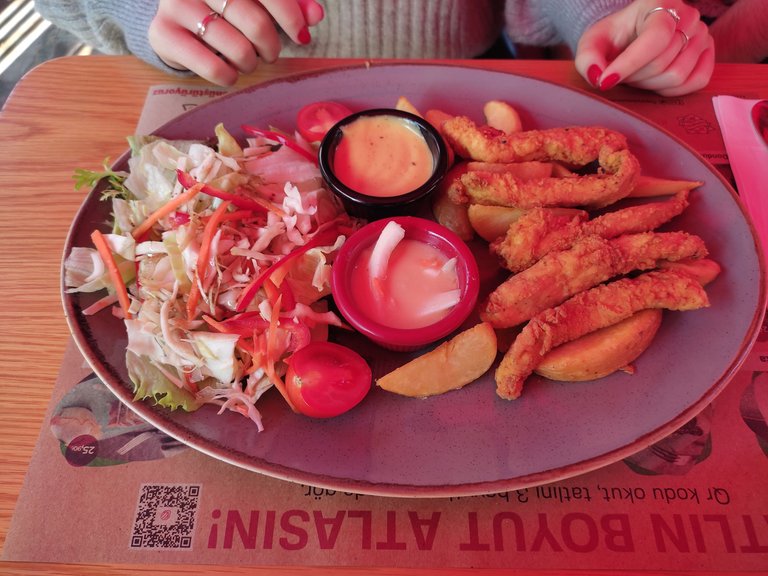 Diğer arkadaşım da pizza siparişi verdi. Ama bundan pek fazla bahsetmeyeceğim bilirsiniz pizza işte. Benim için önemli olan farklı bir şeyler denemiş olmaktı ve bence bugün bunu yaptım. Daha önce hiç yemediğim bir meksika yemeğini denedim ve bayıldım.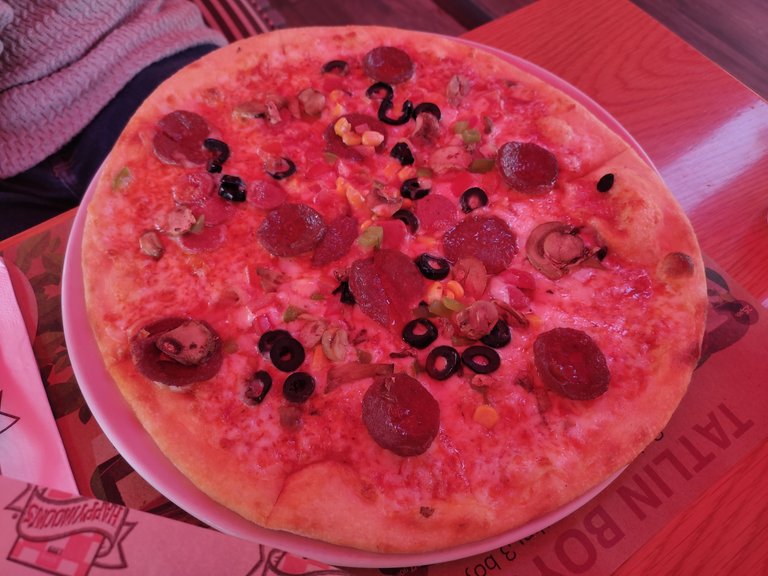 Ortaya soğan halkası tabağı sipariş etmiştim. Bilirsiniz işte klasik soğan halkası. Ama ortasında yer alan sos gerçekten mükemmeldi. Hala hangi sos olduğunu çözmeye çalışıyorum. Eğer ne olduğunu anlayabilirsem kesinlikle tariflerimde kullanacağım. Görüntüsü birçok sosa benziyor. Ama hakkında tek bildiğim yoğun bir sarımsak tadı içermesiydi.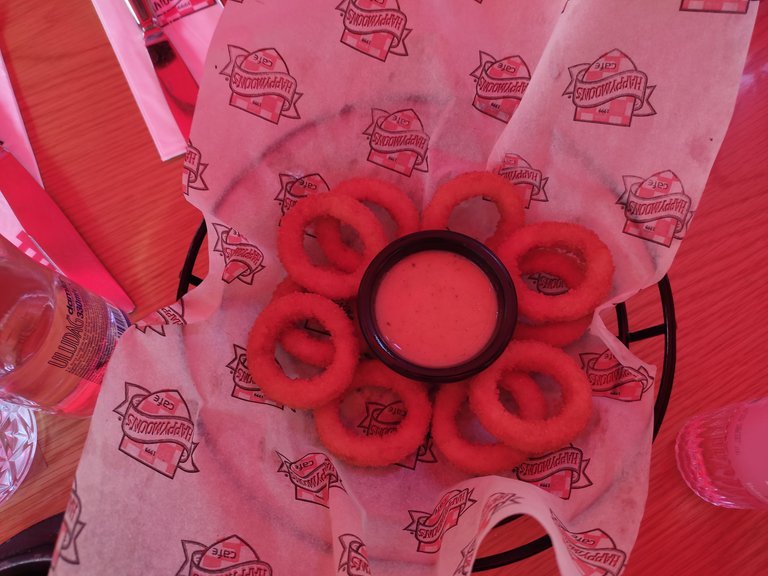 Bu güzel yemeklerden sonra kahve içmeseydim sanırım benim için sıradışı bir durum olurdu. Çünkü kahveye bayılırım. Şekerli kahveleri de pek sevmem. Ama bugün bir değişiklik yapıp şekerli bir şeyler içtim bence o kadar da kötü değildi. Banana Cappucino denilen bu kahveyi arkadaşımla birlikte sipariş ettik. O da benim gibi şekerli kahvelerden pek hoşlanmaz.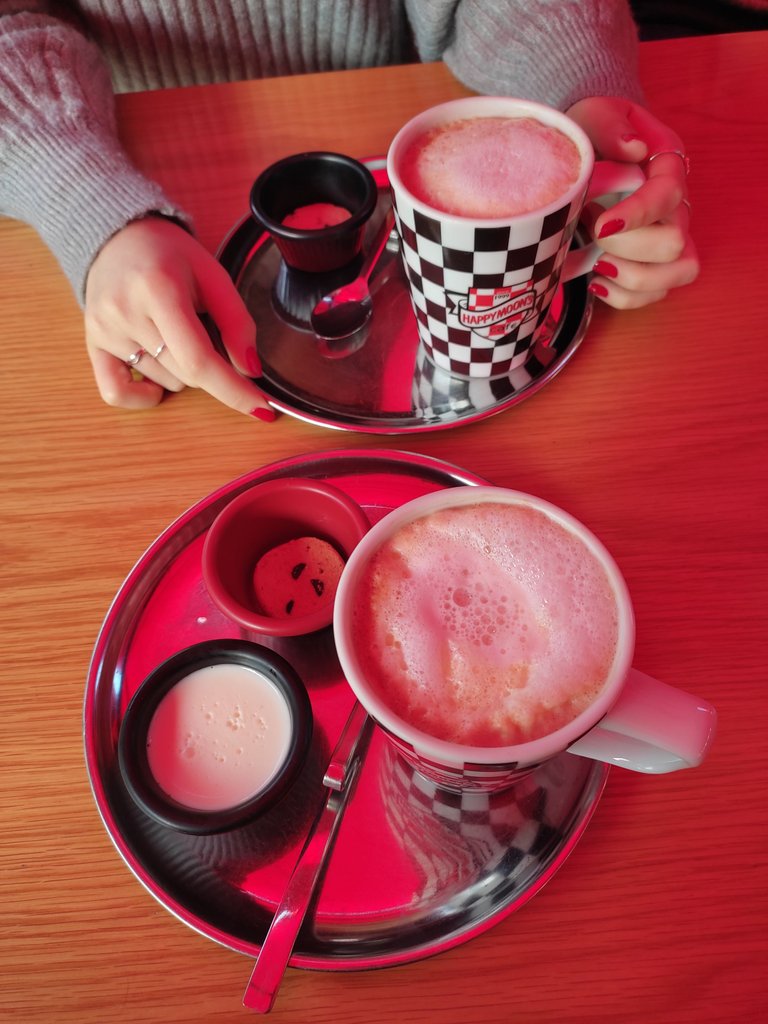 Diğer arkadaşım ise sıcak çikolata sipariş verdi. Açıkçası bu konuda ona zorbalık yaptığımı söyleyebilirim :D. Tabii ki bu bir şakaydı. Ama o da farklı bir şeyler deneseydi güzel olurdu biraz küçük bir çocuk gibi davrandı ve bildiklerinden pek şaşmadı :D.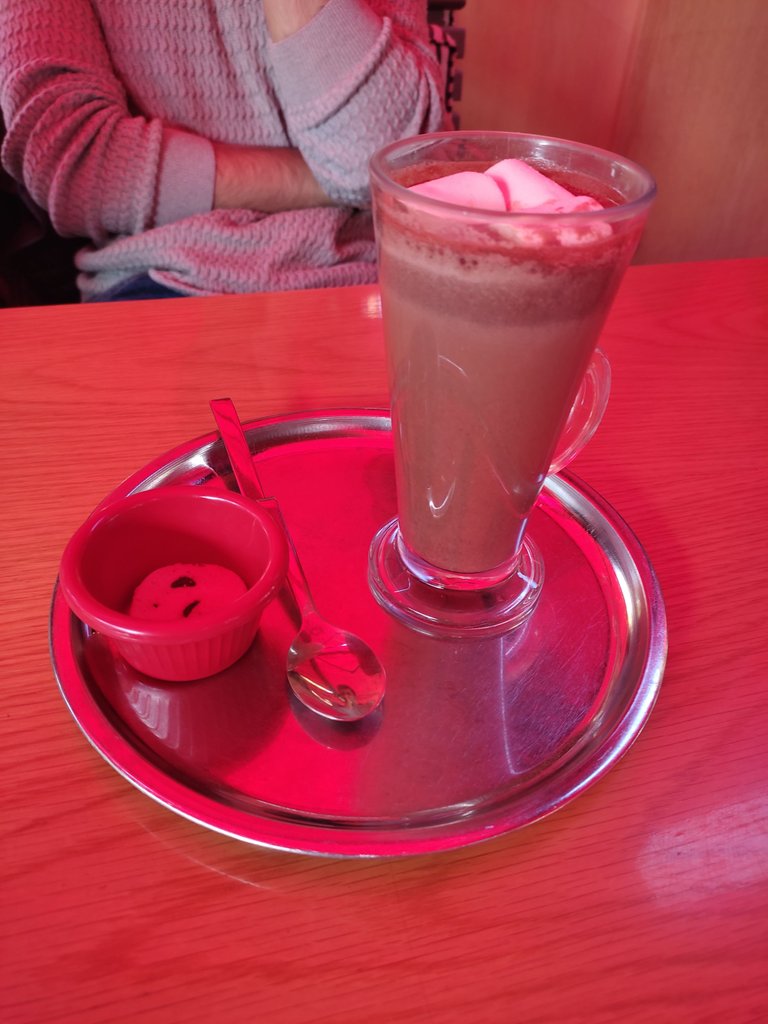 Evet Foodies Bee Hive okuyucuları bu haftalık bu mekanı inceledim ve mekanı oldukça beğendim. Bu yüzden puanım 8/10. Bu tarz inceleme yazıları yazmaya devam etmeyi düşünüyorum. Bir sonraki yemek tarifinde görüşmek üzere. Sevgiyle kalın. Hoşça Kalın!
-Tüm fotoğraflar bana aittir.