-EN
Hello to everyone! I hope you are in good spirits and cooking something and being happy. I think food makes everyone happy. At least it does to me. lol.
Today I will update a recipe with you. In fact, the content of the recipe will not change much. But the first post I shared in this community is the recipe for the dish I will share today. Today we will make an update to this recipe. I read the first blog I wrote and observed how different it was from my own style. I guess it took me a while to get used to it. Because I saw that there are a few recipes that I wrote this way. I think I am better now. But still there are always improvements and we can go a little further.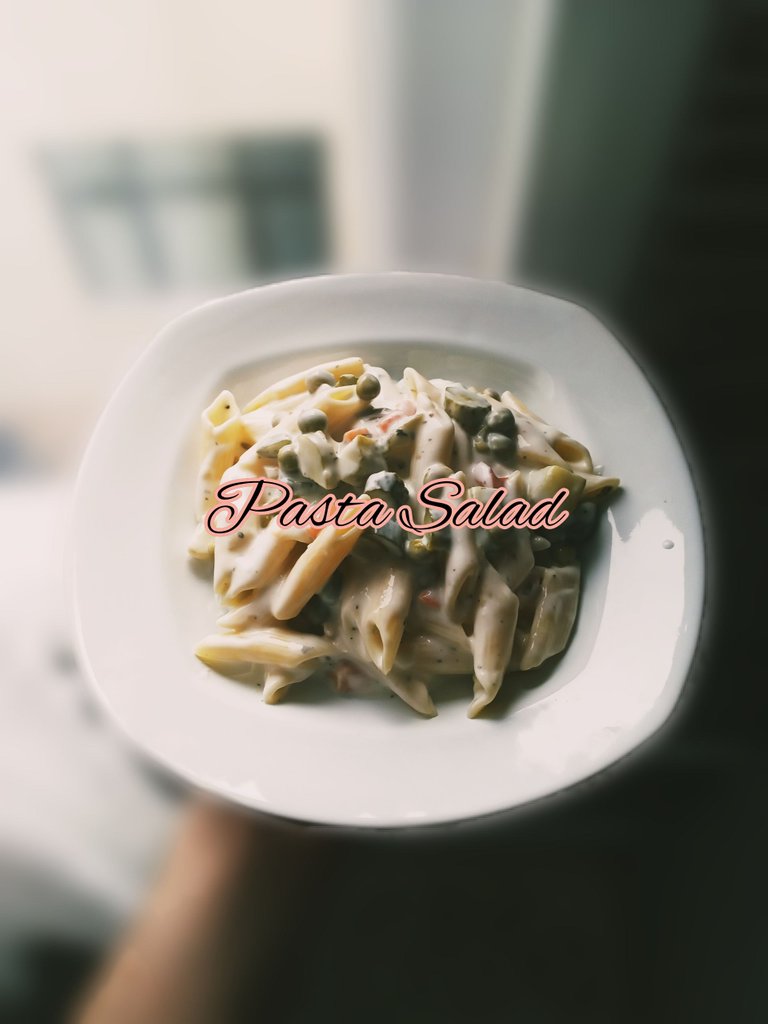 It would be useful to tell the name of the recipe that I will share. Our dish is called "Pasta Salad". I don't know why I chose this recipe in the first place when I started writing here. Or rather, I don't remember. But if I'm going to try to guess, it's probably because it's a dish I love and make very often. I think if I don't count the daily recipes, it is one of the meals I've made the most in my life. I've been making this dish for so long that I don't remember when or where I made this dish for the first time. Likewise, I don't know who taught me to do this. The only thing I remember is that my brother's friend's mother used to cook this dish very well. I adored this dish as I was a little obese back then :D. I think my bond with this dish has been going on ever since.
I have to admit, I don't like dishes made with pasta. In fact, many of them are both eye and stomach satisfying recipes. However, I have never been a big fan of these dishes. You also know through social media. There are many pasta dishes, especially with minced meat, cream, tomato sauce and vegetables. Pasta is one of the 3 most used ingredients in the social media food industry. Pasta, mushrooms and cream are 3 ingredients that are used a lot to tempt people. There is also a dish prepared with the combination of these 3 ingredients. It is one of the top points of this business. It is an ordinary hearty meal, but it has a very high eye-catching capacity. I think that this is the key point that influences people. Anyway, I find this kind of thing very silly. Food is food and let's go about our business. Let's update the recipe!
Pasta Salad
Ingredients
Penne Pasta
Garniture (I used canned food this time. If you want, you can create your own garniture by boiling one potato, 2 carrots and 1 bowl of peas.)
Plenty of Pickles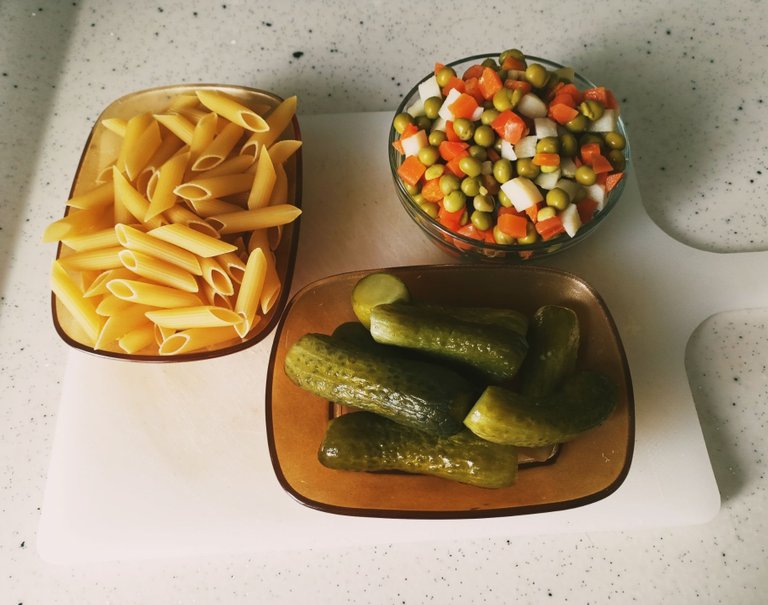 For Mayonnaise and Yogurt Mix:
3.5 Glass of Yogurt (Glass volume is 200 mL)
1 Glass of Water
7-8 Tablespoons of Mayonnaise
5 Teaspoons of Salt (Do not use too much, because pickles will add salty taste to your food.)
1.5 Teaspoons of Garlic Powder
2 Teaspoons of Mint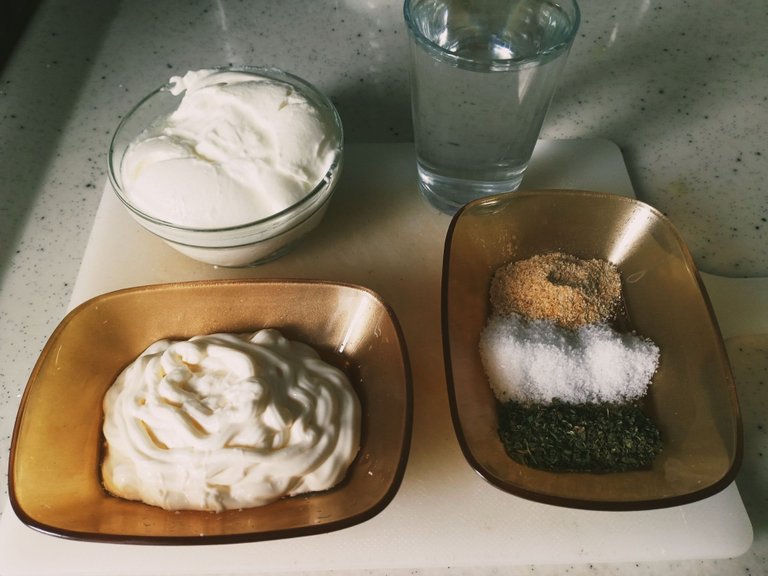 Steps
Start by boiling the pasta. Do not let the pasta overcook.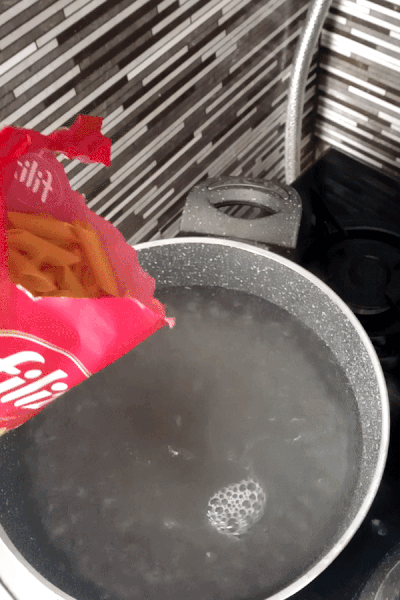 Meanwhile, to prepare the yoghurt sauce, mix yoghurt, water, mayonnaise and spices well in a deep bowl. Keep mixing until your mixture has a smooth consistency. If the amount of yogurt is less, you can add a little more. If there is a change in taste, do not forget to add mayonnaise in a controlled manner.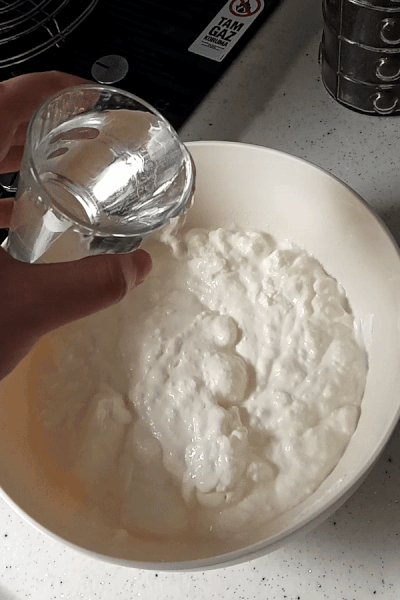 Add the garniture to the sauce and mix.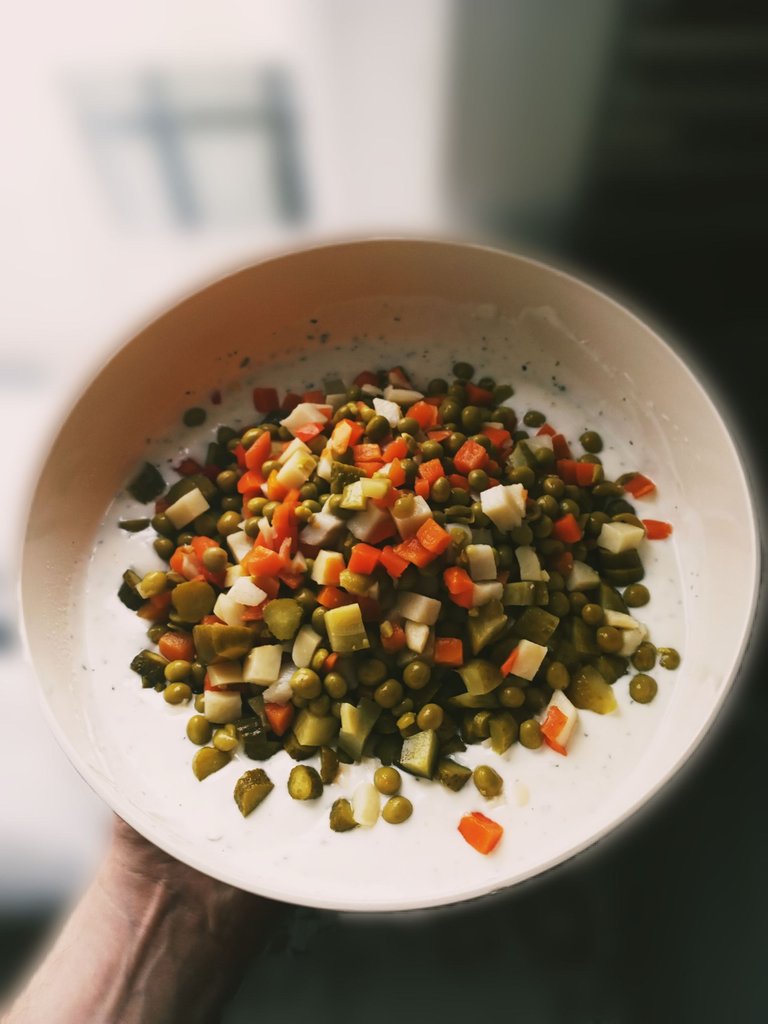 Combine the boiled and drained pasta with the sauce and mix.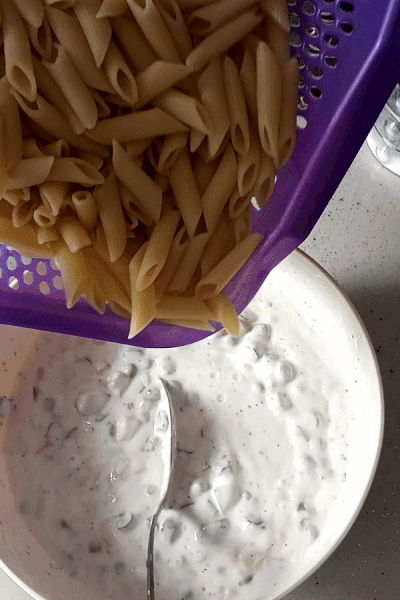 After resting in the refrigerator for about 2 hours, serve. The mayonnaise will solidify a little in the refrigerator. So mix your dish before serving. I recommend serving it cold. Bon Appetit!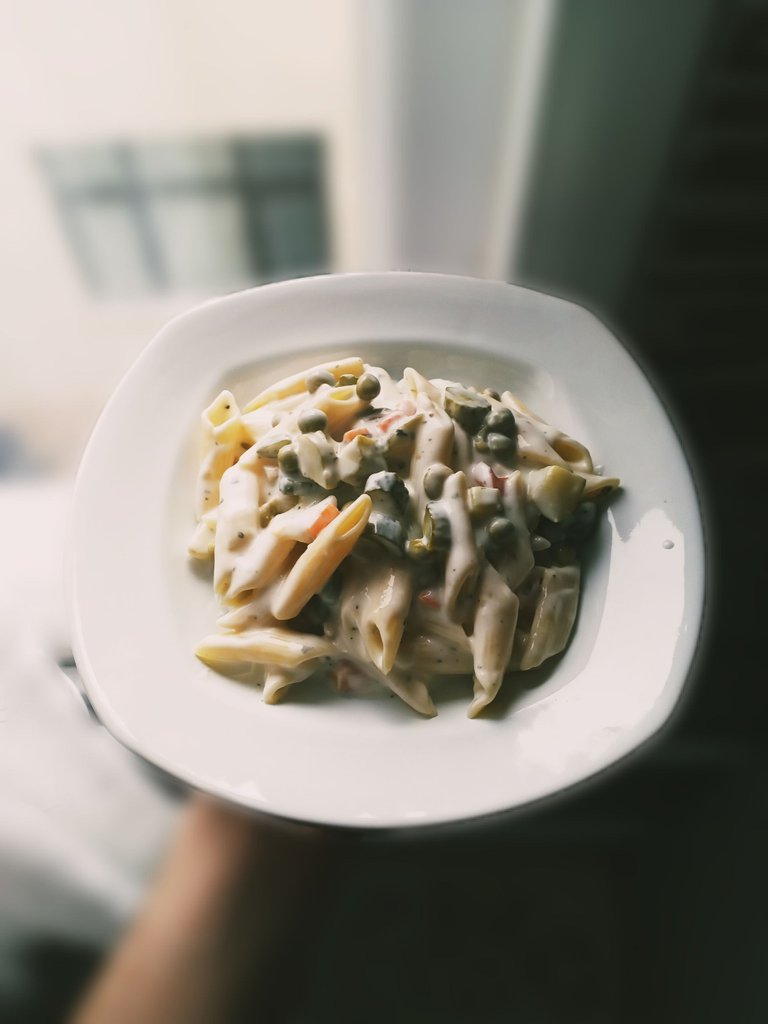 -All photographs are my own,unless otherwise stated.
-TR
Herkese Merhaba! Umarım keyfiniz yerindedir ve bir şeyler pişirip mutlu oluyorsunuzdur. Yemeğin herkesi mutlu ettiğini düşünüyorum. En azından beni ediyor. lol.
Bugün sizlerle bir tarif güncelleyeceğiz. Aslında tarifin içeriği çok fazla değişmeyecek. Ama bu toplulukta paylaştığım ilk gönderi bugün paylaşacağım yemeğin tarifi. Bugün bu tarife bir güncelleme yapacağız. İlk yazdığım blogu okudum ve kendi tarzımdan ne kadar farklı olduğunu gözlemledim. Sanırım buraya alışmam biraz zaman aldı. Çünkü bu şekilde yazdığım birkaç tarif olduğunu gördüm. Artık daha iyi olduğumu düşünüyorum. Ama yine de her zaman geliştirmeler olabilir ve biraz daha ileri gidebiliriz.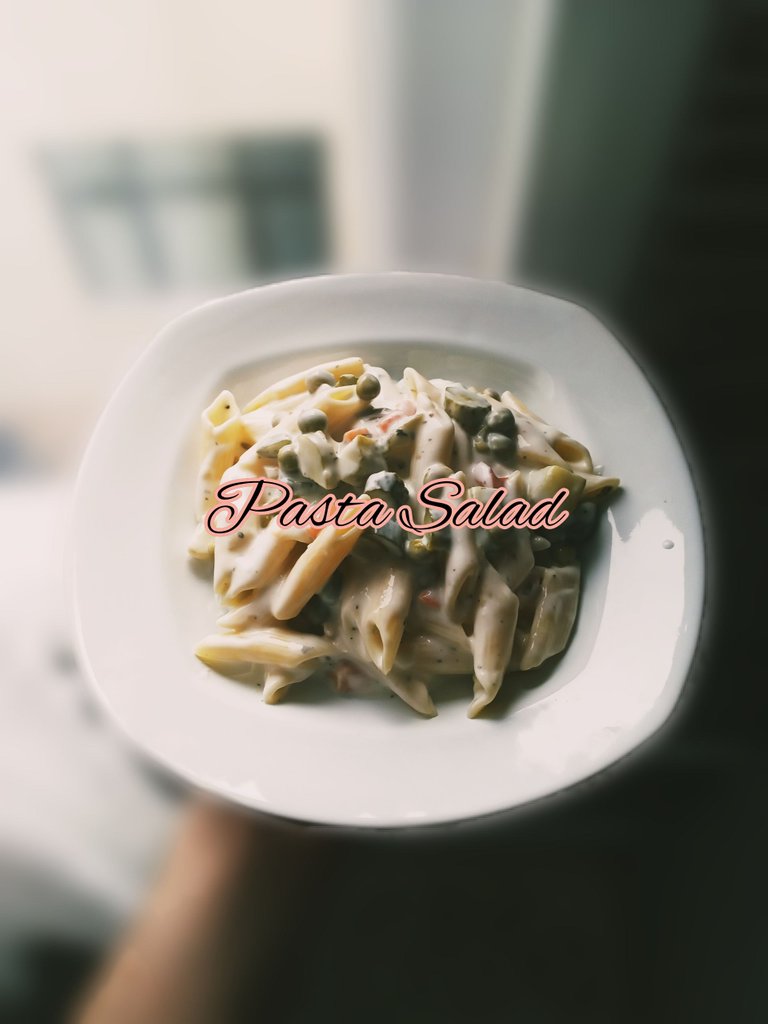 Paylaşacağım tarifin ismini söylemekte fayda var. Yemeğimizin adı "Makarna Salatası". Buraya yazmaya başladığımda neden ilk olarak bu tarifi seçtim ben de bilmiyorum. Daha doğrusu hatırlamıyorum. Ama tahmin etmeye çalışacak olursam büyük ihtimalle çok sevdiğim ve çok sık yaptığım bir yemek olduğu içindir. Sanırım günlük tarifleri saymazsam hayatım boyunca en çok yaptığım yemeklerden biri. O kadar uzun zamandır yapıyorum ki bu yemeği ilk kez nerede,ne zaman yaptığımı hatırlamıyorum. Aynı şekilde bunu yapmayı bana kimin öğrettiğini de bilmiyorum. Hatırladığım tek şey abimin arkadaşının annesi bu yemeği çok güzel yapardı. O zamanlar küçük bir obez olduğum için bu yemeğe hayrandım :D. Sanırım bu yemekle olan bağım o zamanlardan beri devam ediyor.
İtiraf etmem gerekirse makarna ile yapılan yemeklerden pek hoşlanmam. Aslında birçoğu hem göz hem karın doyurucu tarifler. Ancak hiçbir zaman bu yemeklerin büyük bir hayranı olmadım. Siz de sosyal medya aracılığı ile biliyorsunuzdur. Kıymalı,kremalı, domates soslu,sebzeli başta olmak üzere birçok makarna yemeği var. Sosyal medya yemek sektöründe en çok kullanan 3 malzemeden biri makarna. Makarna,mantar ve krema insanları özendirmek için çok fazla kullanılan 3 malzeme. Bir de bu 3 malzemenin birleşimiyle hazırlanan bir yemek var. O da bu işin en üst noktalarından biri. Sıradan doyurucu bir yemek ama göz boyama kapasitesi oldukça yüksek. Sanırım böyle olması insanları özendiren kilit nokta. Her neyse bu tarz şeyleri çok saçma buluyorum. Yemek yemektir ve işimize bakalım. Hadi tarifi güncelleyelim!
Makarna Salatası
Malzemeler
Penne Makarna
Garnitür (Ben bu sefer konserve kullandım. Eğer siz isterseniz bir adet patates, 2 adet havuç ve 1 kase bezelyeyi haşlayarak kendi garnitürünüzü oluşturabilirsiniz.)
Bol Miktarda Turşu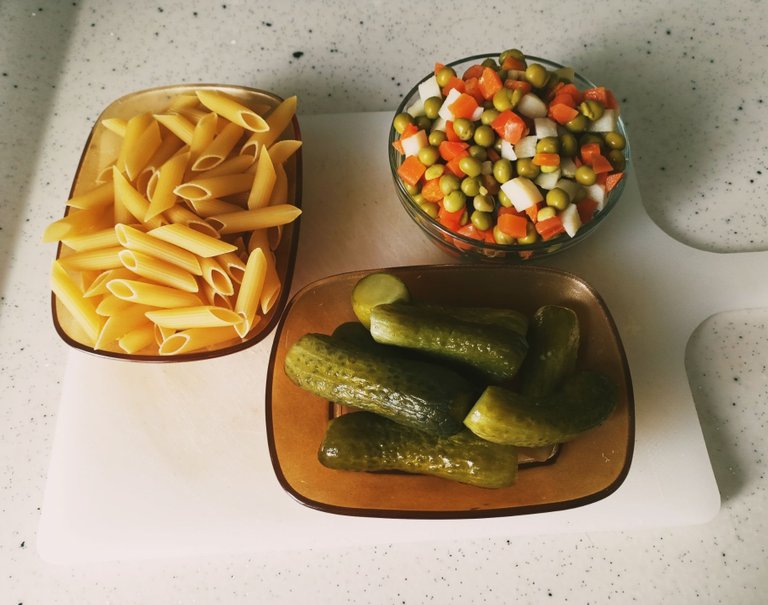 Mayonez ve Yoğurt Karışımı İçin :
2.5 Su Bardağı Yoğurt
1 Su Bardağı Su
7-8 Çorba Kaşığı Mayonez
5 Çay Kaşığı Tuz (Fazla kullanmayın. Çünkü turşu da yemeğinize tuz tadı katacaktır.)
1.5 Çay Kaşığı Sarımsak Tozu
2 Çay Kaşığı Nane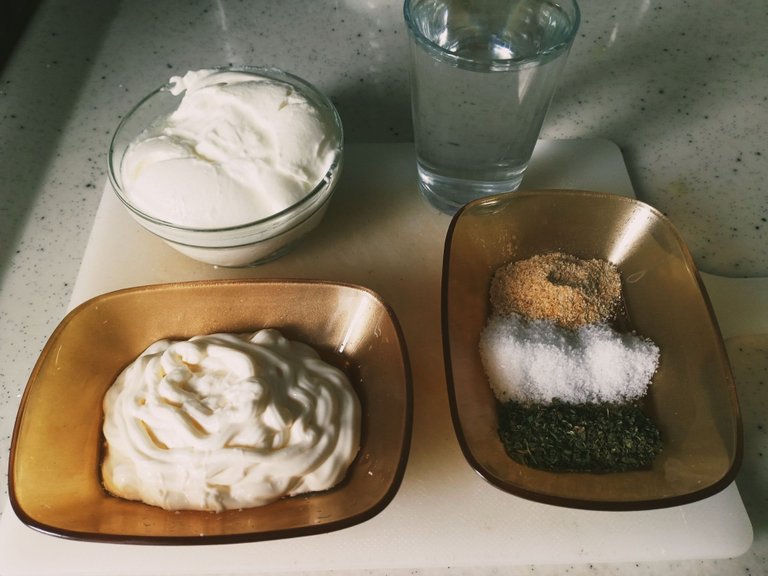 Adımlar
Makarnayı haşlayarak işe başlayın. Makarnanın aşırı pişmesine izin vermeyin.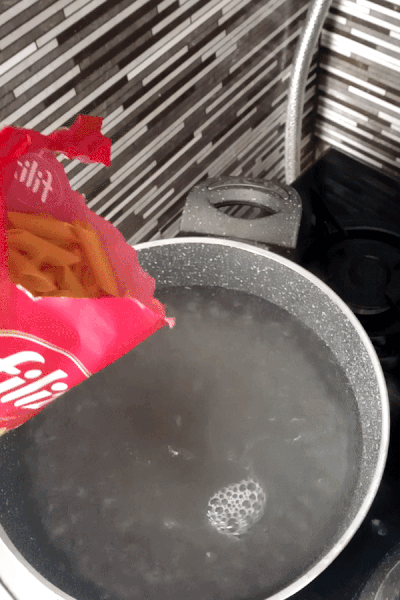 Bu arada yoğurtlu sosu hazırlamak için derin bir kasede yoğurt,su,mayonez ve baharatları iyice karıştırın. Karışımınız pürüzsüz bir kıvam alana kadar karıştırmaya devam edin. Eğer yoğurt miktarı az gelirse biraz daha ekleyebilirsiniz. Lezzet de bir değişiklik olursa kontrollü olarak mayonez eklemeyi de unutmayın.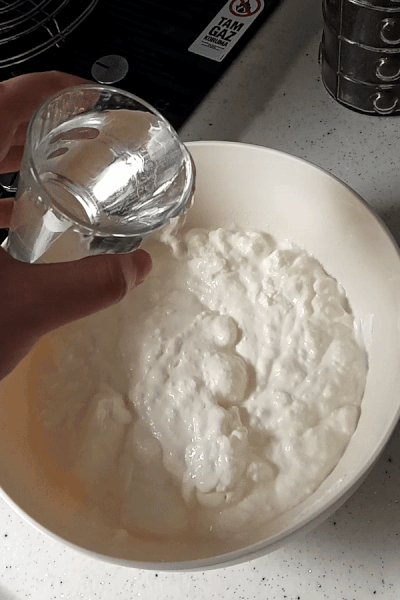 Sosun üzerine garnitürü ekleyin ve karıştırın.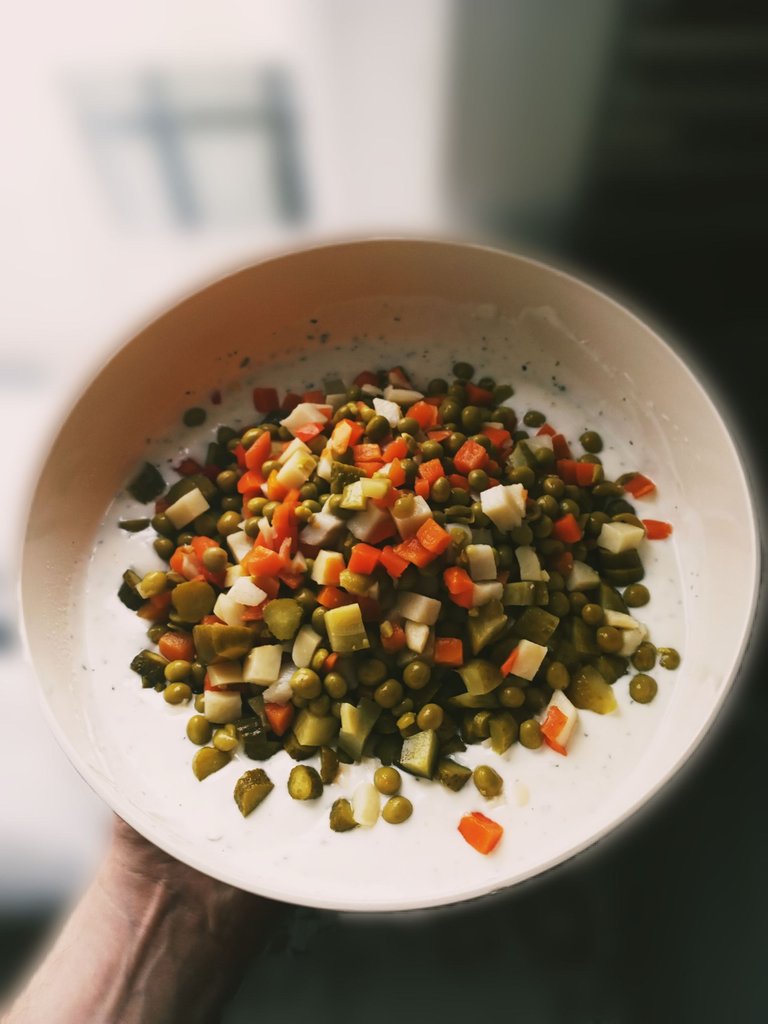 Haşlayıp suyunu süzdüğünüz makarnayı sosla ile birleştirin ve karıştırın.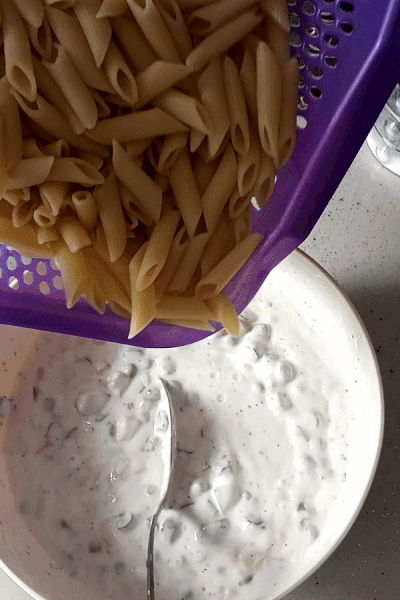 Yaklaşık 2 saat buzdolabında dinlendirdikten sonra servis edin. Mayonez buzdolabında biraz katılaşacaktır. Bu yüzden servis etmeden önce yemeğinizi karıştırın. Soğuk servis etmenizi tavsiye ederim. Afiyet Olsun!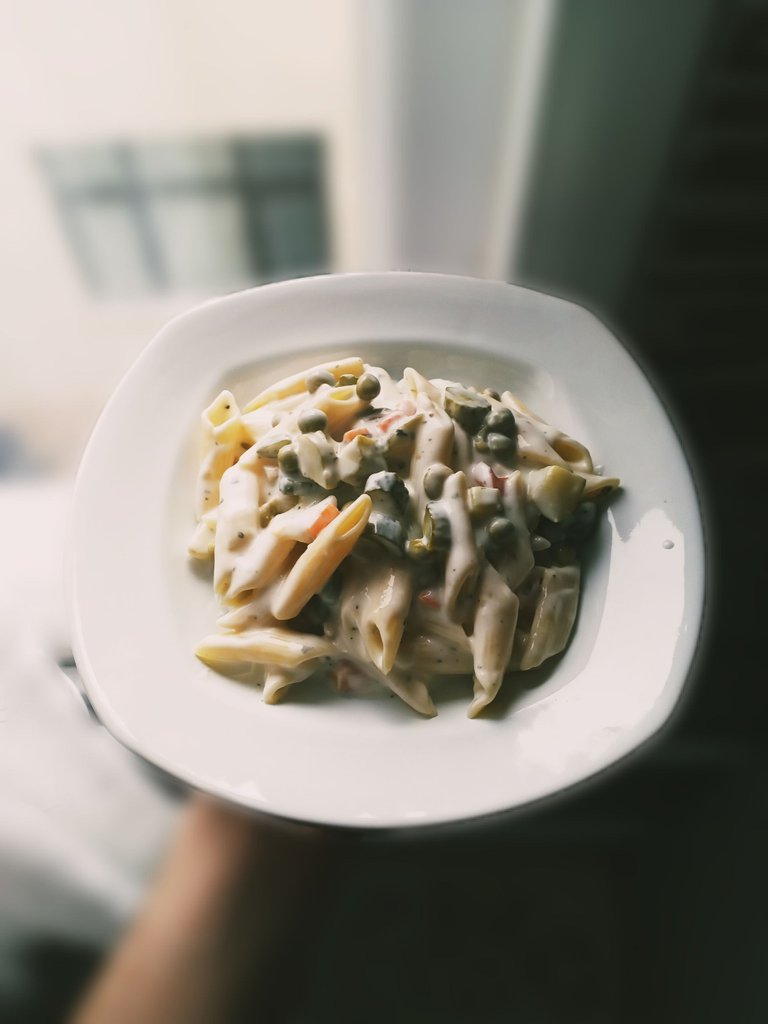 -Tüm fotoğraflar tarafımca çekilmiştir.