-EN
Hello to everyone! First of all, I wonder how you are and your mood. I hope you are well and keep hearing good news. Because for me, the last two days of last week were terrible. I had a great week. But on Saturday and Sunday I got some not-so-nice news. Anyway, I'm not going to tell you about these troublesome situations here and let you down. This is not my style at all :D.
Today I will share with you a kind of rice recipe. Honestly, I don't know the exact name of this dish. Some people call it olive oil rice. I learned how to cook this dish from my grandmother. And my grandmother often calls this dish vegetable rice. I think I've eaten this dish 2 or 3 times in my life. I think I was 12 or 13 when I ate it for the first time and I really liked it at the time. But for a long time I did not eat again. Actually, at that time, my brothers really liked this dish. But over the years, people's eating habits change. This is also the case in my family. Especially my younger brother is a very annoying person in this regard. He thinks we should tailor everything to his taste. But he doesn't yet realize that he has terrible taste, and the worst part is that we don't know how to tell him. lol.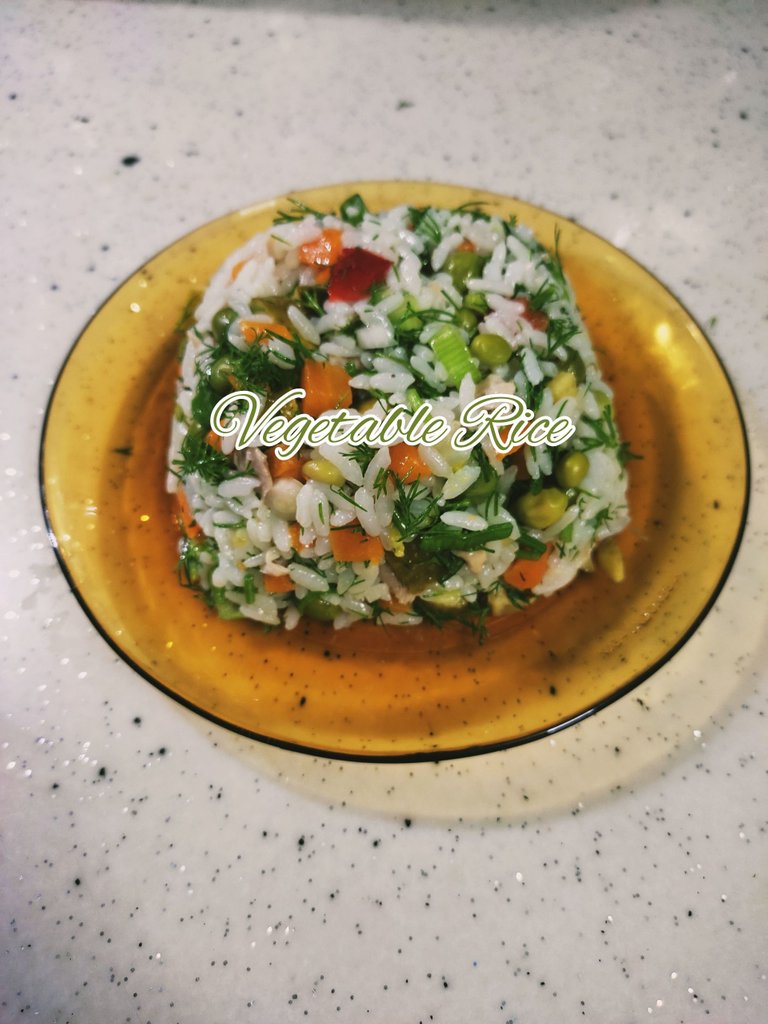 You can use canned corn kernels in this recipe. In fact, I just had a different idea. I think chopped artichoke pieces can also add great flavor to this dish. If you try such a recipe, I think you should keep this idea in mind. I think I'll try it with artichokes next time I make it. I think the artichoke will add a bit of a sour taste. At least I hope so. If not, I'll be disappointed. Because this seemed like a brilliant idea to me :D. I can't even predict when I'll be making this dish again, though. Although some dishes are very popular, they are not often cooked. I think this is one such dish. I often forget that such a dish exists. In fact, I have to admit that I don't cook this dish often, even if it comes to mind. Because in our house only my mother and I love this dish. Both my older brothers don't like most green vegetables and they talk a lot about it. For our ear health, we stay away from this dish a little. lol. Anyway, I talked too much. Let's take a look at the schedule!
Vegetable Rice
Ingredients
1.5 Bowls of Rice
1 Bowl of Peas
2 Carrots
1 bunch of dill
Few Sprigs of Green Onions
Pickles in the amount you want
Bone Chicken Meat in the Amount You Want (I Used 3 Chicken Legs)
1 Tablespoon of Olive Oil
4 Teaspoons of Salt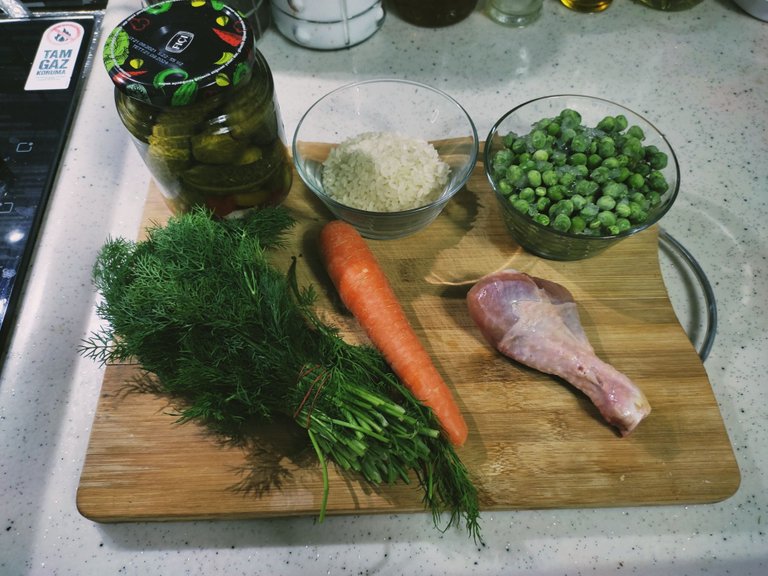 Steps
Pour boiling water over the rice and let stand until the water cools completely. Then drain the water and wash the rice.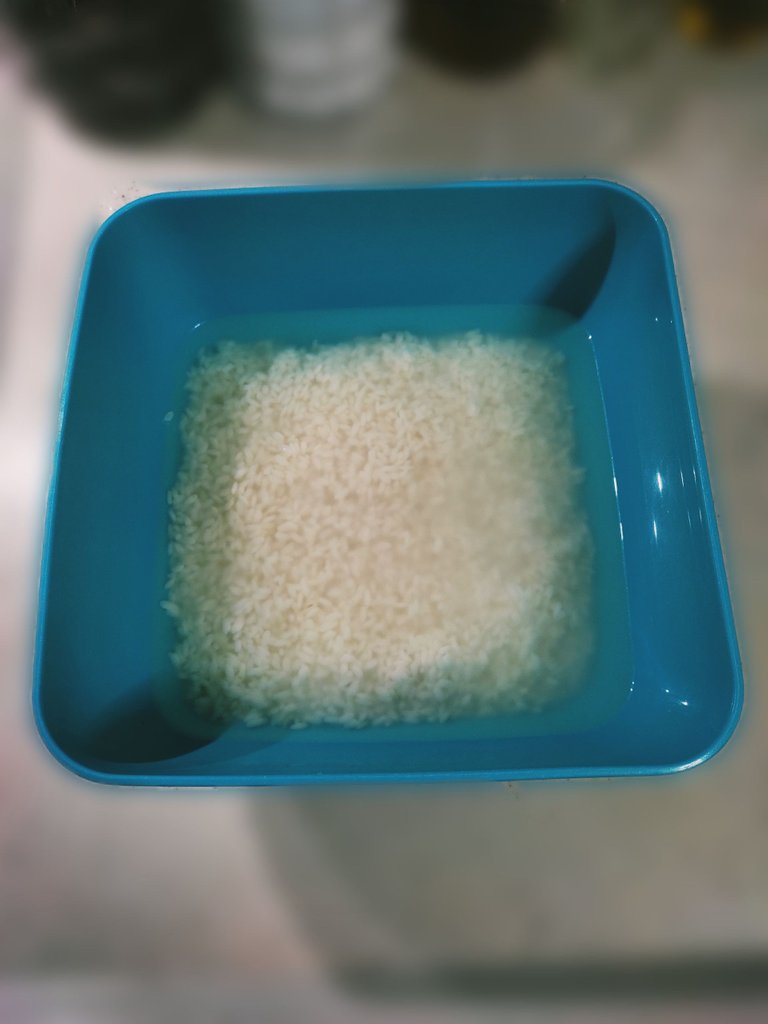 Peel the carrot and cut it into small cubes.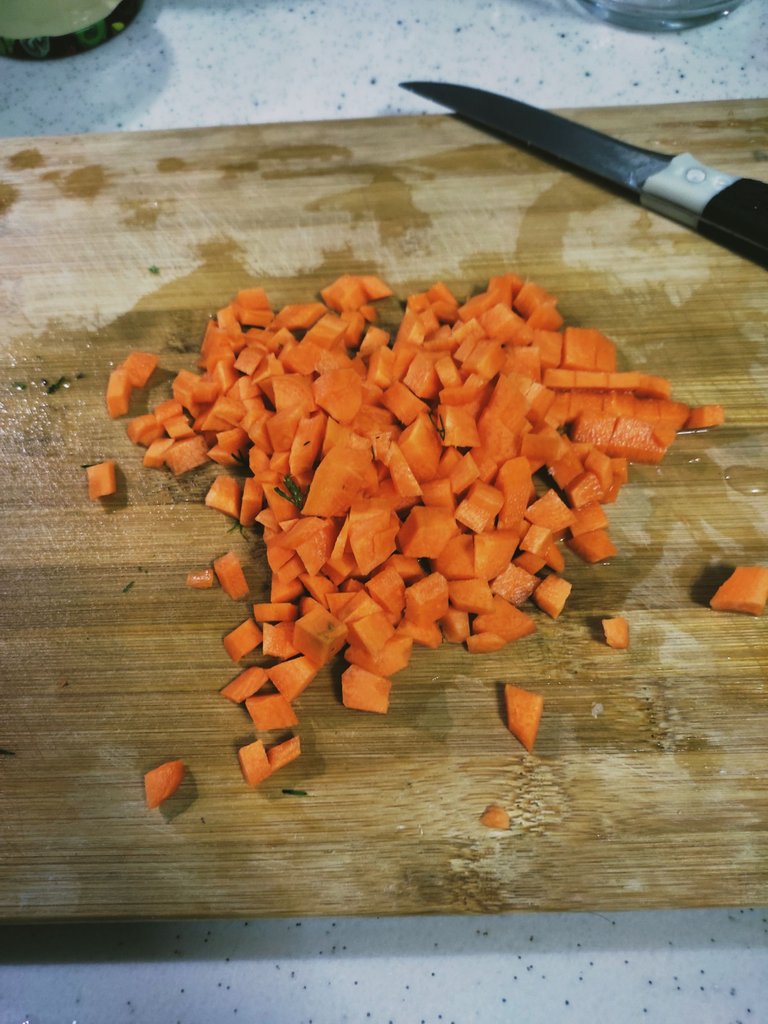 Then boil the peas and carrots.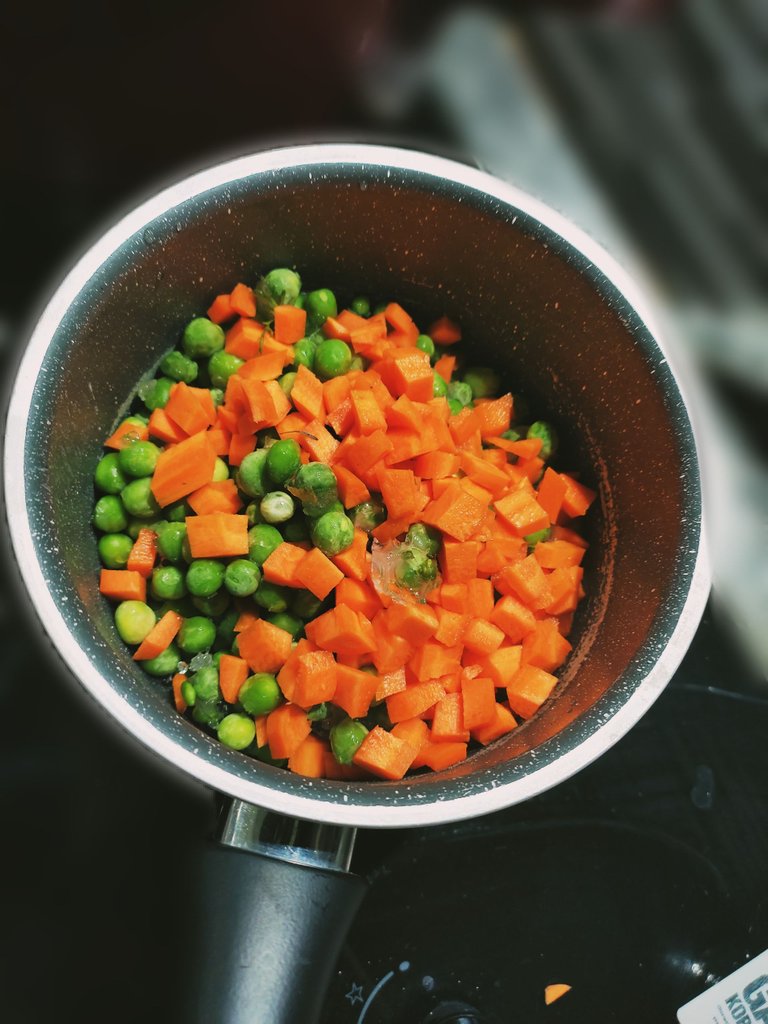 Boil the chicken. Then strain the chicken broth to use in rice.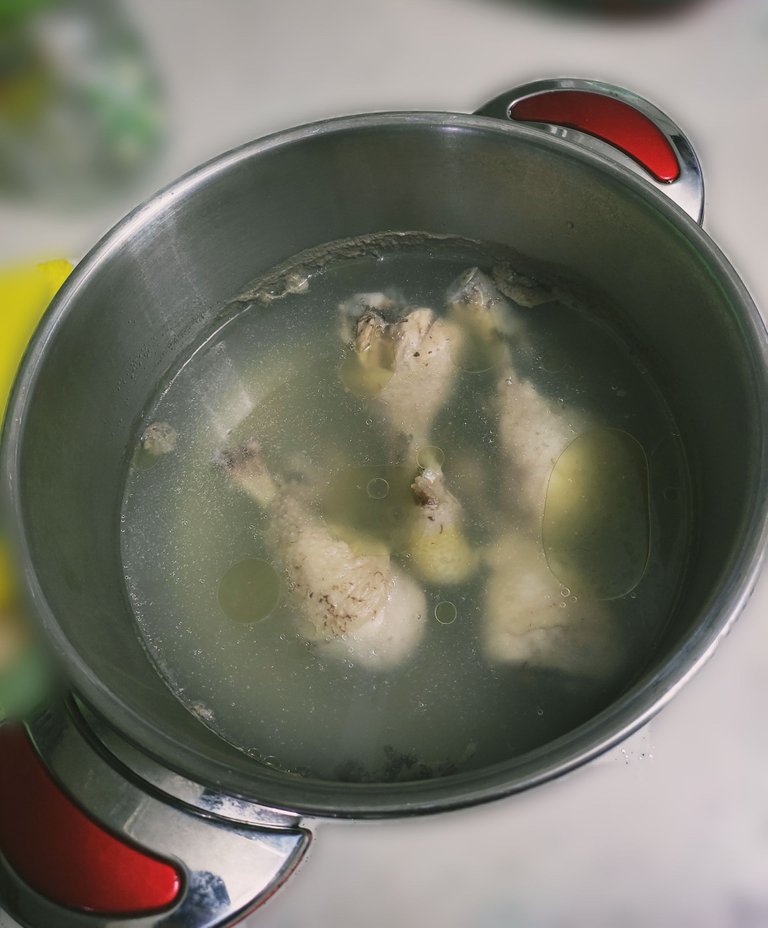 Start frying the washed rice with olive oil. Do not exceed the olive oil measure I specified. Because we will add chicken broth and chicken broth is very oily.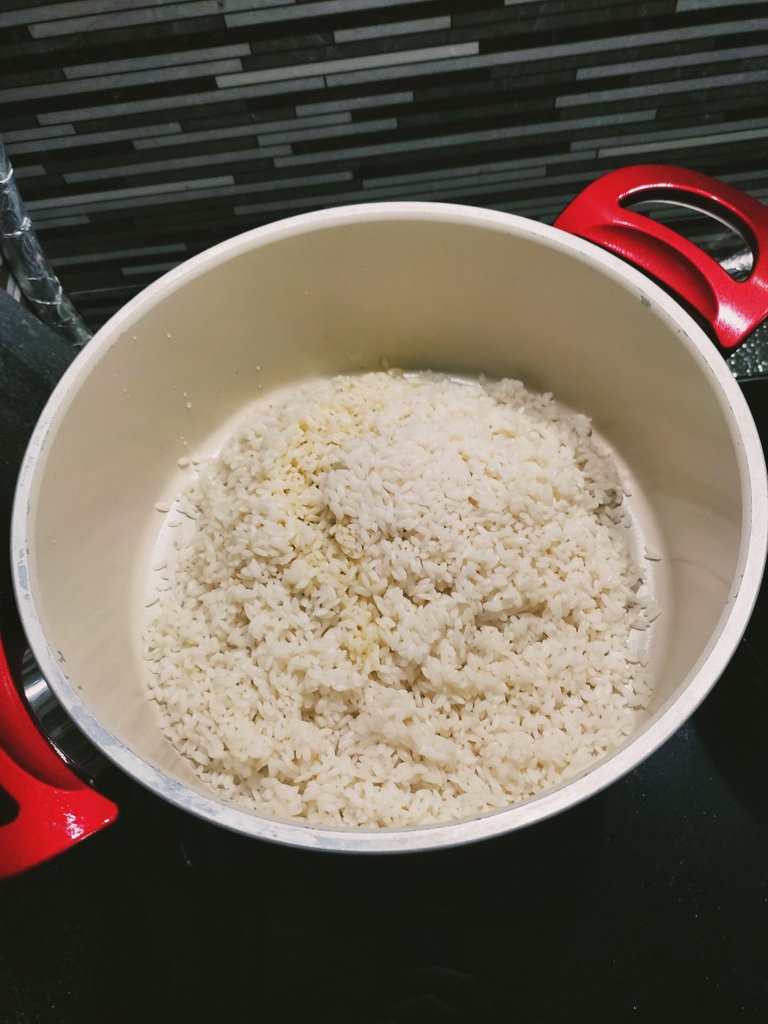 Add 1.5 bowls of chicken stock with the bowl in which you measured the rice. Add the salt and continue cooking the rice. Cook the rice on high heat until the water boils, and then on low heat after the water boils. Since you use chicken broth, your rice may be a little mushy, which is not a problem. Just be careful not to overcook.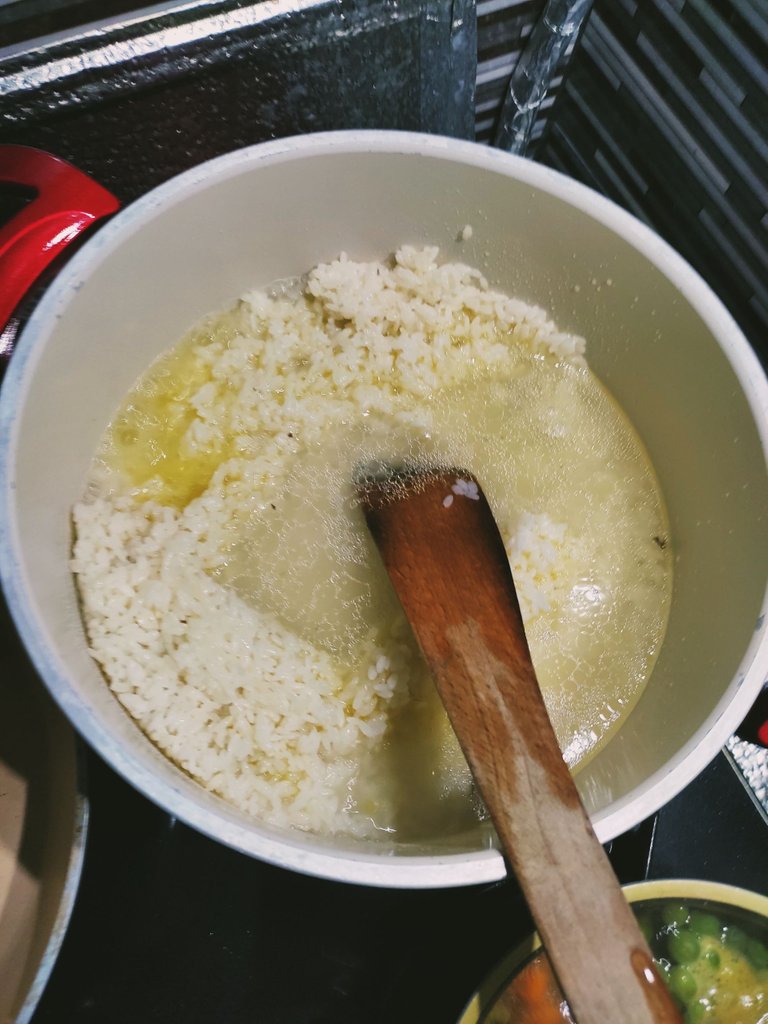 Debone the boiled chicken and cut it into small pieces.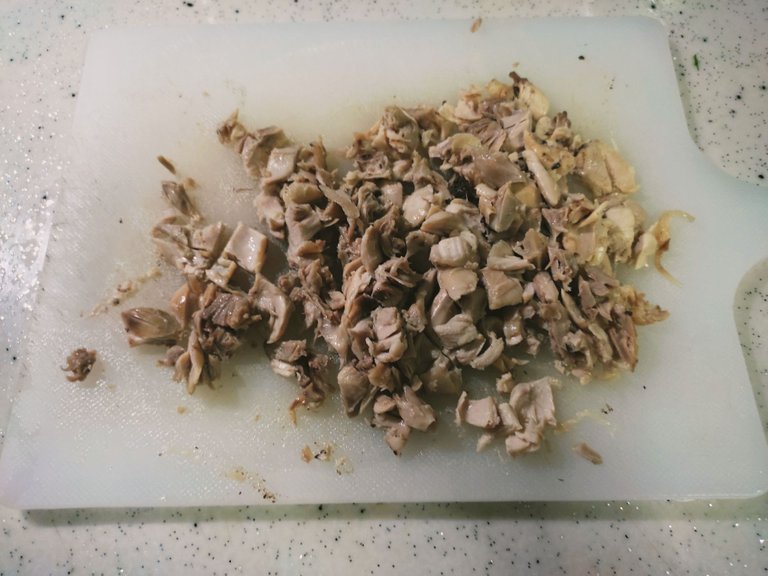 After the rice is cooked, open the lid of pan and let it rest for about 30 minutes. Then add the chopped chicken.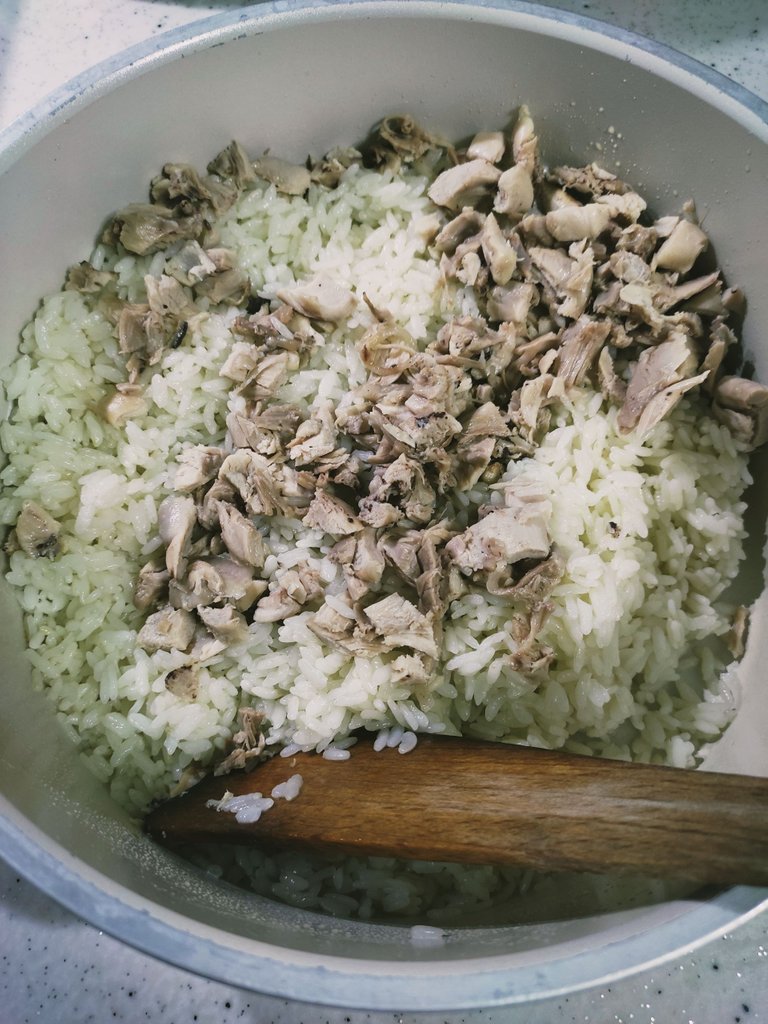 Chop the dill.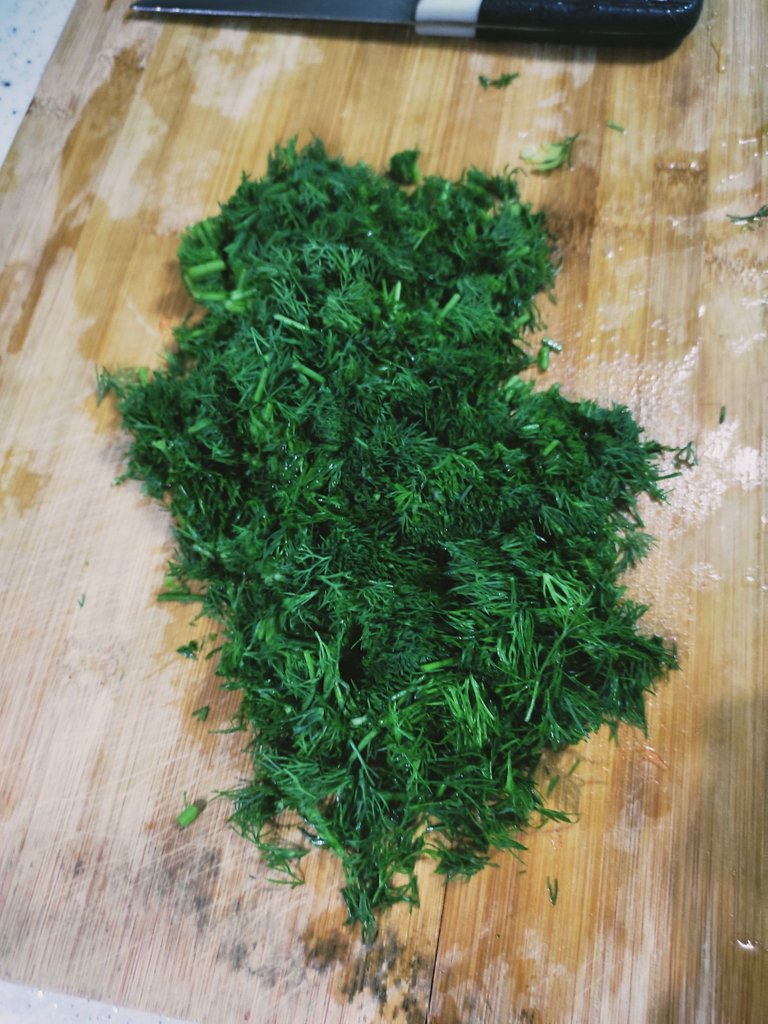 Chop the pickle the way you want it. But I wouldn't recommend making it too small.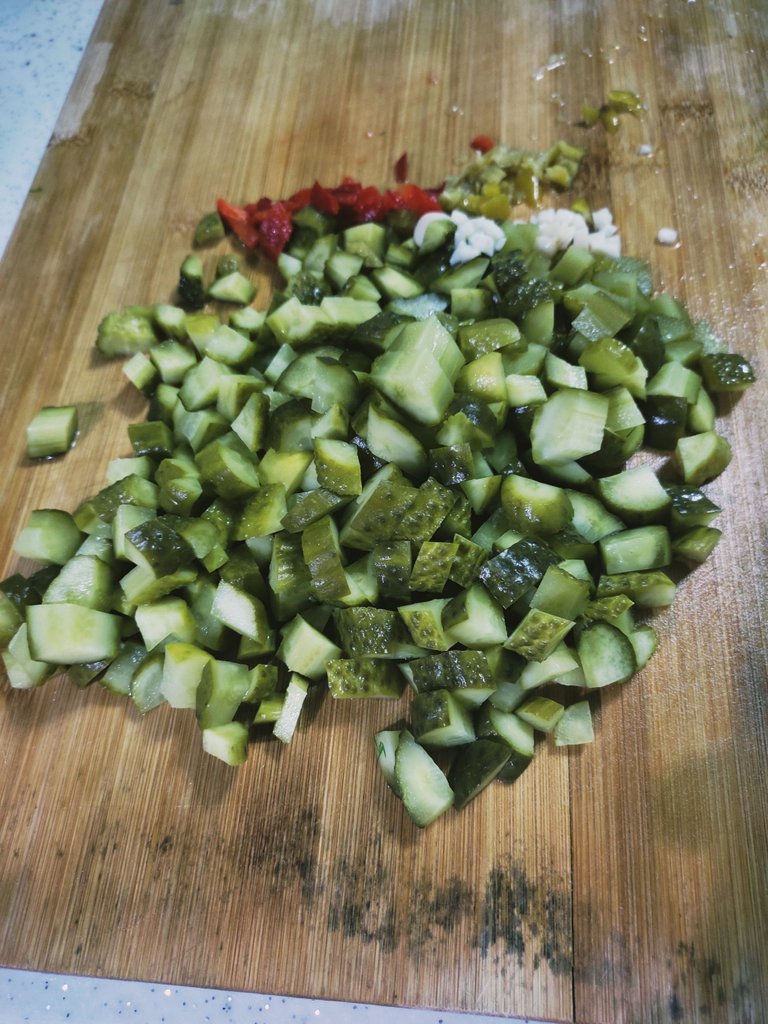 Finely chop the green onion.
First, add the green onion to the rice and try to mix the green onion without crushing it.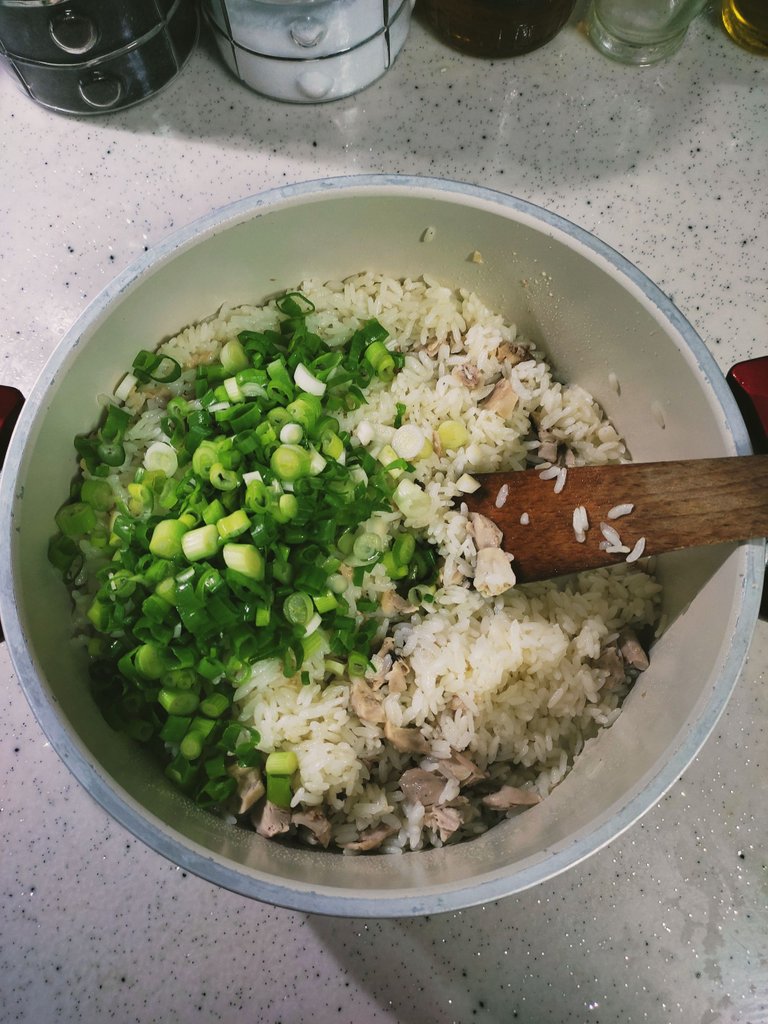 Then add boiled peas, carrots and other chopped ingredients.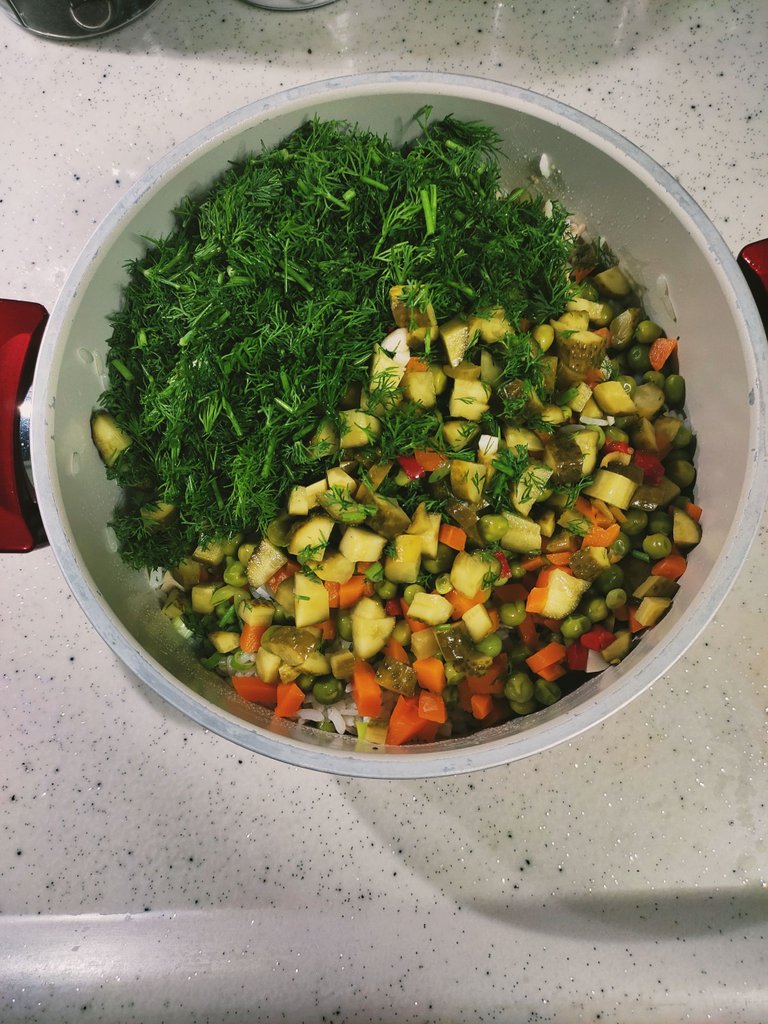 Mix it well. But make soft moves. If you are too firm, the boiled peas will break apart.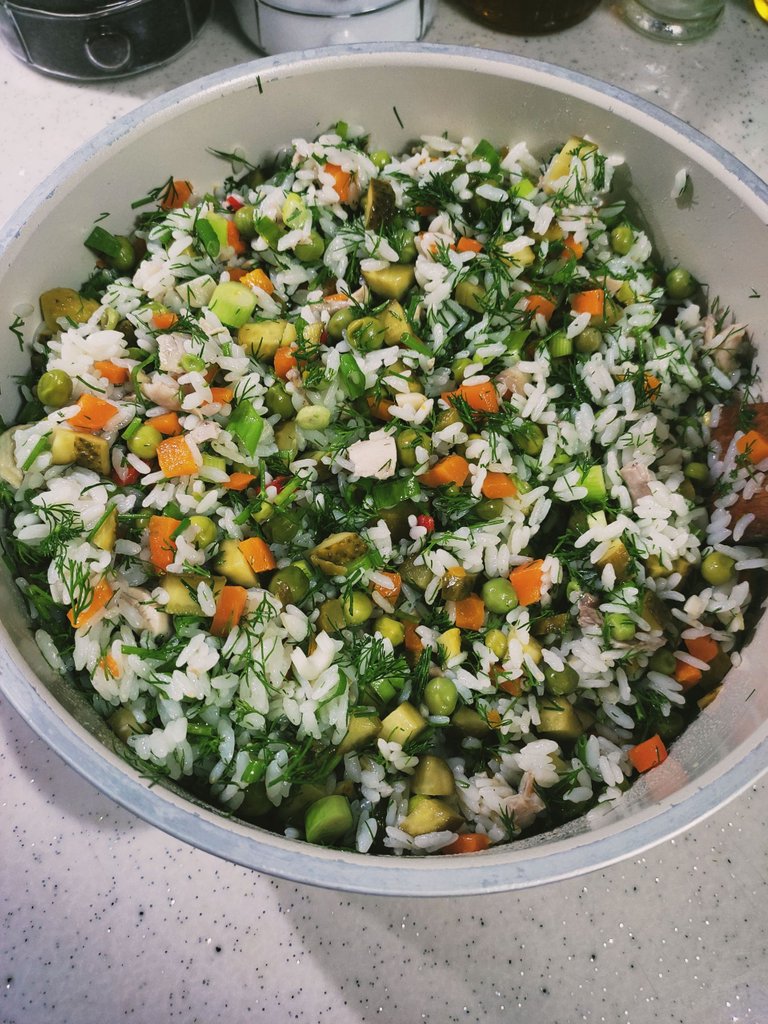 Prepare your meal for service. Now you can eat your rice. Bon Appetit!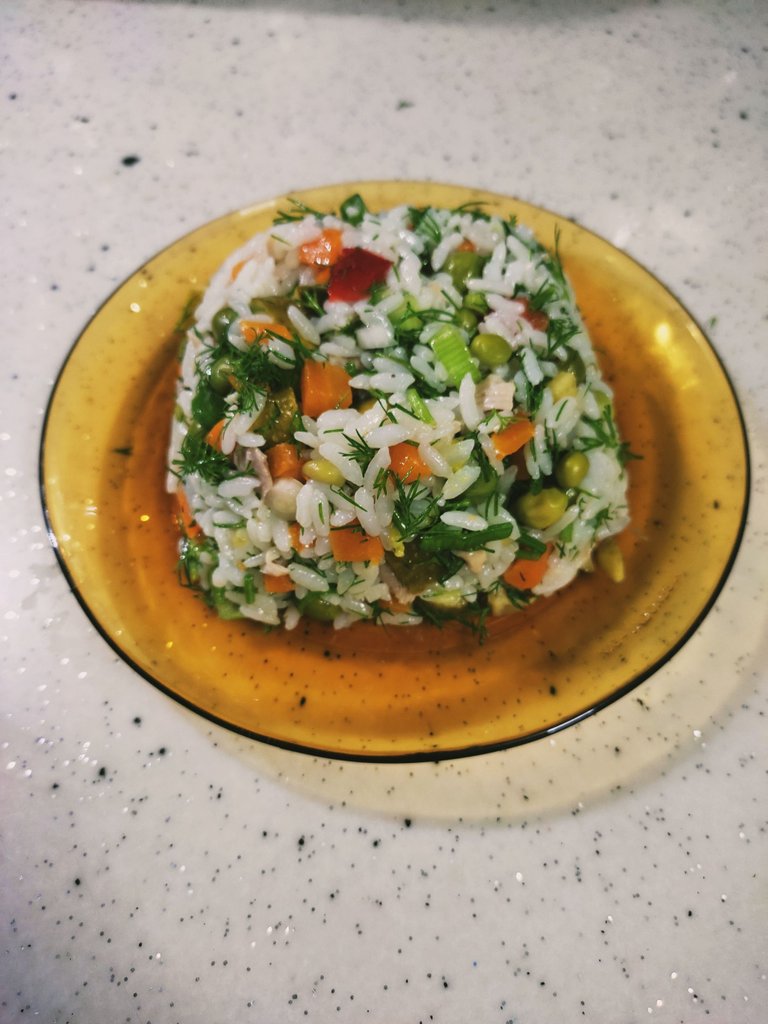 -All photographs are my own, unless otherwise stated.
-TR
Herkese Merhaba! Öncelikle nasıl olduğunuzu ve ruh halinizi merak ediyorum. Umarım iyisinizdir ve güzel haberler duymaya devam ediyorsunuzdur. Çünkü benim için geçen haftanın son iki günü korkunçtu. Harika bir hafta geçirmiştim. Ama cumartesi ve pazar günleri pek de hoş olmayan haberler aldım. Her neyse bu sıkıntılı durumları burada anlatıp sizin de modunuzu düşürmeyeceğim. Bu hiç benim tarzım değil :D.
Bugün sizlerle bir çeşit pilav tarifi paylaşacağım. Açıkçası bu yemeğin tam adını bilmiyorum. Bazı insanlar bunun için zeytinyağlı pilav diyor. Ben bu yemeği yapmayı babannemden öğrendim. Ve babaannem bu yemeğe genellikle sebzeli pilav der. Bu yemeği hayatım boyunca sanırım 2 ya da 3 kez yedim. Sanırım ilk kez yediğimde 12 ya da 13 yaşındaydım ve o zaman bunu çok beğendim. Ama uzun süre boyunca bir daha yemedim. Aslında o zamanlar abilerim bu yemeği çok beğenmişti. Ama yıllar içinde insanların yeme alışkanlıkları değişiyor. Ailemde de bu durum söz konusu. Özellikle küçük olan abim bu konuda çok sinir bozucu bir insan. Her şeyi onun damak tadına göre ayarlamamız gerektiğini düşünüyor. Ama kendisinin korkunç bir damak tadı olduğunun henüz farkında değil ve işin kötü tarafı bunu ona nasıl söyleyeceğimizi bilmiyoruz. lol.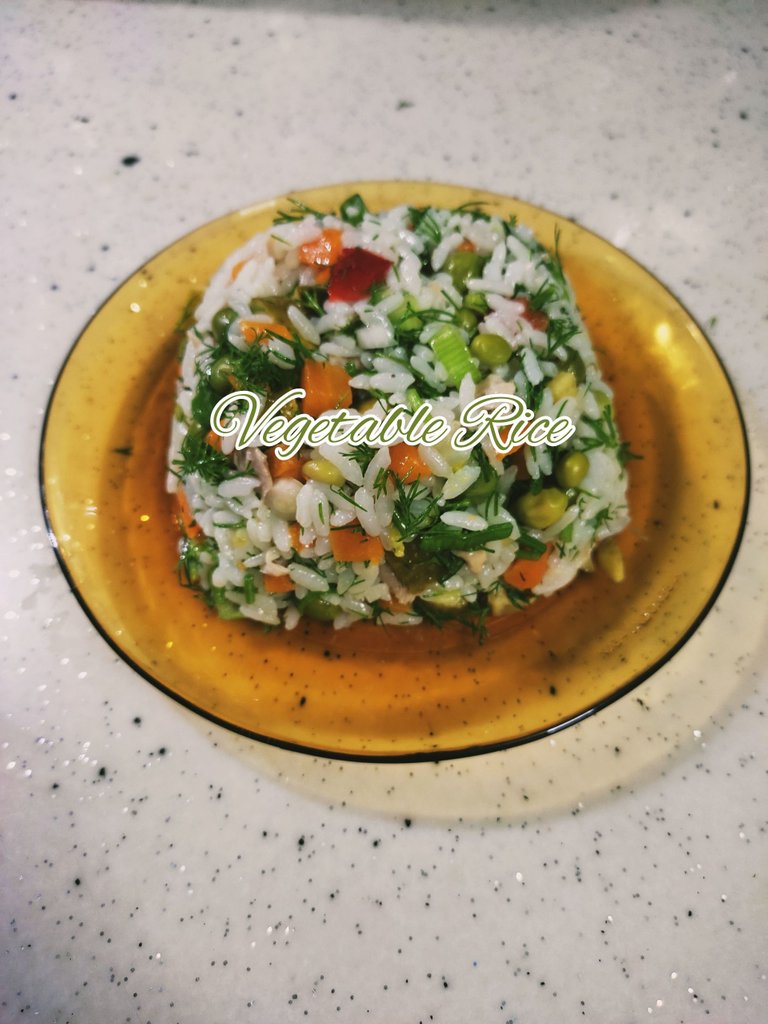 Bu tarifte konserve mısır taneleri kullanabilirsiniz. Hatta az önce aklıma değişik bir fikir geldi. Bence doğranmış enginar parçaları da bu yemeğe harika bir lezzet katabilir. Eğer böyle bir tarif denerseniz bence bu fikir de aklınızda bulunsun. Sanırım bir sonraki yapışımda enginar ile birlikte deneyeceğim. Enginar biraz mayhoş bir tat katacaktır diye düşünüyorum. En azından umarım böyle olur. Olmazsa hayal kırıklığına uğrarım. Çünkü bu bana parlak bir fikir olarak geldi :D. Gerçi bu yemeği bir daha ne zaman yapacağımı tahmin bile edemiyorum. Bazı yemekler çok sevilse de sıklıkla pişirilmez. Bu da öyle bir yemek bence. Böyle bir yemeğin varlığını sıklıkla unutuyorum. Aslında şunu da itiraf etmeliyim ki aklıma gelse bile sıklıkla pişirmem. Çünkü bizim evde sadece annem ve ben bu yemeği seviyoruz. İki abim de yeşil sebzelerin birçoğundan hoşlanmaz ve bu konuda çok konuşuyorlar. Kulak sağlığımız için bu yemekten biraz uzak duruyoruz. lol. Her neyse, çok fazla konuştum. Hadi tarife göz atalım!
Sebzeli Pilav
Malzemeler
1.5 Kase Pirinç
1 Kase Bezelye
2 Adet Havuç
1 Demet Dereotu
Birkaç Dal Yeşil Soğan
İstediğiniz Miktarda Turşu
İstediğiniz Miktarda Kemikli Tavuk Eti ( Ben 3 Adet Tavuk Butu Kullandım)
1 Çorba Kaşığı Zeytinyağı
4 Çay Kaşığı Tuz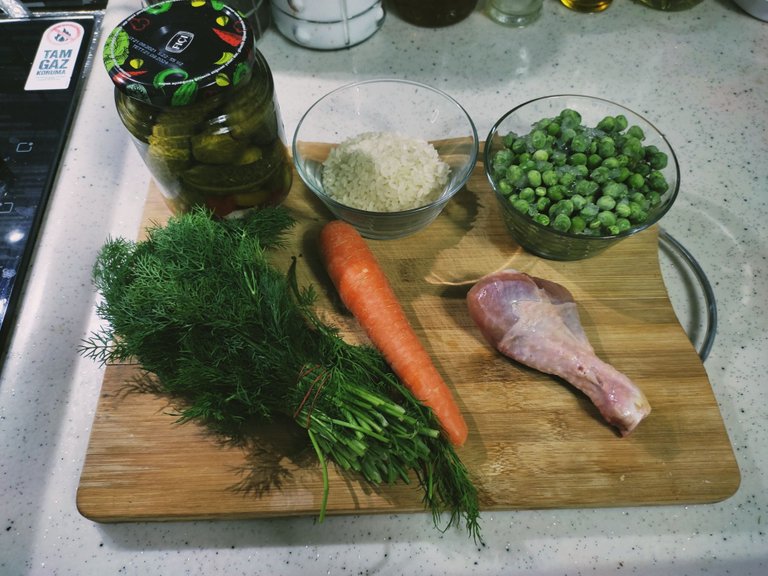 Adımlar
Pirincin üzerine kaynar su dökün ve su tamamen soğuyana kadar bekletin. Daha sonra suyunu süzün ve pirinci yıkayın.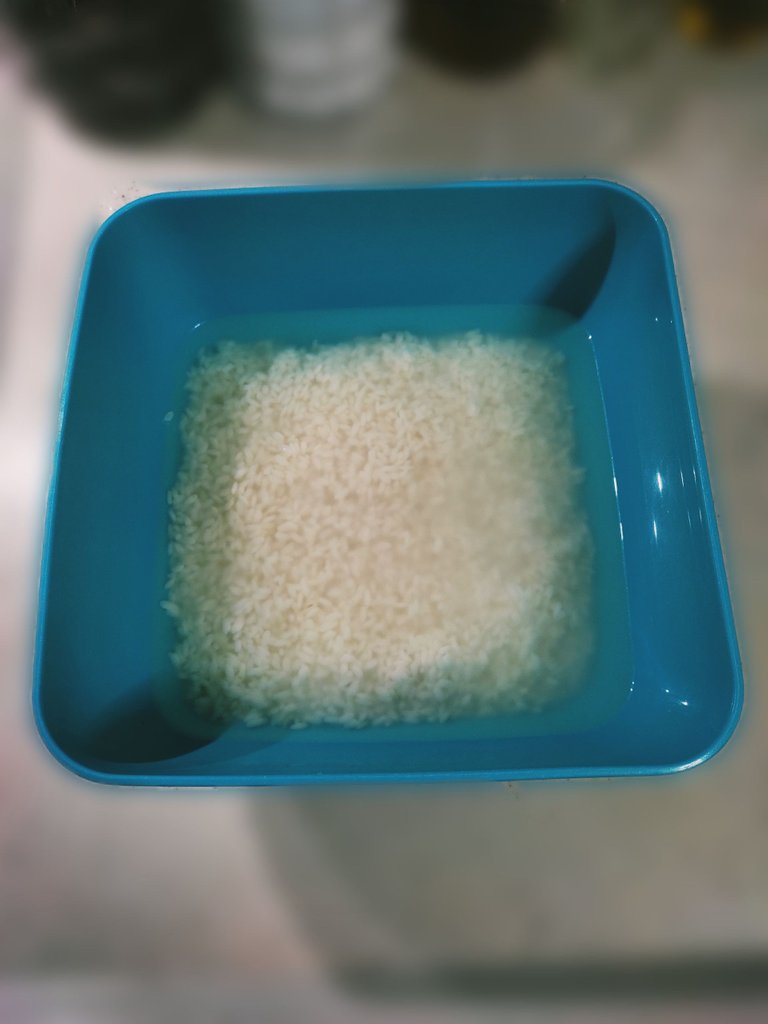 Havucun kabuğunu soyun ve küçük küpler şeklinde doğrayın.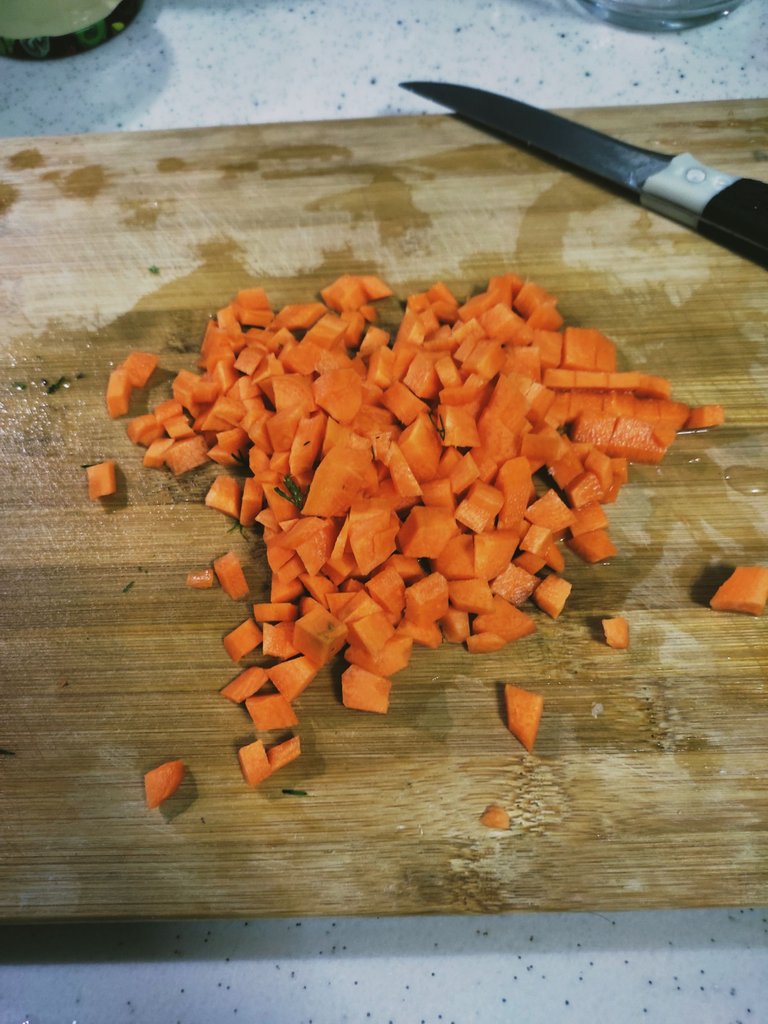 Daha sonra bezelye ve havucu haşlayın.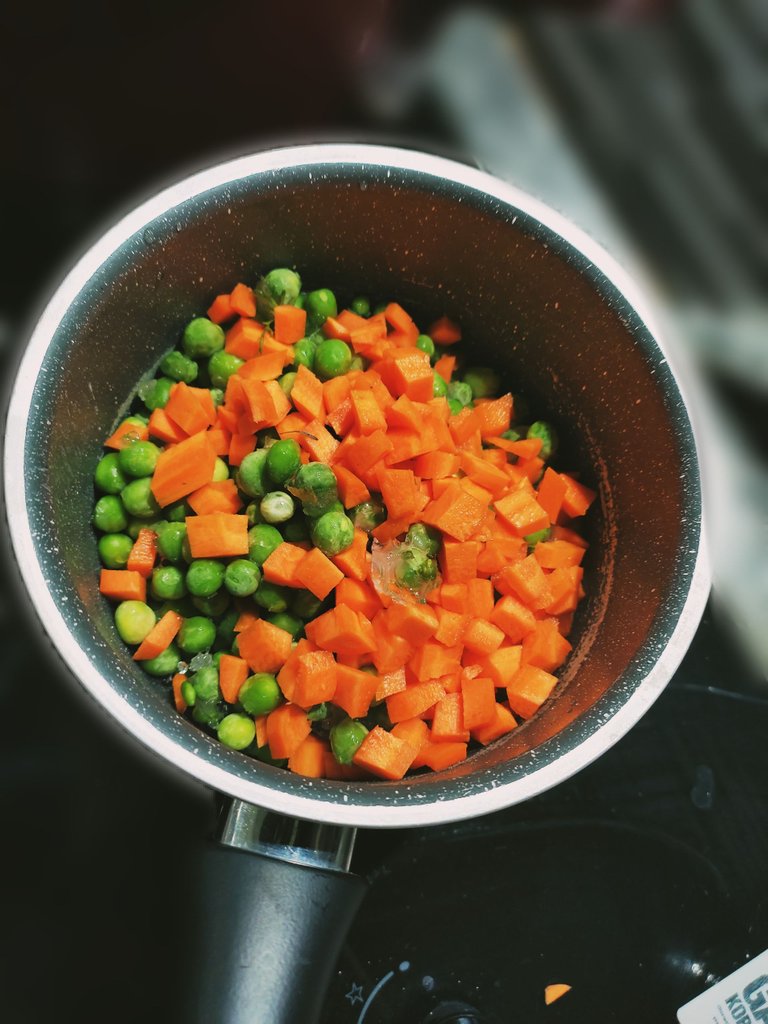 Tavuğu haşlayın. Daha sonra tavuk suyunu pilavda kullanmak üzere süzün.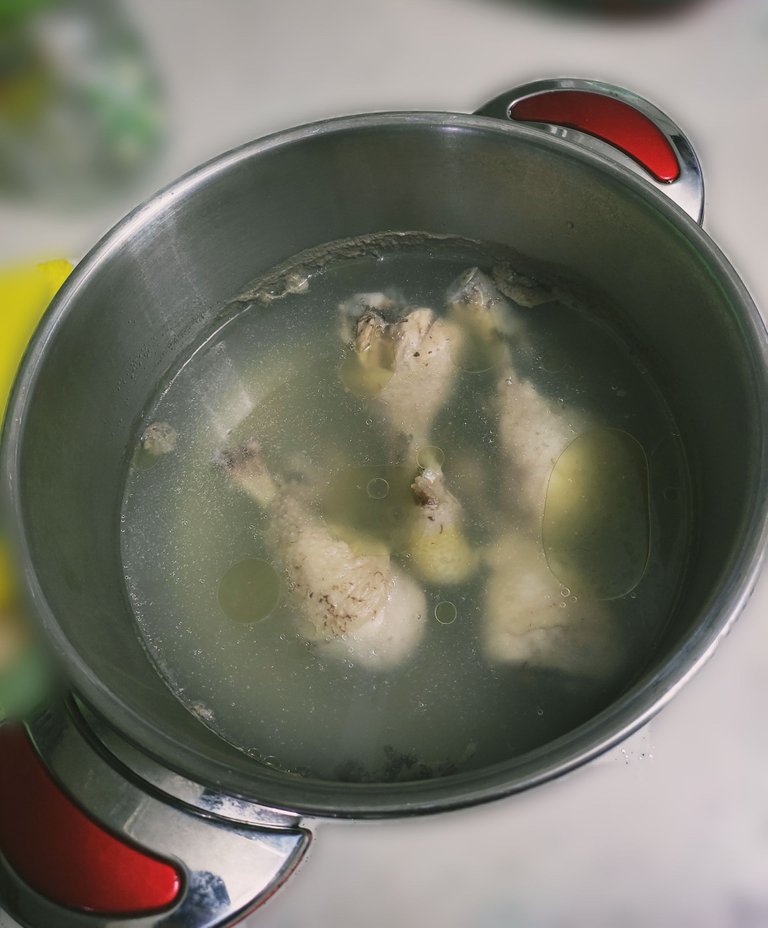 Yıkadığınız pirinci zeytinyağı ile kavurmaya başlayın. Belirttiğim zeytinyağı ölçüsünü aşmayın. Çünkü tavuk suyu ekleyeceğiz ve tavuk suyu çok yağlıdır.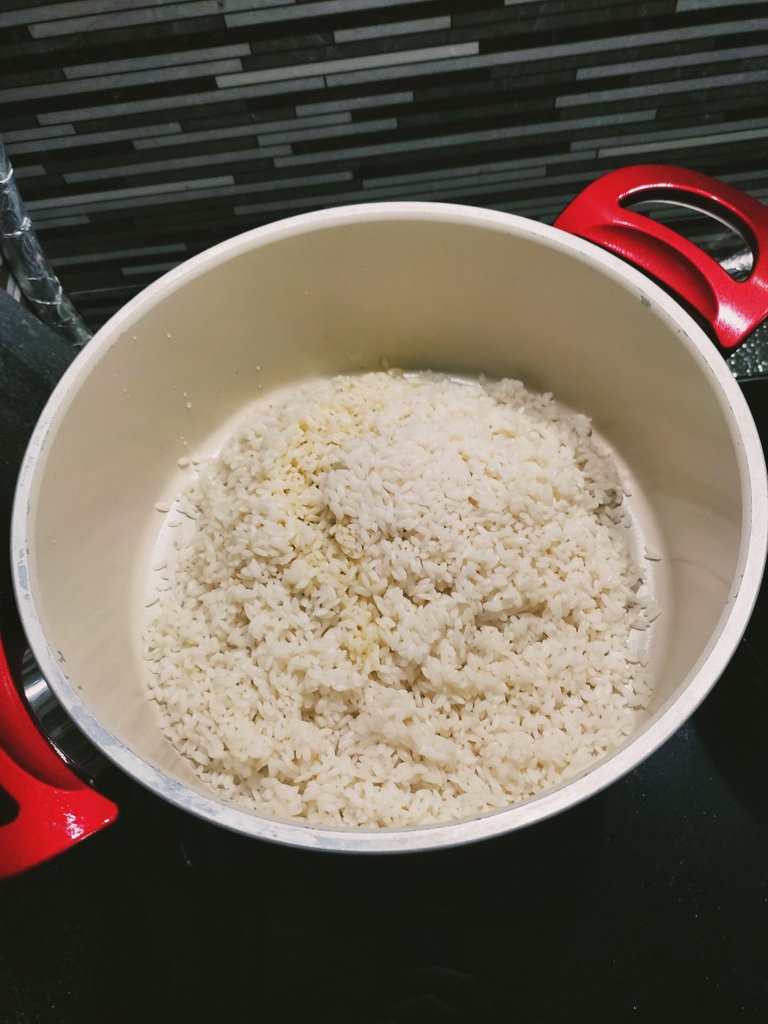 Pirinci ölçtüğünüz kase ile 1.5 kase tavuk suyu ekleyin. Tuzu ekleyin ve pilavı pişirmeye devam edin. Su kaynayana kadar yüksek ateşte,su kaynadıktan sonra kısık ateşte olacak şekilde pilavı pişirin. Tavuk suyu kullandığınız için pilavınız biraz lapa olabilir bu bir sorun değil. Sadece fazla pişirmemeye dikkat edin.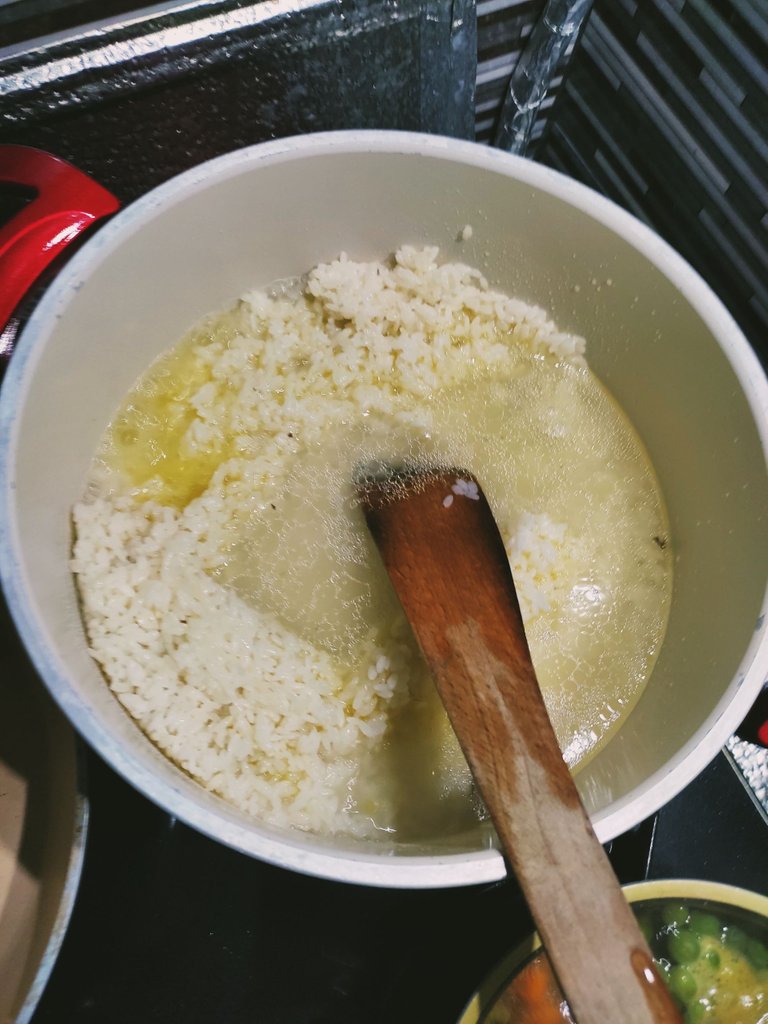 Haşlanan tavuğu kemiklerinden arındırın ve küçük parçalar halinde doğrayın.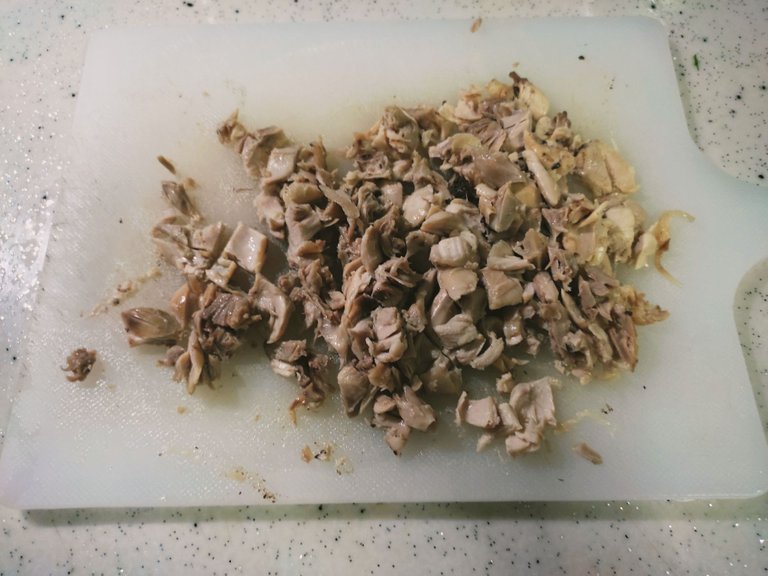 Pilav piştikten sonra kapağını açın ve yaklaşık olarak 30 dakika bu şekilde dinlendirin. Daha sonra doğradığınız tavuğu ekleyin.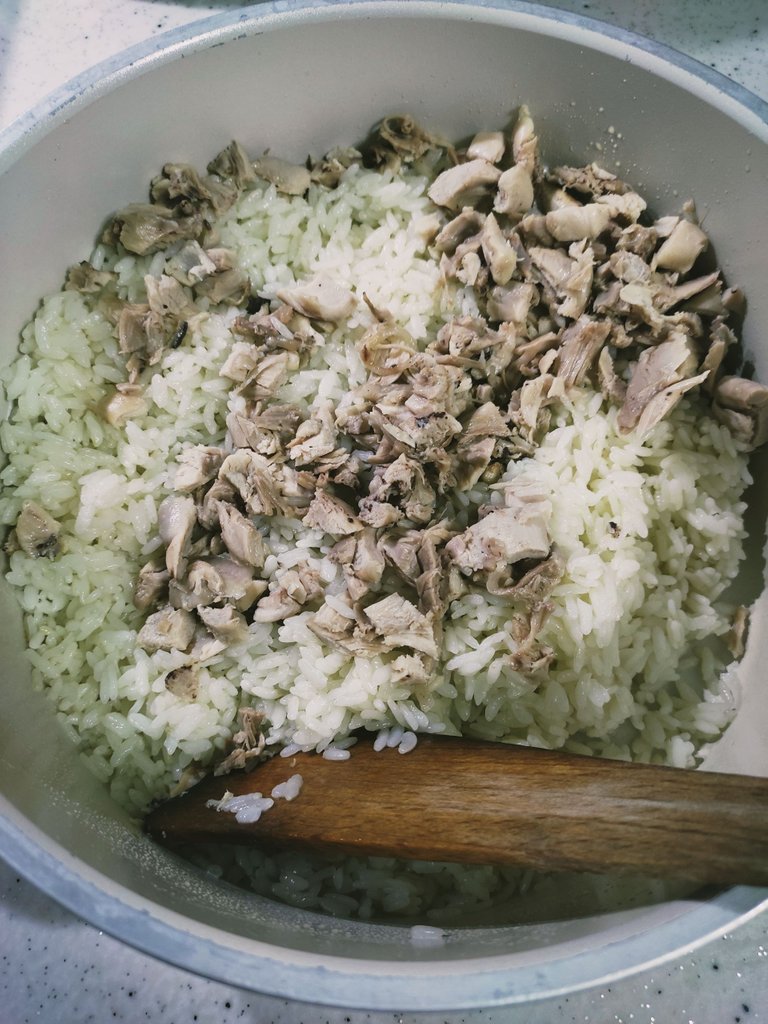 Dereotunu doğrayın.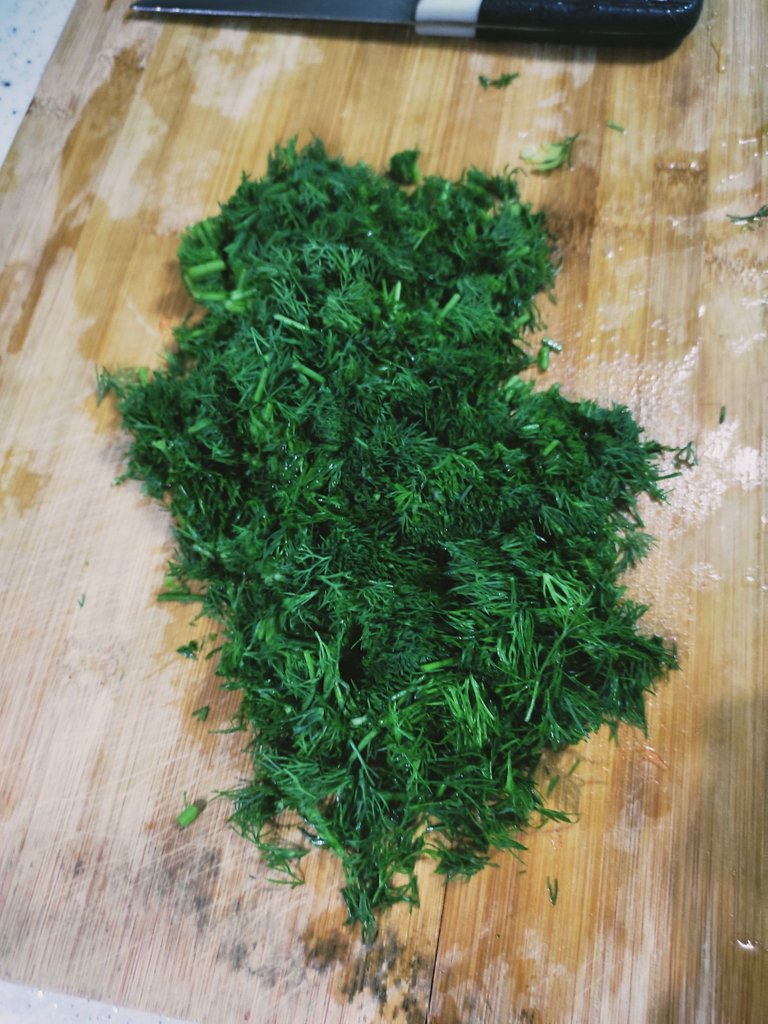 Turşuyu istediğiniz şekilde doğrayın. Ama fazla küçük parçalar haline getirmenizi önermem.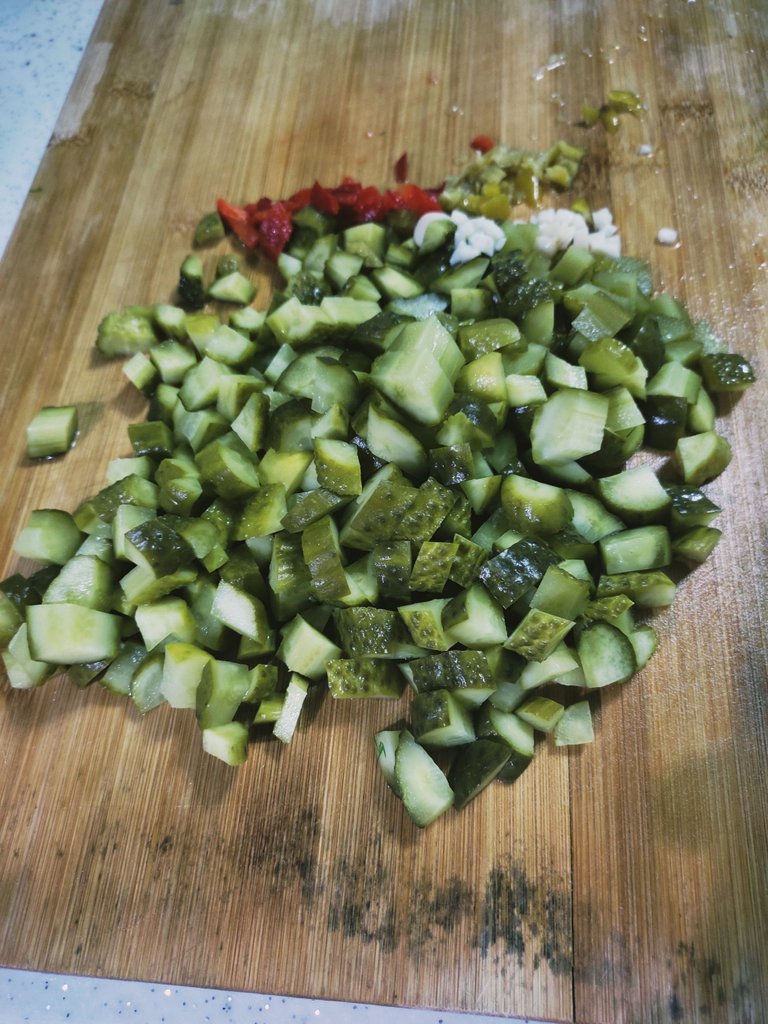 Yeşil soğanı ince ince doğrayın.
Önce yeşil soğanı pilavın üzerine ekleyin ve yeşil soğanı ezmeden karıştırmaya çalışın.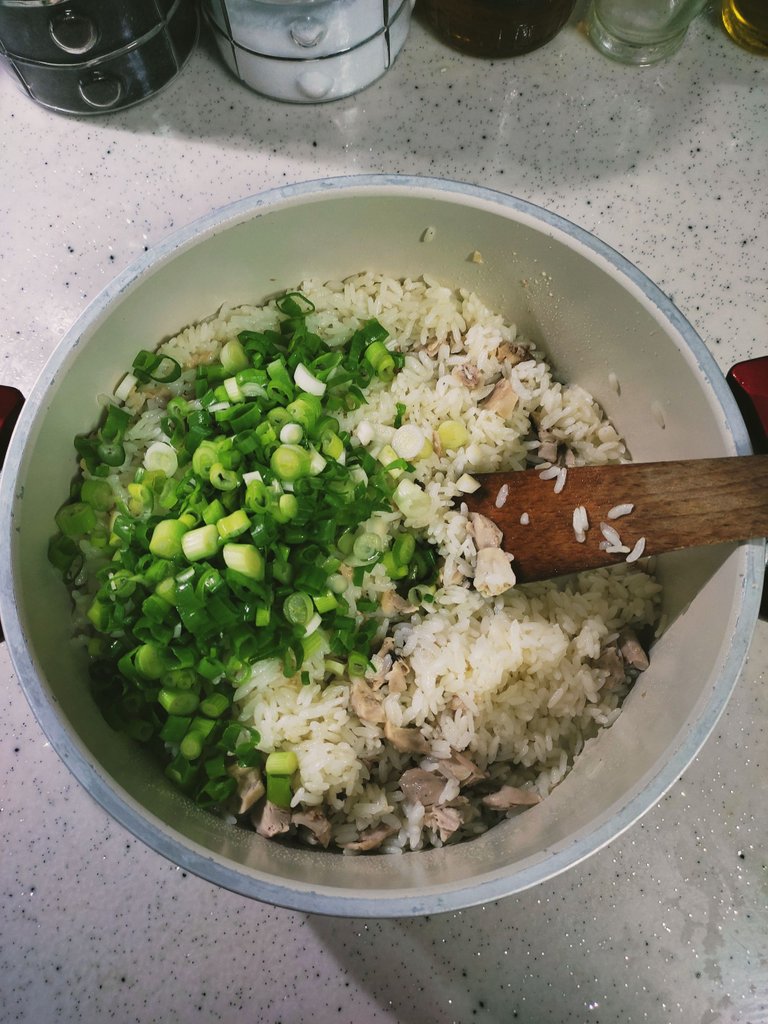 Daha sonra haşlanmış bezelye,havuç ve diğer doğradığınız malzemeleri ekleyin.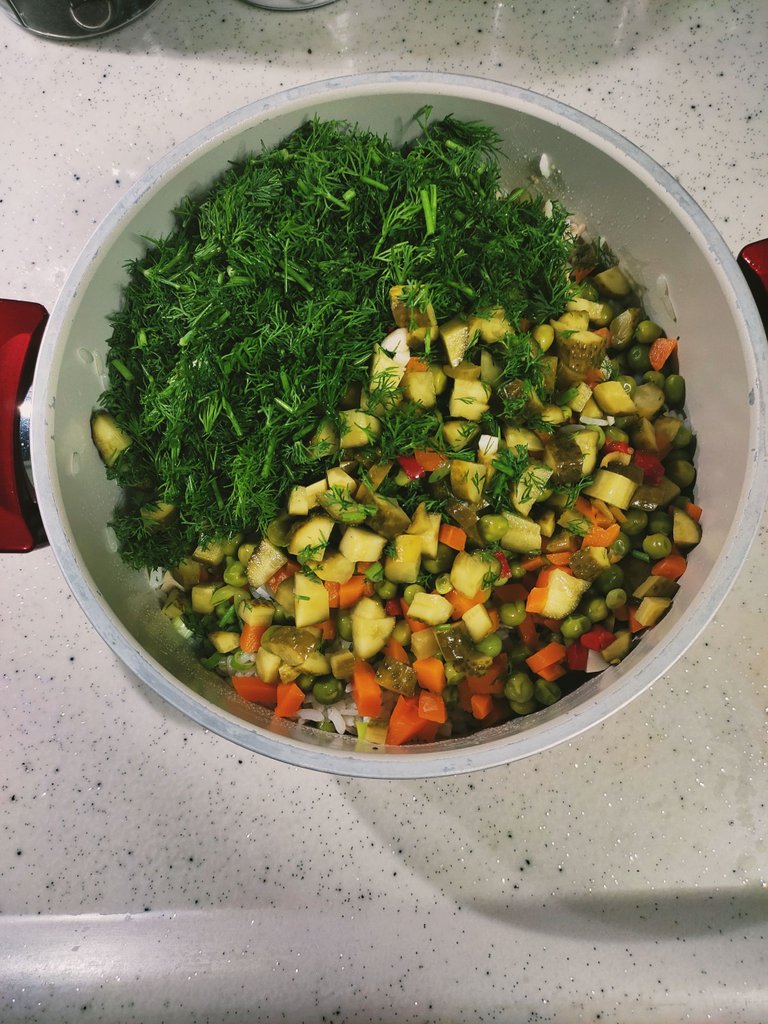 İyice karıştırın. Ama yumuşak hamleler yapın. Eğer fazla sert olursanız haşlamış olduğunuz bezelyeler parçalanacaktır.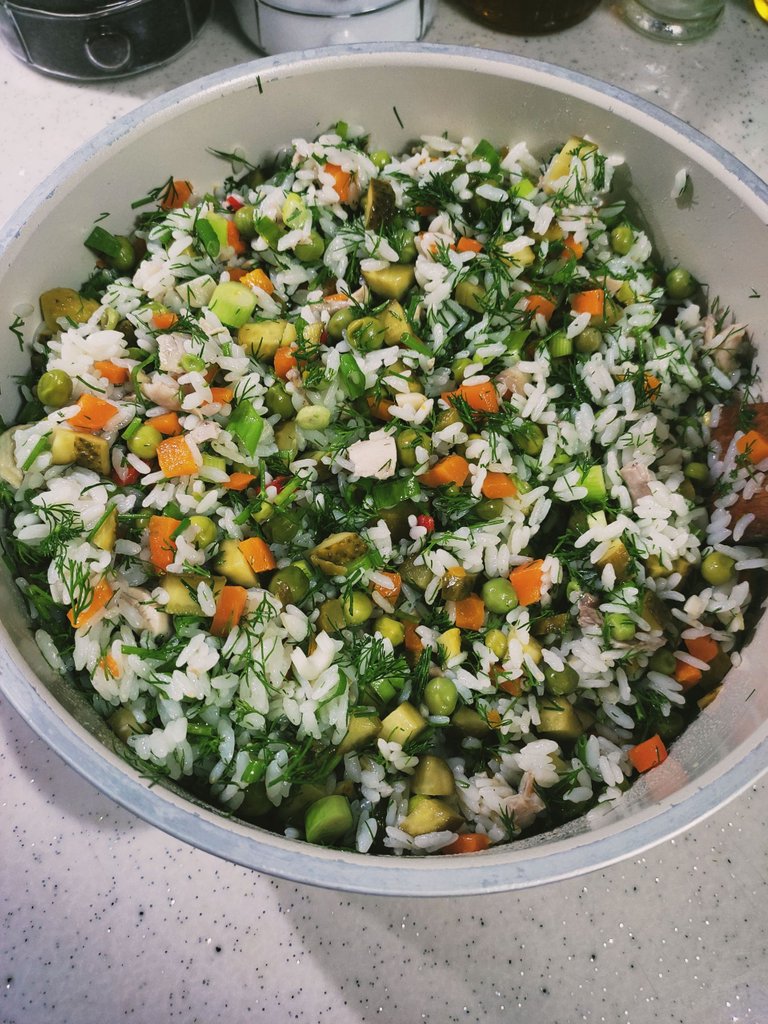 Yemeğinizi servise hazırlayın. Artık pilavınızı yiyebilirsiniz. Afiyet Olsun!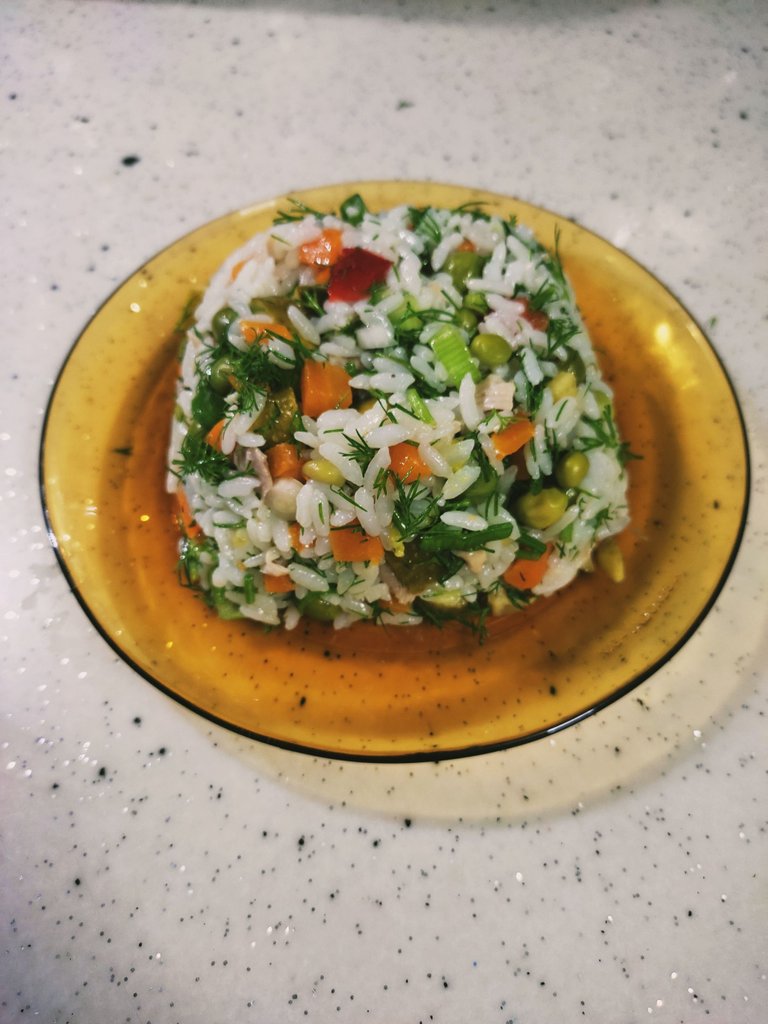 -Tüm fotoğraflar bana aittir.