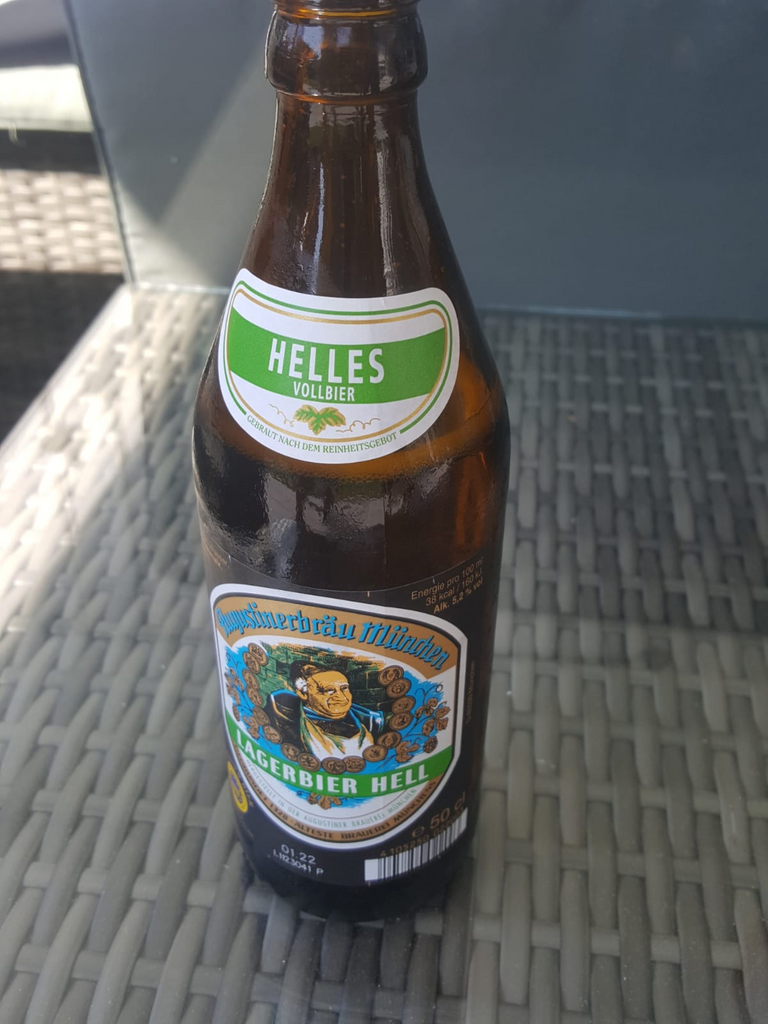 Hello,
it was another very hot day in the south of Germany. And what do you do when it's very hot in Germany? You have a beer (or several) and one shouldn't drink the beer alone.
So on
#BeerSaturday
, which was started by
@detlev
, I drank a few beers with
@uwelang
, which is what you do on a hot Saturday.
There was beer from Augustinerbräu Munich, namely the Helles, which is the best seller of this brewery. The Augustinerbräu Munich is the oldest brewery in Munich that is privately owned and not owned by a large corporation or state. It was founded in 1328.
Because I was driving later, I drank a non-alcoholic wheat one, which was good too, but not as good as the real one.
It was a very good afternoon where we talked about God and the (Hive) world. It was good to see each other again. I saw
@uwelang
for the last time in 2019, before the pandemic, and it was like we saw each other yesterday and that feeling didn't come from the beer.
We have seen that there are so many changes on the chain that we either don't know about or only one of us has a clue about. We think that's very good because it means that there is interest and new people land here every day.
Well, we have also seen that beer connects people and I say: cheers!
Until next time!
Hallo,
es war wieder ein sehr heißes Tag im Süden von Deutschland. Und was macht man, wenn es sehr heiß ist in Deutschland? Man trinkt ein Bier (oder mehrere) und Bier sollte man nicht alleine trinken.
Also zum
#BeerSaturday
, die vom
@detlev
gestartet worden ist, habe ein paar Biere mit
@uwelang
getrunken, was man so macht an einem heißen Samstag.
Es gab Bier von Augustinerbräu München, und zwar das Helles, was das Verkaufsschlager dieser Brauerei ist. Die Augustinerbräu München ist die älteste Brauerei Münchens, die im Privatbesitz ist und nicht einem Großkonzern oder Staat gehört. Diese wurde 1328 gegründet.
Weil ich mit dem Auto war, habe ich alkoholfreies Weizen getrunken, was auch gut war, aber nicht so gut wie das Helles.
Es war ein sehr gutes Nachmittag wo wir uns über Gott und die (Hive) Welt unterhalten haben. Es war auch gut, sich wieder mal zu sehen.
@uwelang
habe ich 2019 letztes Mal gesehen, vor der Pandemie, und es war wie wir uns Gestern gesehen haben und dieses Gefühl kam nicht vom Bier.
Wir haben gesehen, dass es so viele Änderungen auf der Chain gibt, von denen wir nicht wissen, oder nur einer von uns ein bisschen Ahnung hat. Das empfinden wir als sehr gut, weil es bedeutet, dass es Interesse gibt und neue Leute täglich hier landen.
Also, wir haben auch gesehen, dass Bier verbindet Menschen und dazu sage ich: Prost!



Bis demnächst!



---