english summary: a new (first) detailed external peer review of the socalled Corman-Drosten paper (the base of the SARS-CoV-2-PCR test used worldwide since) revealed 10 major methodological and other flaws and the renowned group of reviewers asked for immediate retraction of the paper!
Liebe Alle,
eine internationale Gruppe von 22 renommierten Wissenschaftlern hat die für die Etablierung des SARS-CoV-2-PCR-Tests grundlegende Studie von Cornam et. al, publiziert im Journal "Eurosurveillance" am 23.Jan.2020, (erstmals) einem unabhängigen Peer Review-Prozess unterzogen und diesen hier publiziert. Das Urteil ist vernichtend in seiner Deutlichkeit ("severely flawed with respect to its biomolecular and methodological design"!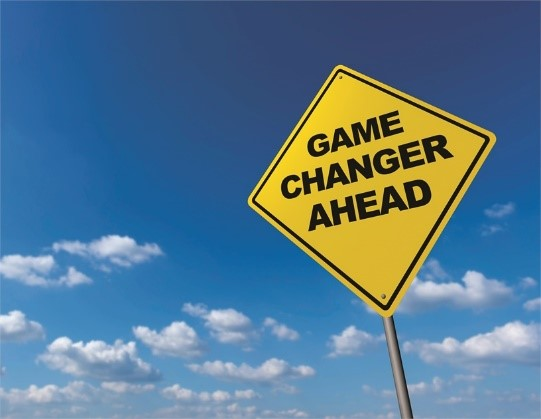 Der eigentliche Peer Review-Prozess, der jeder seriösen wissensch. Publikation vorausgehen sollte, hatte bei dieser Arbeit, obwohl der in ihr beschriebene PCR-Test weltweit so gravierende Auswirkungen hatte, nur 2 Tage gedauert. Interessanterweise ist Prof. Drosten selbst Herausgeber des Magazins "Eurosurveillance" - nur einer der Interessenskonflikte, die in dem neuen externen Review zur Sprache kommen.
Insgesamt hat der Report 10 schwere methodische Mängel gefunden!
Unter anderem:
Das Design der Primer ist unzureichend: ungenaue Basenzusammensetzung, zu niedriger GC-Gehalt, zu hohe Konzentrationen im Test. Die einzige wissenschaftlich relevante PCR (N-Gen) wird zwar dargestellt, ist aber nicht überprüft und wird zudem nicht von der WHO für die Testung empfohlen.

Die Anbindungstemperatur ist zu hoch gewählt, so dass eine unspezifische Anbindung gefördert wird, wodurch auch andere Gensequenzen als die von SARS-CoV-2 erfasst werden können.

Die Anzahl der Zyklen wird im Papier mit 45 angegeben und eine Schwelle, bis zu der die Reaktion als echt positiv gewertet wird, ist für den CT-Wert nicht definiert. Allgemein ist bekannt, dass PCR-Tests ab einer Zyklenzahl oberhalb von 30 bis 35 regelmässig keine Rückschlüsse mehr auf eine Kontamination der Probe mit dem gesuchten Virus zulassen.

Es wurde keine biomolekulare Validierung durchgeführt, daher gibt es keine Bestätigung, dass die Amplifikate echt sind, wirklich entstehen und auch die gesuchte Sequenz nachweisen

Es wurden weder positive noch negative Kontrollen mit Blick auf die Virusdetektion durchgeführt.

Angesichts des sehr kurzen Zeitraums zwischen Einreichung und Veröffentlichung der Studie (2 Tage), ist es sehr unwahrscheinlich, dass ein Peer-Review-Prozess überhaupt stattgefunden hat. Wenn ein Peer Review stattgefunden hat, so war er unzureichend, weil die aufgezeigten Fehler, einschliesslich formaler Fehler, nicht gefunden worden sind.

Es gibt massive Interessenkonflikte bei mindestens vier der Autoren zusätzlich zu der Problematik, dass zwei der Autoren (Prof. Drosten und Chantal Reusken) dem Herausgebergremium von Eurosurveillance angehören. Zwei weitere Autoren sind Geschäftsführer von bzw. beraten die Firma TIB Molbiol, die angabegemäss die erste war, die die PCR-Kits hergestellt hat auf der Basis des im Corman-Drosten Papers veröffentlichten Protokolls.
Hier der Antrag auf Rückzug der Studie, basierend auf diesem Bericht, eingereicht am 26.Nov. an die Herausgeber der Journals "Eurosurveillance"
Hier nur 2 der Kommentare dazu: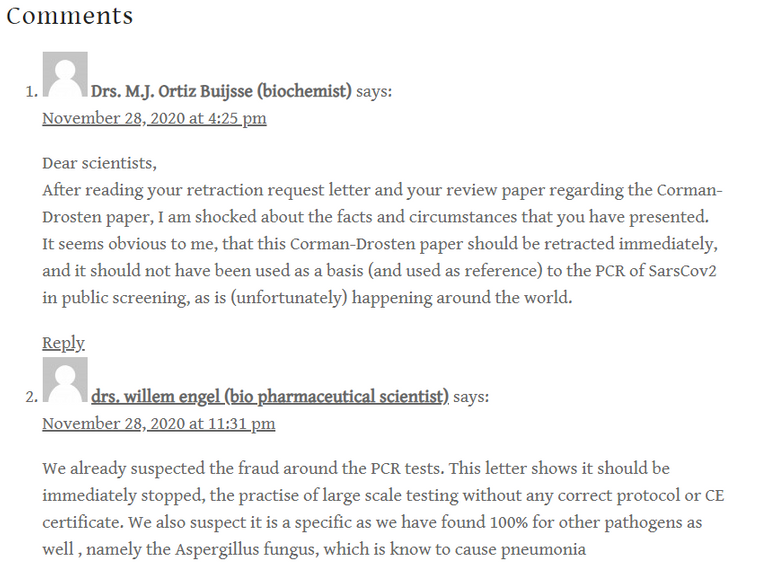 Es bleibt abzuwarten, ob der Bericht irgendeine Auswirkung haben wird oder ob er totgeschwiegen werden kann. Zumindest kann man jetzt nicht mehr sagen, man hätte es nicht gewusst! Bitte weiterleiten!
Links:
https://2020news.de/drosten-pcr-test-studie-rueckzugsantrag-gestellt-wegen-wissenschaftliche-fehler-und-massiver-interessenkonflikte/?fbclid=IwAR1dAudhpcBMF1dpmRTYhGq1W64eGGzieJQSrCdww2azGjEa7w3XvyVBUgs
https://cormandrostenreview.com/eurosurveillance-response/
UPDATE:
Das Interview mit dem Drosten-Whistleblower Bobby Rajesh Malhotra ist ein must read!