In the southern part of Pilsen, near the village of Libákovice, we find a rock formation called the Devil's Burden in the local forests.
And near it we come across two Hluboká ponds.
The upper one slowly turns into a swamp.
On its peninsula once stood a solid fortress, which was part of a defunct village.
We don't know much about it, archeologically it was dated to the middle of the 14th century.
Most of its buildings were wooden and to this day nothing has been preserved except the terrain remains.
In any case, the place attracts visitors with its mysterious, somewhat gloomy atmosphere during the current foggy days of November.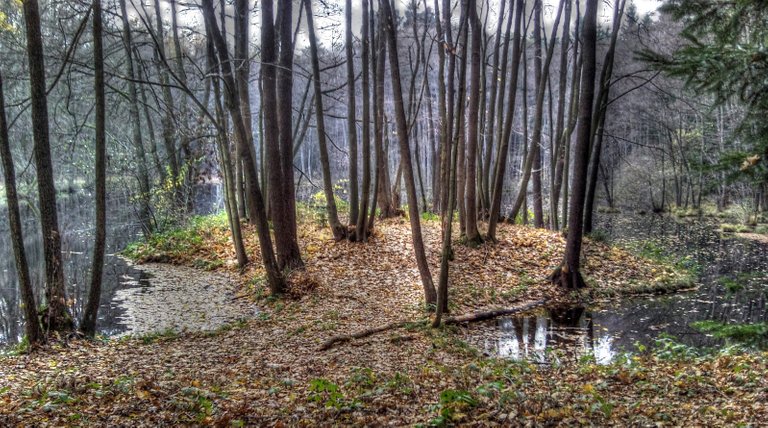 Na jižním Plzeňsku, nedaleko obce Libákovice, najdeme v místních lesích skalní útvar zvaný Čertovo břemeno.
A nedaleko něj narazíme na dva Hlubocké rybníky.
Horní z nich se pomalu mění v močál.
Na jeho poloostrůvku kdysi stávala pevná tvrz, která byla součástí zaniklé vesnice.
Moc toho o ní nevíme, archeologicky byla datovaná do poloviny 14. století.
Většina jejích staveb byla dřevěných a do dnešní doby se kromě terénních pozůstatků nic nedochovalo.
Místo každopádně láká k návštěvě svojí tajemnou, trošku pochmurnou atmosférou za současných listopadových mlhavých dnů.