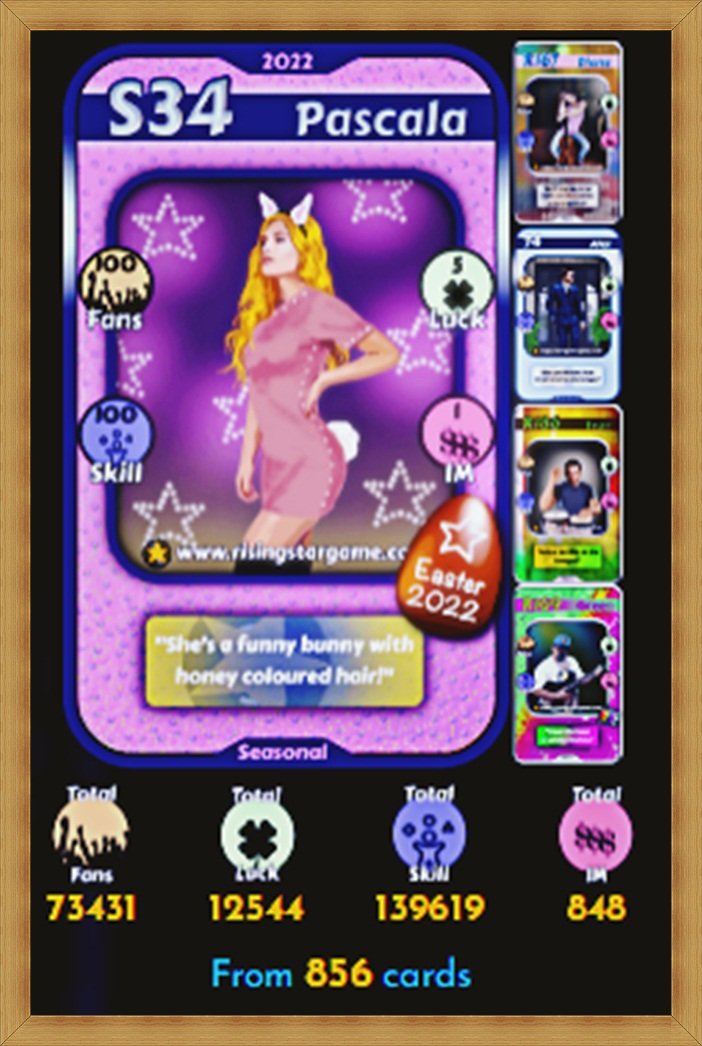 Greetings, friends, every day that passes this game of Rising Star becomes more interesting to me since one learns to value the daily and constant work, which even if it is small then the fruits that can give us are unimaginably larger.
Let's start talking about the fans, who are the ones that determine the number of Starbits that we can earn per mission. Well, I currently have more than 70k permanent fans, which some days reach 80k when you add the temporary drunk fans.
My goal for this year is to reach at least 90k permanent fans, if we count less than 8 months to finish the year it is necessary, therefore, that each month I acquire about 2500 fans. At the pace of play that I have and the strategy I have, I think this is possible, and if in a pack we get a good card we could accelerate the process. In the last card opening I had at the beginning of the month, in fact, I got an epic which is the minimum necessary for an opening of card packs to be more than profitable.
Saludos, amigos, cada día que pasa este juego de Rising Star se me hace más interesante, ya que uno aprende a valorar el trabajo cotidiano y constante, el cual aunque sea pequeño luego los frutos que nos puede dar son inimaginablemente más grandes.
Empecemos hablando de los fans, los cuáles son los que determinan al final la cantidad de Starbits que por misión podemos ganar. Pues bien, actualmente voy por más de 70k fans permanentes, los cuales algunos días llegan a los 80k cuando se le adicionan los fans temporales borrachos.
Mi objetivo para este año es llegar al menos a 90 mil fans permanentes, si contamos faltan un poco menos de 8 meses para terminar el año es necesario, por lo tanto, que cada mes adquiera alrededor de 2500 fans. Al ritmo de juego que llevo y la estrategia creo esto es posible, y si en un paquete nos sale una buena carta pudiésemos acelerar el proceso. En la última apertura de cartas que tuve a principios del mes, de hecho, me salió una épica que es lo mínimo necesario para que una apertura de packs de cartas nos sea más que rentable.

Let's move on now to the skills I currently have, just as important as the fans because it controls the amount of Ego we have, which when it is more than what is due (this is more than the fans + ego for missions) subtracts the amount of Starbits we can win.
Here what is more convenient is to accumulate skills by music lesson in a specific instrument of which we have more cards and in which we can specialize by increasing our collection in them. In my case, I am focused on increasing my cards pertaining to guitar instruments, doing the music lessons related to this instrument at least twice a day, and thus maintaining the balance.
What we must understand about the instrument cards is that each one gives us some statistics of lucks that add up and determine the skills that we can gain. In my last acquisition of guitar instrument cards, I bought several increasing my luck from 3476 to almost 4000, with which I am currently making between 205 to 410 skills per music lesson, not bad when we see that it is the average I get from some epic cards that are around 35 thousand Starbits.
Pasemos ahora a los skills que tengo actualmente, igual de importante que los fans ya que controla la cantidad de Ego que poseemos, el cual cuando es más que lo debido (esto es más que los fans + ego por misiones) nos resta la cantidad de Starbits que podemos ganar.
Aquí lo que más conviene es acumular skills por lección de música en un instrumento específico del cual tengamos más cartas y en el cual nos podemos ir especializando aumentando nuestra colección en las mismas. En mi caso, estoy enfocado en aumentar mis cartas pertenecientes a los instrumentos de guitarra, hacer las lecciones de música referentes a este instrumento al menos dos veces al día y así ir manteniendo el equilibrio.
De las cartas de instrumentos lo que debemos comprender es que cada una nos dan unas estadísticas de lucks que se van sumando y determina los skill que podemos ganar. En mi última adquisición de cartas de instrumentos de guitarra compré varias aumentando mi luck de 3476 a casi los 4000, con lo cual estoy haciendo actualmente entre 205 a 410 skill por lección de música, nada mal cuando vemos que es el promedio que obtengo de algunas cartas épicas que están alrededor de los 35 mil Starbits.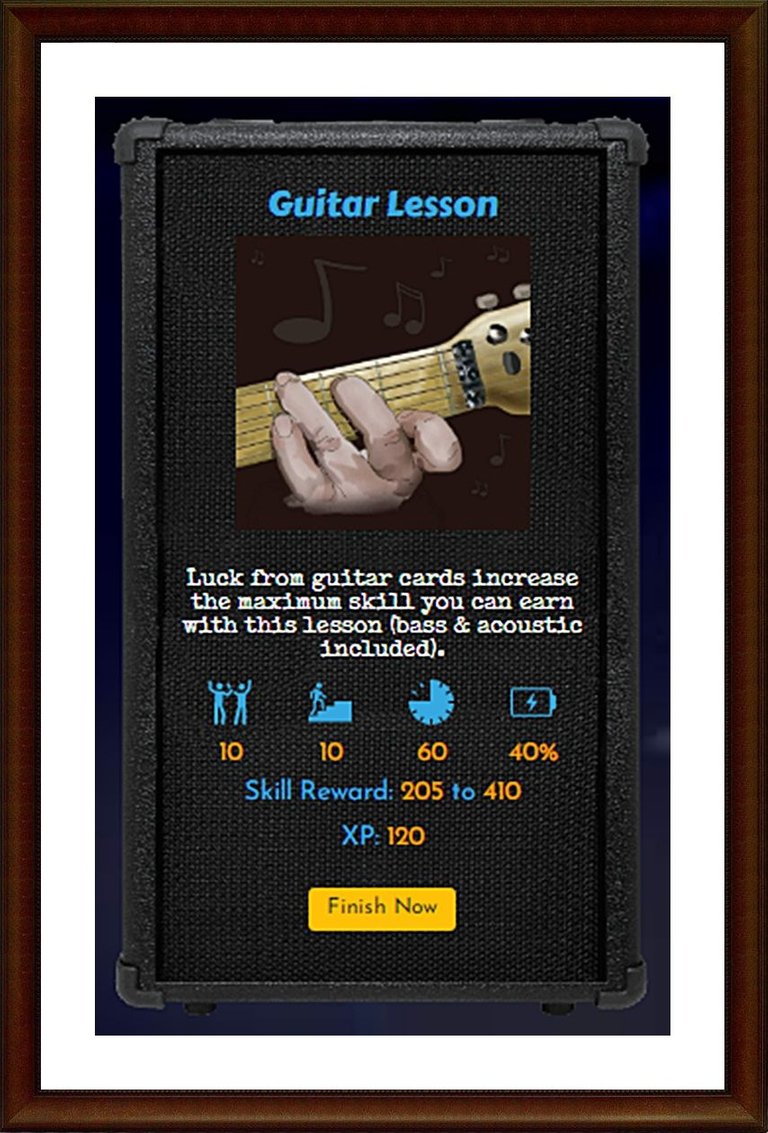 Thank you very much for having accompanied me in the reading of this post, wishing you always the best and that we can meet again in the next publication, I say goodbye, see you later.
Muchas gracias por haberme acompañado en la lectura de este post, espero tus comentarios y que nos podamos volver a encontrar en una próxima publicación, hasta luego.


---
---
---
---

---