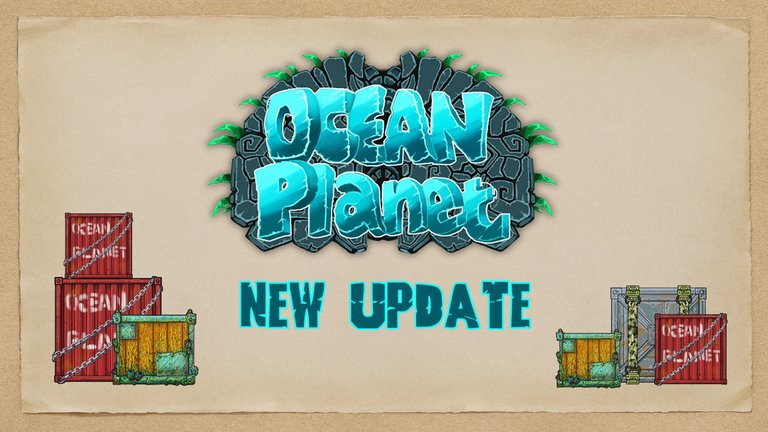 Greetings, players!
"OceanPlanet" has updated some game balance features. So let's find out more about these changes.
Lootboxes
Price.
From now on, Max has different prices for unpacking different lootboxes. Each kind of lootbox has different kinds of treasures in it. That means that the price to unpack lootboxes will depend on its tier.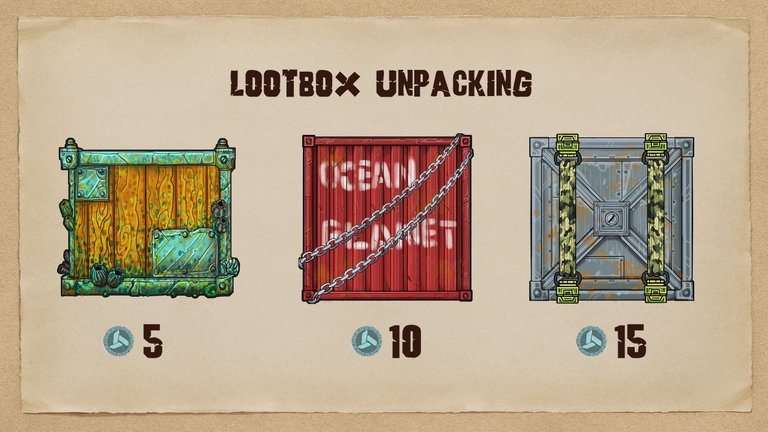 New prices:
for a wooden lootbox - 5 tokens;
for a metal lootbox - 10 tokens;
for a military lootbox - 15 tokens.
You can see the new prices at Max's (in the Arsenal).
Mining.
There are some changes in mining locations. At the free mining locations (Market and Boxship) you can catch only wooden lootboxes. At locations with a pass or a license, you can catch special lootboxes. In the City Center — wooden lootboxes and metal containers, at Oilwell — wooden lootboxes, metal containers and military lootboxes.
Market
A limit on the sale of loots has been introduced. From now on, each buyer has their own budget for the day, so hurry up to sell your loot in time, because when their budgets run out, the buyer won't buy anything more from you until the next day. The buyer's budget updates every day at 12:00 a.m. by Kyiv time zone(UTC + 2).
Lootbox market.
You can also sell lootboxes at the Market. So instead of throwing unnecessary lootboxes into the ocean, you can put them on the Market and sell them to other players.
Loot market.
Now loots can be sold not only to vendors at city locations, but also put up for sale in the Market. You can set your price for loot and offer your product to other players, or buy the loot you need to resell it for another price, or use it for crafting.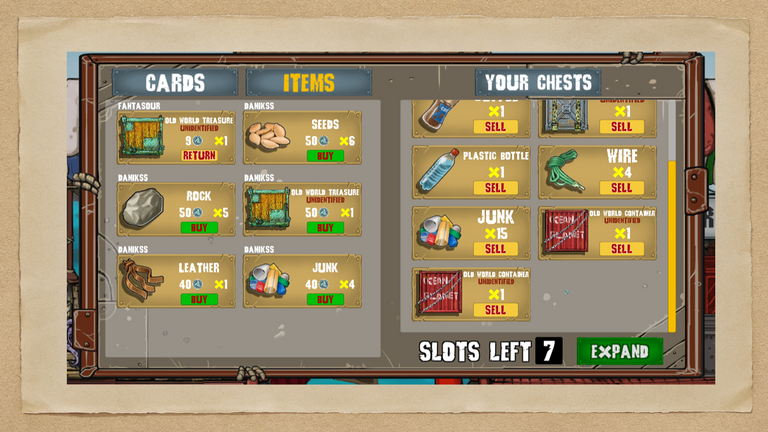 Slots for sale.
A limited number of slots for sale have been introduced. From now on, you will have 5 slots where you can put your cards and lootboxes for sale. You can expand your "shop" by purchasing an additional number of slots - the first slot set (5 slots) costs 100 tokens. Each following slot set costs 100 tokens more than the previous one, the second set — 200 tokens, the third set - 300 tokens etc.
Card's tier
There have been some changes in the cards' tier. Updated tiers:
Pure soil - Tier I
Swimmer set - Tier I
Gold Mega Bonus - Tier I
Crowbar- Tier I
Hammer and chisel - Tier II
Gardener's pack- Tier II
Broker's License - Tier III
Other changes
Passive consumption of shrimps (now regardless of the number of your characters) will be 1 shrimp per 24 hours.
Updated interface of unpacking lootboxes
Customized inventory in the mobile version of the game. Now everything works without bugs.
The maximum withdrawal limit has been removed, you can now withdraw from 1000 tokens and more.
Thank you! Stay tuned for the new updates and new posts on the official pages of "OceanPlanet''! Chat with other players and share your feedback in the official chats of "OceanPlanet"!
Sincerely, OP Team! 🌊💙


Official internal token: С24 (CRYPTEX)
Our Links
---
Telegram
Telegram Chat EN
Telegram Chat UA/RU
Discord
Twitter