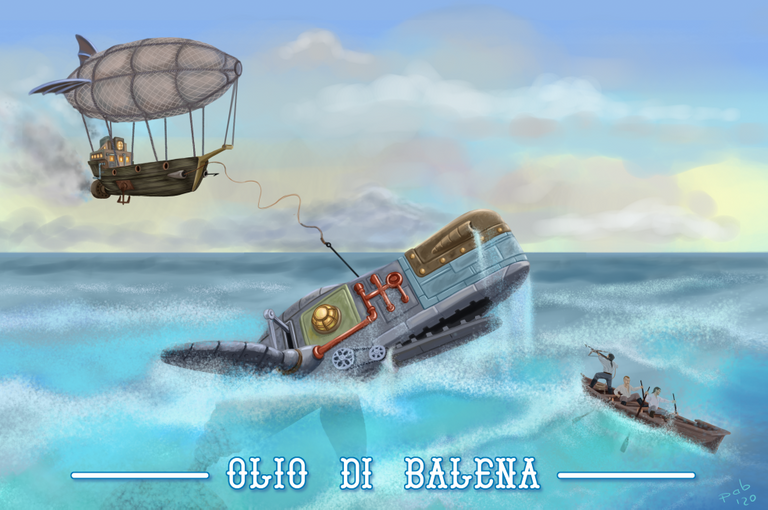 foto i @pab.ink
---
Ciao a tutti ragazzi , io sono iscritto su Olio di Balena da quando mi sono iscritto su Hive e ogni giorno scopro cose nuove come i tantissimi contest che ci sono e tutti i progetti che girano dietro e qui troverete un mini riassunto di tutto quello che devi sapere su Olio di Balena.
---
REGOLAMENTO
Scrittura italiana
Solo contenuti originali
Rispetto per gli altri utenti di Hive
Grafiche a cura di @pab.ink e @astrocreator
---
VOTI
Su Olio di Balena tutti i post ricevono un voto da @fedesox il ragazzo Italiano più importante per la community e con il suo voto massimo di quasi 20$ vota tutti i post con una percentuale variabile a seconda della qualità del post che può variare dal numero di parole o dal minutaggio del video.
---
CURATION TRAIL

La community ha anche un programma di curation trail con a capo @fedesox nella quale potete entrare tramite questo link , seguendo il "progetto di curare" il vostro voto partirà in automatico insieme a quello di fedesox per curare tutti i post della community.
---
MODERATORI E RUOLI DELLA COMMUNITY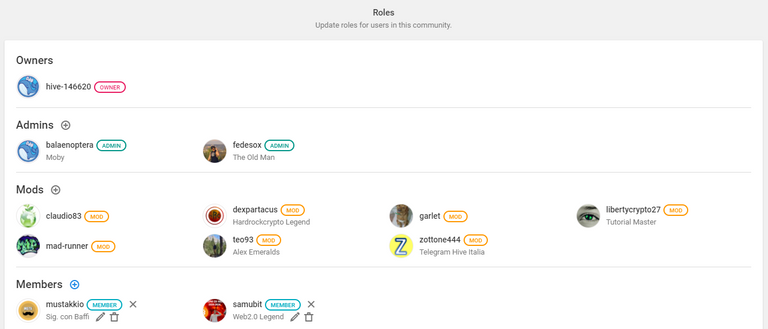 Sulla community ci sono diversi ruoli come @hive-146620 account proprietario della community
@balaenoptera e @fedesox che sono rispettivamente Moby e The Old Man (tradotto The Old Man)
i vari moderatori @claudio83 @garlet @mad-runner , @dexpartacus , la leggenda del canale Youtube HardRockCrypto che trovate qui.
@libertycrypto27 il Tutorial Master , (tradotto Maestro delle Guide)
@teo93 Alex Emeralds (allo stato attuale lo sa solo @fedesox cosa vuol dire ahah...)
@zottone444 , me medesimo , Telegram Hive Italia alla quale potete entrare da qui
I Membri verificati , @mustakkio account del token mustakkio , anche detto Sig con Baffi e la leggenda tel Web 2.0 @samubit .
---
CONTEST
Sulla community è pieno di ragazzi che organizzano contest e che mettono tutto di tasca loro o che i guadagni dei post li dedicano quasi totalmente per i premi.
---
#1 UNTO E BISUNTO
Il primo contest di qui andremo a parlare è quello che organizza mensilmente @fedesox funziona in maniera molto semplice i primi 5 autori che collezionano più parole all'interno del mese si dividono una fetta proporzionale di un fondo di 100 HIVE mentre il primo ha anche una delega di 5000 HP che dura l'Intero mese successivo (25 giorni netti + 5 cooldown)...in pratica incentiva a scrivere e non discrimina nessuno.
#2 PREMIAZIONE ENGAGEMENT ITALIANO SETTIMANALE
Forse molti non lo sanno ma su Hive l'utente @abh12345 ogni settimana fa uscire la classifica dei migliori utenti che interagiscono sotto i post con commenti post e voti , per iscriversi basta scrivere un commento sotto il post (lo trovate qui) per chiedere di essere inseriti , e automaticamente @mad-runner ogni fine settimana andrà a vedere se ci sono Italiani in classifica cosi da far uscire un post dove l'ultimo classificato prende 0.200 HDB mentre il primo ne prende massimo 2 di HDB , un guadagno assicurato che esce tutto dalle tasche del buon @mad-runner .
#3 Photochain Challenge
Questo contest è organizzato da @davidesimoncini che ogni settimana chiede di inviare nei commenti una foto nel tema che troverete nel post che può essere sabbia e acqua o libro e mano , i due ragazzi selezionati riceveranno 2 HIVE e 2 SBI (Hive Stake Based Income è un servizio di terze parti che premia gli stakeholder con i voti positivi a vita di Hive.) Per partecipare non è richiesto ne un follow ne un re-blog e ne un voto ovviamente io consiglio sempre di votare il post.
#4 HIVE F1
Questo contest è organizzato da @green77 per partecipare dovete:
upvotare il post manualmente almeno al 90%.
Condivisione non obbligatoria, ma consigliata: ovviamente può aiutare a far aumentare il valore del post portando nuovi concorrenti (ditelo anche ai vostri amici).
I pronostici vengono raccolti commentando questo post, per i primi tre classificati, ad esempio 1. Vettel - 2. Hamilton - 3. Raikkonen.
Potete votare fino alla partenza della gara. L'orario verrà controllato anche attraverso GinaBot su Discord.
Vengono assegnati 3 punti a chi indovina il primo classificato, 2 al secondo, 1 al terzo. La somma dei punti, farà la classifica dei vincitori, che eventualmente si divideranno i premi: 30% - 20% - 10% del valore del post al momento del pagamento, dopo 7 giorni.
Al suo interno ci sono dei premi extra che trovate nel suo ultimo post.
#5 HIVE MOTOGP
Contest di @ciuoto alla quale la partecipazione è aperta a TUTTI e come al solito è gratuita.
Le regole sono facilissime:
Upvote al 100% e pronostico entro lo start della MotoGP. Reblog/repost gradito
Fino ad esaurimento scorte verrà commentato il pronostico con una BEER
I punteggi sono anche quest'anno
3 per il primo posto
2 per il secondo posto
1 per il terzo posto
Vincono i 3 con il punteggio maggiore a fine gara (inclusi ex aequo)
Il montepremi sarà suddiviso come segue:
il 30% del valore in Hive del post al primo classificato. In caso di parità verrà suddiviso tra i vincenti
il 20% al secondo classificato ed eventuali ex aequo
il 10% al terzo alle stesse condizioni
Il resto del montepremi si andrà ad accumulare a fine stagione e premierà il vincitore assoluto con il 20%
Un altro 20% andrà a chi, entro il 30 maggio, in occasione del GP d'Italia, pronosticherà il Campione del Mondo 2021.
#6 SERIE A HIVE
Poi arriviamo al mio contest che parla della serie A. Per partecipare al contest bisogna votare il post con almeno il 50% del proprio potere di voto e poi dovrete commentare i risultati esatti delle gare che sceglierò io per la giornata di Serie A che si dovrà giocare. Se non avete capito basta scrivere nei commenti e io vi illustrerò meglio le regole. Il premio finale per il primo classificato riceverà ben 30 HIVE.
#7 EURO HIVE 2020(21)
Contest organizzato da me che tratta appunto euro 2020.
REGOLE
COME PARTECIPARE
VOTO 100% AL POST

COMMENTARE ENTRO L'INIZO DELLA/E GARE/A
COME RACCOGLIERE PUNTI
Per raccogliere i punti di giornata in giornata in giornata bisogna commentare con chi secondo voi vincerà o perderà la/e gara/e
Questi punti si sommeranno per dare il premio finale a fine europeo
COME GUADAGNARE HIVE OGNI GIORNATA
Per guadagnare hive ogni giornata vi basterà mettere il risultato esatto della/e gara/e (VALORE 0.15 HIVE) e il primo marcatore (VALORE 0.20 HIVE)
regola (gli autogol non saranno contati come primo marcatore)
PREMIO FINALE
Chi raccoglierà più punti a fine europeo riceverà 10 HIVE
---
#8 Contest LBHive
Il contest di @bencwarmer tratta il basket
Regolamento
lasciare un commento con il pronostico di giornata
il 90% del ricavato dai voti ricevuti dal contest, verrà distribuito in premi
Diamo il via ai vostri pronostici e che vinca il migliore!
Per qualsiasi domanda potete scrivere tra i commenti e vi risponderò appena possibile.(sotto il post di @bencwarmer)
Ovviamente è gradito ogni reblog e ogni upvote
---
#9 PREMIAZIONE ENGAGEMANT ITALIANO MENSILE
Anche questo contest è organizzato da me. Ecco il regolamento
L'utente @abh12345 la domenica o il lunedì di ogni settimana farà uscire un post dove esce la tabella degli utenti che hanno interagito di più sulla piattaforma. Per essere inseriti in questa piattaforma dovete andare nel suo ultimo post che trovate nella sezione BLOG di @abh12345 e chiedere con un commento in Inglese di essere aggiunti alla lista.
Inoltre se avvisate @mad-runner che siete stati inseriti anche lui vi andrà cercando nella tabella settimanale per premiarvi con degli HDB e il minimo che potete ricevere è 0.200 HBD (Hive Dollar) fino a un massimo di 3 HDB.
Per fare punti ed entrare nella classifica dovrete commentare postare e votare. Il mondo più semplice per fare i punti è commentando sotto i post , questo però non vi da la possibilità di spammare commenti che non c'entrano nulla con il post.
Per avere maggiori info basta andare nei loro post inerenti alla premiazione per sapere bene come funzionano i premi ecc.
---
#10 SerialPredictions Contest
Il format sarà sempre lo stesso.
@serialfiller vi indicherà 4 eventi sportivi da indovinare.
Chi indovinerà tutti e 4 gli eventi si dividerà il montepremi.
Il montepremi sarà messo in palio da @serialfiller integralmente.
10 Hive ad episodio.
REGOLE:
VOTARE AL 100% IL POST
ESPRIMERE I 4 PRONOSTICI NEI COMMENTI
SPERARE NELLA VITTORIA :)
per partecipare c'è una scadenza che trovate nel post
FANTACALCIO
Inoltre da ormai 2 anni grazie a @poliwalt10 sulla community si svolge il fantacalcio Olio di Balena e l'utente @libertycrypto27 a fine giornata quasi sempre condivide il post del resoconto della giornata appena conclusa.
Il costo di partecipazione è di 1 HIVE per ogni giornata di campionato.
Il campionato non si giocherà in versione scontro diretto bensì tramite classifica per punteggio.
non ci sarà asta e ognuno potrà costruire la sua squadra preferita rispettando i limiti del suo budget. Ogni giocatore potrà quindi essere presente in più squadre della competizione.
I crediti saranno 250, le squadre saranno formate da 25 giocatori (3 portieri, 8 difensori, 8 centrocampisti, 6 attaccanti) e i loro prezzi d'acquisto saranno quelli indicati dall'applicazione.
La percentuale di premiati verrà decisa di comune accordo.
L'account che verrà usato come wallet è @pw10
---
GILDA EDSF SU SPLINTERLANDS
Per tutti i video giocatori di @splinterlands , Olio di Balena offre anche la gilda di nome EDSF su splinterlands nel quale potete unirvi per raccogliere più DEC e poi usarli per contribuire nella crescita della gilda. A capo di quest'ultima vi è @mad-runner e come co-capo @libertycrypto27
---
DISCORD
La community di Olio di Balena dispone anche di un server Discord https://discord.gg/ru4zaN2
nel quale si posso scambiare le proprie opinioni e i proprio dubbi e trovate anche il canale per il fantacalcio.
---
SOCIAL
Essendo la community più grande di Hive per quanto riguarda la lingua Italiana vi sono anche tutti gli aggiornamenti per i profili social che attualmente sono gestiti senza problemi da me.
Per il momento i profili di Hive Italia sono su Twitter-Fecebook-Instagram , inoltre da poco stata creata la community Telegram di Hive Italia nella quale siamo circa 70 per il momento https://t.me/hiveitaly
---
---

Bene ragazzi il post finisce qui , spero che vi possa essere utile e spero di non essermi dimenticato nulla , in caso contrario scrivetemi nei commenti e sarò pronto ad aggiornare il post ;)
---
Follow me on
TWITTER ---> https://twitter.com/zottone444
TORUM ---> https://www.torum.com/u/zottone444
HYPPER ---> https://hyprr.com/profile/zottone444
NOISECASH ---> https://noise.cash/u/Zottone444
READCASH ---> https://read.cash/@Zottone444
BLURT ---> https://blurt.world/@zottone444
JOIN ON TELEGRAM ITALIAN GROUP ---> https://t.me/hiveitaly
FOLLOW HIVE ITALIA ON ---> Twitter -- Instagram -- Fecebook
---
Buy items by paying with HIVE here @justjob2
Buy games by paying with HIVE-HDB-Pizza Token here @thebeardflex
---
nel caso non fossi più presente su hive per aggiornare il post potete copiare tutte le informazioni in un altro post