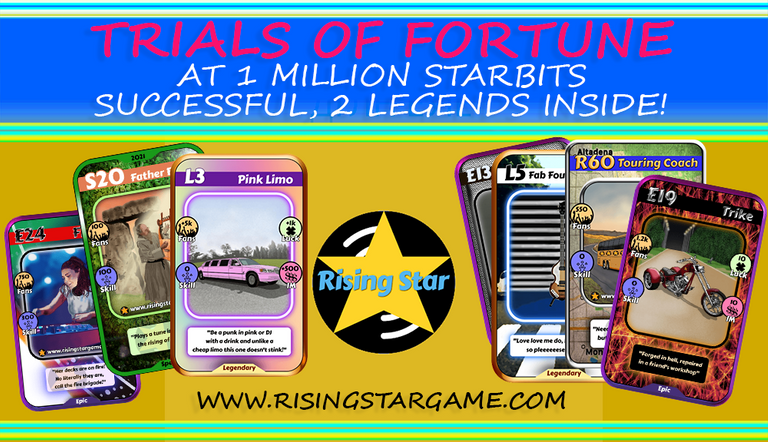 My Trials of Fortune at 1 million Starbits Successful! 2 Legends inside!
And since you probably know an event is taking place in the game, a special card drops out of the packs that makes it possible to carry out missions with the probability of the event "tools" falling out. So, for the sake of these special cards that are well on the market, I decided to try my luck for another 1 million sat this month ... And I didn't regret it! Imagine as many as 2 !!! legendary cards fell out, believe my experience, this is a very rare phenomenon ... Besides, they added to my collection, a decent number of special cards, bus cards giving boost fans and some very cool epics also dropped out. Hopefully, after updating the rating, I will still enter 10;) Happy! =) I continue to actively play this exciting game ... If you didn't know, you can start playing it without any investment.
stats before and after:


---
І так як ви напевно знаєте в грі проходить івент, з паків випадає спеціальна карта яка дає можливість виконувати місії з ймовірністю випадання івент "інструментів". Так ось заради цих спеціальних карт які добре стоять на ринку я і вирішив в цьому місяці випробувати удачу ще на 1 мільйон старбітс ... І я не пошкодував! Уявляєте цілих 2 !!! легендарних карти випало, повірте моєму досвіду це досить рідкісне явище ... До того вони доповнили мою колекцію, так само на випадало пристойну кількість спеціальних карт, карт автобусів котрі дають буст фанів і кілька вельми прикольних епіків. Сподіваюся після оновлення рейтингу я таки ввійду в топ 10 гравців ;) Радісно! =) Продовжую активно грати в цю гру що захоплює... Якщо ви не знали, почати грати в неї можна абсолютно без вкладень.