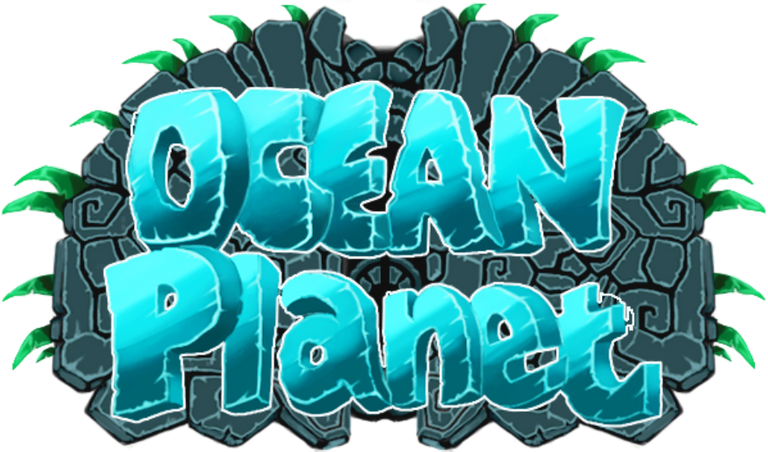 Oceanplanet.io - is an adventure NFT based game released on the Hive blockchain
Ocean Planet
Surf the post-apocalypse world, search for the rare artifacts, complete dangerous quests, update your equipment, trade, and the most important - survive! The game will be available on iOs, Android, and Web.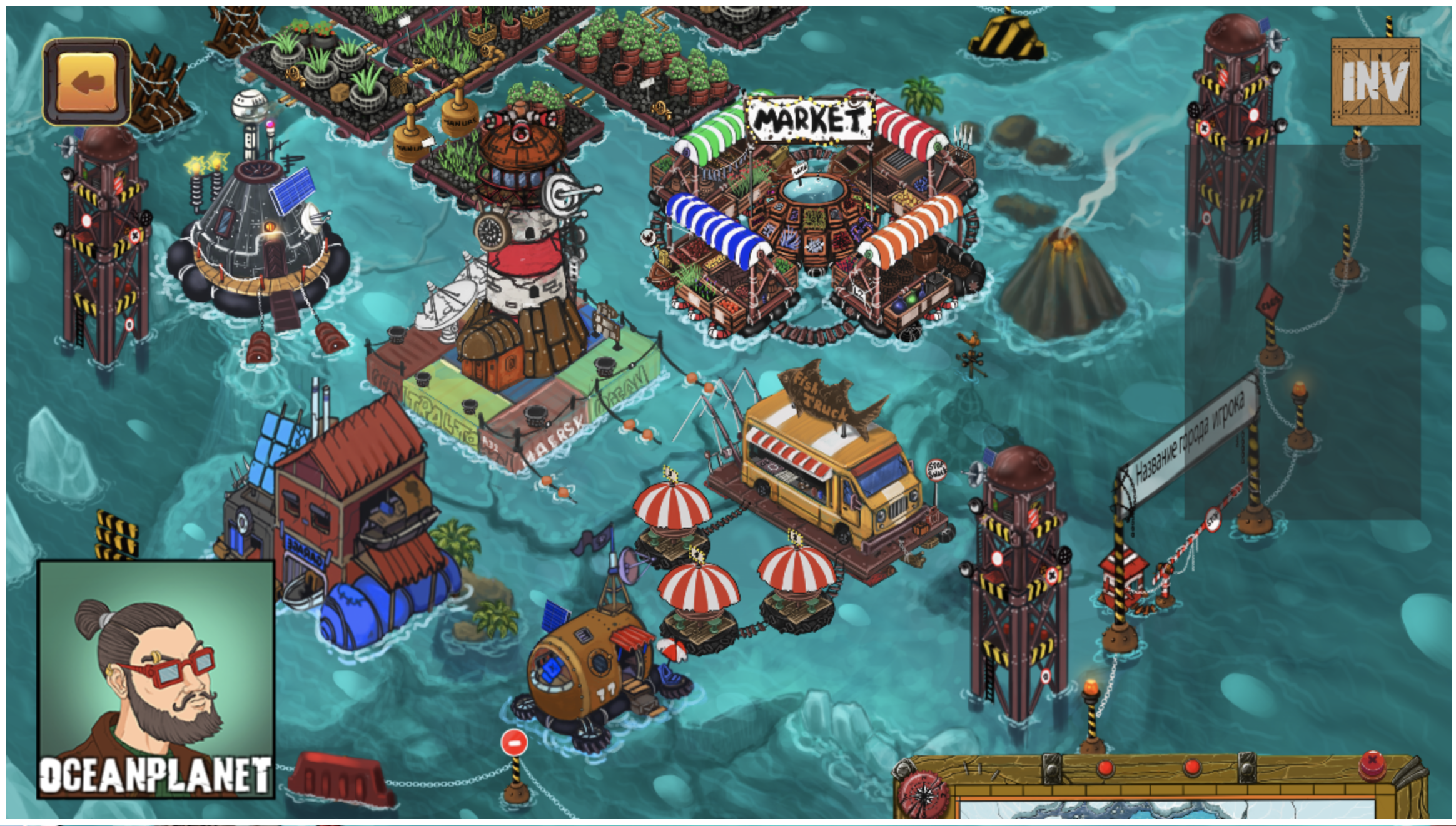 Short game intro/setting
Mankind has not been able to deal with man-made pollution of the planet, global warming has caused a global catastrophe, glaciers began to melt and soon the land disappeared under the water.
The surviving part of humanity began to live on homemade floating kinda-islands and found salvation in extracting the remnants of a former civilization from the bottom of the ocean using those to improve their homes, boats, as well as trade or exchange resources with other survivors.
Different types of garbage and its combinations have led to the revival of old crafting skills, as well as the creation of completely new ones, still unknown to mankind.
Each Ocean Planet player will be able to choose their occupation (Character Class), implement their own strategy, search for artifacts, mine resources, sell and exchange them, defend their territory, and become the richest guy or even the king of the post-apocalyptic world!
Game features
The player is born in a quiet town built in shallow water - this is one of the few places on the planet where the land is only a few meters underwater.
Survivors are unaware of the existence of other cities but are desperately trying to find someone who is still alive.
The city is being evolved step by step, as you progress along with the game plot.
In the later stages of the game, the city will be fenced with a wall to protect residents from pirate attacks, other players, dangerous creatures, as well as natural disasters.
All buildings in the city are interactive - the player can enter them and perform various actions such as quests, trades, upgrading his equipment, grow plants, and buy food!
For example, at a gas station, a player can replenish the freshwater level, buy fuel for his ship, and charge the batteries.
Farm
A place where players can rent a place to grow their own products from the seeds he mined from the bottom of the ocean!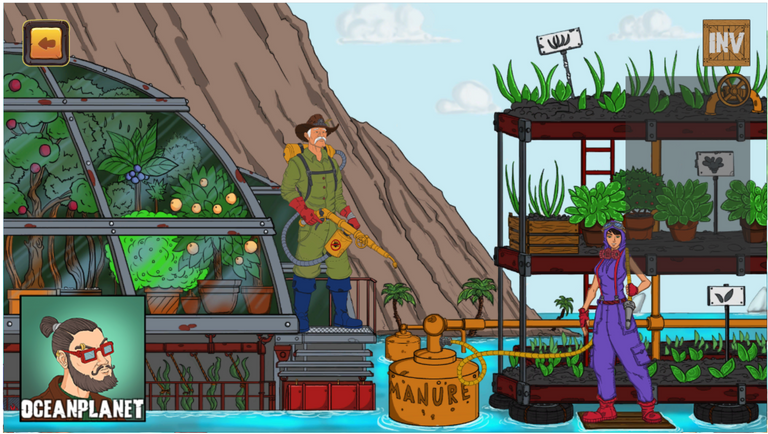 Food truck
Here the players can buy food, or cook some for their needs, or just for trading.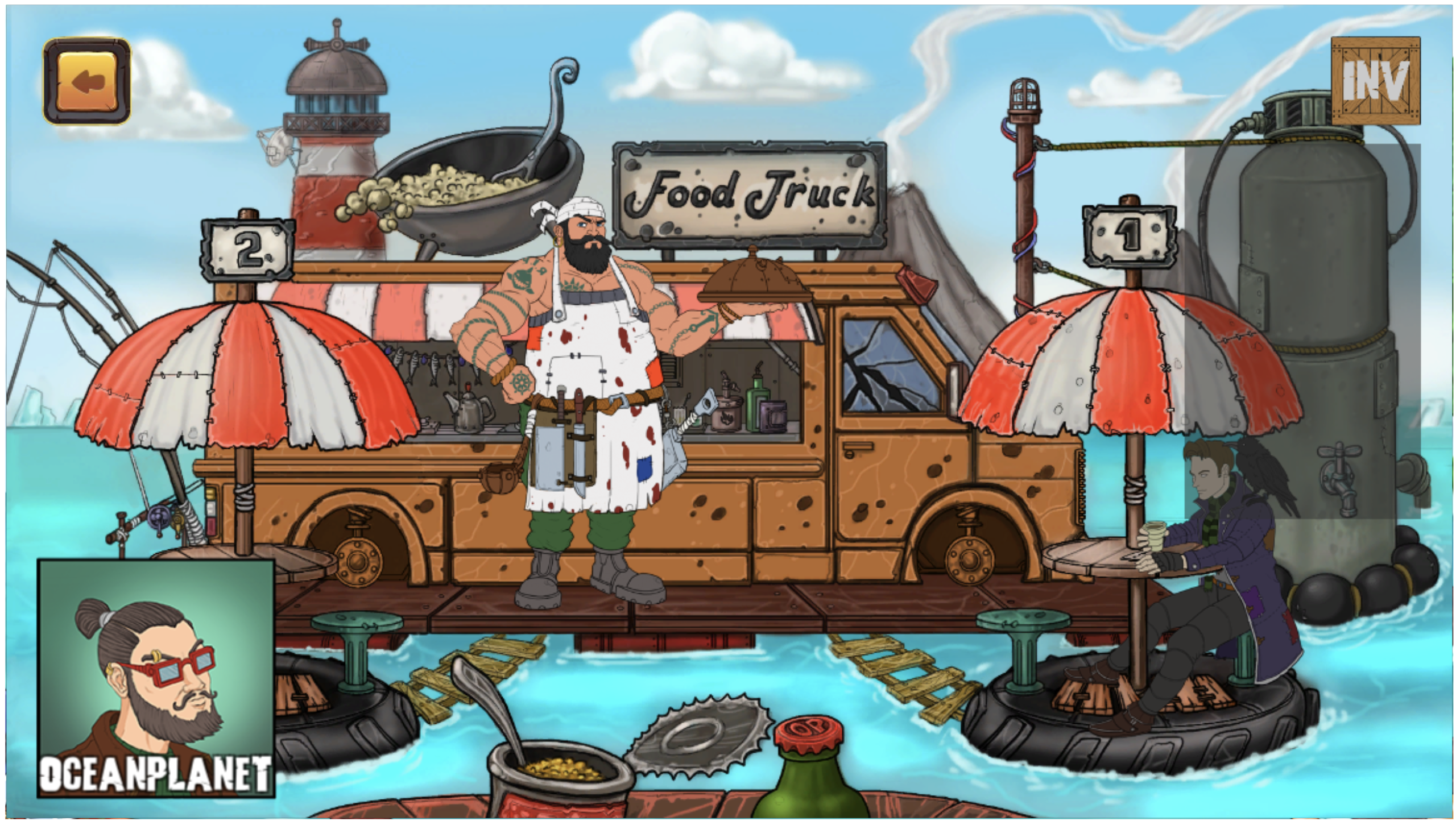 The market is market, players can trade their loot, for the internal game token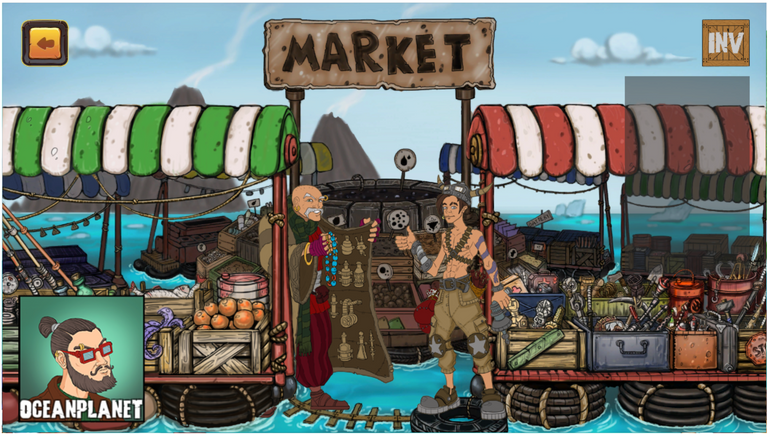 Garage
Update your ship here, here you can expand your mining efficiency, adjust weapons for the hunt and self-defense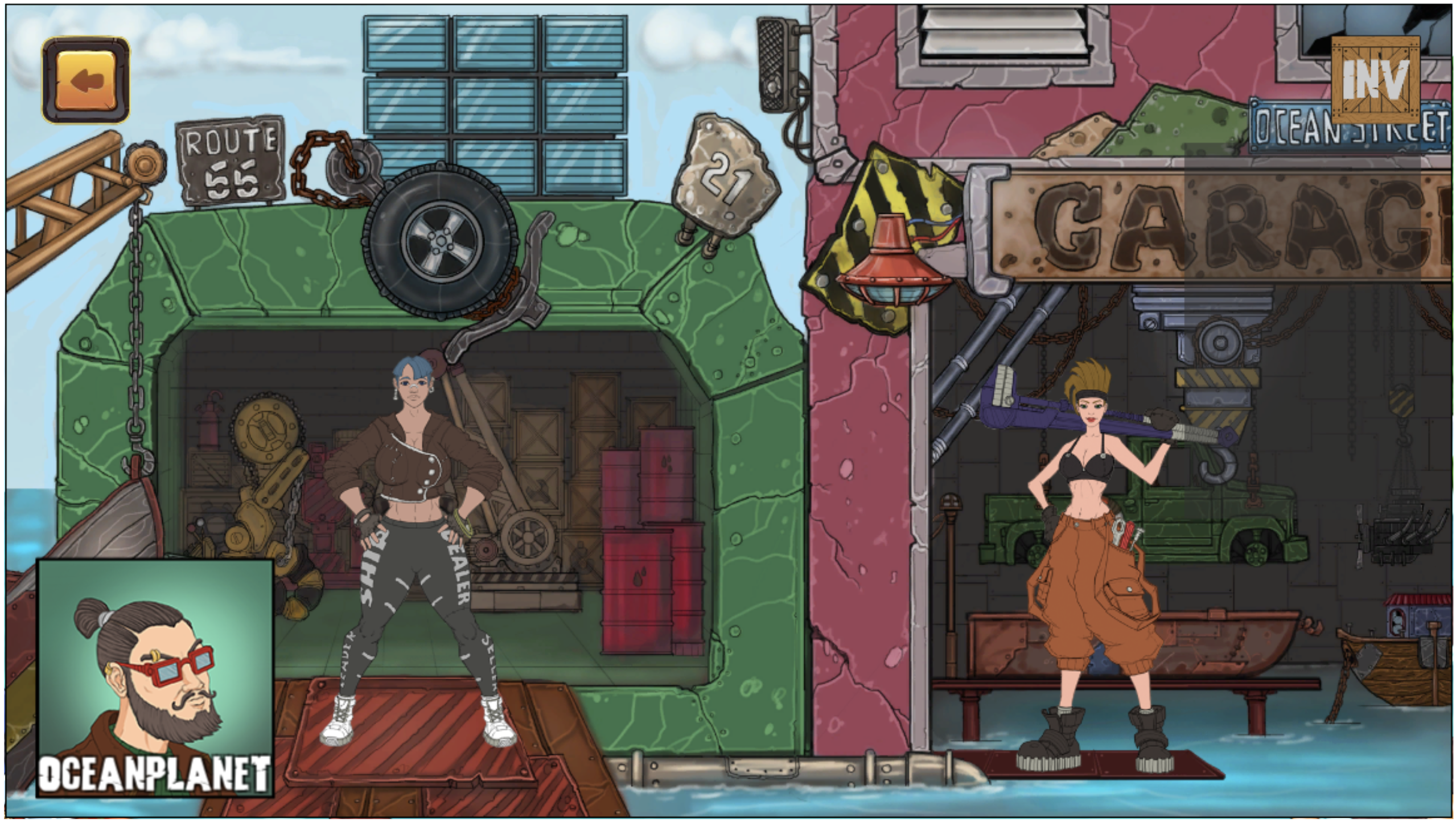 STEM geek
Here players will be able to study new technologies to implement them in the game mechanics ( communications, radars, locators, fertilizers, water purifiers, and more )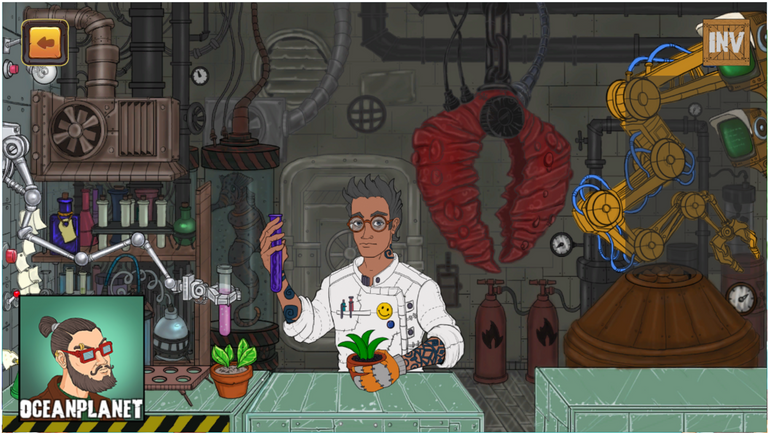 Central square
Here all the players will be able to get the latest news, obtain new quests, and brag about their game progress.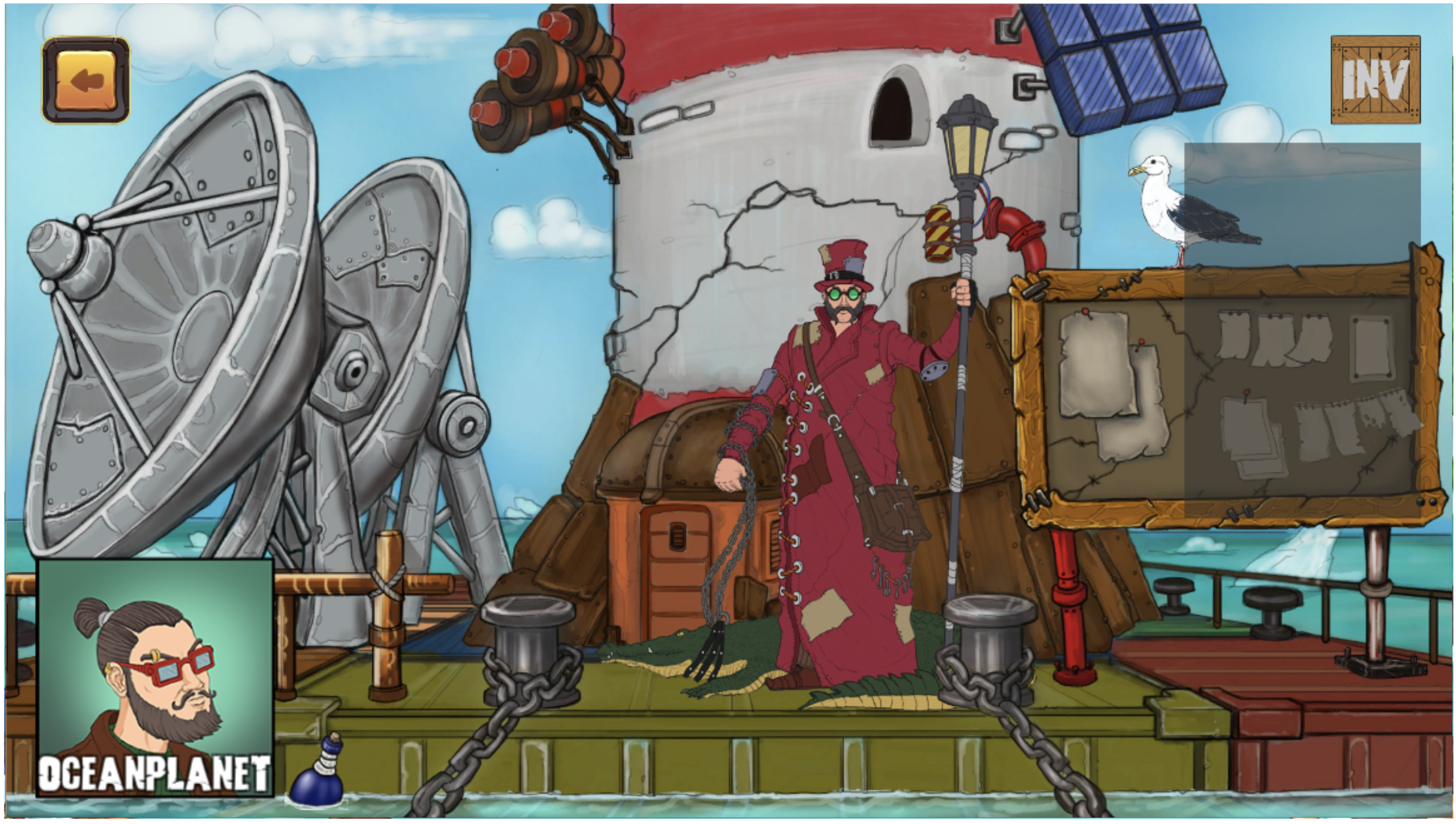 Each player will be able to get out of the city walls and travel in an open world searching for adventures, resources, items from the bottom of the ocean, and even fight other players.
The navigation is available via a special Device with a mini-card installed on it!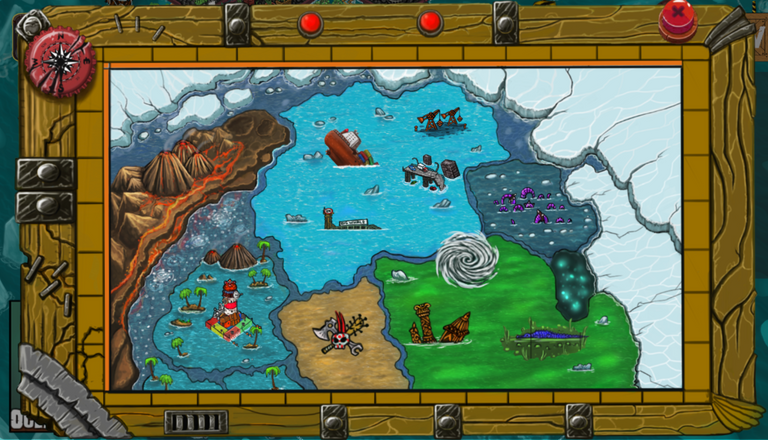 The Ocean Planet world is divided into several regions that differ with complexity and difficulty. Some areas will be blocked for visiting in the early stages (special equipment is needed, too dangerous, bad weather conditions, not enough supplies, a special quest item is required, etc.).
Mining mechanics
Resource mining is carried out by dropping a Dredger from the Ship (Raft) to the ocean bottom that searching for items underwater and returns whatever it gets if it gets something.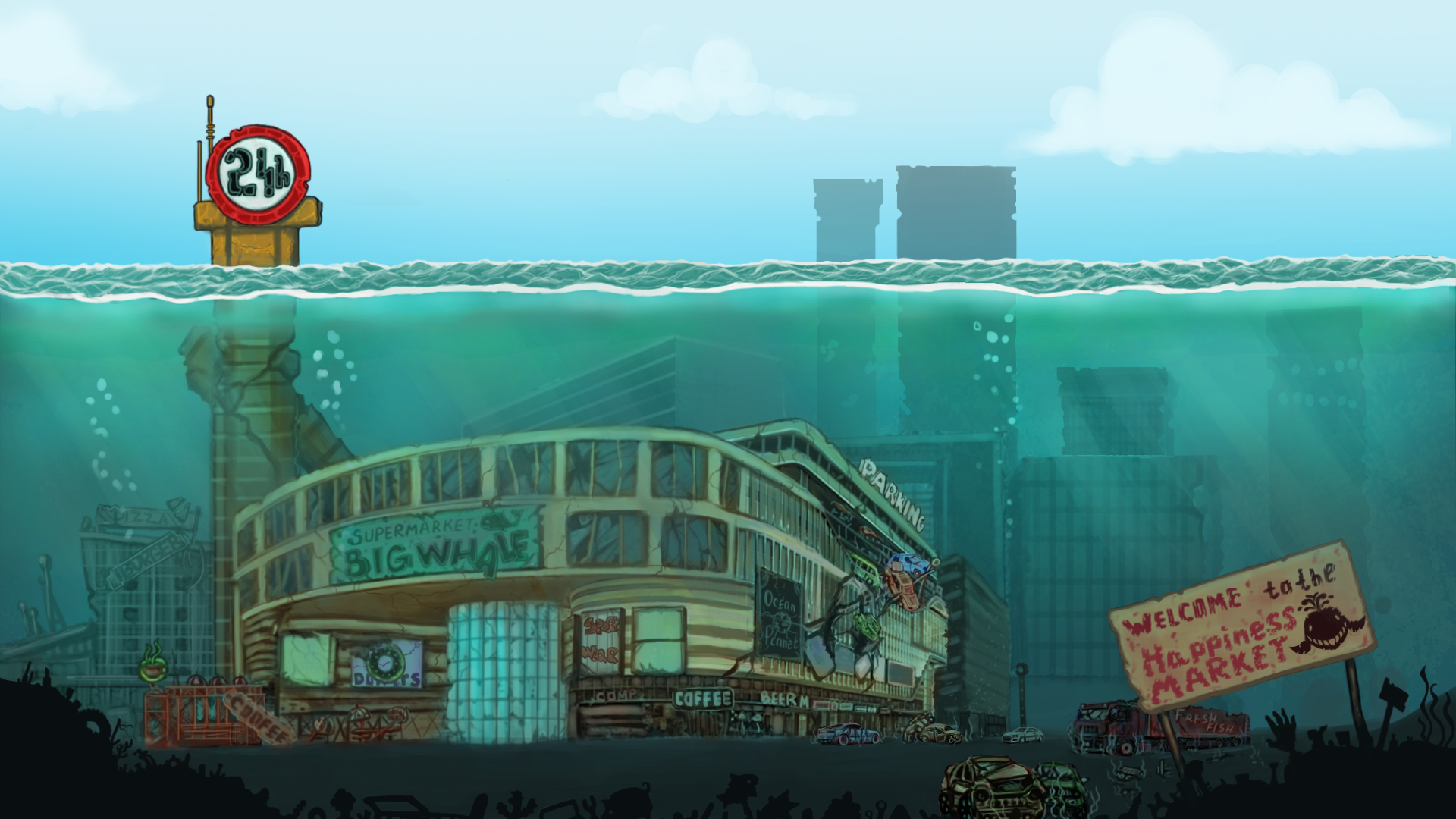 The speed and success of resource mining depends on the quality of the equipment installed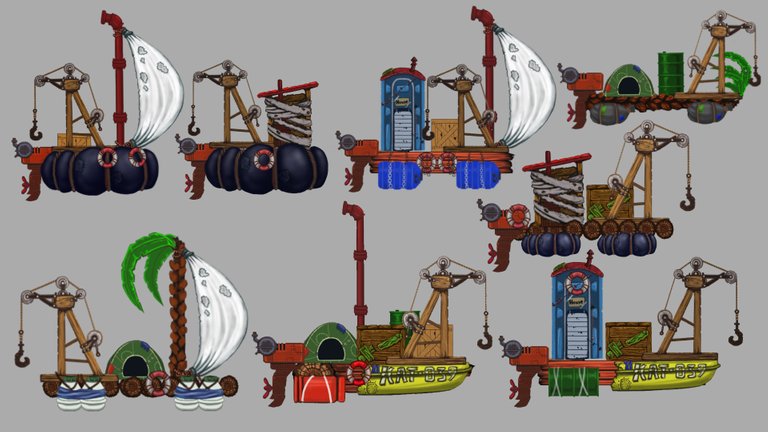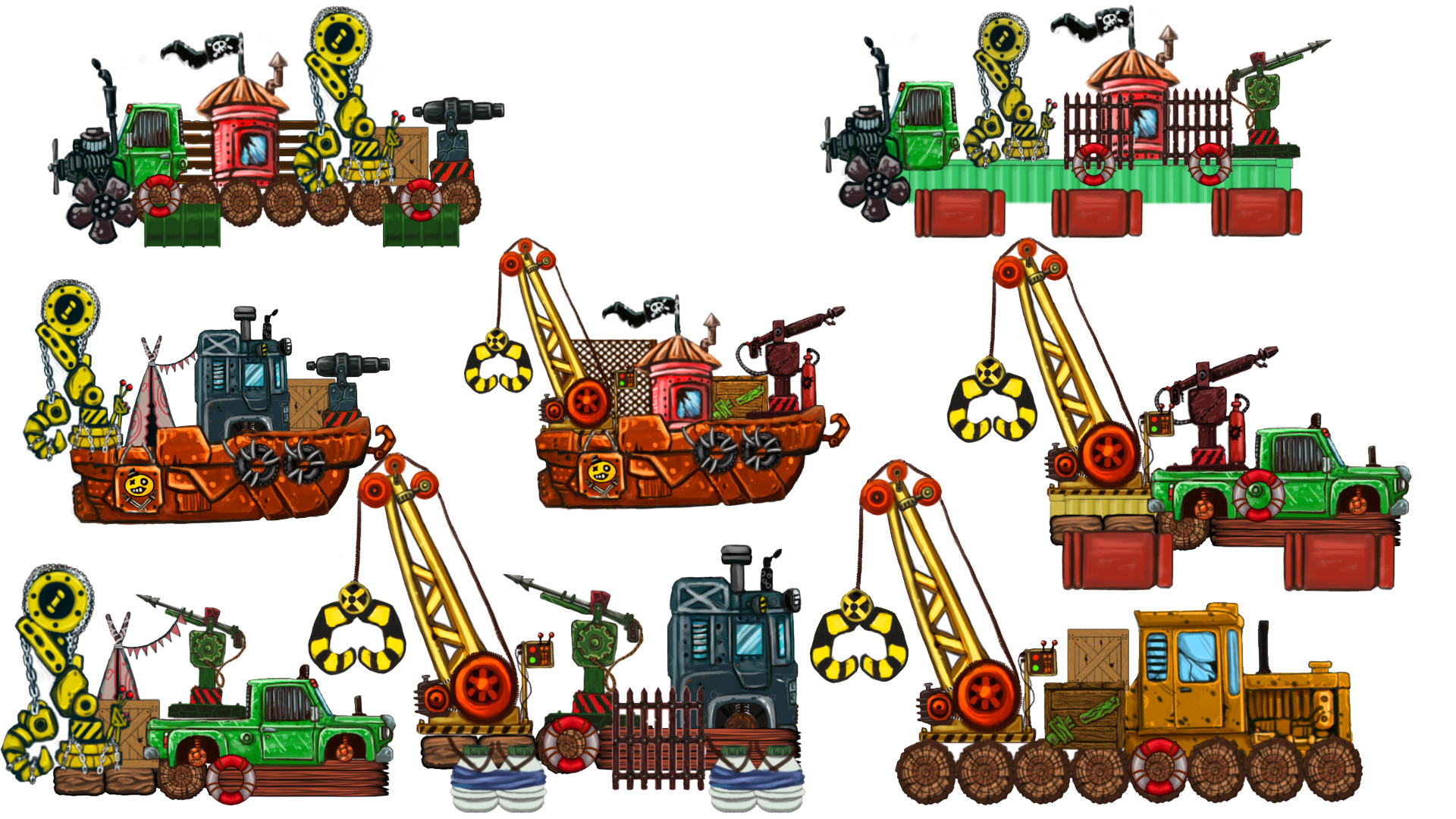 Ship and Raft with Dredger equipped could have different qualities and characteristics:
load capacity
maximum depth
immersion speed
engine overheating
battery charge capacity
equipment condition capacity
market price
affiliation with a Character Class
number of slots for improvements \ upgrades.
Character Classes
All Character Classes have the opportunity to mine, collect, and exchange game items.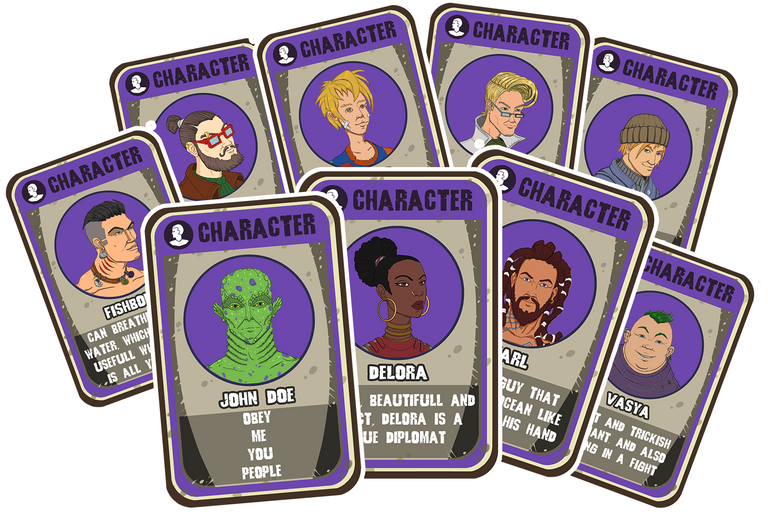 Miner - has an increased luck to mine resources

Farmer - prepares fertilizers, a specialist in products growing

Trader - Can trade in a more efficient way!

Engineer - Can repair and upgrade the equipment \ weapons

Warrior - Has an additional strength, reputation
Game resources
All the game objects and resources are represented in the form of the collectible cards
Resources - Soil, Textile, Water, Oil, Rubber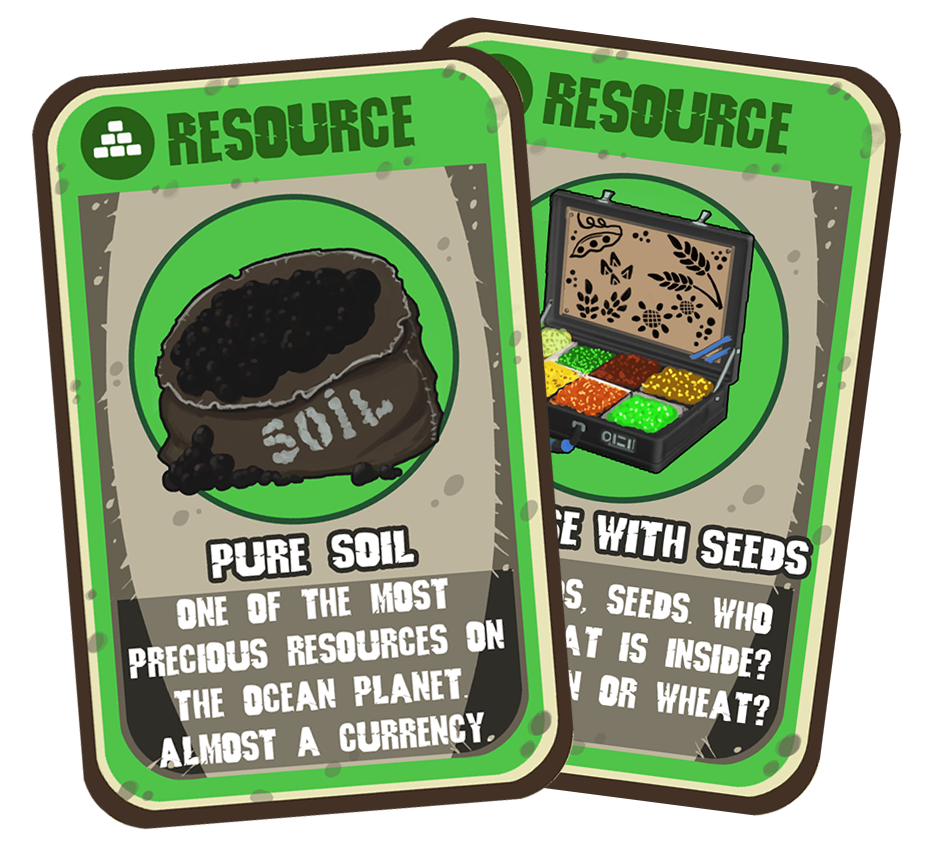 Items - Soil, Pot, Nail, Sandwich

Equipment - Winch, Satellite, Engine, Battery, Harpoon, Paddle, Anchor, Compass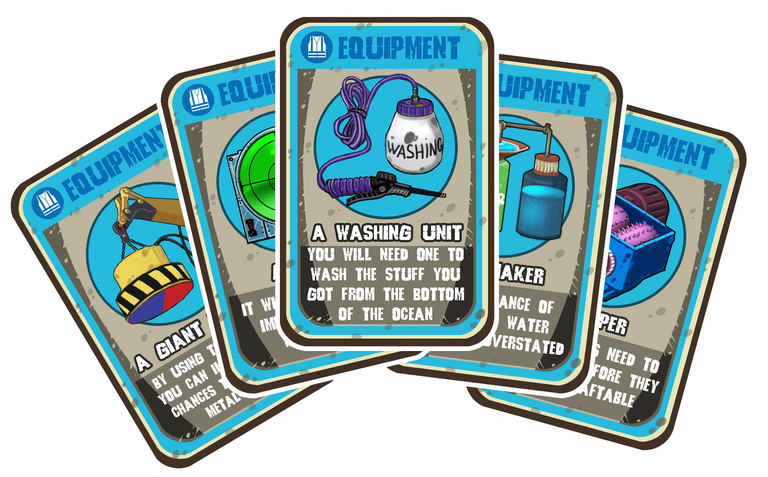 Plants - Wheat seeds, Tomato seedlings, Garden flowers, Lemon tree, Algae.

Artifacts - Bronze statue, Gold bar, Mona Lisa Original, Gamepad, Carpet.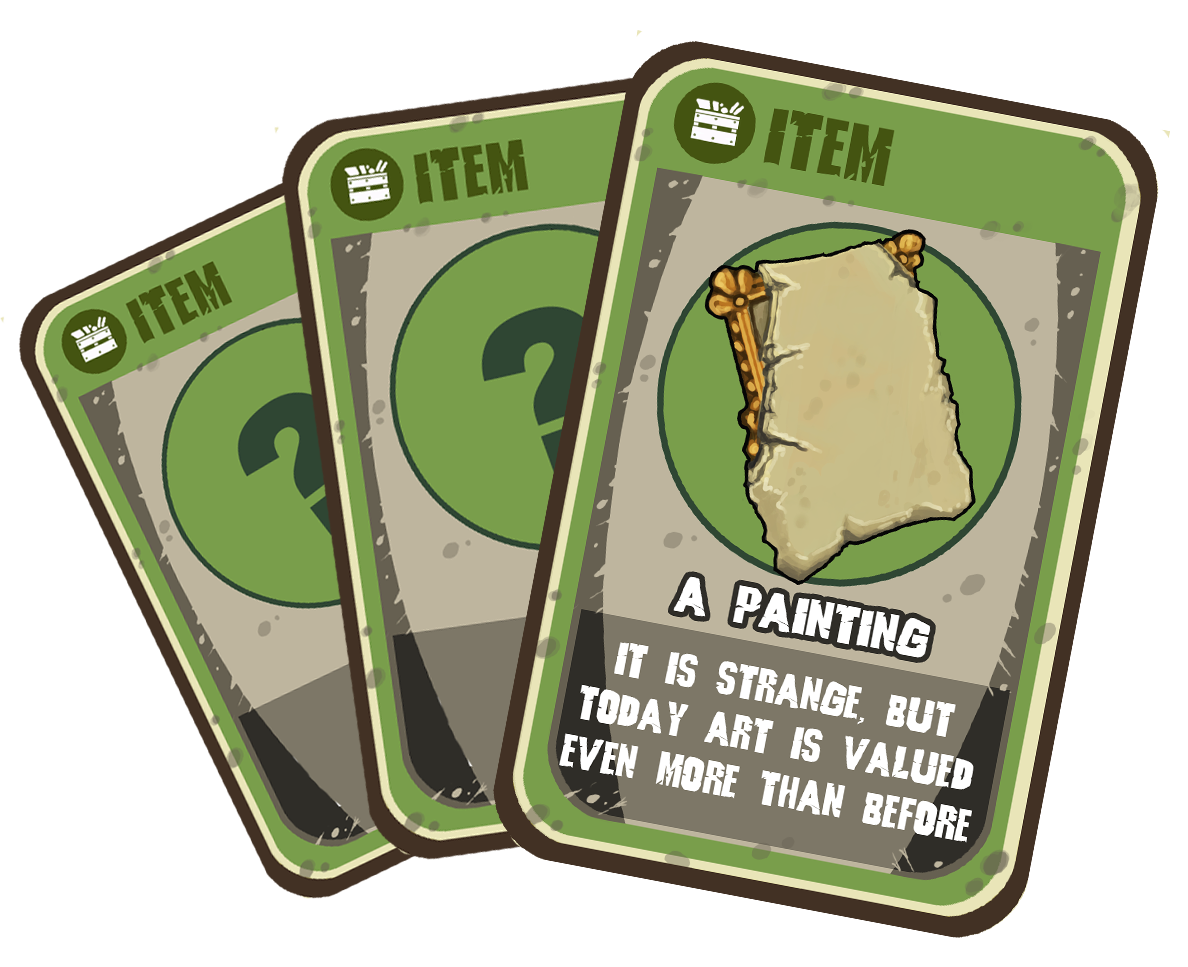 Weapons - Knife, Axe, Rifle, Stick with Nails.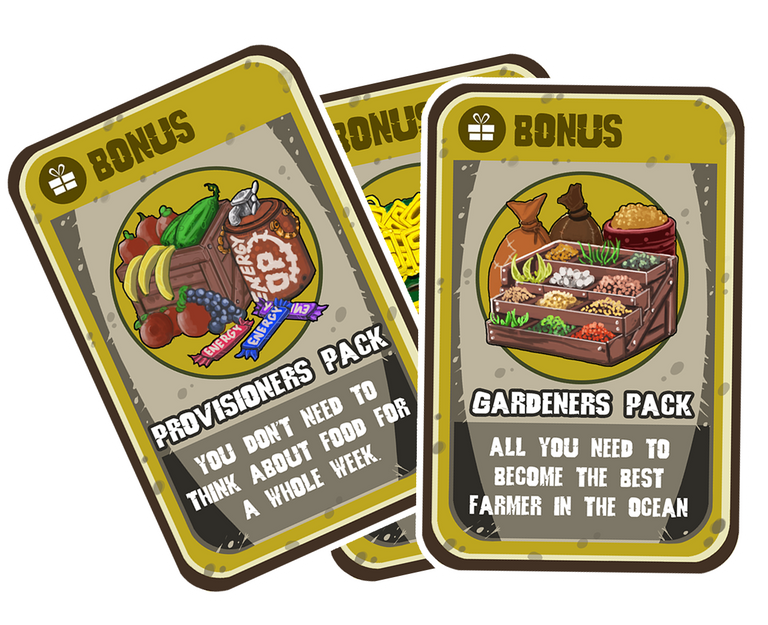 Official internal token: С24 (CRYPTEX)
Links
Telegram
Telegram Chat EN
Telegram Chat UA/RU
Discord
Twitter
---
Posted Using Aeneas.Blog