Shalom, friends. I am writing this post and at the same time, a russian propagandist Ovsyannikova is walking in Odesa. Oh, my soul hears that this is not good. But less so, today I came across a very interesting project that will allow many to see the consequences of russian aggression in Ukraine. Rather, today it is Kyiv and a number of nearby towns.
Шалом, друзі. Пишу цей допис і в цей самий час в Одесі гуляє російська пропагандистка овсяннікова. Ой чує моя душа, що це не до добра. Але менше з тим, сьогодні наштовхнулась на дуже цікавий проект, котрий дозволить багатьом побачити наслідки російської агресії в Україні. Вірніше, на сьогоднішній день це Київ та ряд містечок поблизу.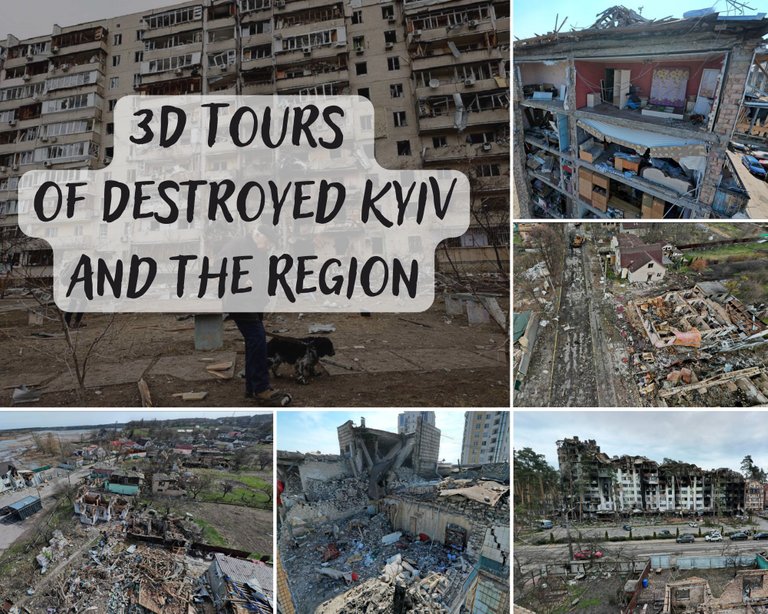 We will talk about 3D tours. VR tours of the buildings of the capital of Ukraine destroyed and damaged by the war have appeared on the website of the Kyiv Digital tourist and cultural hub. Currently, there are nine tours of destroyed buildings and infrastructure in different parts of the city. In short, you have the opportunity to "walk" on some streets and explore the area around, as in Google maps. You can see everything here at this link.
Мова піде про 3D тури. На сайті туристично-культурного хабу "Київ цифровий" з'явилися VR-тури зруйнованими та пошкодженими внаслідок війни будівлями столиці України. Наразі там є дев'ять турів знуйнованими будинками й інфраструктурою різних районів міста. Якщо коротко, то у вас є можливість "прогулятись" по деяким вулицям та оглянути територію навколо, як в гугл картах. Подивитись все можна ось за цим посиланням.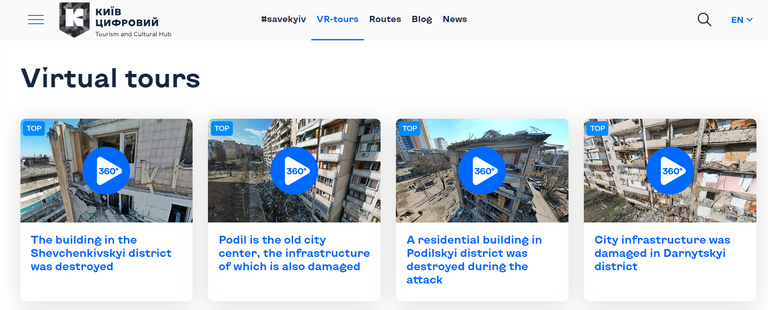 In addition to the destruction, of course, you can see other interesting places that were published in pre-war times. And also to get acquainted with various interesting routes, which in peacetime should have made you fall in love with our capital and show all the most exciting things.
Крім руйнувань, звичайно, можна подивитись і інші цікаві місця, котрі опублікували ще в далекі довоєнні часи. А також ознайомитись із різноманітними цікавими маршрутами, котрі в мирний час повинні були вас закохати в нашу столицю та показати все найцікавіше.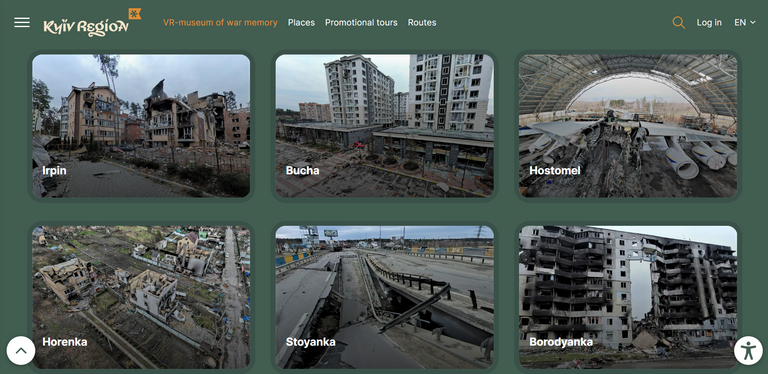 Also noteworthy is another project that allows us to review the consequences of russian aggression and occupation of towns and villages in the Kyiv region. On the Kyivshchyna website, everyone can get acquainted with what Bucha, Irpin, Gostomel, Borodyanka and others look like now. Specialists use quadcopters and other equipment to take street views and panoramic photos of destroyed buildings and infrastructure. You can view everything at this link.
Також вартий уваги ще один прект, котрий дозволяє переглянути наслідки російської агресії та окупації містечок та сіл Київської області. На сайті "Київщина" кожен бажаючий може ознайомитись із тим, як тепер виглядає Буча, Ірпінь, Гостомель, Бородянка та інші. Фахівці за допомогою квадрокоптерів та іншого обладнання роблять street view та панорамні знімки зруйнованих будівель та інфраструктури. Переглянути все можна за цим посиланням.
The purpose of these projects is to record crimes in deoccupied and destroyed places, as well as the opportunity to show our descendants at what cost we are fighting for our freedom and what the russians did in the neighbouring peaceful state.
Метою цих проєктів є фіксація злочинів на деокупованих та зруйнованих місцях, а також можливість показати нашим нащадкам якою ціною ми виборюємо нашу свободу і, що саме росіяни здійснювали на території сусідньої мирної держави.