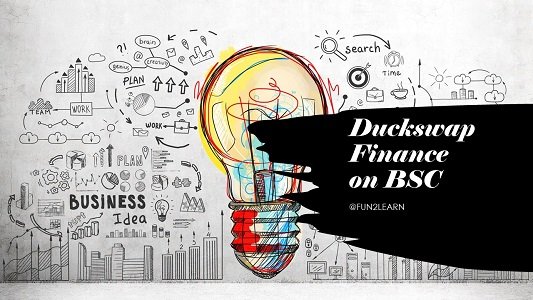 Yield farming and staking on Defi have been popular in 2020 and it has continued in 2021. With the high gas fee on ETH, many investors have looked for alternative and Defi on Binance Smart Chain (BSC) is a great option with extremely low gas fee.
With the great success of Pancake Swap and its token called Cake that had even gone as high as $21.41 in Feb 2021, many identical ones that were forked from Pancake Swap appeared.
There were scams as usual so it can be hard for an investor to identify genuine ones and scams.
I have just invested in Duckswap Finance that only started on 2 March 2021 that was only few days ago. Its token called Duck is currently less than $0.50 at the point while I am preparing for this post.
https://duckswap.finance/nests
I am currently staking the Duck tokens with a high APY of 2193.25% but I am quite certain this percentage will drop as more people participate in it.
Liquidity providers can get even higher APY. Duck-BUSD(5325.93%) and Duck-BNB(5957.24%) both have extremely high APY but there is definitely a risk of impermanent loss.
There is always risk when we invest in new project but the possible high gain is definitely true for early investor.
Some of the things that the Developer Team had done to raise the trust of investors.
Dev has locked wallet
Ownership transferred to Timelock
Code includes re-entry guard to reduce the chance of fund attacks
Migrator code removed/safecode that prevents the chance of rugpull
Application for listing on Coingecko
Application for Certik Assessment (Requires two weeks to get report)
What makes it standout from the rest?
The team is working on migrating the token on a Matic-based Duckswap farm. It would allow cross-blockchain functionality between BSC and Matic.
Duckswap finance may just be one of the pioneers in getting a farming project on the Matic network.
The Duckswap farming on BSC will continue while Matic Quack token would be available for farming using Duck tokens that were obtained from its BSC farms.
This could be just one of the possible keys that boost this project into success.
As a few-day-old project, I am investing with a high risk since we do not know how reliable it is but the information given by the developer team does sound like they are a genuine group.
The Duck token is only less than $0.50 now. If it is successful, it may even grow many times more that benefit early investors with great profit.
One has to evaluate on our own as well as the level of risk that we can afford to take.
We should never invest in money that we cannot afford to lose regardless of how attractive the reward may be.
Disclaimer: This is my personal reflection and I am not in any position to instruct anyone what they should do. I am not responsible for any action taken as a result of this post. My post can only be a reference for your further research and growth. By reading this post, you acknowledge and accept that.