-EN
Hello everyone, book lovers! It's been almost 2 months since I posted something here. A really long time. I don't like taking breaks for that long. But sometimes my break gets too long without my realizing it.
Today I will share a review of a book that I recently had the opportunity to read. @mehmetfix gave me this book as a gift for my birthday. Actually, I don't like to receive books as gifts. Because people usually give me books in genres that I don't like, and I get bored while reading those books. But @mehmetfix knows very well what I like. That's why I have absolute trust in him on this. Glad he bought me this book as a gift. Because I loved this book and read it without getting bored. In fact, I must say that while reading the book, I did not want the book to end at all.
The title of the book I will share the review of is "Simon vs. Homo Sapiens Agenda". There is also a movie adaptation of this book called "Love Simon". I haven't seen the movie, but it has been nominated for major awards and has won some. From here we can understand that it was a successful film. It would be absurd to make a bad movie out of such a book anyway. Anyway, we're going to talk about the book today.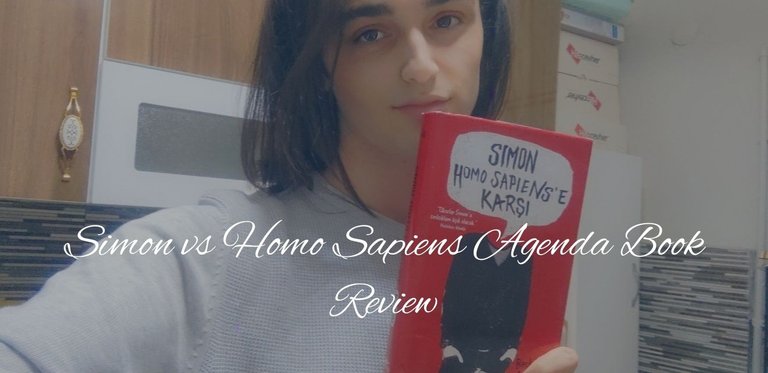 The title of the book comes from the main character of the book, Simon. I think Simon is a very well drawn character. He is a 16-year-old young man and has a mature character. A teenager who realizes that he is gay while texting with his school friend named Blue, is always confused and often gets lost in this mess.
The book generally takes place around Simon. That's why we often come across Simon's close circle of friends. Conversations between Simon and his friends form a large part of the book. Nick and Leah have been Simon's friends for many years. While Nick has a relaxed character, Leah isn't generally like that. We can even say that Leah is a very nervous person. But the most distinctive feature of Leah's character is that she is jealous. Leah is in love with Nick and is very close with Simon. As She sees them both with Abby, her jealousy grows and she often leaves the scene. Here, too, we need to mention Abby. Abby is a cheerleader who brings joy to her circle of friends with her positive energy. She is a very talented and very friendly character in this regard. She always tries to support Simon.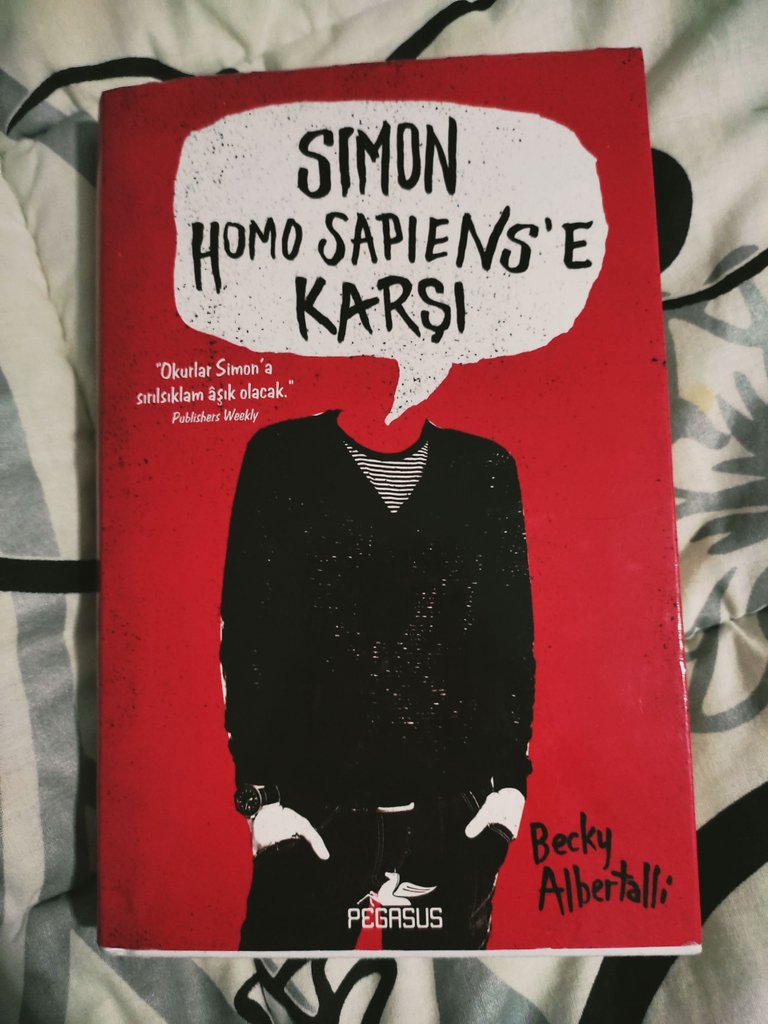 In fact, the whole story begins with a blackmail. While texting with Blue, Simon forgets his e-mail on the computer and his friend named Martin reads these e-mails. Martin blackmails Simon not to reveal these emails because he likes Abby. Although Simon succumbed to these blackmails at first, he didn't care much for Martin later on and this got him in trouble. From this point on, events accelerate and Simon begins to liberate. Actually, what I refer to as "emancipation" is not bondage or oppression. Spiritual relief. Simon is completely free after this incident. He doesn't have to hide who he is and can easily follow Blue. After that, it's about getting to know his mysterious lover Blue.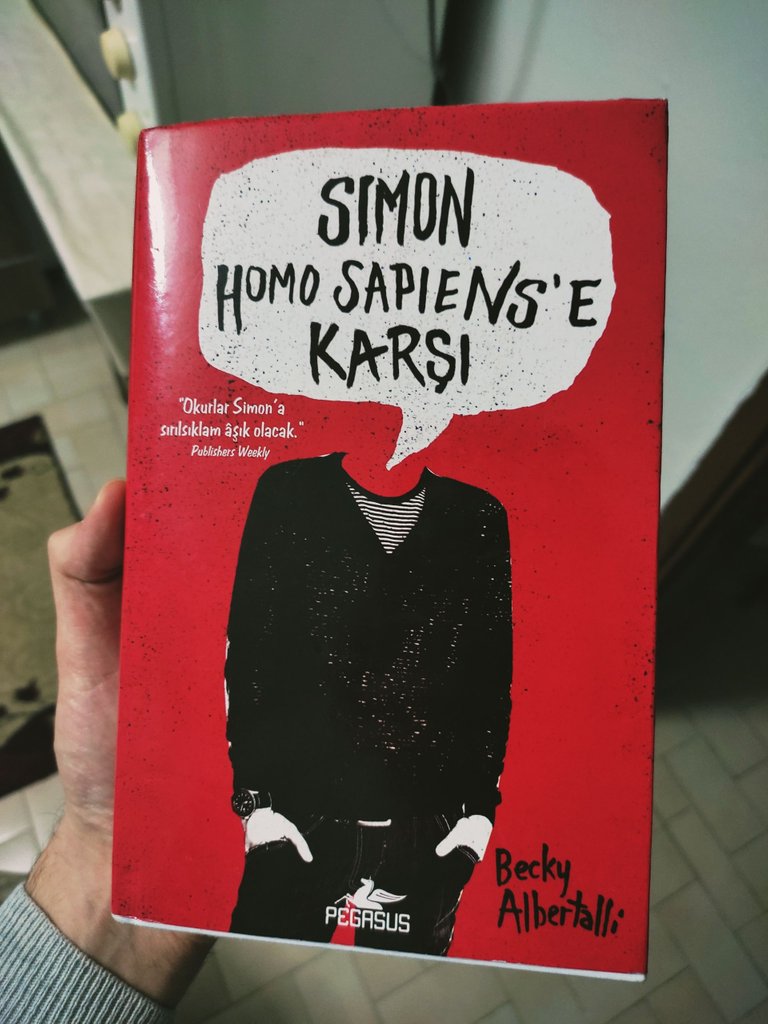 I suggest you read the book. Becky Albertalli has done a good job with the character descriptions. Each character has distinctive features and this is presented without exaggeration. Having a fluent story and an understandable style is another positive point in my opinion. I think it's an interesting book on the subject. If you can establish bonds with the characters while reading a book, or if you can empathize with that character, I think you enjoy reading that book. This book was one such book for me. Sometimes I had difficulty understanding the characters, and sometimes I tried to empathize with them. But at the end of the day, love won.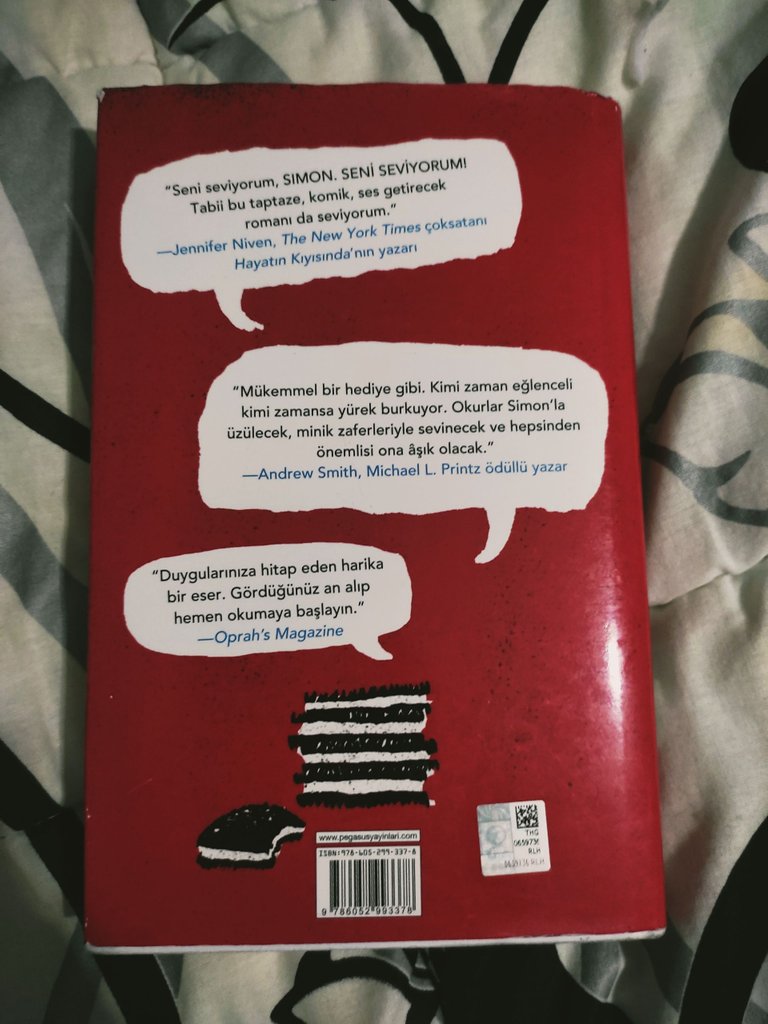 Yes, book lovers, that's it for this week. Stay tuned until the next review. Goodbye!
-All photographs are my own,unless otherwise stated.
-TR
Herkese merhaba kitap severler! Burada bir şeyler paylaşmayalı neredeyse 2 ay oldu. Gerçekten çok uzun bir süre. Bu kadar uzun süre ara vermekten hiç hoşlanmıyorum. Ama bazen verdiğim ara ben farkında olmadan çok fazla uzuyor.
Bugün son zamanlarda okumaya fırsat bulduğum bir kitabın incelemesini paylaşacağım. Bu kitabı @mehmetfix bana doğum günümde hediye olarak almıştı. Aslında bana hediye olarak kitap alınmasından hiç hoşlanmam. Çünkü insanlar genellikle hiç sevmediğim türlerde kitaplar hediye ediyorlar ve ben o kitapları okurken sıkılıyorum. Ama @mehmetfix benim nelerden hoşlandığımı çok iyi bilir. Bu yüzden bu konuda ona sonsuz bir güvenim var. İyi ki de bana bu kitabı hediye olarak almış. Çünkü bu kitabı çok sevdim ve hiç sıkılmadan okudum. Hatta şunu da söylemeliyim ki kitabı okurken kitap hiç bitmesin istedim.
İncelemesini paylaşacağım kitabın ismi "Simon, Homo Sapiens'e Karşı". Bu kitabın bir de "Love Simon" adında film uyarlaması mevcut. Filmini izlemedim ama büyük ödüllere aday olmuş ve bazılarını da kazanmış. Buradan başarılı bir film olduğunu anlayabiliriz. Zaten böyle bir kitaptan kötü bir film oluşturulması da biraz saçma olurdu. Her neyse biz bugün kitap hakkında konuşacağız.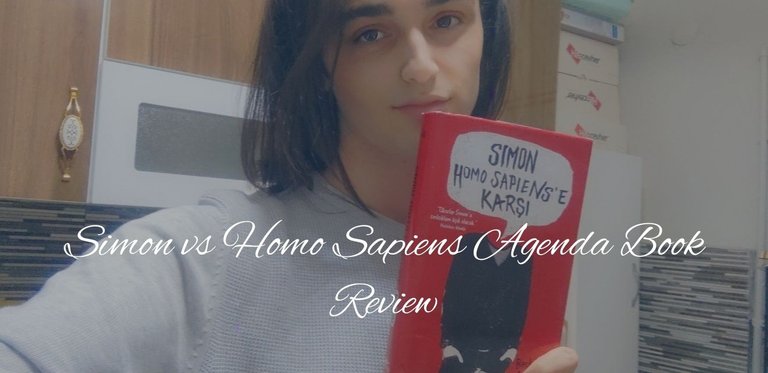 Kitabın ismi,kitabın baş karakteri olan Simon'dan geliyor. Simon bence çok iyi çizilmiş bir karakter. 16 yaşında genç bir erkek ve olgun bir karaktere sahip. Eşcinsel olduğunu Mavi takma adlı okul arkadaşıyla mesajlaşırken farkeden, kafası her zaman karışık ve çoğunlukla bu karmaşanın içinde kaybolan bir genç.
Kitap genel olarak Simon'ın çevresinde geçiyor. Bu yüzden Simon'ın yakın arkadaş çevresi ile sıklıkla karşılaşıyoruz. Simon ve arkadaşları arasında geçen konuşmalar kitabın büyük bir kısmını oluşturuyor. Nick ve Leah, Simon'ın çok uzun yıllardır arkadaşı. Nick rahat bir karaktere sahip olsa da Leah genel olarak böyle biri değil. Hatta Leah'ın çok gergin biri olduğunu söyleyebiliriz. Ama Leah karakterinin en belirgin özelliği kıskanç olması. Leah, Nick'e aşık ve Simon ile çok yakın arkadaş. İkisini de Abby ile gördükçe kıskançlığı artıyor ve genellikle ortamı terk ediyor. Burada da Abby'den bahsetmemiz gerek. Abby,pozitif enerjisiyle arkadaş çevresine neşe saçan bir amigo kız. Bu konuda oldukça yetenekli ve çok da arkadaş canlısı bir karakter. Simon'a her zaman destek olmaya çalışır.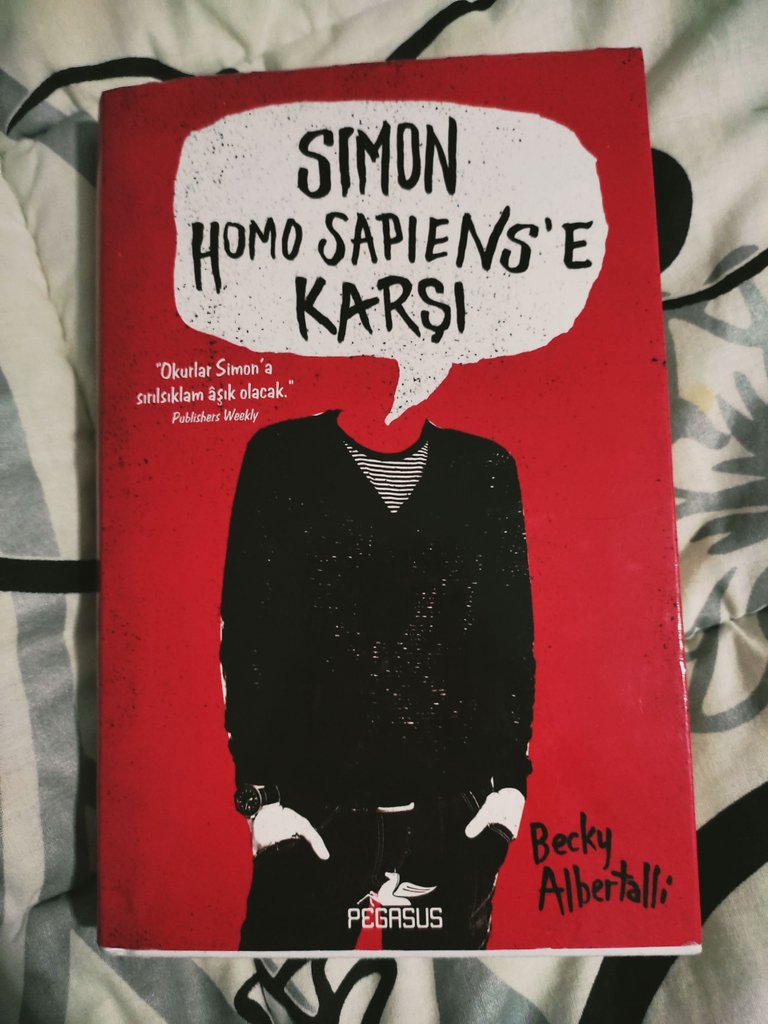 Aslında tüm hikaye bir şantaj ile başlar. Simon, Mavi ile mesajlaşırken e-postasını bilgisayarda açık unutur ve Martin isimli arkadaşı bu mailleri okur. Martin,Abby'den hoşlandığı için bu mailleri ifşa etmemek için Simon'a şantaj yapar. Simon başlarda bu şantajlara boyun eğse de sonradan Martin'i çok fazla umursamadı ve bu durum başına bela açtı. Bu noktadan sonra olaylar hızlanır ve Simon özgürleşmeye başlar. Aslında "özgürleşmek" olarak bahsettiğim bir esaret veya baskılanmak değil. Ruhsal bir rahatlama. Simon bu olaydan sonra tamamen özgürdür. Olduğu kişiyi saklamak zorunda değidir ve rahatlıkla Mavi'yi takip edebilir. Bundan sonrası gizemli aşığı Mavi'yi tanımakla ilgilidir.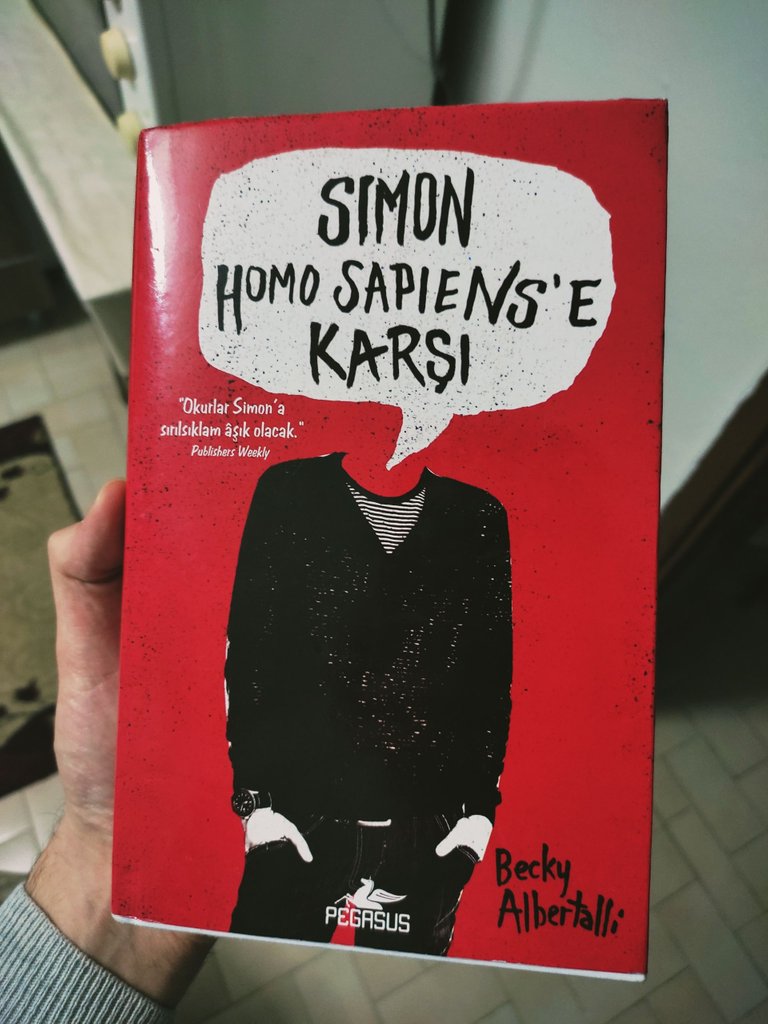 Kitabı okumanızı öneririm. Becky Albertalli karakter betimlemeleri konusunda iyi bir iş çıkarmış. Her karakterin belirgin özellikleri var ve bu fazla abartılmadan sunulmuş. Akıcı bir hikaye ve anlaşılabilir bir üslup olması da bence farklı bir pozitif nokta. Konusu gereği de bence ilgi çekici bir kitap. Bir kitabı okurken karakterlerle aranızda bağlar kurabiliyorsanız veya o karakter ile empati yapabiliyorsanız bence o kitabı okumaktan keyif alıyorsunuzdur. Bu kitap da benim için böyle bir kitaptı. Bazen karakterleri anlamakta zorluk çektim bazen ise onlarla empati yapmaya çalıştım. Ama günün sonunda aşk kazandı.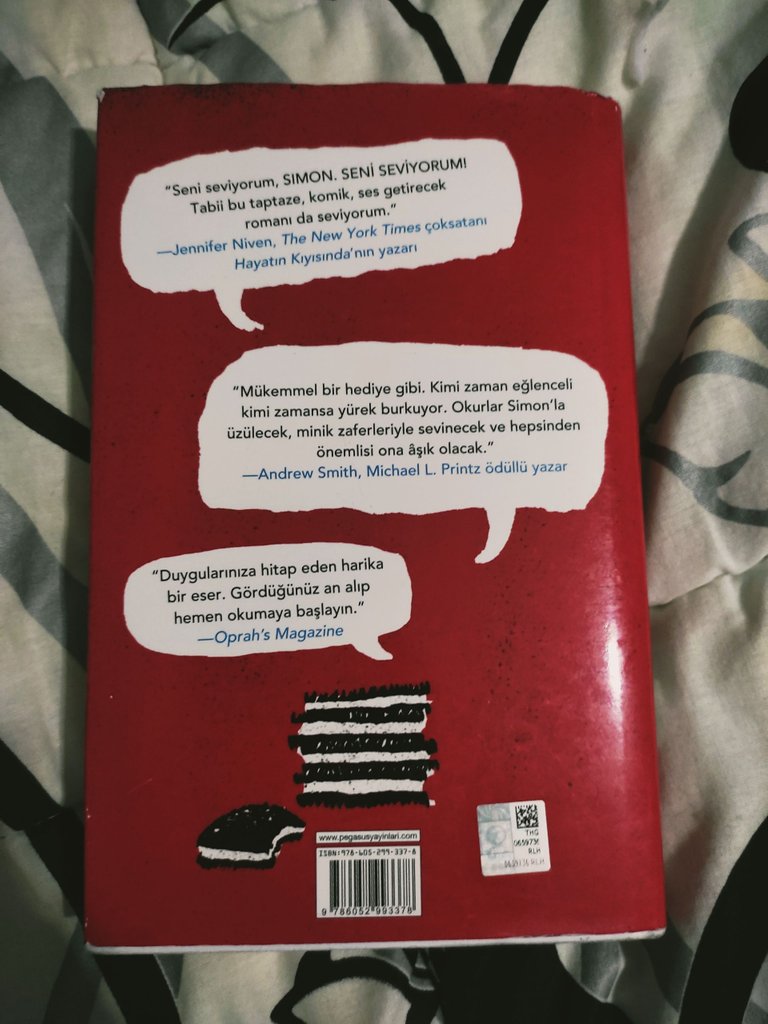 Evet kitap severler bu haftalık bu kadardı. Bir sonraki incelemeye kadar sevgiyle kalın. Hoşça Kalın!
-Tüm fotoğraflar bana aittir.