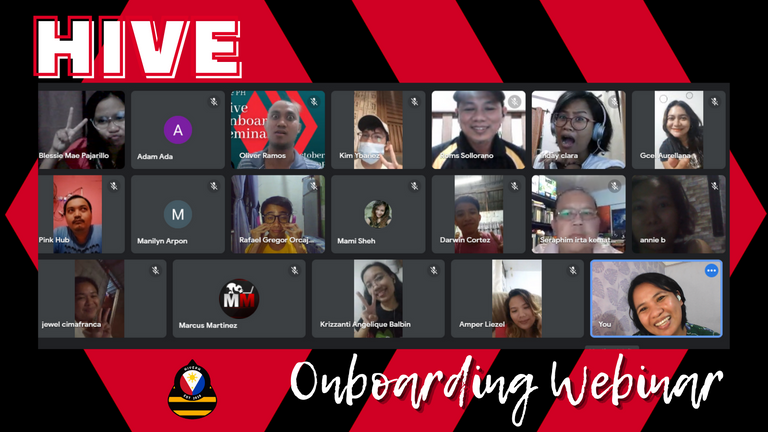 Image Source
HivePH launched its first onboarding webinar last week. There's plenty of post on the subject so no need to share a video of the recording and what the activity was like. Here are some post thoughts on the onboarding gig right after the session:
It's hard to convince someone the platform has value if you don't tie the explanation with financial rewards. This is the reason why most would even bother with the platform especially if the selling point to start involved no capital on their part. Get paid to share your interest, express an opinion, share your "content" (packaged as a selfie, pics of your dinner, and random short string of sentences).
Years of being on the platform did not make it easy to explain what Hive is and what it can potentially do. The challenge was always about convincing people what's in it for them and how they can get access to those opportunities. Hive is this but it's also this, and then you have to mind this, or you can just do away with this and focus on this.
Not a financial advice and not something you should quote me (do your own research) but here's the basic opportunity people are missing out in terms of financial rewards:
Most of the savings account offered here at best has 0.25% interest rates average. 200 HBD pegged to USD would yield 0.5$ annually which isn't much converted to our local currency. Now with the HBD staking rewards of 10% in place, 20 HBD annually makes it around 40x better than parking one's money on a local bank. To get a dollar savings account locally, one needs to register the documents with their bank and etc when these things are already accessible from the moment you create a random Hive account (still not a financial advice as crypto has its risks).
From my perspective / opinion, this is sort of a financial hack given by the system accessible for third world users. There's no denying the monetary reward side of engaging with the blockchain, but I think expanding and emphasis on ways to earn without relying on blogging for rewards would be a better approach.
Not everyone is wired to be a content creator creating marketable content. Not throwing shade against anyone that aspires to better themself on this hobby. Even I had to shitpost poorly before I refined my techniques in convincing the readers what I post has value (this is actually a shitpost btw).
A message to the newbies would be to set some realistic expectations when it comes to their time to post something. If they happen to see users earning from autovotes with the least amount of effort in comparison to what they put into their posts, they need to factor in the whole voting system is just a fancy tipping system and people who receive those social rewards just happen to earn the reputation they built on the platform.
Wanting the benefits of fame without putting in the work to network or have the skill set to earn their audience is just screaming entitlement and envy. Some users have no control on the amount of votes they receive and who will favor them, that's part of the social network effect.
But this doesn't mean a 0.001$ from a person that believes in your stuff doesn't have value, if you think those bonds aren't superficial, don't you think the same person would have given you 1$ or 10$ with their vote at 100% if they could? It just happens they don't have a lot of stake right now. Social bonds bruh, they matter.
What I expect at the very least from onboarded users are having the sense to pay it forward to onboard new users. Looking at the opportunities for growth now as a newbie compared to when I started out years back, I'd say every newbie here has the best chance of being spoiled for social rewards. No one gave me a hand in doing networking and I just had to figure this out on my own until I get involved in a community.
As a community leader weighing in the trouble I have to go through, if maximizing social rewards was the goal, it's better to just build on yourself than expend some energy building on others to grow.
Your time and resources are spent on someone else that holds no guarantee whether the favor will be reciprocated back to the community and it's possible for them to turn out to be ingrates later on. I've seen some fair share of the latter and I tell you these are the types of crowds that made me not bother being "community active" at times.
The challenge to dumb down complex subjects to a level where you can reach more audience will always be there. I'm just glad to see more names popping out now than before.
If you made it this far reading, thank you for your time.