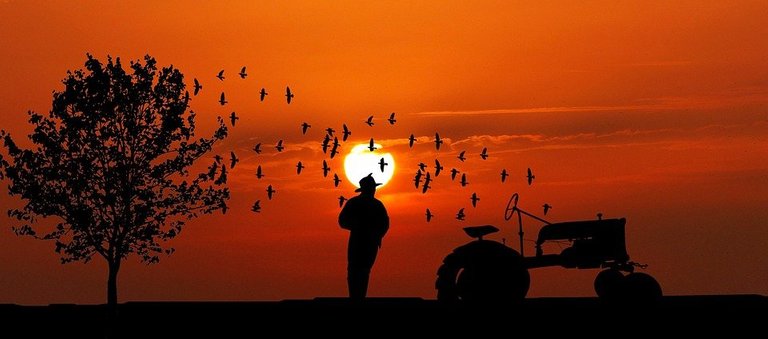 In today's agricultural world, full of multiple roles to which the subject must give answers, such as assuming commitments, responsibilities, makes people face every day in contexts of uncertainty, highly stressful, which generates the need for leadership capable of guiding people, in each of the spaces where it develops. This also includes the family, schools, even organizations, whether public or private.
En el mundo agropecuario actual, llena de una múltiples roles a los cuales el sujeto debe dar respuestas, como asumir compromisos, responsabilidades, hace que las personas se enfrente cada día más en contextos de incertidumbre, altamente estresante, lo que genera la necesidad de un liderazgo capaz de guiar a personas, en cada una de los espacios donde esta se desenvuelve. Esto también incluye, la familia, escuelas, hasta las organizaciones, sean estas públicas o privadas.
Managers of production units are responsible for the performance of these, which also includes their workers, because, in their role as leaders, they have the responsibility to guide them. In this sense, they must have certain competencies that distinguish them, in order to be a role model for the objectives they set.
Los gerentes de las unidades de producción son los responsables por el desempeño de estas, lo cual incluye también a sus trabajadores, porque, en su rol de líderes, tienen la responsabilidad de guiarlos. En este sentido, deben contar con ciertas competencias que los distingan, para ser modelo a seguir en los objetivos que se plantea.
In this sense, agri-leadership is fundamental in production units, as it must be able to handle the different situations that may arise. Therefore, this must be a leader, a term that, according to Shermerhorn (2006), states that "leadership is the process of inspiring others to work hard to achieve important tasks.
En este sentido, el agroliderazgo es fundamental en las unidades de producción, este debe contar con el manejo las diferentes situaciones que se puedan presentar. Por lo tanto, este debe ser un líder, término que según Shermerhorn (2006), señala "el liderazgo es el proceso de inspirar a los demás para trabajar arduamente para lograr tareas importantes".
According to the above, it is necessary for the Agricultural Production Units (APU) to have leaders who are not only bosses, but who stimulate the improvement of workers' performance in order to achieve the strategic objectives.
De acuerdo a lo expresado, es necesario que las (UPA) Unidades de Producción Agropecuaria cuenten con líderes, que no solo sean jefes, si no que estimulen a mejorar el desempeño de los trabajadores en pro de la consecución de los objetivos estratégicos.
In addition, the people who make up the UPA have their own individualities, so the leader must be in tune with the feelings of the people and channel them in an emotionally positive direction", which leads to maintaining interpersonal relationships that generate an empathetic environment where workers feel important.
A esto se le añade, que las personas que integran la UPA, tienen su propia individualidades , pr lo tanto el líder debe sintonizar con los sentimientos de las personas y los encauzar en una dirección emocionalmente positiva", que conlleve a mantener unas relaciones interpersonales, que generen un ambiente empático donde los trabajadores se sientan importantes.
Taking into account the above, the importance of having leaders in organizations is reflected, which is applicable to all sectors of the economy, i.e. for all types of organizations, profit or non-profit.
Tomando en cuenta lo antes descrito, se refleja la importancia de tener líderes en las organizaciones, lo cual es aplicable para todos los sectores de la economía, es decir para todo tipo de organización, con o sin fines de lucro.
To conclude, we can say that if an environment of labor conflict reaches extremes, it can lead to lawsuits and the paralysis of the production process for days, leading to substantial losses, which added to the already delicate economic situation of the country, can mean the bankruptcy of some UPAs. It is therefore advisable to maintain an effective working environment among all members of the UPAs.
Para finalizar podemos decir que de llegar a un ambiente de conflictividad laboral a extremos, pueden generarse demandas legales, y la paralización del proceso productivo por días, llevando esto a pérdidas cuantiosas, lo cual sumado a lo ya delicado de la situación económica del país, puede significar la quiebra de algunas UPA. Por eso es recomendable mantener un ambiente laborar efectivo entre todos los integrantes de las UPA.
If there is no leadership in the management of the UPAs, there may be conflicts with their workers, resulting in a high turnover of personnel; workers arrive and leave quickly, delaying agricultural processes and in many cases, the shortage of personnel paralyzes the agricultural production process.
De no haber un agroliderazco en el manejo de las UPA pueden presentarse conflictos con sus trabajadores, trayendo como consecuencia una alta rotación de personal, los trabajadores llegan y se van rápidamente, retrasando los procesos agropecuarios, en muchos casos, la escasez de personal, paraliza el proceso agro productivo.
Reference/Referencia:
- Shermerhorn (2006) Leadership and decision making of the administrative personnel of the Universidad Nacional José María Arguedas, Andahuaylas.
Shermerhorn (2006) Liderazgo y toma de decisiones del personal administrativo de la Universidad Nacional José María Arguedas, Andahuaylas .