In my late teens, I was a right one for picture covers. If I was to buy a 7' 45' Single then there were conditions. It had to have a picture cover and it had to be cheap.
I was constantly looking in the bargain buckets for singles that were either coming down in the charts or had vacated them.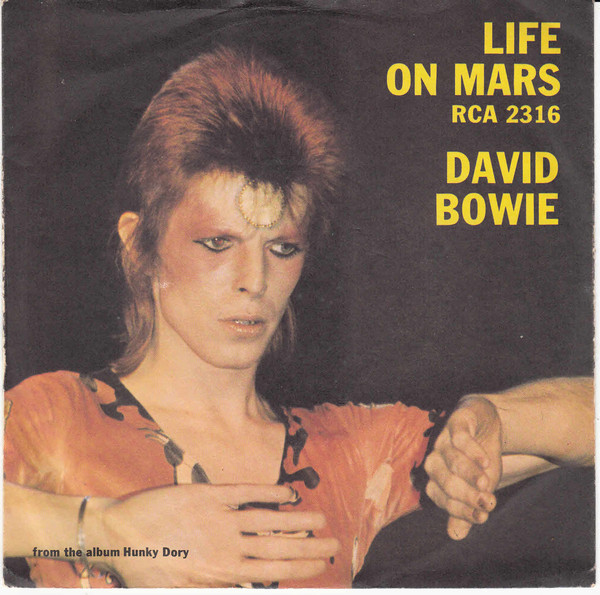 Source
The record stores had to offload their stock and it was the likes of me who would buy them CHEAP! Fuck those full-price singles, I stoutly refused to pay.
I nearly always got what I wanted wasting a ton of time going from WH-Smith to Boots to a score of independent stores in search of my mental list of ex-chart hits.
This was the early 80's, and by that time picture covers were more main-stream than in the previous decade. If you had a picture cover of a single from the '70s then it was something special.
These tight-arse record labels would make a few, and only the early worms would get them. After that, it was the regular shit boring sleeves you could get anywhere.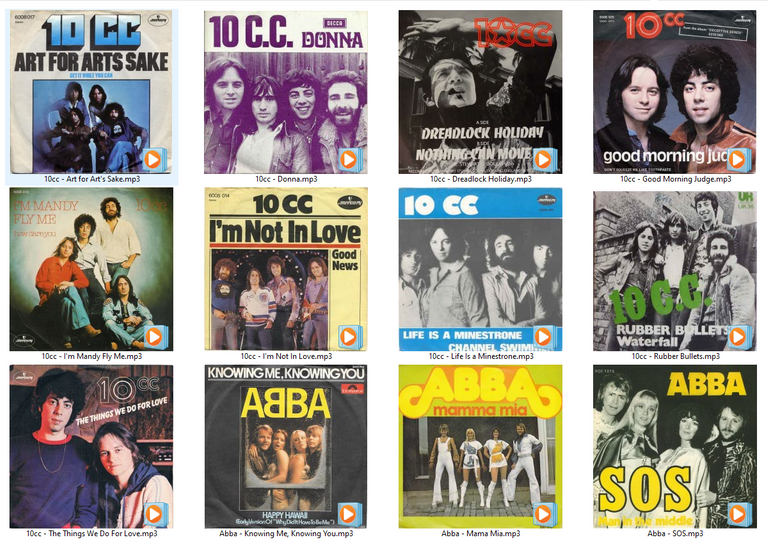 ...'it's great to see the original 45' picture covers after looking at the boring regular ones for years'...
By 2003 I sold my entire collection of almost 1800 45's and at the time I thought I had a great deal. They had travelled to Phoenix by ship, got stashed in one of those storage places, acquired some warping due to the desert heat, and then done the return journey 18 months later.
You could say those 45' were well travelled. I had some rare stuff in there such as 'Seven Seas of Rhye – Queen', the original version, 'I Know what I Like - Genesis', on the Charisma label, and 'Life on Mars – David Bowie' with the original 1973 picture cover, as well as a glut of old Punk 45' which always seem to fetch a good price.
Over the years I have tried to download as many .mp3 files to replicate my old lost collection as I can, and have done reasonably well.

...'searching for an Ian Dury cover, but which one was the UK release version?, this is one I used to own so know it's the very first one (top left)'...
The old vinyl took a LOT of space; the .mp3's take none and are much easier to access. The old-timers amongst you may argue physical is tangible and thus more valuable but I got over this collecting 'thing' years ago.
Ripping them off the internet may seem unethical but I figured I have bought them once (yeah I sold them as well you say), but I am not here to discuss ethics; Once a pirate, always one, it's in the blood.
These old singles are very main-stream and not really what I like today, but they are somewhere down there in my heart and now also on a large USB stick and in my car.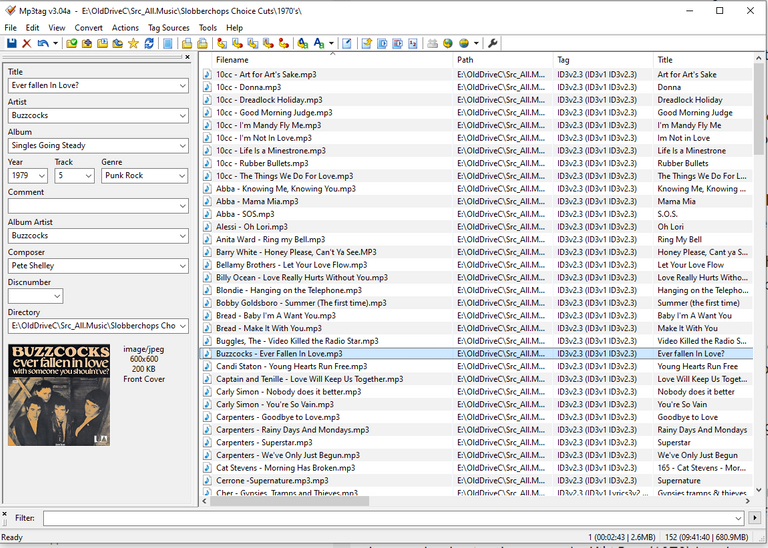 ...'mp3tag makes it easy to attach images as an extended attribute to your .mp3 files. No comments about my 70's singles please, I know some are ropey'..
Having been OCD about picture covers decades ago, I find that attribute has not gone away and I have been grabbing the old picture cover scans from the internet and attaching them to the .mp3 files.
The images do not appear to be a regular attribute but do increase the size of a .mp3 file when attached. I could inspect the binary code to see how it all works but to be honest I just can't be arsed.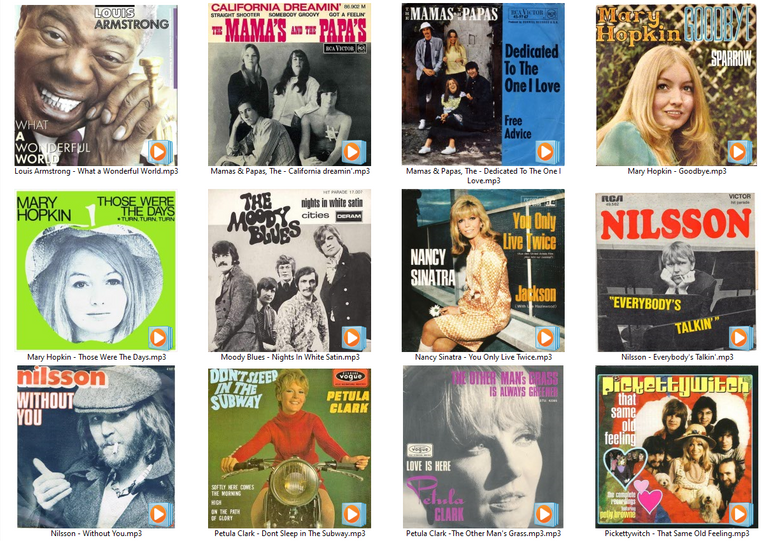 '''Windows Explorer view with extra large icons looking at part of the 1960's stuff. It does look nice and colourful now, but takes fucking ages to attach them all'...
What I am finding is that almost all singles, even from the 1960s (where my collection begins) had picture covers.
Matching the correct ones can be quite a challenge as in some cases the song may have been a minor hit and a search will yield a variety of different covers.
I remember having Amerouse by Kiki Dee (1973) but there was fat chance of getting the picture cover. I bought it from some junk stall market that specialised in old '45.s
…'my copy was like this but the cover was not so creased up'…
My personal copy of 'Amerouse' was in lovely condition with no scratches (I was quite OCD about this as well!), but now I can see it did have a picture cover and can match it with google images
The cover says 'The Rocket Record Company' in the bottom left corner but does not contain the 'PIG 4-A' which was normally on the rear side.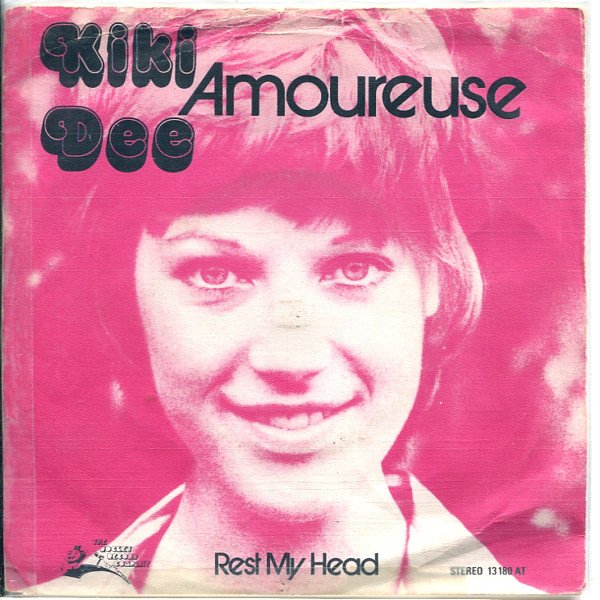 Source
That is my best guess for this cover, and I am finding it both fascinating to see what all these old covers looked like, and appalled to see how terrible some of the artwork is.
Occasionally I find one I did have such as (Mr. Blue Sky – ELO) and recognise it at once. Why am I bothering with all this you might say?
Well, I have a new car arriving soon which uses the image attributes of .mp3 files and I want them to display when I play the song and not some generic boring old icon.
I told you I was OCD, some things never change!

Earn FREE EOS from Coinbase by taking partaking in a simple quiz here
Earn currency while you play brewing virtual beer with CryptoBrewMaster
Earn currency while you play and become a global Rock Star with Rising Star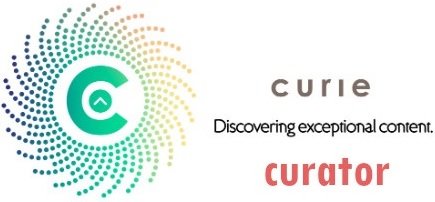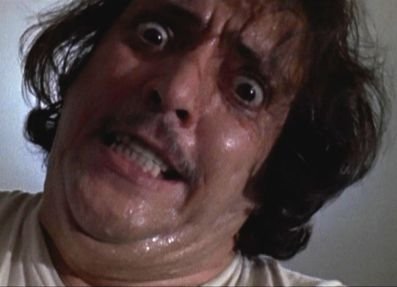 If you found this article so invigorating that you are now a positively googly-eyed, drooling lunatic with dripping saliva or even if you liked it just a bit, then please upvote, comment, rehive, engage me or all of these things.