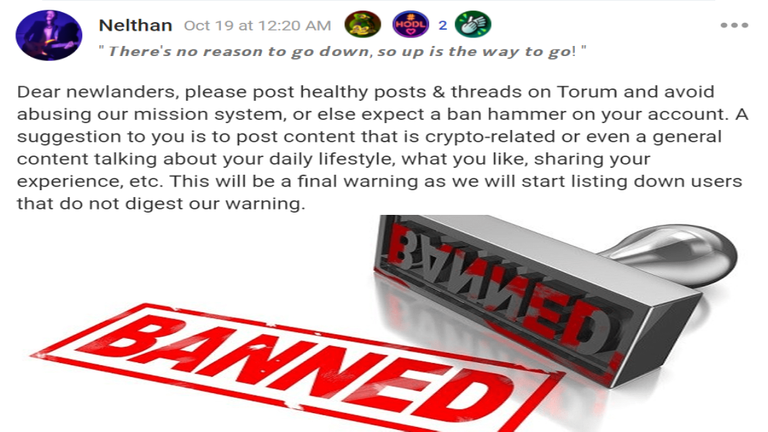 Like all rewarding platforms, Torum was also hit by spams. How can it not be when Torum rewards all post, threads, and comments indiscriminately not matter how bad their qualities are. There was a time that Torum made lots and lots of warnings and finally Torum had to make a tough decision to wield the ban hammer.
The Usual Spams
The usual spams are usually comments that does not have anything to do with your contents and does not have any intention to form any connection with your contents but only cares about the spammers agenda. Imagine below this post, there is somebody commenting like this:
"If a poor widow can be rich after losing all she has, you too can be richer. My advice to you all is believe and pray. Mr. Fajar Purnama is my mentor, I call him widows trader and widows account manager. Reach him at https://www.torum.com/u/0fajarpurnama0."
This post has nothing to do with trading, has nothing to do with widow, and proposes for someone else to manage your money where even experience investors always says "not financial advice".
The Spam in Torum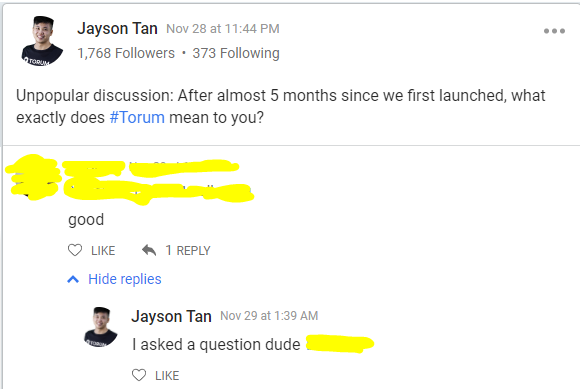 Commenting "good" may not be a spam in mainstream social media but can be a spam in Torum.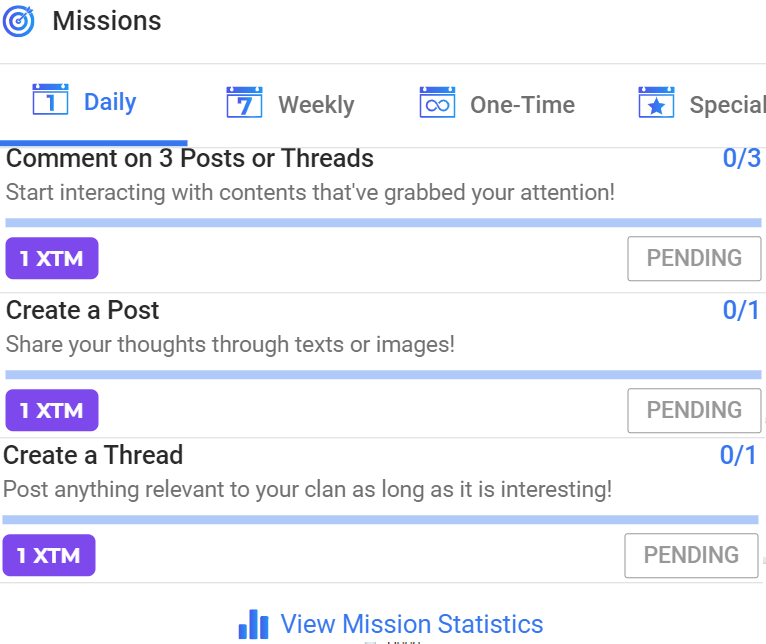 Why? Because we get rewarded for commenting.
This is true for all other rewarding platforms.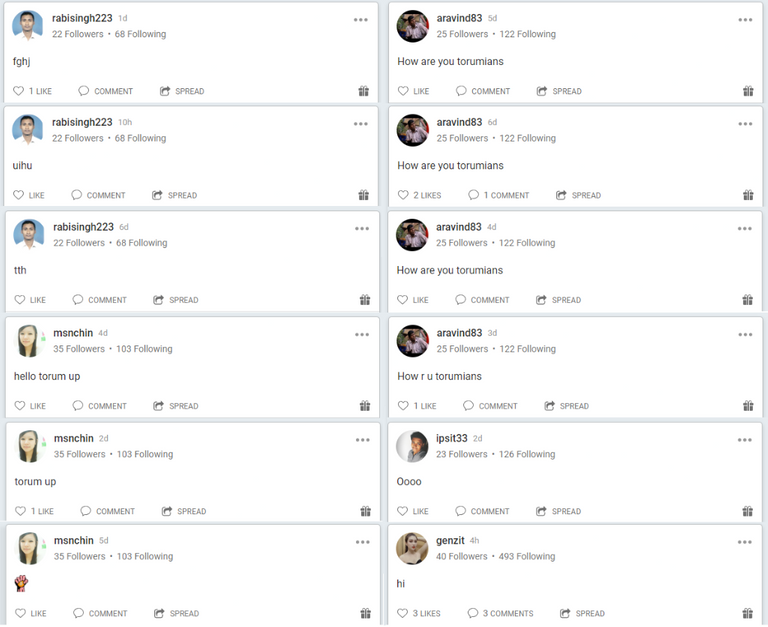 While spam comments are forgivable but posts or threads are unforgiveable. Why? Take a look at the image above. These people posted nice, good, hello, hi, or random unreadable posts got rewarded with 1 XTM.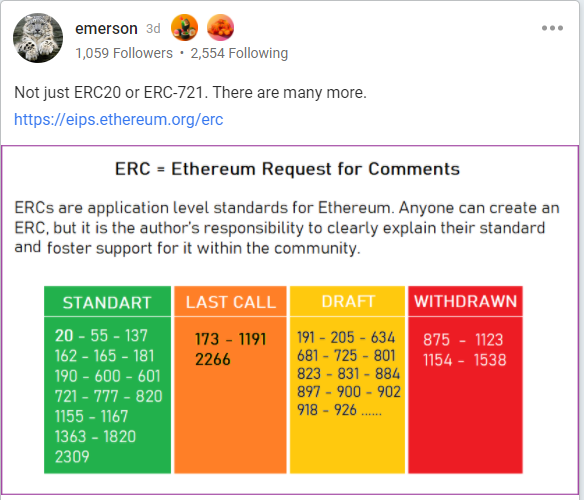 While Emerson made a quality post which took efforts was also rewarded with 1 XTM, was this fair!?
Naturally, those users are banned as announced in TORUM's First Community Ban Hammer.

You may understand now that these kinds of XTM are not free but requires you to deliver quality contents in exchange. Therefore, the spam in Torum includes the act of having no intention in delivering quality to get the XTM reward which is the same as stealing XTM. Torum also stated about prohibiting spams in their terms of services but if Torum agrees with my definition and Alwin's comment that nice, good, hello, hi, or random unreadable posts are potential spams, then their terms of services needs update.
Can spam affects XTM's price?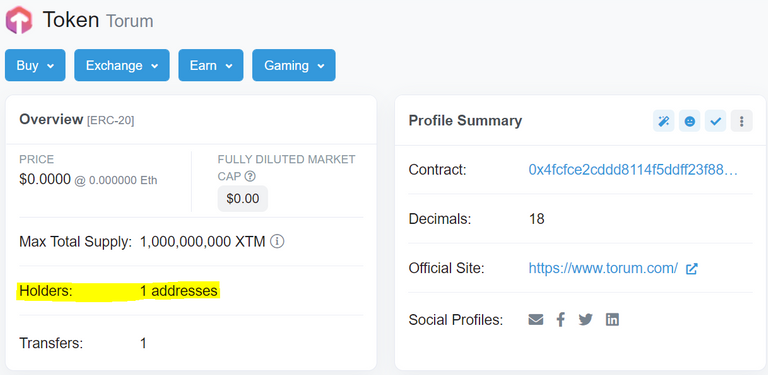 Yes, in a negative way. Almost all spammers steals XTM to sell, so ofcourse the price appreciation will drop. For new users, Torum will lose opportunity as these users already lost interest to invest due to the spams. If things gets bad, old investors will sell doubting the future of Torum. The worst case, even the spammers will be in disadvantage because they stole XTMs that are worth nothing and wastes of efforts for them. However, do not worry for now as none of these can happen now. The reason is that Torum is still in beta and still holds and locks all of the XTM on their system. They have a chance to fix this until XTMs are distributable. For example, they can check for spams now and penalize users who misconduct and once everything are clean, then distribute the XTMs. It is after the distribution phase that we may start worrying.
How to reduce spams?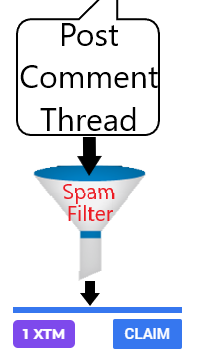 Here are ways that I know and please leave a comment if you have other ideas: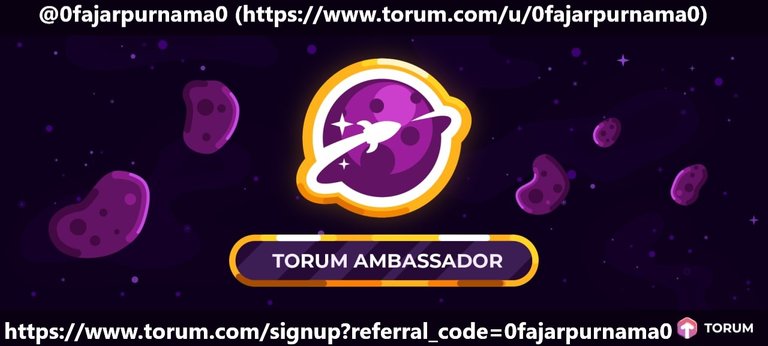 I am writing this article as Torum ambassador @0fajarpurnama0. Even if I'm not an ambassador, I will still be writing these articles but with a different time frame, maybe once a month or three months? I hope to see you soon in Torum: https://www.torum.com/signup?referral_code=0fajarpurnama0.
Torum juga dibombardir oleh spam tetapi mengapa kita tidak perlu khawatir untuk saat ini.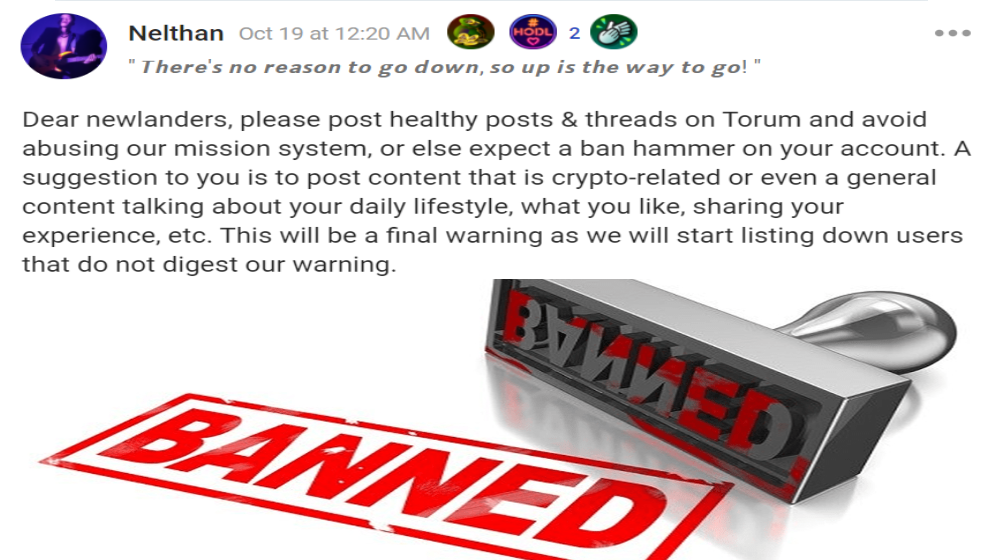 Seperti semua platform berhadiah, Torum juga dilanda spam. Bagaimana tidak, karena Torum memberi hadiah pada semua postingan, utas, dan komentar tidak peduli seberapa buruk kualitasnya. Ada kalanya Torum membuat banyak peringatan dan akhirnya Torum harus mengambil keputusan sulit dengan menggunakan ketok palu.
Spam Biasa
Spam biasa biasanya adalah komentar yang tidak ada hubungannya dengan konten Anda dan tidak bermaksud untuk membuat hubungan apa pun dengan konten Anda, tetapi hanya peduli dengan agenda orang yang nyepam itu sendiri. Bayangkan di bawah postingan ini, ada yang berkomentar seperti ini:
"Janda miskin saja bisa kaya setelah kehilangan semua yang dimilikinya, apalagi Anda. Nasihat saya untuk Anda adalah percayalah dan doakan. Pak Fajar Purnama adalah pembimbing saya, saya sebut dia pedagang duda dan manajer investasi duda. Hubungi dia di https://www.torum.com/u/0fajarpurnama0."
Artikel ini tidak ada hubungannya dengan perdagangan, tidak ada hubungannya dengan janda, dan komentar tersebut mengusulkan orang lain untuk mengelola uang Anda di mana bahkan investor berpengalaman pun sering berkata "bukan nasihat keuangan".
Spam di Torum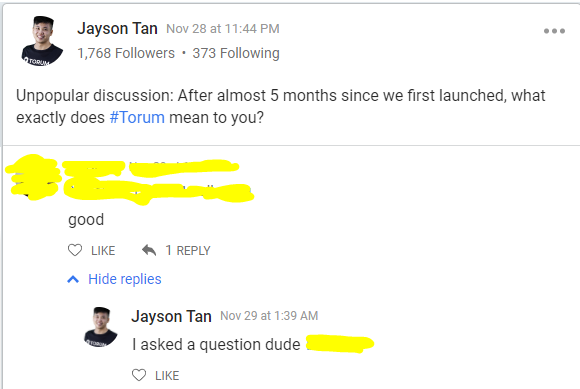 Mengomentari "baik" mungkin bukan spam di media sosial arus utama tetapi bisa menjadi spam di Torum.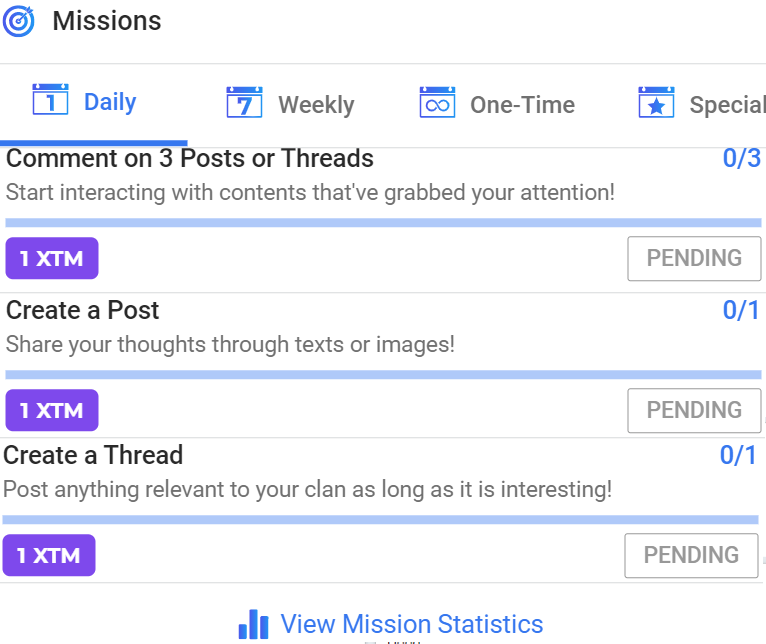 Mengapa? Karena kita mendapat imbalan untuk berkomentar.
Ini berlaku untuk semua platform berhadiah lainnya.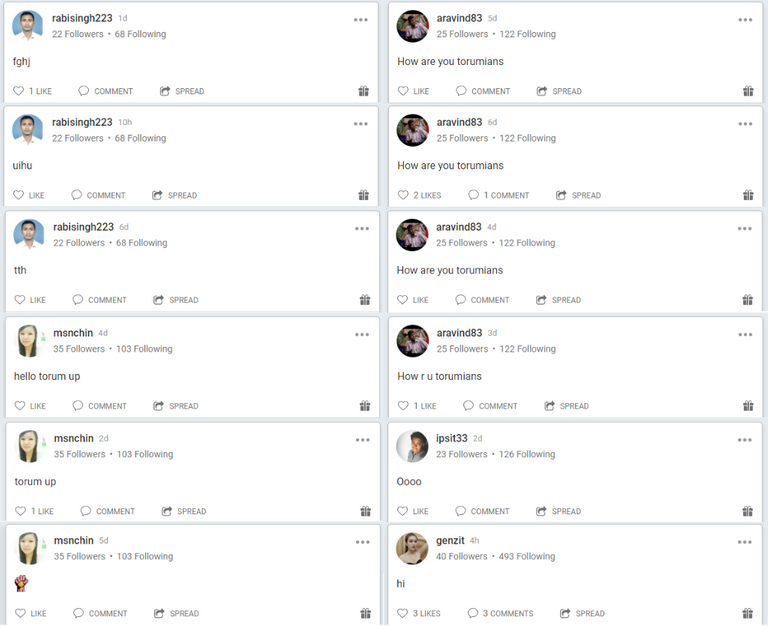 Meskipun komentar spam bisa dimaafkan tetapi posting atau utas tidak bisa dimaafkan. Mengapa? Perhatikan gambar di atas. Orang-orang ini memposting kiriman bagus, bagus, halo, hai, atau acak tak terbaca mendapat hadiah 1 XTM.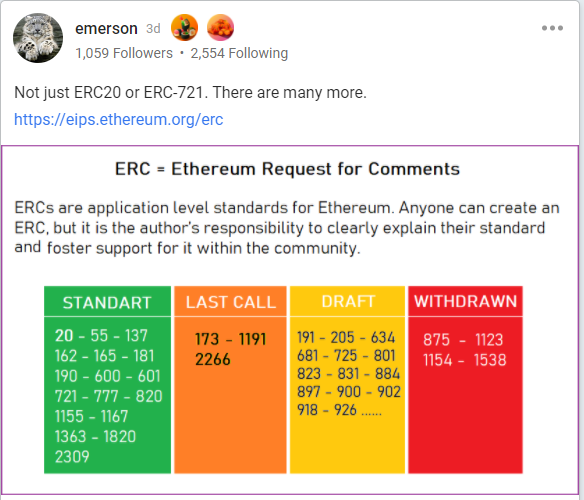 Sementara Emerson membuat posting berkualitas yang membutuhkan usaha hanya dihargai dengan 1 XTM, apakah ini adil!?
Secara alami, pengguna tersebut dipidanakan seperti yang diumumkan di Palu Pidana Komunitas Pertama TORUM.

Anda mungkin mengerti sekarang bahwa XTM tidak gratis tetapi bayarannya adalah konten berkualitas. Oleh karena itu, definisi spam di Torum termasuk tindakan tidak ada niat untuk memberi kualitas tetapi hanya ingin XTMnya saja alias mencuri XTM. Torum juga menyatakan tentang melarang spam dalam persyaratan layanan mereka, tetapi jika Torum setuju dengan definisi saya dan Alwin berkomentar bahwa bagus,, halo, hai, atau kiriman acak yang tidak terbaca berpotensi menjadi spam, maka persyaratan layanan perlu diperbarui.
Bisakah spam mempengaruhi harga XTM?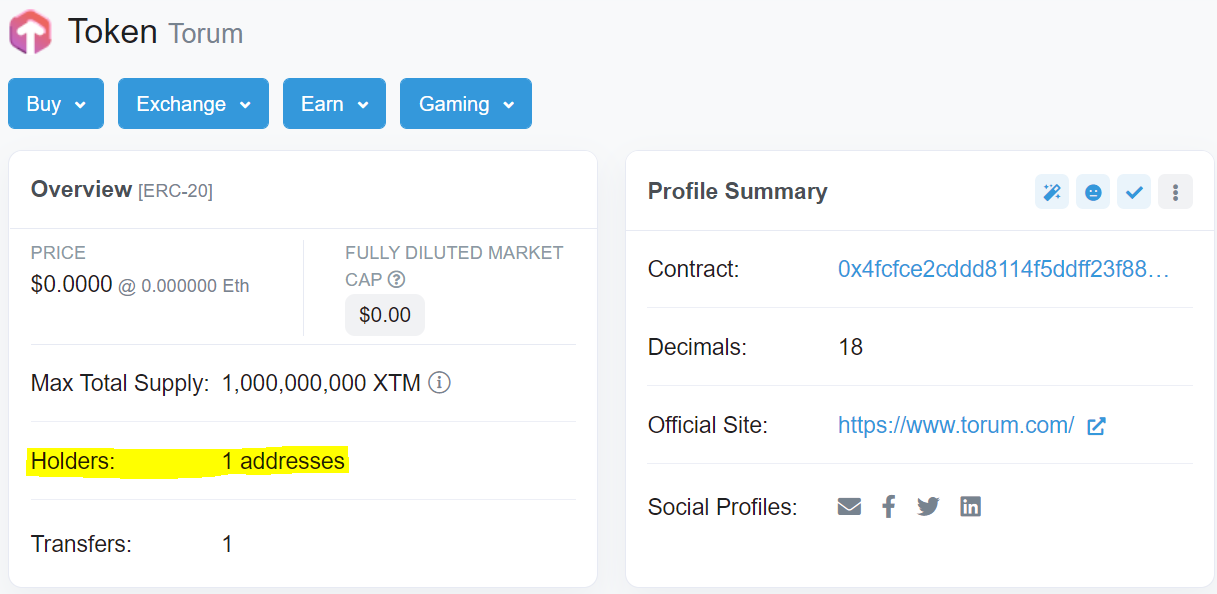 Bisa secara negatif. Hampir semua spammer mencuri XTM untuk dijual, sehingga tentunya apresiasi harga akan turun. Untuk pengguna baru, Torum akan kehilangan kesempatan karena para pengguna ini sudah kehilangan minat untuk berinvestasi karena spam. Jika keadaan memburuk, investor lama akan menjual karena ragu dengan masa depan Torum. Kasus terburuk, bahkan pengirim spam akan dirugikan karena mereka mencuri XTM yang tidak berharga dan menyia-nyiakan upaya mereka sendiri. Namun, jangan khawatir untuk saat ini, karena semua ini tidak dapat terjadi sekarang. Alasannya adalah karena Torum masih dalam tahap beta dan masih memegang dan mengunci semua XTM di sistem mereka. Mereka memiliki kesempatan untuk memperbaikinya hingga XTM didistribusikan. Misalnya, mereka dapat memeriksa spam sekarang dan menghukum pengguna yang melakukan kesalahan dan setelah semuanya bersih, XTM didistribusikan. Setelah fase distribusi kita baru mulai khawatir.
Bagaimana cara mengurangi spam?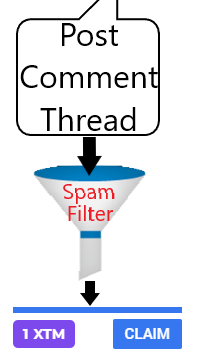 Berikut cara yang saya ketahui dan silakan tinggalkan komentar jika Anda memiliki ide lain: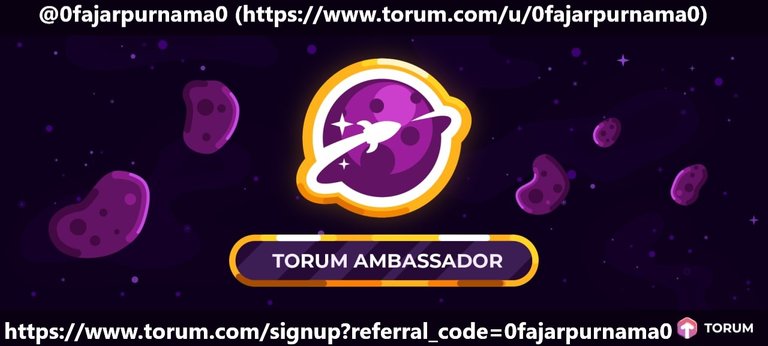 Saya menulis artikel ini sebagai Duta Torum @0fajarpurnama0. Sekalipun saya bukan duta, saya akan tetap menulis artikel ini tetapi dengan kerangka waktu yang berbeda, mungkin sebulan atau tiga bulan sekali? Saya berharap bertemu Anda segera di Torum: https://www.torum.com/signup?referral_code=0fajarpurnama0.
Mirrors